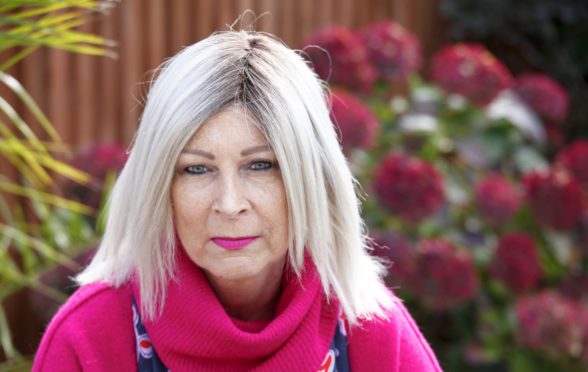 Two mums fighting breast cancer have called for clinical trials halted by the Covid-19 pandemic to fully resume – as new figures show more than 500 remain suspended.
Mum Lisa Fleming, who set up a charity that has raised £150,000 for a breast cancer trial, and Karen Hilton, who was due to go on a new drug trial that has been suspended due to the pandemic, say seriously ill patients are being denied a vital lifeline.
Figures from NHS Research Scotland reveal 582 out of 2,083 non-Covid clinical trials continue to be on hold.
Almost half of the clinical trials are cancer-related, and others include treatment for dementia, diabetes, strokes and heart disease. Most have been suspended due to a halt on the recruitment of new patients.
The number of halted ­clinical ­trials in Scotland is down from July, when 1,013 were suspended, but some of the trials that have resumed are operating at a fraction of their former workrate.
Lisa, 37, a stage-four breast cancer patient whose charity Make 2nds Count has funded an Edinburgh University study that has partially resumed after being suspended, said: "We are devastated that vital work into helping people survive has been halted because of Covid.
"We all want to live to see our ­children grow up, so delays in finding good treatment are awful.
"I have a son, Cameron, eight, and supportive husband, Euan. Along with other women with breast cancer, I live in hope for the breakthroughs research will bring."
Karen, 48, who was diagnosed with secondary breast cancer in 2018, said: "Breast cancer patients are fighting to survive with a limited life-expectancy. Many are mums who only want to live to see their families grow up."
The study funded by Lisa's ­charity is led by oncologist Dr Olga Oikonomidou, at Edinburgh University's Breast Cancer Translational Research Group, and will help better understand secondary breast cancer by identifying the specific gene changes, or mutations, that drive cancer cell growth in ­individual patients.
Dr Oikonomidou said the research had been halted during Covid but restarted at a slower pace in accordance with guidelines on social distancing in laboratories. She said: "The nature of research is that is goes from lab to the patient's bedside. To lengthen the time in the lab means taking longer to make the discoveries which lead to cancer treatment, prolonging lives and the quality of those lives.
"All the lab experiments were put on hold during Covid and resumed at a slower pace. We have to have a rota of researchers working and not the normal pre-Covid situation of several in the labs at a time.
"During lockdown we could ­analyse some research but could not carry out lab work needed to proceed at a normal pace. We expect to work at a slower pace dictated by Covid restrictions until it is safe enough to do so. That may be when we get a safe vaccine."
Patients with the asbestos-caused lung cancer mesothelioma were devastated when vital work was halted through Covid. Dr Carsten Hansen of the Centre for Inflammation Research in Edinburgh said his mesothelioma research was halted during Covid and has only resumed to between 15% and 50% of its potential.
Dr Hansen said: "We were locked out of our research laboratories for a prolonged time during the Covid-19 lockdown and our access has since returned to somewhere between 15% and 50% of what it was previously, depending on the layout of the laboratory spaces.
"The full lockdown has had a dramatic effect on our research projects. Combined with the current reduced access, it will delay our discoveries and the momentum in our research on treating pleural mesothelioma patients. However, the limited level of laboratory access we now have is much less problematic than a full lockdown. It is absolutely critical that we keep laboratories open throughout the winter, and not close again in a further lockdown.
"Working together as a team, while working apart, has challenges, but I am impressed by the resilience and adaptability of my team. The camaraderie between colleagues – which usually helps overcome experimental challenges, sparks ideas on research and drives progress – is impacted when you are not together in the lab.
"There is no doubt that Covid-19 has had, and still has, a negative effect on our progress into finding better and more personalised treatments for mesothelioma patients."
Dr Hansen's results will hopefully lead to targeted drugs for patients' specific types of cancer on the basis of their genetic make-up. "Mesothelioma is a difficult cancer to survive and research is vital to develop new transformative treatments to increase patient survival," he added.
Dr Hansen's research is partly funded by the Scottish charity Worldwide Cancer Research, which yesterday announced it is committing £3 million to research projects around the world.
Dr Cat Ball, head of policy at the Association of Medical Research Charities, said: "Clinical research is vital to the development of new treatments and improved understanding of disease. It is also for many patients, a crucial lifeline – not only benefiting their potential futures but also those who right now are being offered experimental treatment opportunities where there may be no other options.
"Covid-19 has seriously affected the ability to carry out clinical research in the NHS on all other diseases. The decision to suspend clinical trials has had a significant impact on participating patients and their families.
Dr Ball said: "As the number of Covid cases decreased, the process of restarting clinical research began and medical research charities have been working alongside government, industry and the regulators to get non-Covid clinical research restarted. Some progress has been made but it's clear that a restart is very challenging. As we navigate the next phase of the pandemic, it's vital we don't lose this progress or have to close down research again."
National Clinical Director Jason Leitch said: "Covid has changed every element of society, including research trials. Some trials were paused because it wasn't possible to recruit new patients or researchers had to be redeployed to other priority work.
"As with every other sector, research trials are returning in stages and will catch up over time. The collaborations between research and clinical teams remains very strong in Scotland."
Karen's Story
Karen Hilton was devastated when a breast cancer drug trial she was supposed to go on was shelved because of Covid-19.
She was first diagnosed with triple negative primary breast cancer with a faulty BRCA1 gene back in May 2016.
The senior consultant with HSBC then had another primary breast cancer detected in August 2017.
Karen, 48, from Dalkeith, Midlothian, who has a 13-year-old son Tristan, said: "Breast cancer is as serious as Covid.
"The virus will be about for a long time, but breast cancer patients are fighting to survive with a limited life expectancy.
"Many are mums who only want to live to see their families grow up.
"Halting trials for breakthroughs is heartbreaking and ways must be found to continue them.
"It is my great fear that I will die sooner because trials have been halted.
"I have gone through a great deal of treatment to get this far."
Karen said she was seizing every opportunity to give herself extra time, but that the suspension of the trial she was hoping to get on to had been a devastating blow.
"You have to fit a lot of criteria to qualify for trials. I am doing everything possible to stay healthy so that I can be accepted after they resume. That includes running on a treadmill daily.
"Everyone in my position is desperate for a trial which will extend their lives."
She added: "We need to explore ways of making this happen and get patients back on to trials."
Karen was given an initial prognosis at the start of the year of 12 months' life expectancy, but that was changed in March to between 6 and 12 months.
This summer Karen married her partner of 10 years, Alistair Henderson, 57, in the garden of their home after twice having to postpone the ceremony due to the pandemic.
The couple had initially planned to tie the knot in April, then postponed to June, before finally having their big day in July.
The couple's friends gathered in their street to watch the ceremony via a live link without breaching social gathering guidelines.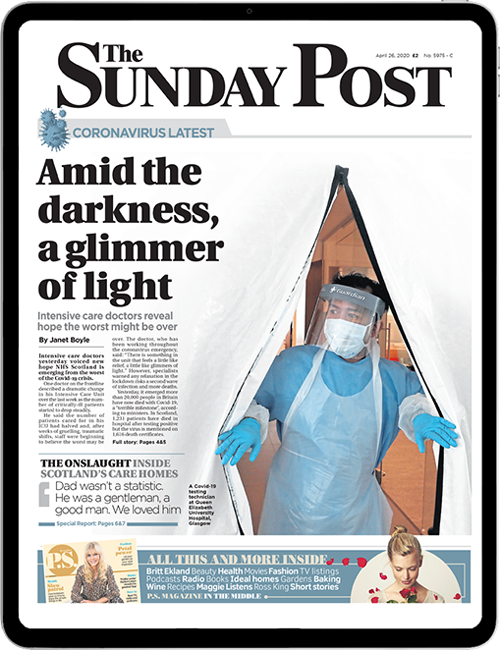 Enjoy the convenience of having The Sunday Post delivered as a digital ePaper straight to your smartphone, tablet or computer.
Subscribe for only £5.49 a month and enjoy all the benefits of the printed paper as a digital replica.
Subscribe