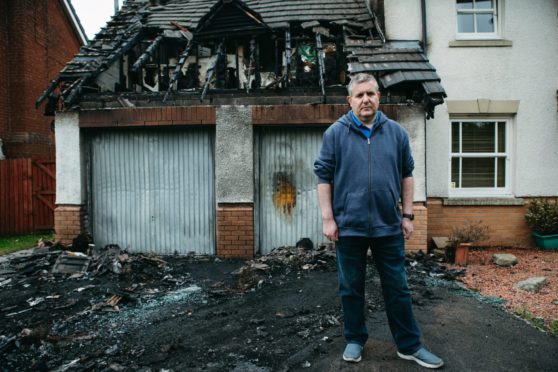 A councillor repeatedly targeted by fire attacks on his home broke his silence yesterday explaining why he has no choice but to quit politics.
Graeme Campbell spoke out as police refuse to rule out some of the recent and potentially-lethal fire-raising attacks on prominent Scots may be connected and linked to organised crime.
Last week, an MSP warned the attacks – which have included cars being set alight at the home of businessmen and Old Firm figures – have become "almost commonplace" and urged police to treat them with the utmost gravity.
Campbell and his wife, Fiona, were forced to flee their home in Strathaven, South Lanarkshire, after two cars in the driveway were torched at midnight last Saturday. The flames spread to their home and the bedroom they were sleeping in. They were left with just the clothes they were standing in.
The Conservative councillor believes the fire was linked to his opposition to organised crime. On Thursday, Nicola Sturgeon told Holyrood no one "should feel they have no choice but to abandon any part of their lives because of threats or attacks", but yesterday Campbell said: "I have to quit.
We haven't slept in two years. With every bump and thump in the night, you're up and looking out the windows. Even if it is something as innocuous as a lorry driving over a grate, you're awake. That has been our lives for two years. Why should anyone in the United Kingdom have to live like that? We are supposed to live in a civilised democracy.
"I stood for election in 2007 to give something back to the community. Ninety-nine per cent of my cases were social work, housing, bins or roads.
"I had every intention of standing again next year, but right now I have no option but to go. The police can't protect me."
Campbell's property was also firebombed in 2019, when one car was destroyed and part of the home damaged. Last year, acid was poured over cars belonging to the couple and windows smashed. He said: "Now we have been burnt out of our homes. What is going to happen next?
"For two years you wake up in the middle of the night and think, 'Is this the next attack?' And unfortunately in the early hours of Saturday it came. It is a terrible, terrible way to live your life."
The attack is just the latest in a series of fires started at prominent people's homes in the west of Scotland in recent months. Last month, outgoing Celtic chief executive Peter Lawwell and his family were forced to flee their home in Thorntonhall, Lanarkshire, after a fire destroyed three vehicles and damaged their garage.
In the same week, restaurant and nightclub owner James Mortimer had two vehicles torched on the driveway of his home in Bothwell, Lanarkshire, while businessman Brendan Hegarty's home in Glasgow's west end was damaged by fire after two attacks within 24 hours. Last September, a car belonging to Rangers' goalkeeper Allan McGregor was set on fire in his driveway.
Last month, police said those four attacks were not linked and that there was no evidence of any connection to organised crime. Yesterday, the national force said: "We are keeping an open mind as to the motives."
Scottish Conservative shadow community safety minister Russell Findlay, a former crime reporter who was himself the victim of an acid attack linked to gangsters, expressed concern about the spate of fire-raising attacks and said the incidents were potentially fatal.
He said: "The use of fire as a weapon is reckless and despicable. Any time someone sets light to a property, they do so knowing the consequences can be the death of innocent people.
"Such incidents seem to have become almost commonplace and the criminal justice system must respond by treating them with the seriousness they merit."
Findlay pointed to Glasgow's notorious Ice Cream Wars of the 1980s, in which criminal gangs battled over the control of ice cream vans used to sell drugs and stolen goods. Van driver Andrew Doyle had resisted selling drugs on his run, and died along with five other members of his family when the front door of his flat was set on fire.
More recently, three members of one family died in a fire at their home in Helensburgh, started on the orders of a drug dealer who held a grudge against them.
Findlay: "It is only a matter of time before people are killed. Just think back to the horrors of the 1980s and the death of six members of one family, or more recently in Helensburgh when a local criminal used fire to kill three members of a family."
Graeme Pearson, former head of the Scottish Crime and Drug Enforcement Agency, said: "It's an easy way of making an impression. It's the cowardly way of sending a message. Fire terrifies people – the smoke can kill you while you sleep, never mind the flames."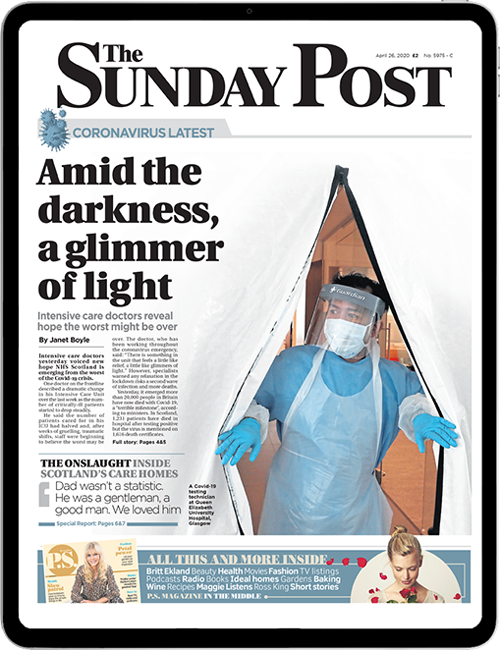 Enjoy the convenience of having The Sunday Post delivered as a digital ePaper straight to your smartphone, tablet or computer.
Subscribe for only £5.49 a month and enjoy all the benefits of the printed paper as a digital replica.
Subscribe