They've been around since the first teenage girls swooned at Elvis and his gyrating pelvis.
From devoted followers of The King to the Bay City Rollers' dedicated Tartan Horde, or Beyonce's obsessive BeyHive, female fans have been an integral part of pop music.
Last week, superstar Adele went to a Spice Girls concert at Wembley – the group she adored as a 10-year-old. "Last time I saw the Spice Girls at Wembley was 21 years ago!" the 31-year-old wrote in an Instagram post.
"Tonight with my nearest and dearest I cried, laughed, screamed, danced, reminisced and fell back in love with my 10-year-old self."
Female fans are known for fainting, screaming and lurking outside hotels for hours on end, but their devoted support doesn't often get the respect it deserves, according to author and music journalist Hannah Ewens.
She has written about the culture of female fans and is author of a forthcoming book on the subject.
According to Hannah, the underappreciated fan-girl culture has shaped pop music as we know it.
The roots, according to Hannah, stretch even further back over 100 years before pop music – all the way to romantic poet Lord Byron, who scandalised 19th-Century.
"From popular music's earliest roots in Frank Sinatra, more or less the first modern pop star, or Elvis, or The Beatles throughout the decades to the largest artists of today, tween and teen girls and young women have made up a huge proportion of fanbases," explained Hannah.
"Girls are so often the demographic who latch on to an artist first, and then the rest follow, while girls hold on to them tightly throughout their careers. I think of them as the tastemakers. The music industry knows if you galvanise a young female fanbase, you've got a career more or less for life.
"When those fans grow up with the artists they'll come out for reunion tours and all sorts.
"This is very much true for pop, not quite so much for rock – to a lesser extent at least. But pop is a game run by girls."
These days, Korean boyband Bangtan Sonyeondan – known as BTS to their adoring followers – draw millions of fans from around the world.
They're just the latest in a long line of artists who have captured female superfans' imaginations.
However, this dedication doesn't tend to win them much respect among adult male fans.
"There are all sorts of taste politics acting around fandom," Hannah added.
"Who is more important socially and what do we think of as appropriate ways to show our appreciation, for starters.
"To collect records, to go to a select number of gigs and certainly not to discuss the private lives of musicians – these things are considered appropriate.
"To fall deeply in love with an artist, to follow every aspect of their lives and work, to create fan-fiction about them, to cry over their records – these things are considered not appropriate.
"This is what fangirls prefer to do, and what they have the money and time to be able to do.
"Adult male fans are seen as the 'default' in music fandom, still.
"We still think in music that men have the voices to tell the stories of music.
"Go to the music section in a bookshop next time you're in one, and bar the women in music memoirs, see how you might struggle to find a book by a woman."
---
Lisa's story
When I finally met Mark, I just stood, totally gobsmacked
On Thursday, 1990s boy band Take That appeared at the
sold-out Tempodrom in Berlin as part of their latest world tour.
At the concert was Lisa Johnstone, from Helensburgh, who was there with her best friend Christina, from Munich.
The pair met four years ago while the two of them were "stalking" the band outside a hotel in Glasgow.
"I met Christina outside a hotel in Glasgow where we'd both gone to stalk the band!" explained Lisa, now 41.
"I was there to catch a glimpse of the band, as was Christina.
"She had come from Germany to see the boys. We both started chatting and just clicked."
Lisa's fascination with the band – and especially Mark – means that, although she won't hesitate to hang around outside their hotel, she's often left tongue-tied in their presence.
"I've met Mark a couple of times and have shaken Gary's hands," she laughed.
"When I finally met Mark I was a big idiot. I just stood there, gobsmacked.
"I'd waited 25 years to meet him and, when I did, I couldn't think of anything
to say.
"I'm just hoping to get a glimpse of them. It's daft but it's like being a teenager again.
Nobody judges you, and it takes you back to being a kid again!"
---
Sam's story
Bros were a breath of fresh air and Matt is still smelling amazing
When it comes to following Bros, no one can hold a candle to superfan Sam Gordon, from Livingston.
Now 44, Sam began following the '80s pop superstars when she was 16.
Since then she's followed her idols across the country many times.
Even before their recent revival, Sam kept the faith.
"They were a breath of fresh air, the mix of upbeat pop music and the clothes they wore," she explained.
"I had loads of Bros pen pals and we used to meet up in London and follow the boys.
"We were called the Bros Front. This was the days before social media, so that's how you got in touch with fellow fans back in those days.
"We used to follow them around TV studios, and we'd hang out around outside Matt's house in London, too."
Sam says the friends she's made following the Goss brothers have lasted a lifetime.
"I'm still friends with some of the Bros pen pals, and since they've got back together we've met up. The fan club here, the Scottish Gossy Girls, have met up a few times."
A recent trip to see Matt in Glasgow led Sam, who makes and sells candles, to sniff out a new business idea.
"I went to the concert and got to meet Matt," she explained. "The thing about Matt is, he smells amazing!
"He wears Tom Ford's Old Wood, and I make candles, so I had a thought. I found a supplier who makes an oil that smells of Old Wood, and now I make candles that smell of Matt.
"It's called A Little Piece Of Gossy Heaven, and costs £8.50 from my company Candle Scentsation!
Last year's documentary, Bros: After The Screaming Stops, about the brothers' reunion, became a hit.
Although the brothers were mocked for their bickering and their earnest statements, for Sam, who secured tickets for the premiere in London, the documentary was a delight.
"It was bizarre as I was trying to watch the film but Matt was sitting behind me!" she laughed.
"I loved the documentary – it has brought them back into the limelight.
"People can see that they are nice guys, really."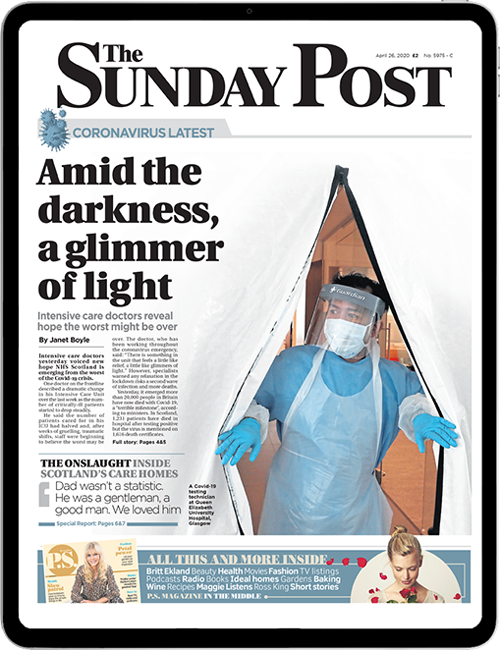 Enjoy the convenience of having The Sunday Post delivered as a digital ePaper straight to your smartphone, tablet or computer.
Subscribe for only £5.49 a month and enjoy all the benefits of the printed paper as a digital replica.
Subscribe