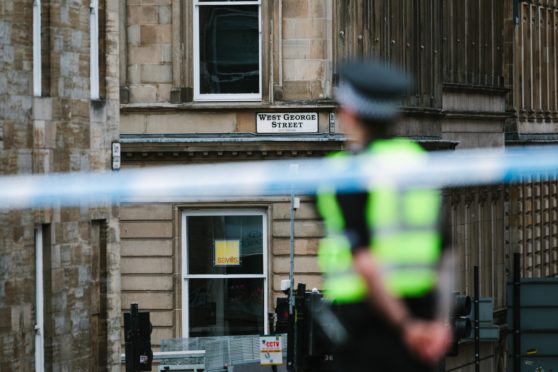 A Sudanese asylum seeker who stabbed six people including a police officer snapped after being told he could not return home after spending weeks in isolation with Covid symptoms, it was claimed yesterday.
Badreddin Abadlla Adam had been put in isolation at the premises in Glasgow city centre for more than two weeks after he showed symptoms.
It is claimed staff at the Park Inn, which was housing asylum seekers during lockdown, were warned several times that the 28-year-old, who had been in the UK for six months, was unstable and making threats of violence.
A second warning was allegedly issued to staff hours before he knifed Constable David Whyte, two hotel staff and three asylum seekers just before 1pm on Friday. The 42-year-old officer was said to be in a stable condition in Queen Elizabeth University hospital last night.
In a statement, he thanked his colleagues, NHS staff and the public for messages of support, saying: "The incident myself and colleagues faced in West George Street was extremely challenging. The scene we were confronted with is something I will never forget. As the first responders on scene, myself and my colleague did what all police officers are trained for to save lives.
"I would like to thank my colleagues who put themselves in harm's way to contain this incident and assist with the vital treatment given to myself and others at the scene.
"Despite suffering serious injuries, I know that the swift actions of colleagues saved lives and prevented a far more serious incident." The other men in hospital are aged 17, 18, 20, 38 and 53. The two youngest victims are both from Sierra Leone.
Abadlla Adam was shot dead by armed police. Some witnesses said he was running to his room before four shots were fired.
An immigration lawyer in the city said the attacker had told the Home Office he wanted to return to Sudan. However, borders had been closed due to the pandemic. The lawyer said: "He told the Home Office he wanted to go home but they couldn't remove him because of the virus. There are no flights between the UK and Sudan."
A charity worker who was helping asylum seekers at the Park Inn said he had been put in isolation because he had suspected coronavirus. He said: "He had symptoms and was put into isolation in a room with a view of a brick wall for 20 days. He told other residents he was going crazy, he couldn't take it any more and he wanted to go home.
"He said he needed help, that he was going to attack someone. The residents called reception to warn them the night before it happened."
---
---
Mohammed Asif, chair of the Afghan Human Rights Foundation, who also works with asylum seekers, said fellow Sudanese residents had raised concerns about the attacker's mental state and these concerns were reported to hotel staff.
He said: "Sudanese residents had expressed their fears for the asylum seeker's mental state. He had been complaining about living conditions in the hotel and was having particular difficulty with noise.
"I was informed that on the day of the attack, the Sudanese man had conducted a telephone consultation with a Glasgow-based immigration solicitor."
During the 11am call, which involved the solicitor, an interpreter and the attacker, there was discussion about his mental health. It was agreed that concerns about the asylum seeker's state of mind would be passed to hotel staff and the Home Office but soon after Abadlla Adam snapped.
One resident at the Park Inn who gave his name as Siaru said: "He was saying people were against him, people hate him…suddenly he said he wanted to attack that room next to me, the one on the top of me, and the hotel workers."
MP Alison Thewliss, who represents the Glasgow Central constituency, said the incident highlighted wider concerns about how asylum seekers are cared for and whether their physical safety and mental health is properly protected.
She said: "We need to understand what assessments were carried out, if any, before vulnerable asylum seekers were put in this hotel and what support they were given and what protections were put in place. It feels like not enough was done to keep people safe here."
The immigration lawyer who represents two of the stabbed asylum seekers has raised concerns that teenagers are sharing accommodation with troubled adults. Andrew Bradley said: "There are 17-year-olds housed in close quarters with older adults who have suffered trauma and have fled violence. This should be reviewed."
Police Scotland said: "Three people who were injured were asylum seekers staying at the hotel, and the other two were hotel staff. All of them remain in hospital. One is critical but stable, and two are stable at Glasgow Royal Infirmary. Two others are in stable conditions at the Queen Elizabeth."
Conditions inside hotels being used to house asylum seekers have also been questioned but the Home Office have said all the food and accommodation provided is of good quality.
A Home Office spokesman said they could not comment on the incident because of the ongoing investigation but added: "Throughout this pandemic, we have prioritised providing asylum seekers with free and safe accommodation that enables public health guidance to be followed. They have access to healthcare and all of their essential living needs and costs are met."
---
We came to protect our lives. I fled terror and terror came here
An asylum seeker who was trapped in her room when the awful violence flared on Friday spoke of her ordeal yesterday.
She told of her disbelief that, having come to Britain to escape persecution in her home country, she found herself in a such a terrifying situation.
The asylum seeker, who did not want to be named, said: "We came here to protect our lives but we ended up in another traumatising situation. I fled from terror, and then terror came here."
The resident, who was moved to other accommodation yesterday as the police investigation at the Park Inn continued, still fears reprisals from the government of their home country.
She described the conditions that asylum seekers faced at the Park Inn after spending three weeks there.
She said: "All of us are going through so much stress already because of the situation we are in. We have no rights. They can take us and throw us here or there."
The woman was suddenly moved from a self-contained flat, where she was able to cook meals, to a single cramped hotel room.
She claimed asylum seekers struggled to get appointments with GPs and were offered no psychological support adding: "We're all humans at the end of the day. People seeking asylum can't live in their country. They have to seek refuge. It's not like we want to leave everything and go to another country and start from zero."
---
Many are already traumatised now lockdown has taken an awful toll on mental health
by Robina Qureshi, campaigner for refugees
The incident on Friday was a tragedy and the actions of the individual who violently attacked innocent people have rightly been condemned.
But, as with every tragedy, there is context and that context is the conditions in which vulnerable asylum seekers are forced to live – and the pressure they are put under.
Many asylum seekers are traumatised refugees who were forced to flee state-mandated torture and brutal conflict zones.
The Park Inn where the tragedy unfolded is one of several hotels in Glasgow now used by the Mears Group to house asylum seekers during lockdown.
Mears holds a multi-million pounds Home Office contract to accommodate asylum seekers throughout the UK.
But in April 370 asylum seekers who had been living in flats in Glasgow were forcibly removed by Mears with only an hour's notice.
They were packed into vans at the peak of the coronavirus pandemic and dumped at budget hotels and guest houses where social distancing is extremely difficult.
To make matters worse they had their meagre allowance of just over £5 a day stopped, meaning they were effectively penniless.
Many asylum seekers who are already traumatised have spoken of the terrible toll this has taken on their mental health.
During lockdown they have been unable to buy crucial mobile phone top ups so that they can keep in touch with family in countries they fled in fear of their lives.
They have no way of contacting immigration lawyers who are their only hope of avoiding deportation back to a place where their lives are at risk.
Dozens of refugees have spoken to our charity about depression and suicidal thoughts as worries about money and forced isolation have spiralled out of control. People are living in fear.
They have complained of hotel detention, of being denied urgent medical attention, of being told to stay in their cramped, airless city centre rooms for weeks at a time.
In May a suicidal Syrian refugee called Adnan Elbi was found dead in a guest house in Glasgow after he was moved there by Mears.
On Wednesday Mears Group admitted they failed to carry out vulnerability assessments of asylum seekers before moving them during lockdown.
There is undue mental stress and pressure being placed on already traumatised people who may be reliving past torture. We have had enough of these human rights abuses and we want a public inquiry into the decision to move them to hotels like the Park Inn.
Robina Qureshi is director of refugee charity Positive Action in Housing