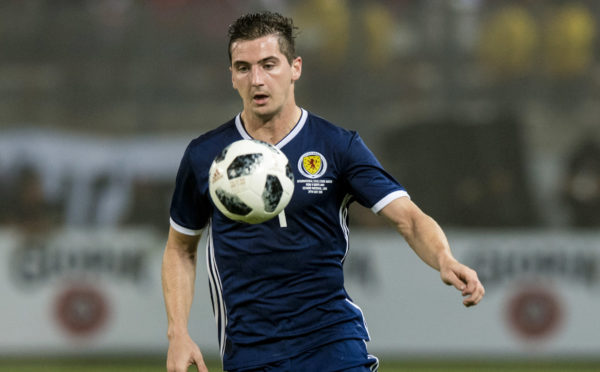 Kenny McLean is as eager as anyone to find out for certain who the next Scotland manager is going to be.
An announcement is expected to be made by the SFA in the next 72 hours, and all the indications are that Alex McLeish's successor will be Kilmarnock boss, Steve Clarke.
Aberdeen gaffer Derek McInnes has already ruled himself out of the running, while it appears Scot Gemmill will be left to continue looking after the Scotland Under-21s.
If and when Clarke's appointment is confirmed, it will mean disappointment for a host of men from beyond these shores who were keen on the post, notably Dick Advocaat and Bruce Arena.
Regardless of who gets the nod, Kenny McLean just hopes to be involved. And he will be.
He has just helped Norwich City to promotion from the Championship into the English Premier League after having an excellent season.
He settled seamlessly into the game down south after his move from Aberdeen last summer.
The squad for the next two Euro qualifiers will be announced soon, and McLean knows the importance of winning the next game, at home to Cyprus on June 8.
To have any form of a realistic chance of qualifying for Euro 2020 from this section, nothing less than three points will be acceptable.
McLean told The Sunday Post: "I suppose the whole country is waiting to see what happens with the managerial situation.
"From all the talk I have heard in the past three or four days, an announcement is expected.
"Players do not have any control over what happens to managers at club or international level. But, naturally, we are interested to find out who will be in charge.
"No matter who it is, we will prepare properly, work hard and give 100%. We know how vital it is to beat Cyprus.
"I just hope that I'm involved. I really enjoy being with the Scotland national team set-up. I feel proud and privileged.
"I will never, ever take a place for granted. I know I need to constantly work hard and show good form at club level to be in the Scotland squad.
"Of course, it goes without saying that we were disappointed at the last round of games when we lost 3-0 to Kazakhstan.
"We recovered to beat San Marino and that got us a much-needed win on the board.
"Sure, the performance probably wasn't as good as what we would have liked, but we need to take the positives from it.
"We just needed to recover from the setback of the previous game and get the job done.
"We can't turn back time and play the Kazakhstan game all over again. But we can build from here, and the first step is to beat Cyprus.
"This will be our first home game in this campaign, and we need to show the Tartan Army our capabilities.
"We all hope as many fans as possible turn out to support the team. It would be great if Hampden was bouncing on the night."
An unused sub in Kazakhstan, McLean played from the start in San Marino and got the game off on the right foot by scoring with a header early on.
But it was huff and puff for long spells after that, and the night saw the travelling Tartan Army as vocally critical as they have ever been.
So the attendance for next tie at Hampden will be interesting.
After the Cyprus game, the squad will travel to Brussels to face Belgium.
That will be their toughest game of the section, and McLean knows there will be no hiding place against Roberto Martinez's superstars.
However, its the kind of challenge McLean relishes.
The 27-year-old continued: "This time last year, I was in the squad for the games against Peru and Mexico.
"Yes, it was a long distance to travel but I enjoyed every minute of being in the set-up. I got so much out of it, and I know plenty other guys felt the same.
"Sure, it wasn't pleasant losing both games, but there was so much more to it than the games. It was a great learning curve for me as a footballer and a professional."
McLean knows the importance of getting some momentum going, and eventually building that into qualification for a major tournament.
As the whole country is well aware, we haven't been at a Finals since 1998 and a 21-year gap is far too long.
Alex McLeish has left us with a fighting chance, of course.
Having topped the Nations League section ahead of Israel and Albania, it means Scotland is guaranteed a play-off spot.
Right now, that is our best shot.
McLean added: "We know that is a pathway open to us, but that doesn't mean we should give up on the current process.
"Sure, we have a tough group with Belgium and Russia in it, but we need to show confidence and belief. There needs to be a positive outlook."
McLean is currently on a well-earned holiday and will step up his fitness programme later this week ahead of the squad meeting up in early June.
He doesn't know if he will definitely be in the new manager's plans for next month's double-header, but he has been given a schedule in case he is and is very much being kept in the loop.
If selected, the talented midfielder will arrive on a high after his achievements with Norwich.
He said: "It's been well documented that my first four or five months at Norwich didn't go to plan.
"I had an ankle injury and needed surgery on it twice. It was very frustrating, but there was nothing I could do. I had to wait and be patient.
"I got my fitness back in January and the boys were very much in the thick of the promotion race.
"I was itching to get involved and play my part. I didn't want to be sitting on the sidelines, watching it all go by.
"Thankfully, I played the last 16 league games of the season and we won 12 and drew four.
"It was an incredible feeling to win the title. Yes, we enjoyed the celebrations. We had earned them because it's a long, difficult season.
"The significance of what the football club has achieved in the past 10 months has only just hit me.
"It's absolutely fantastic and was a proper team effort, from everyone at the football club, not just the players, manager and backroom staff.
"We will re-group for the start on the new campaign, and we are looking forward to playing in the Premier League.
"Going to Anfield, The Etihad, Old Trafford and the Tottenham Hotspur Stadium is going to be very special.
"It's genuinely what dreams are made of. But I'm certainly not going there to be in awe and a spectator. We will be going into every game with a belief and a plan.
"Yes, we will be underdogs in many games but that won't bother us.
"It will be important to have good form at home, and to try to make Carrow Road a place where teams do not get it easy.
"But first there is work to be done at international level.
"I just hope to be involved, to be given the opportunity to try to do my bit for my country."