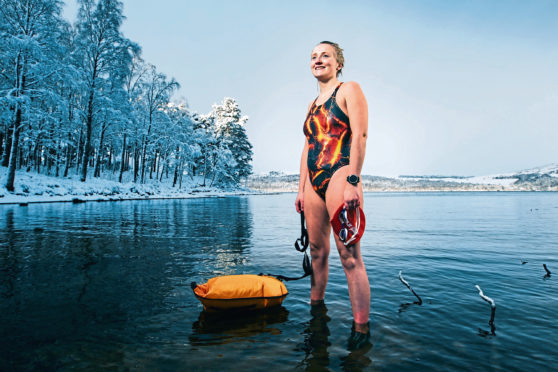 They may have grown up with an ocean and more than 13,000 nautical miles between them, but wild water swimmer Laura Ormiston and English Channel record breaker Australian Chloe McCardel are on the same wavelength.
Laura, 27, who swims Scotland's freezing lochs to manage the symptoms of a rare and life-threatening genetic condition, bonded with Chloe after she broke the men's record for the most cross-Channel swims; completing the 21-mile challenge – her 35th – on August 15 in 10 hours and 40 minutes.
Since then their internet friendship has swelled into sisterhood with each keeping the other afloat in challenging times. They are now planning to meet and swim together in Scotland.
Laura – who in October swam the Channel as part of a relay team for charity – contacted Chloe on social media to congratulate her on her record-breaker and mentioned that she was about to go into hospital for her surgery. The Australian then arranged to video-call the Scottish athlete before the operation. They've been talking ever since.
Laura said: "I congratulated Chloe on her swim and told her a wee bit about myself. I said I wanted to thank her for being a huge inspiration to me. And she got back to me, it was crazy. She is such an amazing person. She has achieved so much yet she is so humble, and puts so much into supporting other people. She is super special.
"We've spoken quite a bit and we have video called. We chat like we have known each other all our lives. She feels like a big sister to me."
And Chloe, 35, who has also braved Scotland's lochs, agreed. She told The Sunday Post: "When I read Laura's message to me, I got goose bumps. I think she is amazing. We have been virtually hanging out. She is like my own little sister. I find her an inspiration. She has endured so much, so many health challenges, and yet she is so positive and still wanting to do amazing things like the Channel relay. She doesn't let her disability get in the way of setting goals for her swimming. She has the positivity to still have a go at things. I am blown away by her."
Laura, 27, featured in The Sunday Post in 2018 when she told how braving the freezing waters of Loch Rannoch helped her to manage symptoms of Ehlers-Danlos syndrome. It affects the connective tissue around her body, leaving her with constant joint pain and life-threatening gastric problems, requiring a gastric pacemaker to make her paralysed stomach work. But when at the start of this year the organ failed to respond to the device, Laura – who is also fed by a tube into her bowel – had to go back to hospital to have a temporary nasogastric tube fitted to manage her symptoms and drain her stomach.
Laura – who has been described as an "incredible athlete" – said: "I had to shield during lockdown so I couldn't swim for six months, 189 days to be precise! I noticed a massive change in both my physical health mental health. My pain became much worse because I couldn't get to the water. It hit me so hard when I couldn't access the one thing that takes away pain.
"In July I finally managed to go to Loch Lubnaig with my training partner and it was the best feeling ever. I instantly felt my body respond to the water and for the first time in months, I finally got back to being pain free. It had a huge impact on my mental health and gave me the boost I so badly needed."
But with her stomach still not responding to the pacemaker, her doctors decided she should have a permanent version of the nasogastric tube, known as a percutaneous endoscopic gastrostomy or PEG. The procedure went ahead at the Queen Elizabeth University Hospital in Glasgow.
She said of Chloe's video call ahead of the surgery: "It was so amazing to get to chat and share our stories with each other and get advice and talk about future swimming plans and goals. It gave me such a boost and lifted my spirits for going into hospital. I have been following Chloe and her swims for a long time. She has been a role model. She is a girl, she is young, and she is strong. Swimming the Channel requires a mental strength. I can relate what she does with her swims to my swimming and my condition. It is psychological. If you believe you can do it, you can. Nothing is impossible."
She added: "Chloe messaged me to wish me good luck just as I was about to go into theatre for my operation. It was like your lifelong friend messaging you. We have so much in common; the same sense of humour and the same outlook on life. She is in the UK and away from her family and her two dogs, so I have my wee dog here when we video call."
Despite her childhood and teenage years being blighted by the condition, Laura hopes to one day swim with her idol in Australia. In the meantime she may have to settle for something a little closer to home. Laura said: "Chloe really wants to get to Scotland to swim with me. It would be great. And you never know, when all this Covid is over I may get to Australia to swim with her."
Chloe – who is planning more Channel swims before returning home in October – said: "I'm a big fan of Scotland and I've swum in Loch Ness. I prepared there before my English Channel swim. On the last message I sent to Laura I signed off 'swim with you soon'. I'd love for us to swim together in a loch in Scotland."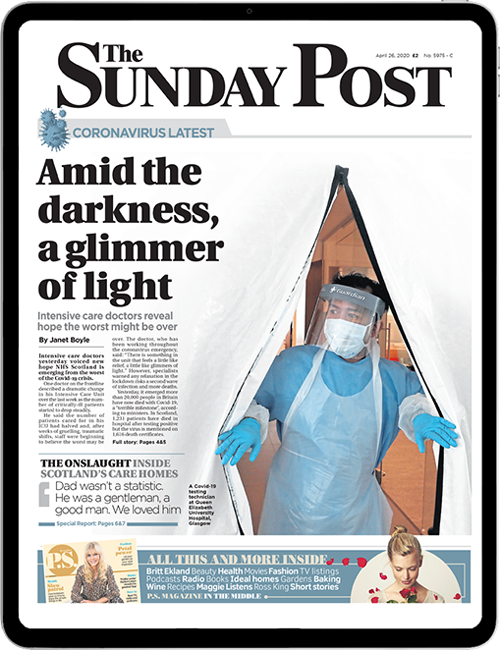 Enjoy the convenience of having The Sunday Post delivered as a digital ePaper straight to your smartphone, tablet or computer.
Subscribe for only £5.49 a month and enjoy all the benefits of the printed paper as a digital replica.
Subscribe