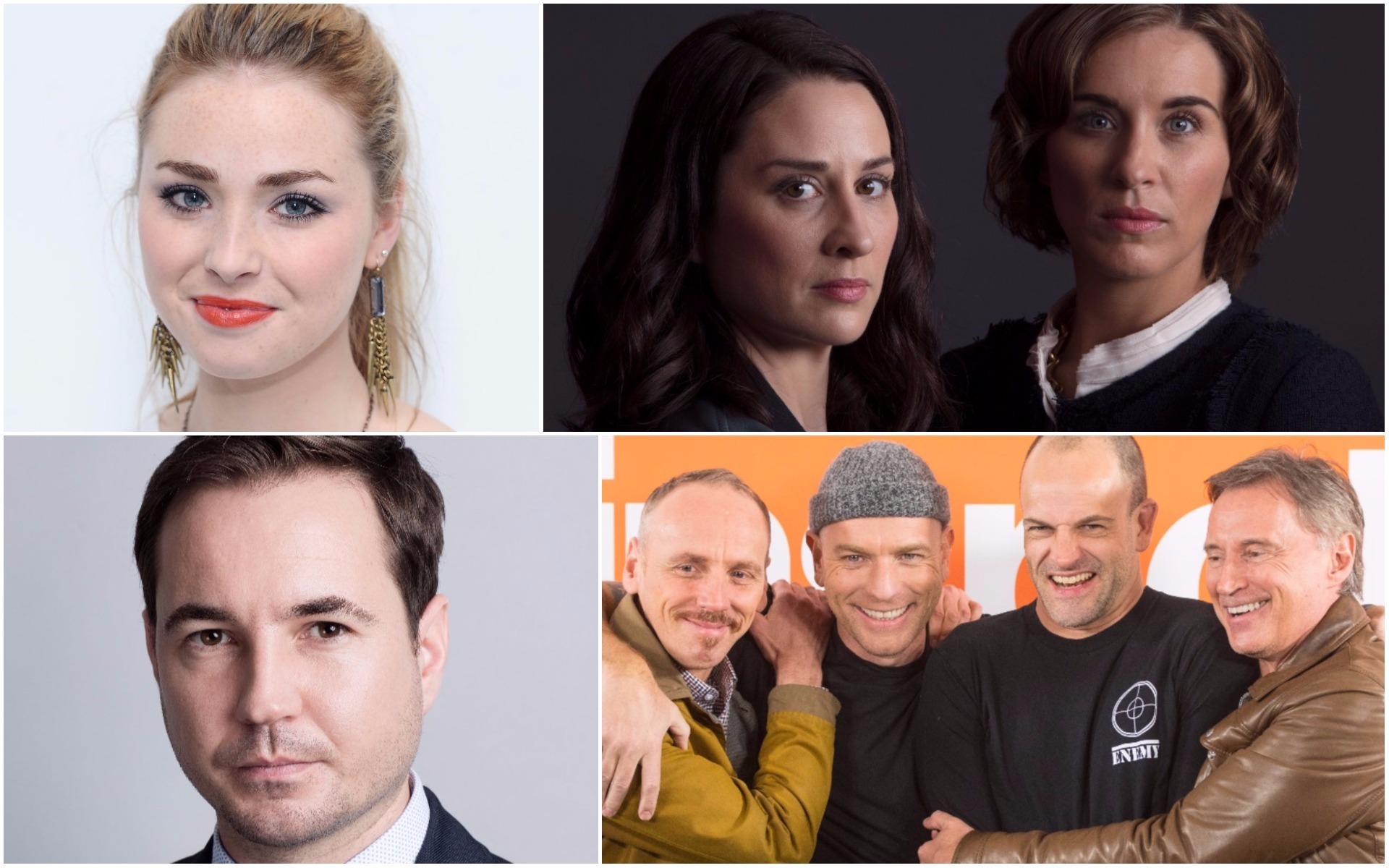 THE nominations for the British Academy Scotland Awards on Sunday 5 November have been announced.
The awards will be hosted by Edith Bowman at the Radisson Blu Hotel, Glasgow.
It's a great year for Danny Boyle's T2 Trainspotting, leading the way with five nominations for feature film, director, and all three of the top acting honours of for film actor.
Line of Duty favourite Martin Compston and Morven Christie, star of popular TV drama The Replacement, have also received nods for their stellar work in television.
Edith Bowman, returning host of the ceremony, said: "BAFTA Scotland play such an important role in supporting and nurturing creative talent and the British Academy Scotland Awards is a terrific platform to recognise these practitioners.
"I'm thrilled to be part of a celebration of the immense talent in Scotland and I can't wait to see who wins on the night."
Watch the announcement and read the full list of nominees below:
British Academy Scotland Awards 2017: Nominations Announcement

Posted by BAFTA Scotland on Wednesday, 4 October 2017
Best Actor – Film 
EWEN BREMNER –T2 Trainspotting
ROBERT CARLYLE – T2 Trainspotting
EWAN MCGREGOR –  T2 Trainspotting
---
Best Actor – Television
MARK BONNAR – Unforgotten
MARTIN COMPSTON – In Plain Sight
DOUGLAS HENSHALL –  In Plain Sight
---
Best Actress – Film
KATE DICKIE – Prevenge
FREYA MAVOR – Modern Life Is Rubbish
DEIRDRE MULLINS – The Dark Mile
---
Best Actress – Television
MORVEN CHRISTIE – The Replacement
LAURA FRASER – The Missing
JULIET STEVENSON – One of Us
---
Animation
HOME MATTERS – Production Team – Playdead
LIFE CYCLES – Ross Hogg
SPINDRIFT – Selina Wagner, Anna Thomson, Mike Vass
---
Current Affairs
EÒRPA SPECIAL – GUANTANAMO DETAINEES – Rebecca MacLennan, Maureen MacLeod, Angela MacLean, Neil MacIsaac – BBC/BBC Alba
THE INSIDERS' GUIDE TO THE MENOPAUSE – Shiona McCubbin, May Miller – Maramedia/BBC Scotland
WHO CARES – Elizabeth Partyka, Donald John MacDonald, Peter Steele, Rebecca Curran – STV
---
Director – Factual
DARREN HERCHER – Sighthill
LOUISE LOCKWOOD – Fair Isle: Living on the Edge
JOHN MACLAVERTY – Glasgow 1967: The Lisbon Lions
---
Director – Factual 
DANNY BOYLE – T2 Trainspotting
HOPE DICKSON LEACH- The Levelling
TOM VAUGHAN – Victoria
---
Entertainment
ALL ROUND TO MRS BROWN'S – Production Team – Hungry Bear Media Limited/BocPix Limited/BBC One
THE DOG ATE MY HOMEWORK – Production Team – BBC/CBBC
ROBOT WARS – Production Team – Mentorn Scotland/BBC Two
---
Features and Factual Series
THE COUNCIL – Elspeth O'Hare, Jennifer Gilroy, Stephen Bennett – IWC Media/BBC One
FAIR ISLE: LIVING ON THE EDGE – Louise Lockwood, Jo Roe, Stewart Houston, Jonathan Seal – BBC/BBC One
PRISON: FIRST AND LAST 24 HOURS – Michael McAvoy, Louise Say, David Marshall – STV Productions/Sky 1
---
Feature Film
ACCIDENTAL ANARCHIST – John Archer, Clara Glynn, Berny McGurk – Hopscotch Films
DONKEYOTE – Chico Pereira, Sonja Henrici, Julian Schwanitz – SDI Productions
T2 TRAINSPOTTING – Danny Boyle, John Hodge, Andrew Macdonald, Christian Colson – DNA Films/Decibel Films/Cloud Eight Films
---
Game
BRUT@L – Production Team – Stormcloud Games
RED'S KINGDOM – Production Team – Cobra Mobile Limited
STORIES UNTOLD – Jon McKellan, Omar Khan, Graeme McKellan, Geoff Angus – No Code
---
Short Film
1745 – Morayo Akandé, Gordon Napier, John McKay – Scottish Film Talent Network
THE INESCAPABLE ARRIVAL OF LAZLO PETUSHKI – Sven Werner, David Brown – Scottish Film Talent Network
PLASTIC MAN – Yulia Kovanova, Tracey Fearnehough, Ian Dodds, Anthea Harvey
---
Single Documentary
BILLY CONNOLLY: PORTRAIT OF A LIFETIME  – Pauline Law, Liam McArdle, Mandy Weller, Billy Connolly – BBC/BBC Scotland
GLASGOW 1967: THE LISBON LIONS – John MacLaverty, Alex Gale, Hazel Irvine, David Martin – IMG Productions Scotland/BBC Scotland
SIGHTHILL – Darren Hercher – Darren Hercher Films/BBC Scotland
---
Specialist Factual
FRANCIS BACON: A BRUSH WITH VIOLENCE – Richard Curson Smith, Franny Moyle, Lucy Evans, Andrew Quigley –  IWC Media/BBC Two
THE MARVELLOUS WORLD OF ROALD DAHL – Pauline Law, Andrew Thompson, Jonathan Seal – BBC/BBC Two
SCOTLAND AND THE KLAN  – Production Team – Matchlight/BBC Scotland
---
Television – Scripted
IN PLAIN SIGHT – Simon Heath, Gillian McNeill, Nick Stevens, John Strickland – World Productions/ Finlaggan Films/ITV
THE REPLACEMENT – Joe Ahearne, Nicole Cauverien, Andy Harries, Suzanne Mackie – Left Bank Pictures/BBC One
TWO DOORS DOWN – Catherine Gosling Fuller, Sasha Ransome, Simon Carlyle, Gregor Sharp – BBC/BBC Two
---
Writer – Film/Television
JOE AHEARNE – The Replacement
SIMON CARLYLE, GREGOR SHARP – Two Doors Down
HOPE DICKSON LEACH – The Levelling
---