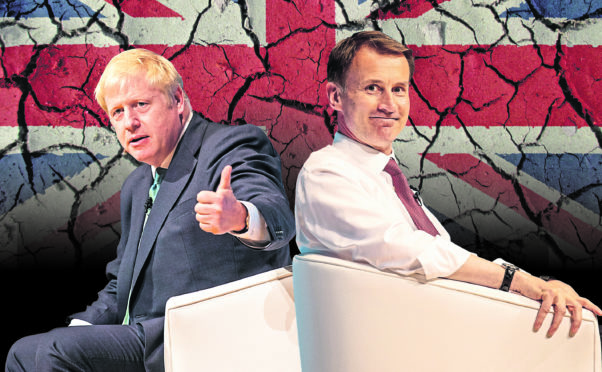 The SNP's Westminster leader has warned the Tory leadership contenders not to "fly in the face" of the will of the people of Scotland over a second independence referendum.
The comments from MP Ian Blackford came after the Scottish leadership hustings where Jeremy Hunt and Boris Johnson warned they would not grant a second referendum on independence – even if the SNP wins a majority at the 2021 Holyrood elections.
Mr Blackford said the party's aim was to build consensus through "respectful debate" with the people of Scotland over holding Indyref2. He added: "I would say to Boris Johnson and Jeremy Hunt that woe betide them to fly in the face of the expression of that will of the people of Scotland.
"If the people of Scotland want to have a say in their future, then no Westminster politician is going to stop that."
First Minister Nicola Sturgeon has ruled out holding a wildcat referendum without a section 30 agreement, which gave the go-ahead for the referendum of 2014.
The Conservative leadership hustings on Friday night in Perth was the only hustings taking place north of the border as the candidates continue to battle for the keys to Downing Street. The result is expected to be announced on July 23,
A new YouGov poll of Conservative Party members yesterday suggested Mr Johnson is on course for a resounding victory, with 74 per cent backing him.
Around 150 independence supporters demonstrated outside Perth Concert Hall ahead of the event, holding banners with signs such as 'End London Rule' and 'England get out of Scotland'.
Inside the hall, Mike Mellor, from Dunkeld, was one of those watching as loud cheers greeted Mr Johnson's arrival.
He said he backed Mr Johnson for Prime Minister as he believed he would deliver Brexit.
He said: "I have never heard him live and I want to see if he is the big character that he portrays. So far, from what I have seen, he is.
"He didn't do anything other than arrive – but he immediately had a presence and a personality. That may not be enough, of course, but it puts him at the front of the pack if you want to deliver."
Mr Johnson's initial pitch was met with enthusiasm from party members.
He was met with loud cheers when he talked of "putting the run into Runrig" by hoping to defeat Perth and North Perthshire MP Pete Wishart, a former member of the band.
On the subject of Brexit, he said he was confident a "great deal" would be secured.
He was met with loud cheering when he added: "I prophesise confidently there will be clean drinking water in Perth, the planes will fly and there will be ample supplies of glucose and milk solids and whey to make Mars Bars, deep fried or otherwise.
"Where there is a will there is a way."
But there were terse and uncomfortable exchanges over his policies and private life as he was quizzed by chair, STV News Political Editor Colin Mackay and party members in the audience.
When he was grilled on the issue of how his income tax plans could lead to higher earning Scots paying more National Insurance, he said there would be an "overall package" which would "help everybody".
A female party member, who gave her name as Flora, asked if a good Prime Minister also had to be a "loyal husband and father."
Mr Johnson, whose personal life has come under scrutiny, said: "I have been asked all sorts of questions in the last 20-30 years and I just don't comment on that stuff if that's alright"
On the issue of a second referendum, he did not explicitly say he would not grant a section 30 order to give permission for the poll.
But he added: "I would see absolutely no case for having a second referendum in Scotland."
His rival Mr Hunt, who is being backed by Scottish Conservative leader Ruth Davidson, vowed to reject any request for a new vote on the issue, prompting cheers and applause.
He said: "I am listening to the people of Scotland. There are many people who voted for independence who do not want the divisiveness of another referendum.
Both candidates say they want to secure a deal for leaving the EU – but have also not ruled out a no-deal Brexit if necessary by the deadline of October 31.
Mr Hunt said the safest and quickest way to deliver Brexit was to choose "someone with a chance of negotiating a deal – and that's me."
He said after years of austerity there was now room in the national finances to allow spending on areas such as defence, education, NHS and social care.
But he added: "If there was a no-deal Brexit, I am clear those priorities would have to wait, because our first priority must be to help businesses affected by a sudden introduction in tariffs."
Analysis: Both were just happy not to have gaffed
By Andy Maciver
Friday's Tory leadership hustings in Perth were interesting, but not particularly informative. We have seen, throughout the campaign, two candidates who have struggled to cope with the Scottish dimension, and this was ruthlessly exposed by Colin Mackay, STV's political editor, who was asked by the Tories to chair the two-hour session.
In truth, both men looked like they were happy to get out without a major gaffe. They looked less assured than at any other hustings so far, because they were less assured than at any other hustings so far.
For they have not just the usual unanswerable question (Brexit) but another – a second independence referendum.
The two questions effectively receive the same answer – for Brexit it's "I'll get a deal"; for independence it's "I'll keep our precious union together".
It's enough to get a cheer at a Scottish Tory gathering, but only because they're too afraid to ask the follow-up question: "How?".
I took away two interesting points. The first was Boris Johnson had several opportunities to explicitly rule out indyref 2, but didn't take them.
Second, and conversely, Jeremy Hunt appeared to suggest he may refuse a second referendum even if the SNP returns a majority based on a clear manifesto commitment in 2021.
In a reversal of the received wisdom, that dichotomy indicates Johnson, not Hunt, is the one who has thought this through.
This was not a good night for the Scottish Tories, because there are no good nights for the Scottish Tories at the moment.
The Westminster end of the party look, feel and act like they don't understand Scotland or the Scottish party.
Actually, it doesn't matter. The Scottish membership is a tiny part of the electorate here.
And this election isn't about Scotland and the Union. It's about England, and Brexit.
Andy Maciver is a director of Message Matters and former head of communications for the Scottish Tories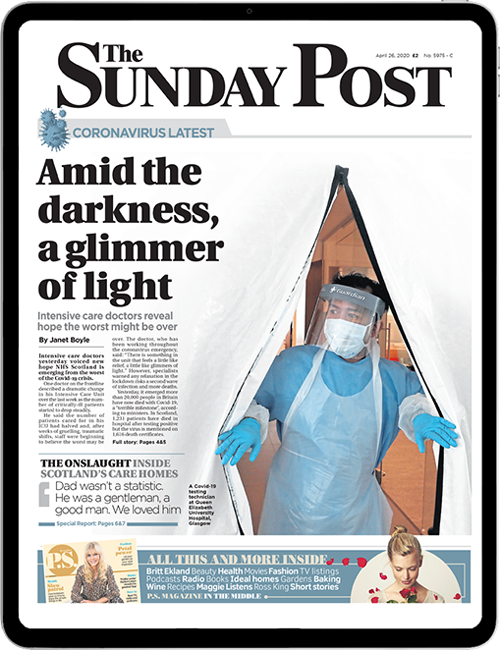 Enjoy the convenience of having The Sunday Post delivered as a digital ePaper straight to your smartphone, tablet or computer.
Subscribe for only £5.49 a month and enjoy all the benefits of the printed paper as a digital replica.
Subscribe