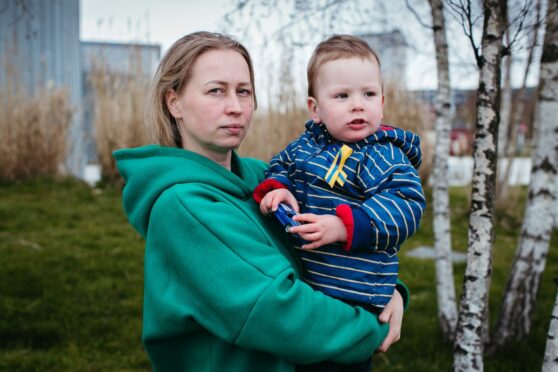 The Russians were gone and only horror remained but, for Oksana Chub, watching the images of bodies strewn in what could have been the suburban streets of any European city, the horror did not seem close to home, it was home.
The atrocities committed against civilians took place as her family were sheltering from Russian shells in Bucha, near Kyiv, before managing to flee. After finding safe haven in Scotland, she spoke of her despair and anguish as she realised what the invaders have done.
"These people in the ­pictures, the people who have been killed could be my friends, my neighbours," she said.
"This was my home. Now look at what have they done to it."
After seven days confined to their apartment without power, she, along with husband Yurii and her two-year-old son Oleksii, escaped. Their home, she has been told, was later looted by the Russians. Chub, 37, says she could have met a similar fate as those who had been killed had she not managed to get out.
As the Russians withdrew from the regions around the Ukrainian capital – to regroup and bolster operations in the east of the country – the world has watched aghast as mass graves have been discovered in once-­occupied towns and suburbs, where accounts of rape, torture and murder committed by Russian troops are piling one upon another.
Bucha, once home to 37,000 people, a place where families moved to raise their children, is smashed. Its buildings bombed to rubble, its streets littered with wrecked cars and burnt-out armoured vehicles.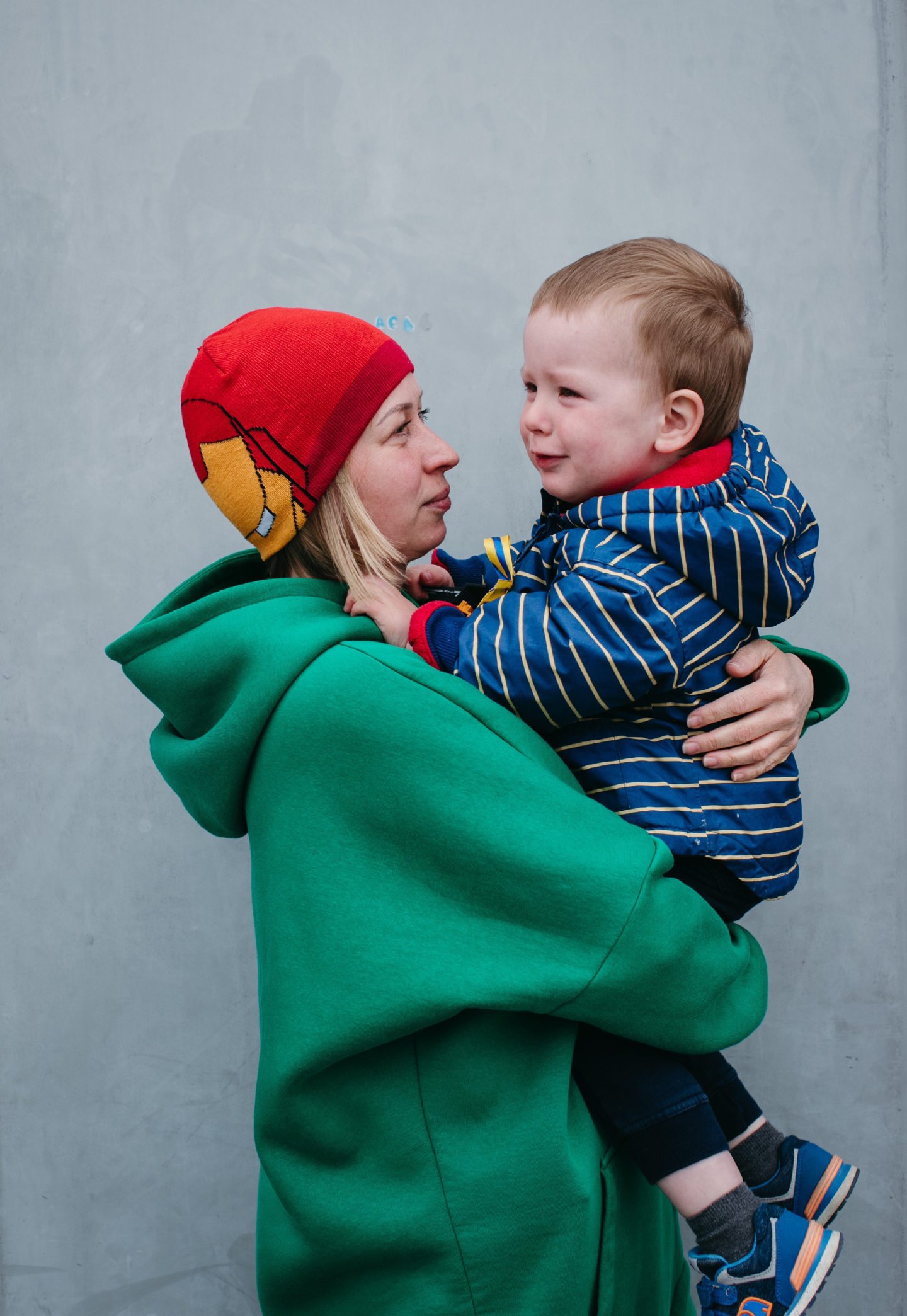 Now Chub has spoken for the first time about her desperate days spent sheltering with her husband and young son and how the fighting drew closer. She said: "It is terrifying seeing what happened in Bucha, all the dead bodies lying in the streets, and terrifying to think what could have happened if we hadn't been able to leave. It could have been us.
"People were killed in ­neighbouring buildings and their bodies left on the street. One person's body was found in the basement where he had been hiding from the Russians.
"People were shot dead trying to leave the city. We feel very lucky to be here in Scotland."
Chub and her family lived on the sixth floor of a 10-­storey ­apartment block in Bucha, a suburb of Kyiv that came under heavy bombardment by Russian forces from the start of Vladimir Putin's invasion. Their building suffered only minor damage, but they were left without electricity and light for seven days and were unable to go outside.
She said: "There was ­constant shelling by Russians and sirens every night. We slept in the corridor on the floor of our building rather than in the basement of the building.
"Other people stayed in the basement but it wasn't a bomb shelter and it wasn't a place for a two-year-old boy. The walls of the corridor were concrete and it felt relatively safe. We slept on an armchair bed that had been in the family for 40 years.
"It was difficult trying to explain to Oleksii that he couldn't run around or go to the playpark. When we reached safety in Poland, it was wonderful to be able to go a playpark with him.
"We left as Russian soldiers were entering the city. There was heavy fighting just one or two blocks away from our building. Once the Russians occupied the city, they made their base the nursery next to our building. They looted all the flats in the building, including ours."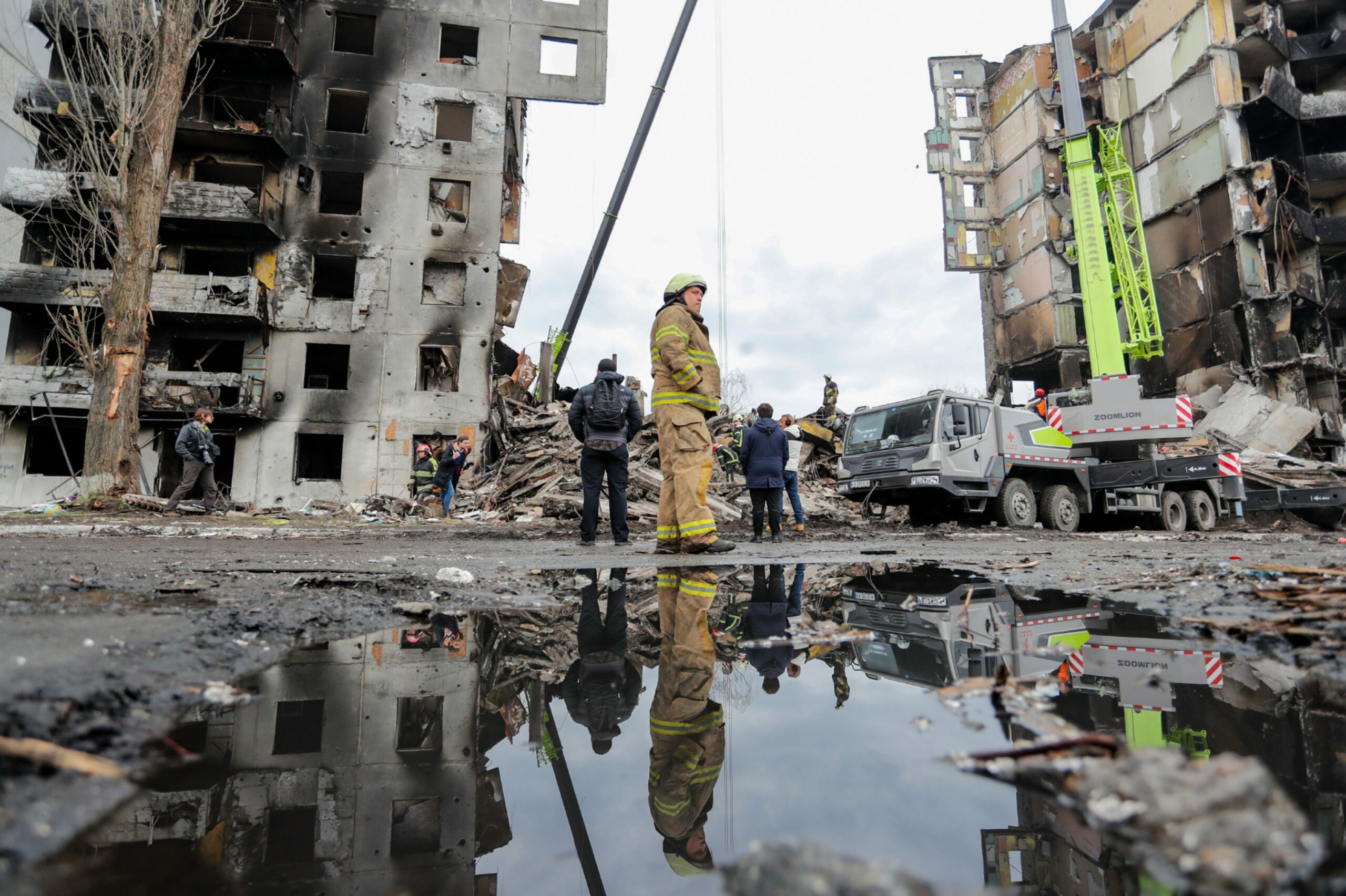 Friends they left behind have since sent her pictures of the building she lived in, its windows smashed, the car park littered with damaged cars and broken glass.
Chub said: "Bucha is a small city that was quiet and safe with parks and playgrounds. It was a nice place to raise a family. It's very hard to look at all the pictures and videos of Bucha now, especially when I see the building my family and I lived in."
She and Yurii left Bucha on March 3 and drove for three days to reach refuge in Poland. However, Yurii returned, as Ukrainian men are banned from leaving the country in anticipation they may be called to fight. He is currently living in a town in central Ukraine, which The Sunday Post has chosen not to name, and he and Chub talk twice daily by video phone.
Chub said: "There has been some bombing there but it is relatively safe. But I am worried for him because he is in Ukraine."
Chub and Oleksii have now settled in Glasgow, joining her brother Yevgen, who has lived here for seven years. She said she has been made welcome in Scotland by her family and the Ukrainian community.
She said: "We've been in six different locations since we left Bucha and Oleksii asks if each place is our home. He is settled now but I would like to return to Ukraine when it is safe and when there are playgrounds and sandpits for my son to play in again."
The horrific images of Russian atrocities in Bucha that have shocked the world and escalating calls for Vladimir Putin to face trial for war crimes have hardened Chub's view on the Russian president.
Chub said: "I think he should be executed. But it shouldn't just be Putin who should be held to account. The generals who gave the orders and the soldiers who carried out their orders should be punished too."
Chub also urged Western ­leaders to answer Ukrainian president Volodymyr Zelensky's pleas for a no-fly zone over his country, more weapons and more sanctions against Russia.
She said: "The West should be doing everything it can to help end the war and to save the people who are still there."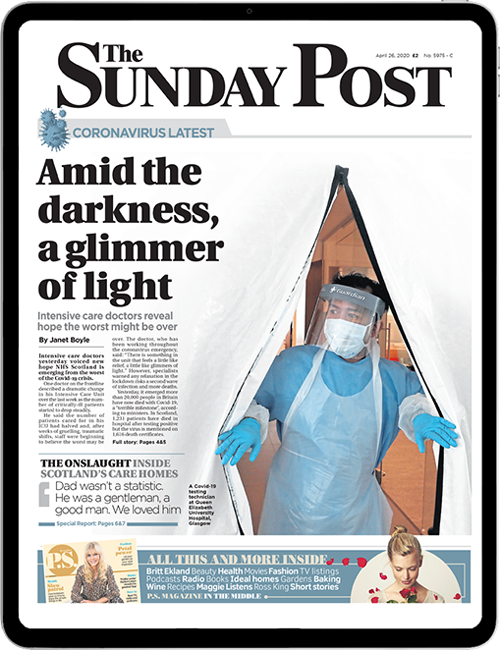 Enjoy the convenience of having The Sunday Post delivered as a digital ePaper straight to your smartphone, tablet or computer.
Subscribe for only £5.49 a month and enjoy all the benefits of the printed paper as a digital replica.
Subscribe