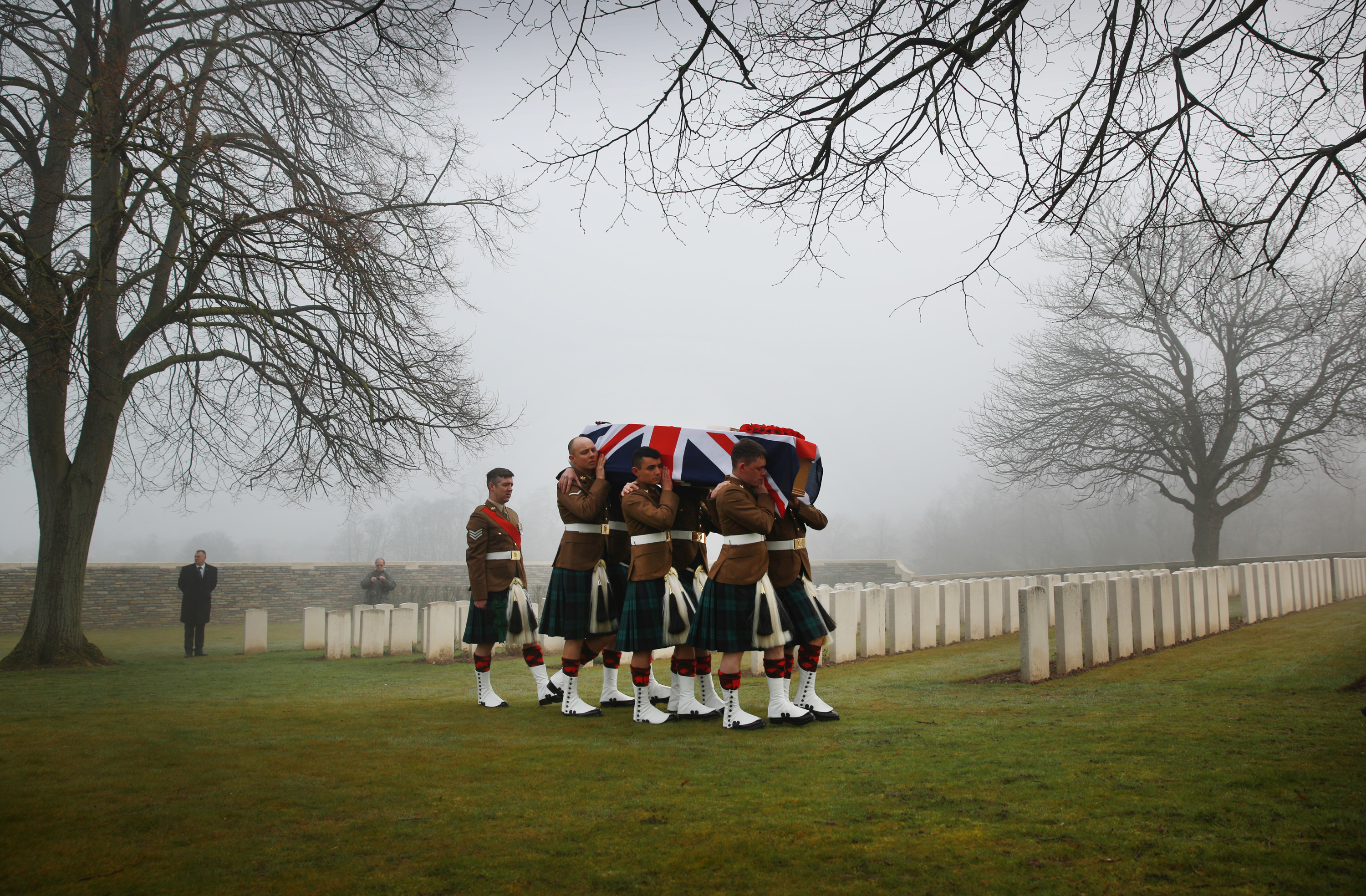 MISSING heroes of the Western Front killing fields have been condemned to lie in unmarked graves – because a vital Army liaison post has disappeared.
Campaigners claim cuts are to blame for the loss of an Army-funded civilian "adjudicator" who provided the final official confirmation needed to confirm and create named war graves.
The Army insisted yesterday it had not cut funding for the £27,000-a-year job based at the National Army Museum (NAM) in London.
But, in a letter to one researcher, who raised the issue with Brigadier Martyn Gamble of Army Home Command, the soldier admitted: "Due to a recent restructuring of the Army, difficult financial conditions and ongoing reviews into roles and responsibilities, we are reviewing the diverse work strands related to museums and heritage."
And last night, amid the confusion, the recipient of the letter, military researcher Terry Denham said: "I have 100 cases awaiting official confirmation, but when I tried to check their status, I was told that because of cuts no one was now doing that job."
Mr Denham, of the In From The Cold Project, has so far identified 6000 unmarked graves.
He described the cut as "buttons" compared to Britain's defence budget of £48 billion.
He was backed up by fellow researcher Andy Pugh and an official at the Commonwealth War Graves Commission (CWGC).
Mr Pugh said: "I asked NAM a week ago to check my outstanding cases and was told categorically the job was gone and because of cuts they didn't know whether it would be replaced.
"Without an adjudicator, the cases cannot go any further."
When researchers believe they have located a missing hero, giving him a name, the adjudicator was able to access records to establish if that soldier had fought and died in the region.
The loss of the essential administrative role, in the year commemorating the 100th anniversary of the Battle of the Somme, was described as a slap in the face and condemned by those dedicated to locating 500,000 missing British and Commonwealth soldiers, including countless Scots, who made the ultimate sacrifice during the First World War.
Nic Andrews, of the CWGC, believes the families of war heroes who gave their lives for Britain deserve better.
He said: "I think most people would comment that this isn't the best timing in the world."
"Three years ago, two adjudicators were funded by the Army. From Last year, there was one, but since mid-January no-one has been in post and have 100 cases waiting."
Mr Andrews revealed the CWGC had made "informal" representations hoped the position would be reinstated.
He added: "I think they will have to reshuffle priorities. This work really matters."
He added: "Without the adjudication service, families waiting for completion of a war grave application won't get closure, and searchers who bring us cases won't be able to complete their work.
"But even more importantly, those who fought for this country and have given their lives deserve to be remembered.
"It's our duty to do that.
To add "insult to injury", Mr Denham, 68, has learned the Royal Air Force and Royal Navy will continue to have an adjudicator service.
He added: "The poor old 'Tommy' is being left out in the cold for the sake of what, in the great scheme of things, was probably equivalent to the cost of a few Army uniform buttons."
Mr Denham's anger is shared by military historian Evelyn McKechnie, who campaigned for the establishment of the National Scottish Monument in Flanders. She said: "Identifying heroes and placing their names above last resting places is part of our heritage and history and it has been brought to a halt.
"This is shocking at a time when everyone, from the Royals to ordinary Scots, are commemorating the War's centenary."
Evelyn, who organises pilgrimages through Ecosse Battlefield Tours, added: "It's dreadful to think these soldiers who remain missing will stay lost and forgotten.
"You cannot put a price on the comfort it gives to a family to know where their loved ones fell. It's our duty to acknowledge their sacrifice.
"I know the emotion. I felt it when I found my uncle Robert's grave in Normandy."
An Army spokesman was yesterday loathe to make an official comment but when pressed on the issue he insisted the loss of the adjudicator was not the result of cash cuts by the Army and that the responsibility for the post lay with the NAM.
A spokeswoman for the NAM, who said the organisation's director could not be contacted until next week, said: "I cannot say anymore apart from the fact that the employee who held the position left as they got another job."
An exasperated Mr Denham said: "As far as I am concerned, I don't know or care whether the Army has withdrawn funding or NAM has lost the job, the situation is the adjudicator is gone and we have now nowhere to go to place the final piece in a jigsaw which honours our heroes and brings comfort to their families.
"It's unacceptable.
"They should get themselves around a table and sort out this disgraceful situation."
'Brave men forgotten'
AS a former soldier Stephen McLeod clings to the hope that no fallen warrior will be forgotten, their names carved in stone to celebrate their courage.
But the 50-year-old veteran, who served for nine years with the Black Watch, spent his life wondering where the remains of his great uncle William McAleer lay.
William, a private in the Royal Scots Fusiliers, was a miner's son from Leven, Fife, aged just 22 when he died at the Battle of Loos in 1915.
But it was not until 2010 that his body was unearthed at Vendin-le-Vieil, along with 19 comrades.
Research confirmed who he was, the only one of the heroes to be identified.
Stephen, from Cowdenbeath, travelled to France to witness his great uncle being laid to rest with military honours at the cemetery in Loos-en-Gohelle, near Lens, in 2014.
He said: "It was emotional, hearing the sound of the pipes coming through the mist. We don't have a photograph of him. We don't know what he looked like. But my mum felt proud.
"As a former soldier, like him, what greater thing than to go and show respect to somebody who died 100 years ago.
"His name had never been put on a local war memorial. It was as if he never existed."
Stephen is baffled by the Army's decision to cut funding needed to locate missing soldiers like his great uncle.
He added: "Every year we have a remembrance service.
"It seems paradoxical, if they are saying these soldiers will never be forgotten – they are, in a sense, being forgotten if they are withdrawing funding."
Royal resting place traced
THE last resting place of the Queen Mother's beloved brother might never have been marked but for historical research long after the end of the Great War.
Captain Fergus Bowes-Lyon was 26 when he was killed in action after his Black Watch regiment came under fire at the Battle of Loos, on the Western Front, in September 1915.
Sadly, Her Majesty passed away in 2002 and was denied the comfort of knowing where her brother had fallen.
It was not until nine years later that Fergus's grandson, James Voicey-Cecil, helped by Prince Charles and historian Christopher Bailey, traced his final resting place to a quarry at Vermelles in France.
The Commonwealth War Graves Commission ruled that a headstone should be erected bearing his name.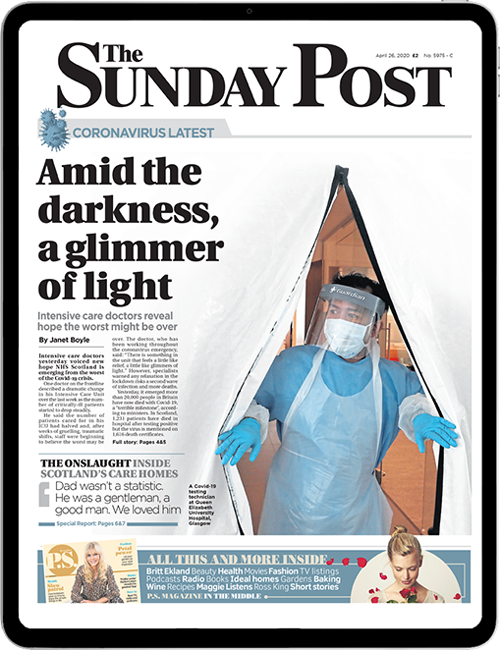 Enjoy the convenience of having The Sunday Post delivered as a digital ePaper straight to your smartphone, tablet or computer.
Subscribe for only £5.49 a month and enjoy all the benefits of the printed paper as a digital replica.
Subscribe