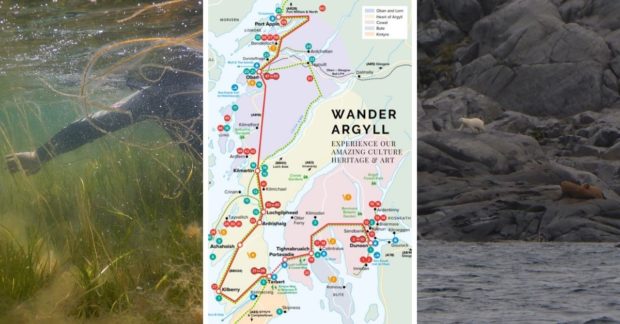 For thousands of years, the stunning landscapes of Argyll have been an inspiration to artists, musicians and travellers.
But the remoteness of this beautiful Scottish region can mean that unique and wonderful places, including galleries, cultural and historical hotspots aren't as accessed as they might otherwise be.
However, a new initiative, Wander Argyll, launched this summer, is aiming to change this.
Created by CHARTS, Argyll and the Isles' Culture, Heritage and Arts Assembly, the trail aims to showcase over 60 highlights of this magical part of Scotland, running from the south to the north of Argyll.
Passing along NCR75 and NCR78 from Dunoon to Portavadie, Tarbert onto Port Appin, the route captures a snapshot of the unique collection of skills and activity in Argyll, with artists and craft makers inspired by its scenery, coasts, rivers, islands, lochs and mountains.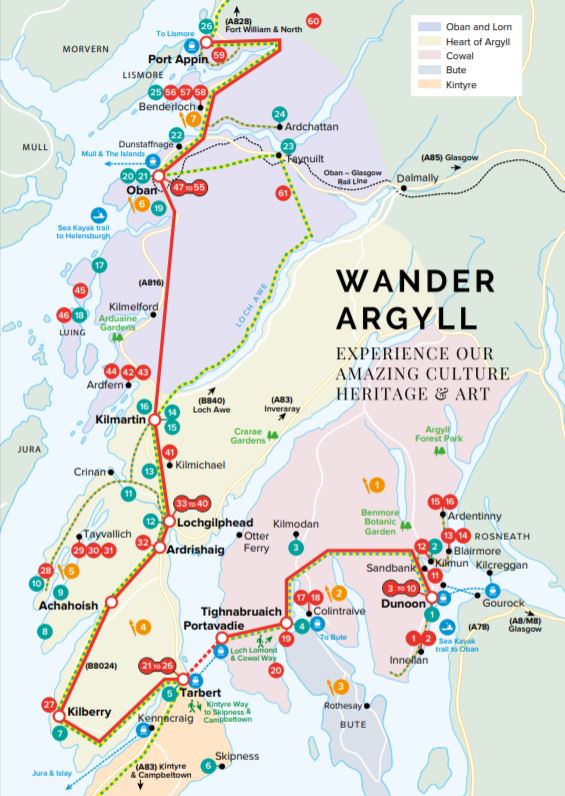 One of the artists on the trail is Lottie Goodlett, 56, who has lived in Tayvalich in the Sound of Jura for the past twenty years.
Her unique art focusses completely on seaweed, which she has been snorkelling and diving to study and paint for two decades.
"Ever since I came to this area, I have been seaweed obsessed," she said.
"At first I was only interested in eating it and taught myself to identify and cook the many delicious types.
"But I am also a very keen snorkeler and splashing out on a prescription mask I was dazzled by what I could see beneath me – an ocean meadow swaying in the ebb and flow of the tide.
"On my snorkel forays I gather eye-catching specimens and take them home to press – a process which takes about three weeks.
"Sometimes I layer or collage different types of seaweed to combine textures and shapes, or sometimes it is a single specimen that intrigues me."
Lottie was approached by Wander Argyll last autumn to get involved and says living in Argyll is amazing. But through her diving she has also noticed changes to the waters in this remote part of the country.
"I'm increasingly aware of the effects humans are having on the environment.
"Plastic pollution is horrifying and nowhere along the Sound of Jura is free of it.
"Our community has also had to campaign hard against an industrial sized fish farm application which would have affected endangered marine species and local livelihoods."
She added: "I think artwork about the sea can be very important for raising awareness about climate change and the importance and fragility of our oceans.
"Kelp forests are one of the most productive ecosystems in the world, and those off the west coast of Scotland are not only under threat by climate change but also horrifying commercial exploitation by dredging.
"I hope that the unexpected beauty of seaweed in my artwork will help people realise that kelp should be left alone to do its own thing and help heal the oceans."
Another artist, directly east of Lottie's studio, is Lesley Burr, 56, who is currently artist in residence at the Scott Polar Institute and has just returned from an expedition to the arctic.
Lesley has lived in Lochgilphead for the last 15 years and landscape, especially cold ones, is something that she is particularly inspired by and attracted to.
But it was an article she read about a polar bear a number of years ago that inspired her to travel to paint and sketch in one of the coldest landscapes on earth.
"About seven years ago, I read an article about a female polar bear who had swum 400 miles to get food.
"One of the reasons was the lack of ice and it really struck a chord with me.
"Climate change is a plight for all of us, but the animals are passive to that whole intervention of change, so I feel for that a lot.
"So I started to work on images of polar bears, and looking at how they adapt, how they progress and I wanted to use them as an exploration of ice loss and habitat change.
"So then going to the arctic became much more interesting and pressing, because I love to paint from life."
Hearing about Friends of the Scott Polar Research Institute, Lesley applied to become the artist in residence, and was successful on her second attempt.
She spent ten days exploring the arctic on a ship run by One Ocean Expeditions, focussing on art, culture, wildlife and meeting Inuit artists.
"We saw five polar bears on the trip, which was just incredible, so exciting.
"We actually saw a polar bear stalking a walrus as well, we were on ribs, just watching through binoculars.
"We met one or two of the inuit artists on Cape Dorset, to West Baffin Eskimo Cooperative, which is basically an incredible print studio where they do lithographs, and we saw techniques, really skilled, and we saw original artist drawings, it was amazing.
"Although there were obvious changes, I came away feeling positive. What we found was that art was actually one of the more stable incomes for people there, which is quite unusual.
"But it's great to hear that that is possible."
---
Find out more about Lottie's work: soundofjuraseaweeds.com/
Find out more about Lesley's work: www.lesleyburr.co.uk/