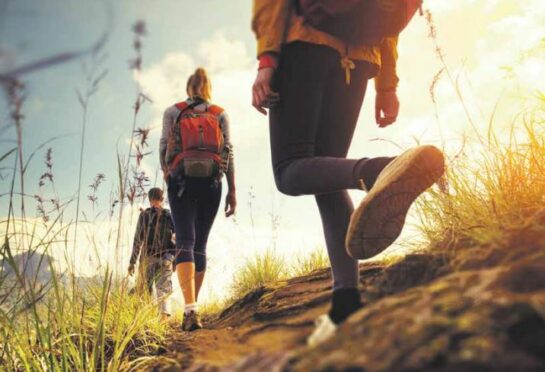 A brisk walk in the fresh air can do wonders for the body but a stroll with other people can improve our mental as well as physical wellbeing.
Walking improves blood pressure, heart rate, cholesterol levels and other aspects of health, according to research. But combined with the social aspect of walking with friends, the benefits are more far-reaching.
Group walking in nature is more beneficial to mental health than walking indoors, in urban environments, and alone, according to a study published in the British Journal of Occupational Therapy. The same study reported how group walking improved mood and self-esteem, and lifted symptoms of depression.
With organised walks increasing in popularity, it's never been easier to get involved. The Paths For All charity supports a network of  almost 400 Health Walk providers across Scotland and over 850 regular Health Walks offered in local communities.
Fran Crumley is co-ordinator of Walk In The Park, an initiative run by Loch Lomond and The Trossachs Countryside Trust. She said: "We wanted to create opportunities for people to be active within the national park, be connected with nature but also to communities and other people.
"Our members range in age from mid-30s right up to 80-plus. There's a wide range of people, from doctors and nurses to builders.
"Most of the members have built up strong friendships. People just want to learn from each other. Perhaps it's life experience or local history, or nature, or they've travelled. Everyone has something to share.
"We are finding that a lot of older adults in our communities are experiencing loneliness, especially as a result of the pandemic. Our groups provide a vital network."
Loneliness is a public health crisis, according to Age Scotland. The charity says 100,000 older people in Scotland feel lonely all or most of the time while 200,000 will go half a week without a visit or call from anyone. The knock-on effects can be devastating as prolonged isolation increases the risk of stress, anxiety and depression and doubles the risk of dementia.
Many of the triggers tend to happen in later years due to life changes such as bereavement, retirement, moving to a new area, illness, or children leaving home.
Crumley says the make-up of her six walking groups, with a combined almost 400 providers, reflects this. She said: "Our Arrochar group, in a rural community, is a good example of how a Health Walk provides vital support for older adults.
"All of our Health Walks are finished with a cup of tea or coffee which provides our members with an added opportunity to socialise."
The branch in Arrochar, Argyll, has around 16 regular members who meet every week. Here, some of them talk about the impact of walking on their health and happiness.
---
Retired cleaner Margaret Kelly, 73
My husband Jim, 75, and I both attend the walks every week, and we wouldn't be without it.
We always used to go for long walks together before Jim was diagnosed with dementia. For quite a long time, we noticed his memory was bad – but it took a couple of years for him to be officially diagnosed.
I'm his carer and during the day, I can cope, but late in the evenings he gets really confused. And he can be up every two hours through the night wandering about the house. It's hard and there's little support. Our children and grandchildren help when they can but everyone works full time.
The group walks have been a lifeline for us. Jim walks with the slower group where he has support, while I join the medium group. It's good for me, to get some steps in, get a bit of a break and make friends.
It's a great social outing really. It's lovely to catch up with the locals but also people coming from further afield too because there are a few who travel to walk with us.
---
Retired bank manager Margaret Paterson, 77
I joined the group after I lost my husband Davie two years ago, just before Christmas.
I love walking and try to get out most days. Depending on how I feel, that determines how far I walk but I do try to get out every day.
The walking group organisers gauge what you are capable of doing. Some people go faster and walk further than others, but we all meet up for a cuppa afterwards. I have met a few good friends through the group.
By sheer coincidence there's an American lady called Lynn whose parents were at the same wedding as me in New York back in 1953!
Everyone is very friendly. The social aspect is what keeps me coming back every week. The walking is now a bonus.
It really cheers me up. I love chatting while walking and am happy to do it even in the wettest of weather when we get soaked through.
---
Retired librarian, mum-of-two and gran-of-two Mary Maclean, 70
My sister Margaret and I joined the Arrochar walking group a couple of years ago during lockdown, pretty much when it started. We really enjoy it, both the walking and the scenery. The walking exercise is good but to be perfectly honest, what we love most about it is the company.
It's strange because people we never knew before that I now regard as really good friends.
I was diagnosed with cervical cancer over a year ago and have had a few rounds of chemotherapy. The cancer spread to my lymph nodes and I needed a second course. I had the last of my treatments the other week.
But the walking group has been a great way to take my mind off it. I am capable of getting out and about and there is no point sitting worrying about your health when you can be doing something and not thinking about it.
The others have been a great support. We have had chats about my experiences of cancer treatments and if I've missed a few outings through feeling unwell or having mobility problems, I always have a warm welcome when I return. A couple of people in our group have medical training and their friendly advice about keeping well is very helpful. I can't thank my fellow walkers enough for their kindness.
It's also a lovely excuse to spend time with my sister. This is something we do together every week and it's nice to have found something we both love and can do with each other. The best bit about the group is the people.
---
Retired nurse and mum-of-three Sanji Haynes, 60
I moved to Arrochar from Yorkshire after years of bringing my three children up north for holidays.
My husband is still working and the kids have grown up and left home now so I decided to see if I could find something to fill my free time. I wanted to find a way to get to know people and get to know the community and, just before Christmas last year, I discovered the walking group.
It's really good to get out but it's the relationships between people in the group that keep me going back. There are real friendships there, a genuine interest in one another, and there are people of all ages and from all different backgrounds.
There's lots of sharing of stories, and you are given time to speak and listen. You get a lot back, the walking part is almost like a sideline.
It's not just important to find exercise in the community but in a place like Arrochar it's even more important because things are spread out and not so "on tap". It's not like a city. It's a way of keeping that connection with people who live locally.
At the end of the day we all come with our baggage, but everybody has lived a life and that's what's so interesting about them. We can all be on that treadmill of life, but it's important to take time off, even if that is to walk at a steady pace.
---
Originally from New York, Lynn MacKinnon, 83
I've been with the Arrochar walking group since August last year.
I've always been a solo walker, but last year I decided to give a walking group a try and, 18 months later, I'm still going back every week.
I really do love it. It's nice that everybody walks at their own pace. There's no pressure.
I've become so hooked that I now schedule my diary around the meet ups. I moved to Scotland 59 years ago but still preferred being a fair weather walker, but now I'm out whatever the Scottish forecast brings.
Walking with the group makes me feel energised. We're not running but it feels like a "runner's high".
I also love the social aspect. We have coffee and tea upon our return and that has really cemented some of these new relationships. Now I've realised it's not the same going walking on your own. I still do now and again, but if I'm honest I prefer the company.
---
To find a walk near you log on to pathsforall.org.uk/healthwalkfinder or trustinthepark.org/walk-in-the-park/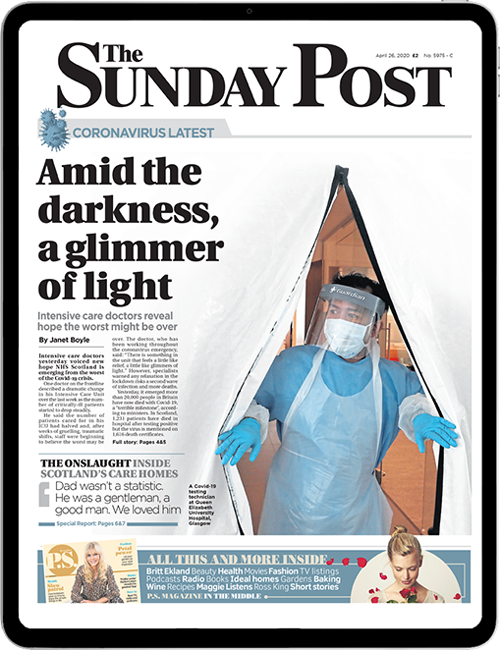 Enjoy the convenience of having The Sunday Post delivered as a digital ePaper straight to your smartphone, tablet or computer.
Subscribe for only £5.49 a month and enjoy all the benefits of the printed paper as a digital replica.
Subscribe