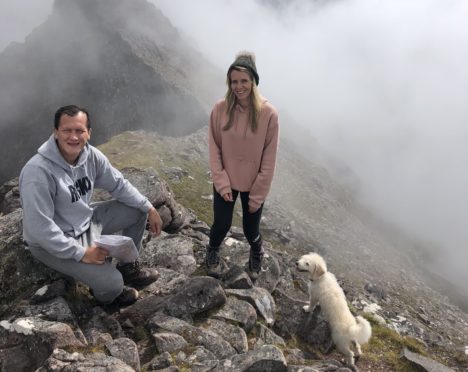 When Sir Hugh Munro detailed the highest mountains in Scotland, he could not have imagined his list of peaks over 3,000ft would inspire generations of walkers and climbers from around the world.
Here, Fiona Russell marks the centenary of Sir Hugh's death by talking to some of the Munro baggers who are still inspired by the great mountaineer's enduring legacy.
---
Marcus's Story
I get to climb and like to be up high. It's great to run downhill at top speed
Young Munro bagger Marcus Tinley loves running down Munros, climbing ridges and eating lots of food.
The nine-year-old from Bearsden, East Dunbartonshire, said: "Munros are fun. I get to climb and I like scrambling and being up high.
"It's great when I run downhill at top speed and then I eat lots of food. After I climbed Tower Ridge on Ben Nevis, which took 12 hours, I ate pizza, 20 chicken nuggets, fries and a strawberry milkshake.
"My favourite hill snacks are massive cakes. But it's fine to eat this food because I am using lots of energy when I am in the mountains.
"If I could meet Sir Hugh Munro I would ask him what his favourite hill snack is."
Marcus has reached the summit of 30 different Munros with his dad Simon, an experienced mountaineer, although they have climbed some multiple times.
His first hill walk was The Dumpling, by Gartocharn, aged two. He went on to walk local hills such as Dumgoyne and Conic before hiking his first Munro, Ben Lomond, aged four.
More recent climbs have included the Aonach Eagach ridge and Curved Ridge on Buachaille Etive Mor, both in Glencoe, as well as the technical ascent of Tower Ridge.
Simon said: "Marcus is very enthusiastic and he wants to try tougher and trickier climbs. The Munros have been great for his physical and mental health so far."
---
Hazel's Story
I love the wildness, the hard-won days, and the beautiful sunrises and sunsets
Hazel Strachan, of Bathgate, West Lothian, is a legend in Munro bagging circles.
The 50-year-old has completed all 282 Munros 10 times and is well on her way to another round. She has the female record for most rounds and is second only to Steven Fallon's 15 rounds.
While many people hold Hazel in high esteem, she says it's Hugh Munro that she admires.
She said: "He must have been a hardy guy. Some of his wanderings in those days before cars would put a lot of us to shame.
"The hills of Scotland would have been quite a different and extremely remote place in 1891 when his list was published.
"I admire the commitment and passion he expressed when compiling his list."
"If it wasn't for Munro, I would not have such a rewarding hobby and I would not have visited so many parts of Scotland.
"I love walking the Munros. I like the big days wandering over summits, the wildness of the highest ground, the variety of landscapes, the hard-won days in winter and the beautiful sunrises and sunsets."
Hazel's first Munro was Ben Vorlich near Loch Earn in the early '80s. Now, 120 Munros into her 11th round, Hazel has no plans to stop.
She said: "Each round surpasses the previous, with even more memorable moments.
One round would never be enough for what my spirit wanted to experience.
"I do enjoy many other hills and mountains and I also like to cycle but the Munros are still my favourite hills."
---
Ryan and Sarah's story
We like planning, being outdoors, and the sense of achievement
Husband and wife Munro baggers from North Kessock, Inverness, Ryan and Sarah Watson, have walked 13 Munros together.
Their first Munro was the UK's tallest mountain, Ben Nevis, close to Ryan's home town of Fort William.
The couple, who take their dog Bonnie on their walks, also chose to have their wedding last year in a hotel with views to the Ben.
Ryan, 31, said: "We started walking Munros about two years ago as something to do together while also staying fit.
"We enjoy the planning of each walk, being outdoors in our beautiful country and the sense of achievement when we complete a Munro.
"We started with easier Munros, such as those that have less ascent, and we are building up our experience so we can tackle harder routes."
The couple keep a Munro journal and they enjoy sharing their trips with other Munro baggers.
Sarah, 26, said: "We are part of the Munroaming group on Facebook which has 3,000 members.
"It's great to see how popular Munro bagging is and to share news and gain recommendations from like-minded people."
The couple hope to reach 50 Munros this year. Ryan said: "One day we will finish all 282 Munros in the list.
"Hugh Munro created a brilliant challenge with his tables because if the hills were not listed, far fewer people would think to walk to so many summits."
"I want to thank Munro for creating his list."