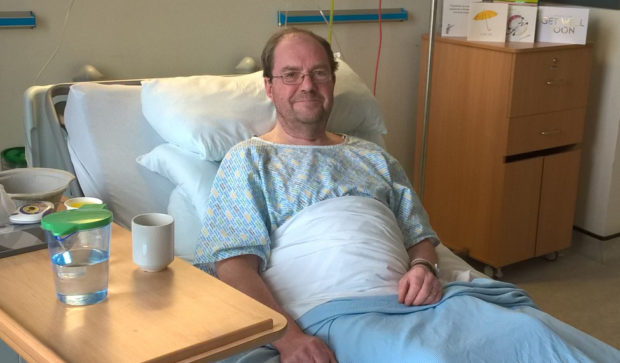 One of Scotland's most familiar voices has told how almost fell silent last week after four major health alerts.
BBC Scotland's continuity announcer Tony Currie hailed the emergency teams at Scotland's flagship hospital yesterday after he almost drowned in his bath before suffering three cardiac arrests.
The honey-toned broadcaster fainted in his bath after returning from work unwell on Sunday night.
He was found by his wife Karin and she managed to lift him out the water while he remained unconscious. He then went on to have three cardiac arrests after being taken to the Queen Elizabeth University Hospital in Glasgow but was saved by the medical team.
Tony, 67, said: "I felt pretty ill while on duty at the BBC and Karin called me to say I sounded awful.
"She urged me to come home and my boss called a taxi. Once home, Karin suggested that a bath might make me feel better. However, when I didn't emerge she got worried and came to see if I was ok. I was submerged in the water and drowning. I had become unconscious and was dying.
"Somehow she managed to lift me out the water and haul me out the bath before calling for an ambulance. At 9pm I was announcing programmes on the BBC and by 11pm I was being brought back to life after suffering a cardiac arrest."
After arriving at the A&E department, Tony suffered a cardiac arrest and was resuscitated before being transferred to intensive care. Over the next two days he suffered yet an other two cardiac arrests.
"I am incredibly lucky to be alive," he added. "I feel absolutely exhausted but I am receiving first class treatment from the hospital and its wonderful staff. I wouldn't be here without them or my lovely Karin."
He struggled to eat for the first few days until he asked for a cup of Bovril. "It's what my mum used to give me if I was sick as a child. That kick-started my appetite and I am now eating porridge while looking out of my hospital window over Glasgow every morning."
Messaged have poured in from Tony's broadcasting friends.
"When one heard that I had survived three cardiac arrests, he asked: 'Are you the Messiah or just a naughty boy?' The humour has gone down and treat and fairly bucked me up."
Doctors are still at a loss as to what caused the cardiac arrests.
Tony said:"I won't be allowed out until they find the answer and that could take some time."
In the meantime Tony says he feels like he had gone through in an episode of Holby City or Casualty.
"I usually announce them, not live them!" he said, but added. "I am not planning to give up work, not yet anyway!"
Tony is also urging everyone to learn resuscitation.
He says: "Get trained and be ready to save a live. It can happen any time any place and you want to be able to save a life!
"If I can help save someone through this, it would give me great joy!"