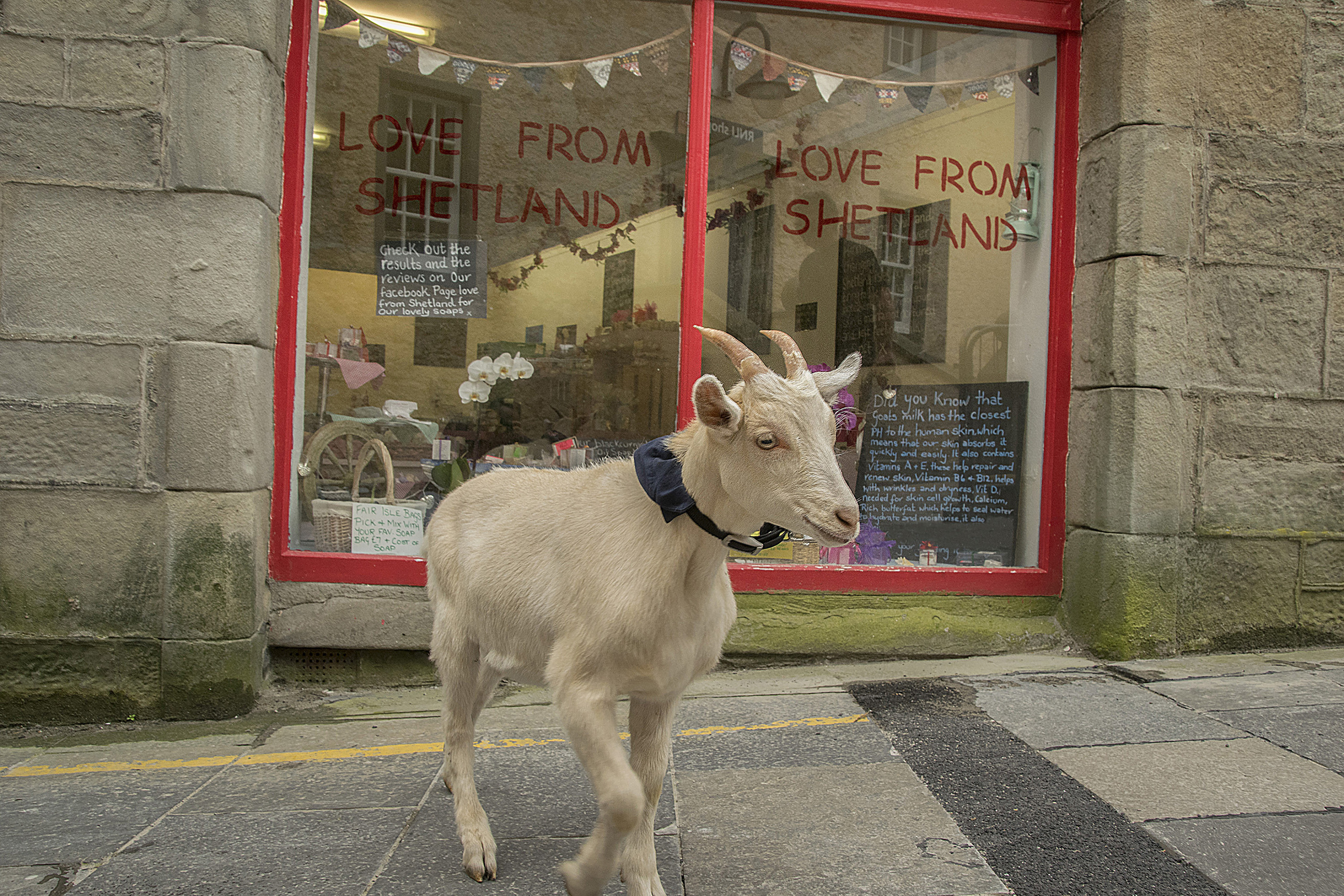 YOU may have heard of take your kid to work day – but this takes the biscuit!
Hundreds of tourists have already fallen for Connor, a tame, Rich Tea-scoffing baby goat who loves to be walked on a lead before hogging the limelight in his owner's shop.
The affectionate attention-seeker has become a huge hit on Shetland, with visitors desperate to have their photo taken with him.
Proud owner Esther Jeromson says the not-so-gruff 15-week-old kid behaves just like an oversized puppy.
"He's good-natured, placid and friendly," she said. "The minute somebody pulls out a camera he'll stand and pose. He's so clever. In the mornings, he's standing up and waiting to go. He jumps in the car and lies at my feet.
"But he doesn't like the rain. He'll not go out if it's raining because goats' coats aren't waterproof."
Esther, who has always loved the animals, started up a business selling goat milk soap because she wanted an excuse to keep a herd.
Now her four-legged friend keeps her company while she's hard at work – although he does need to burn off energy at times, which is where the dog lead comes into things. Husband Tom regularly takes Connor out for a stroll.
"It's totally amazing," explained Esther. "Tom tried the lead on him and he wriggled about and so Tom took the lead off. Then he stood looking at him so he tried it on him again and he just started walking.
"We thought it was just a one-off thing, but now he gets the lead on, comes out the car and walks to the shop."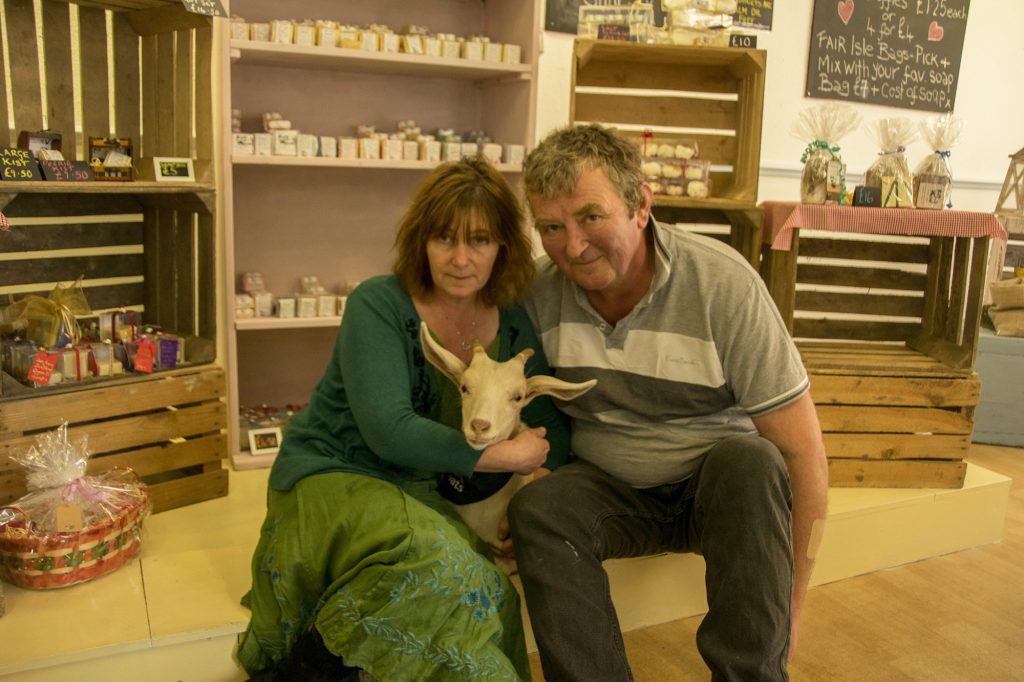 Esther opened her soap shop, Love From Shetland, in the islands' capital, Lerwick, in April. But she only discovered Connor's liking for the spotlight by accident.
She said: "We only took him in the first day the shop was opening because of the amount of bairns that followed him on Facebook.
"He's the the star attraction. He loves the attention. Especially peerie* bairns – he really seems to take to them, probably because he's just a baby himself."
Esther, 50, formerly worked as a supervisor in the Co-op but gave up her job last June after Tom, 57, suffered a bout of ill health.
Now her business is such a success, she's now making up to 1000 bars a week, with her goats producing all the milk she needs – about eight pints per 300.
While Connor is at the shop, Esther's four adult goats – three girls and a boy – stay at home with his half-sisters Pixie and Lillie on her remote croft at Gruting.
As well as his basic diet of grass and milk, the animal – whose breed is half-Golden Guernsey, half-Saanen – enjoys tucking into his favourite treats of Rich Tea biscuits and toast.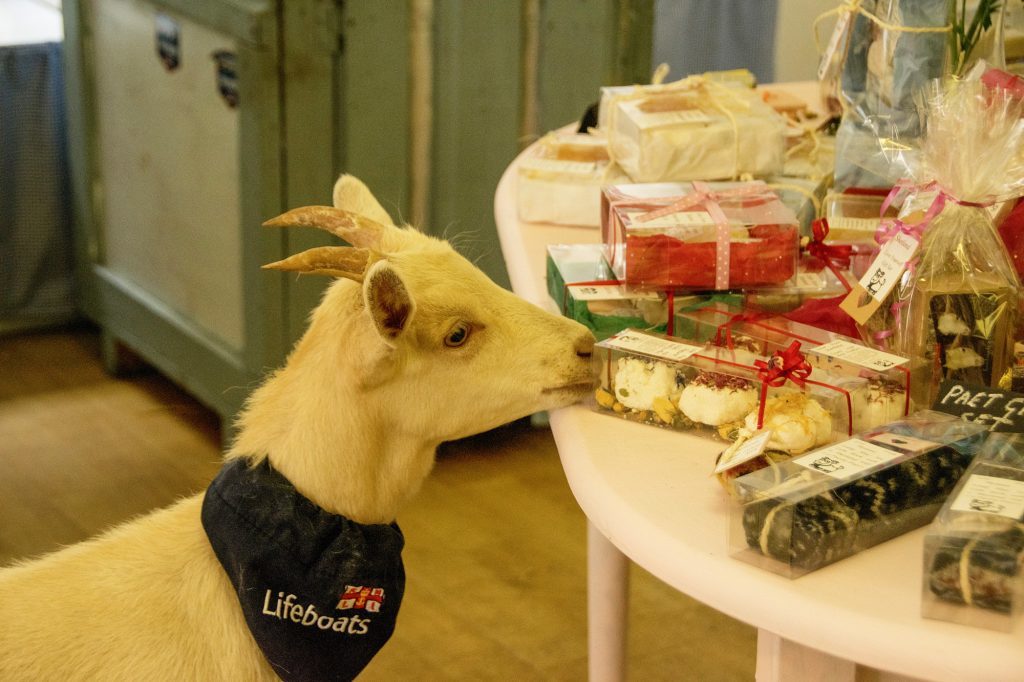 Esther – who named the creature after a boy who shares the same birthday – revealed Connor had even been helping raise money for a thermal imaging camera for Lerwick Lifeboat.
"There was an American cruise ship in and they were putting $20 notes in his tin. In two weeks, he managed to raise almost £250!"
The only problem Esther has experienced was when she brought flecked Shetland lamb Rasmie to the shop as well – and Connor didn't like sharing the attention.
"The two of them were dancing and playing, but Connor didn't like that when people were coming in they were looking at Rasmie.
"Connor took it in a bad way so he got up on this wee wooden plinth and he was jumping up there and was grabbing at the bars of soap and he'd fire them on to the floor. We had to put a stop to that."
Robin Mouatt, visitor services adviser at the VisitScotland Information Centre in Lerwick, said: "It's one of those things that could only happen in Shetland. Come to Lerwick, and you meet a goat walking along the street. It takes people by surprise a little bit but they see the fun nature of it."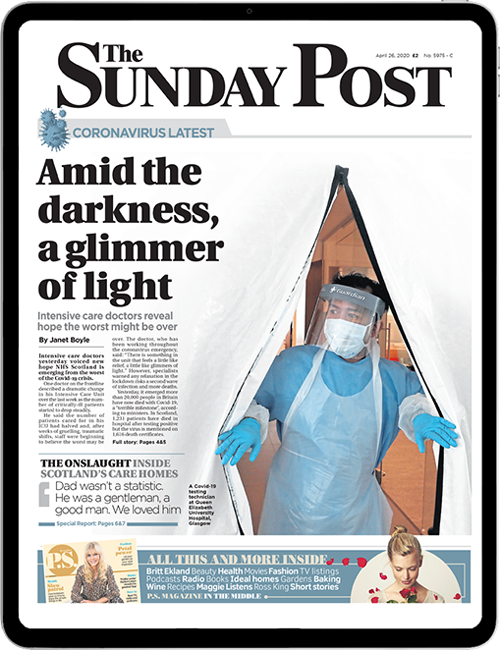 Enjoy the convenience of having The Sunday Post delivered as a digital ePaper straight to your smartphone, tablet or computer.
Subscribe for only £5.49 a month and enjoy all the benefits of the printed paper as a digital replica.
Subscribe