A REWORKING of one of the bard's classics is aiming to highlight the plight of potato waste this Burns Night.
Spoken word poet Cat Hepburn has teamed up with Zero Waste Scotland's Love Food Hate Waste campaign to address the issue.
Thousands will celebrate this evening, but in the aftermath of the famous suppers, Scots will needlessly bin around half a million potatoes.
All of these could have been frozen or eaten as leftovers in soups, salads or even pizza toppings.
'Ode to the Tattie' is aimed at encouraging Scots to make a change so they 'dinnae waste a morsel' this year.
Cat said: "Rabbie Burns is the ultimate Scots poet and it's really exciting to share this new piece of work – a quirky and modern 'Ode to the Tattie' – ahead of Burns Night.
"We're all familiar with the 'Address to the Haggis' and I'd love to think that people all over Scotland will take a moment to address their tattie waste at the same time, thinking twice about throwing away such a staple Scottish food."
Sprouting potatoes and discolouration often lead Scots to think their spuds are not edible, which is not the case.
Storing potatoes in a cool dark place and removing sprouts or discolouration before cooking are a few ways to get the most out of your potatoes.
Ylva Haglund, Food Waste Campaigns Manager, Zero Waste Scotland, said: "Food waste in Scotland is an issue day in, day out, adding up to to 1.35 million tonnes annually – with a serious impact on our pockets and the environment. But it doesn't have to be that way.
"Collaborating with Cat has enabled us to interpret this challenging issue in a contemporary way, at an event where lots of us will be particularly enjoying our food. I will certainly be addressing my tattie waste, as well as the haggis, this Burns Night."
---
Ode to the Tattie
Fair fa' your honest, sonsie face
Great chieftain o' the… stem veg race!
I love your imperfections
Dirty, earthy, fleshy, lumpy,
beautifully misshapen, soft and sweet
You're my favourite food to eat
I can have you mashed or boiled
roasted or baked,
Warm, reekin-rich
cut into into chunky chips
Into Tommy K, you shall get dipped
But it's a great shame, When every day in Scottish hames
Half a million tatties end up in the bin
In the space of just one year
We throw away enough food to make 800 million meals
And all that scran we toss?
A billion pounds per year it costs
So before ye hastily waste
Store your spuds in a dark, cool place
And remember that their leftovers can make dishes of great taste
Croquettes, or soup, or cheesy mash
And Cutting aff
Green patches and sprouting bits is not a hard task
And mind, you can freeze potatoes with ease
Come on Scotland, stop wasting tatties please!
---
For more recipes, hints and tips on how to save food from the bin and save money, visit scotland.lovefoodhatewaste.com or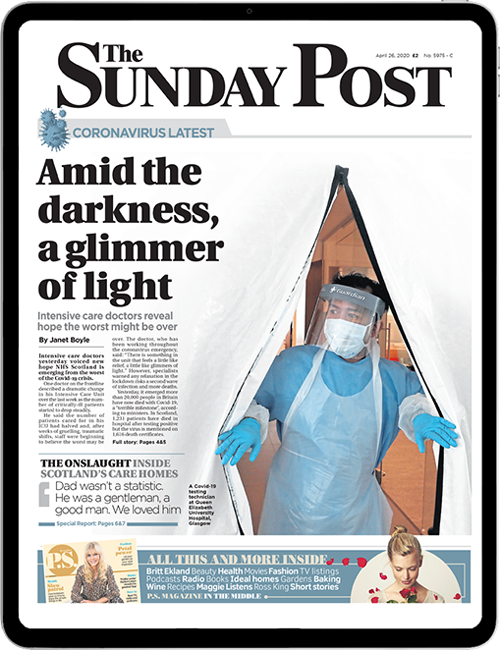 Enjoy the convenience of having The Sunday Post delivered as a digital ePaper straight to your smartphone, tablet or computer.
Subscribe for only £5.49 a month and enjoy all the benefits of the printed paper as a digital replica.
Subscribe