Thousands of children in Scotland and across the world have taken to the streets today in what could be largest climate protest in history.
They are the latest in a series of strikes started a year ago by 16-year-old Swedish schoolgirl Greta Thunberg.
The protests have now spread across 150 countries across the globe, with Friday's action billed as the largest so far.
Ceilidh for climate change happening at the Dundee climate strike! Sending support to my @cisweb colleagues at the Edinburgh strike! pic.twitter.com/U7lizDHPka

— Megan Burt (@Meggietron23) September 20, 2019
Joining the climate change protesters in Perth. Great to see so many young people out today and real passion for our planet and environment. pic.twitter.com/llmitAkRBo

— Pete Wishart (@PeteWishart) September 20, 2019
Events are planned in all of Scotland's major cities, many towns and some islands including Iona and Skye.
Around 10,000 people are predicted to turn out in Edinburgh, with around 5,000 expected to take to the streets in Glasgow.
Children and young people across the country are walking out of lessons and lectures, with hundreds of thousands of workers joining them.
The campaigners are demanding that governments and corporations take steps towards lowering CO2 emissions and combating the warming of the Earth's temperatures.
But business, energy and clean growth minister Kwasi Kwarteng said he could not endorse children leaving school to take part.
He told BBC Breakfast on Friday that he supports the "energy and creativity" of students, but said time spent in school is "incredibly important".
When asked if the Government is listening to the young protesters, he added: "Their voices are being heard.
"What I do support is their energy, their creativity, and the fact that they have completely mastered these issues and take them very seriously.
"I am not going to endorse people leaving school because I think education, time spent in school, is incredibly important."
However, Scotland's largest teaching union, the Educational Institute of Scotland (EIS), has urged local authorities not to punish pupils who take part in the strikes.
General secretary Larry Flanagan said: "Whilst the EIS is not encouraging pupils/students to participate in anti-climate change strikes, we recognise that many will do so.
"We believe that their right to do so should be respected and that participants should not be sanctioned or punished as a consequence.
"If we are to encourage our pupils to be confident individuals that effectively contribute to society on global themes including sustainability, we shouldn't seek to punish them when they campaign for global sustainability."
Huge turnout for Edinburgh #ClimateStrike! Great to be a part of. pic.twitter.com/4f4RpIbx80

— Calum Langdale (@CalumLangdale) September 20, 2019
Glasgow #climatestrike checking in pic.twitter.com/IMOsTdCOOa

— ͢Č͎҉Ⓐ? Foresterͫ ͤ ͩ ͥ ͣ (@ForesterMed1a) September 20, 2019
The Scottish government said it was "pleased to see our young people actively engaging on the issue of climate change".
But a spokesman said student absence was a matter for individual schools to consider.
He added: "The global climate emergency and a Green New Deal for Scotland are at the centre of our Programme for Government.
"We are leading by example through bold actions. We are redoubling our efforts and we will end Scotland's contribution to global climate change by 2045."
Oxfam Scotland said reducing emissions quickly in the next 10 years is essential to help prevent the climate emergency from becoming a "global climate catastrophe."
Jamie Livingstone, head of Oxfam Scotland, said: "From the surge in support for Greta Thunberg to the global school strike movement, it is inspiring to see the next generation demand urgent and sustained action on the climate crisis.
"Having helped to cause this crisis, rich countries like Scotland have a moral obligation to the world's poorest countries where the current generation is already living with the life and death consequences of decades of inaction.
"Young people around the globe, including in Scotland, know this is wrong and that things need to change.
"We'll be joining these huge marches on Scotland's streets because the climate emergency requires an emergency response and we want to echo the school strikers' call to world leaders to match rhetoric with immediate and lasting policy changes."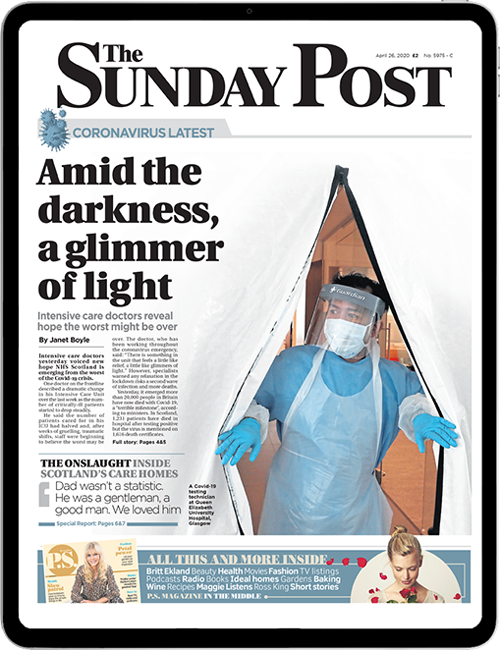 Enjoy the convenience of having The Sunday Post delivered as a digital ePaper straight to your smartphone, tablet or computer.
Subscribe for only £5.49 a month and enjoy all the benefits of the printed paper as a digital replica.
Subscribe