A Scottish musician has brought together performers from across the world to create a song to send out a message of unity amid the pandemic.
Guitarist and composer Simon Thacker, from East Lothian, has released a new version of protest song and civil rights anthem We Shall Overcome, which features 19 leading musicians from nine different countries.
The re-imagining of the seminal song of hope aims to encapsulate international solidarity in response to coronavirus.
Simon said: "I had this idea of choosing an iconic song, that has a history of bringing people together, and having a really unusually international cast deliver it in a way that would be both universal and very directly emotional for each of the countries and cultures involved.
"It's very notable that there's India, Pakistan and Bangladesh and Nepal on the same track, that's a very important statement of unity alone."
There are countless versions of We Shall Overcome in various languages across the world, and Simon learned in the process of putting the project together that it's a song that is ubiquitous in schools in Bengali-speaking India and Bangladesh.
For many involved, it's the first time they've sung publicly in English, and at one point a perfect harmony is created by singers in Urdu, Hindi and Polish.
"I really wanted to embody this unity in the music," Simon said. "We all know that music connects people, it moves us  deeply when it pushes all those buttons and gets to all those memories and life experiences. To encapsulate and reach that in a song is what you want to do as a musician."
Simon has worked with artists from the Indian subcontinent for over ten years, having become fascinated and moved by the music originating there when he was still at school.
He has four different ensembles that he travels and performs with in different regions.
He played Celtic Connections earlier this year with one of the groups, and used his connections, collaborators and friends of friends to pull together his latest project.
"It took me a very long time to get this together, almost three months of pretty constant work," he recalled.
"Lots of voice calls, video calls, editing the audio and video of 19 different bits. All from different time-zones and different states of lockdown. It was an epic undertaking!
"I've got fireworks going off in my mind about future possibilities, especially having worked successfully with all these new performers."
The pandemic, however, will undoubtedly cast an uncertain future on the viability of many musicians' careers.
Simon recalls the aftermath of the 2008 bank crash, which he believes took its toll on Scotland's music venues and cultural scene.
"There's the perception that arts are expendable and can just get cut first, when actually deep down we all know they're fundamental," he said.
"If you take that out of your life, all the writing, poetry, music, films, life would be a dark and grim place to be."
Simon, who teaches guitar at Edinburgh Napier University and Edinburgh College, says there's no place this is more evident than in high school music education.
"It's been butchered, frankly. It hurts me to say that. I went to a state school, had lessons once a week, and that's what got me to where I am today, what set me on the path.
"There's been no money in the system to the point that it will be pointless even trying to tour in Scotland because you're not going to make any money.
"We do always find a way of making it happen but it could almost be like the amateurisation of music in Scotland, where you just can't make a living or you've basically got to work elsewhere.
"I'm just not seeing a silver lining at this point in time because, economically, the brutal hard truths are going to be very tough for musicians."
This summer, Simon was due to be playing 20 shows at the Edinburgh Fringe.
And the pandemic hit just as he was finishing up his most recent tour in March.
"I brought the group across from India and Bangladesh in March, no funding or anything, and to make that work was extraordinarily punishing and very tough. And that's before a pandemic.
"By the time we finished, it was almost like coronavirus was hunting us down, it came to Europe, then England, then Scotland and then everything got cancelled.
"I just finished that tour at the Summerhall and literally the next day was the start of the unofficial lockdown.
"I can't imagine that tour happening again in the next couple of years.
"International exchange is a really important part of having a living, breathing artistic scene.
"But even before Covid, Celtic Connections had already said they'd reduce the amount of international artists because of Brexit and visa problems."
While he'd love to play more shows in Scotland, a lot of Simon's work is abroad.
His music has taken him Pakistan and Bangladesh, where he played to 60,000 people at a festival in a stadium in Dhaka.
In Pushkar, in the northeastern Indian state of Rajasthan, he played on the shores of a stunning lake at night to another packed crowd.
"I think the fact that someone gets out of their house, pays money, and goes to sit and listen and commune with a musician in concert is almost a miracle," Simon said.
"When you have a full audience, it doesn't matter if you're in India, Scotland, wherever, there's just something really special about that.
"All of life's distractions are gone and for that time it's like a different world. It's my job as an artist to create that world and lead people through it. I think that'll never change."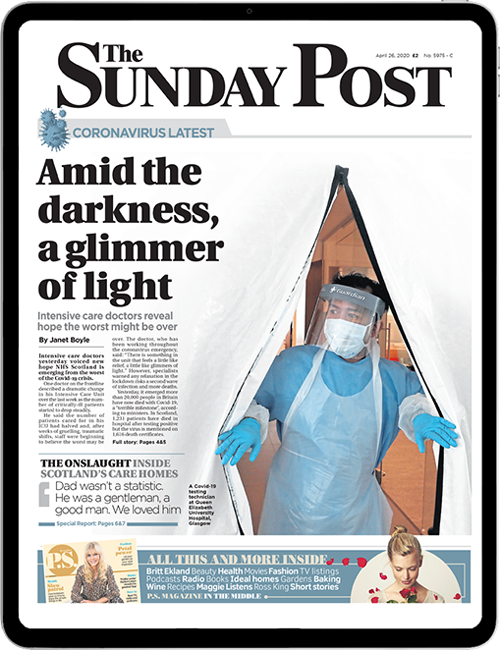 Enjoy the convenience of having The Sunday Post delivered as a digital ePaper straight to your smartphone, tablet or computer.
Subscribe for only £5.49 a month and enjoy all the benefits of the printed paper as a digital replica.
Subscribe