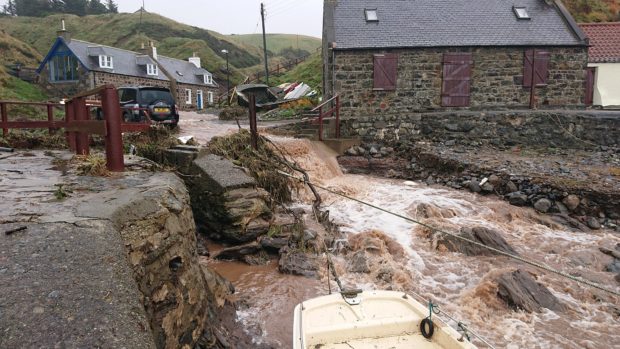 Heavy rain has caused flooding across parts of north-east Scotland.
Torrential downpours this morning across the region have caused chaos for residents and motorists, with videos posted online showing rivers bursting their banks with huge flows of water.
A number of roads have been closed including a stretch of the A90 at Lonmay and Banff Bridge was shut.
The Met Office issued a yellow weather warning for heavy rain while the Scottish Environment Protection Agency has warned of flooding across Aberdeen, Aberdeenshire, Moray and parts of the Highlands.
⛔️ Banff Bridge (A947) is closed ⛔️ Diversion is via Turriff however A947 into Turriff is also flooded – warning signs are out but we would recommend staying cosy indoors if you possibly can! Images of Banff Bridge @PolScotRoadsNE #ABZTravel pic.twitter.com/4R59W7pMU4

— AberdeenshireCouncil (@Aberdeenshire) September 28, 2019
We have been responding today to multiple reports of weather-related flooding around Aberdeenshire including Fraserburgh, Macduff and Banff. We would like to take this opportunity to generally remind motorists to be careful when driving in such conditions due to standing water. pic.twitter.com/4Prz6pQrqI

— Scottish Fire and Rescue Service (@fire_scot) September 28, 2019
Darren Wiseman, from the Crovie by the Sea Facebook page, told The Press & Journal that neither him nor his father – who has lived in the village all his life, have ever seen that amount of water come down before.
He added as the water had not receded yet, it was not known what damage has been caused.
Posted by Crivie on Saturday, 28 September 2019
A police spokesman said: "Due to severe weather conditions in the north east of Scotland today, officers alongside partner agencies have closed a number of roads between Fraserburgh and Banff.
"These include sections of the A98 between Longmanhill and Crudie and the A952 at the junction with the A90, as well as the A90 at Lonmay.
"The A947 at Banff Bridge has also been affected and officers are currently responding to reports of bridges having collapsed along the unclassified road between King Edward and Gorrachie."
Inspector Mark Stephen, Aberdeen Police Office, said: "I would urge the public at this time to only travel if necessary, avoid these roads, and not to drive through flooded areas of road where the depth cannot be gauged. Anyone with any concerns should contact Police via 101."
A fire spokeswoman said: "We have been responding today to multiple reports of weather-related flooding around Aberdeenshire including Fraserburgh, Macduff and Banff. We would like to take this opportunity to generally remind motorists to be careful when driving in such conditions due to standing water."
Roads have been closed between Fraserburgh and Banff due to flooding. These include sections of the A98 between Longmanhill and Crudie and the A952 at the junction with the A90, as well as the A90 at Lonmay. The A947 at Banff Bridge is also affected https://t.co/zgFUVGPssC pic.twitter.com/fe9J3XEPQp

— North East Police (@NorthEPolice) September 28, 2019