These days life seems to be coming at us fast. Fast and a little bit annoying.
In the age of rolling news, Twitter storms and incessant sound and fury usually signifying not very much, it is harder to find and maintain our inner calm.
So how should we release the pressure valve when our boss has been moaning, the bills are piling up and politicians are Brexiting? How do we turn down the gas when our tempers are reaching boiling point?
Well, one mother and son team thinks they have something to help. It involves axes, targets, baseball bats and a little destruction.
Linda and David Torrance have opened Scotland's first indoor axe hurling venue.
Recently featured in an episode of US drama The Good Fight, the activity involves throwing small axes and can provide a great workout for the mind and the upper body.
David explained: "The popularity of axe hurling started in Canada and then flooded through America, in a similar way to the growth of escape rooms, which was actually one of the first activities we offered.
"We noticed a couple of axe throwing centres popping up in England, so we went down to try it out. As soon as we walked out of the session we knew we had to bring it to Scotland.
"The competitive side really comes out in people. It's a great workout and amazing for stress relief. We've been fully booked out since we opened. There's nothing like it anywhere else."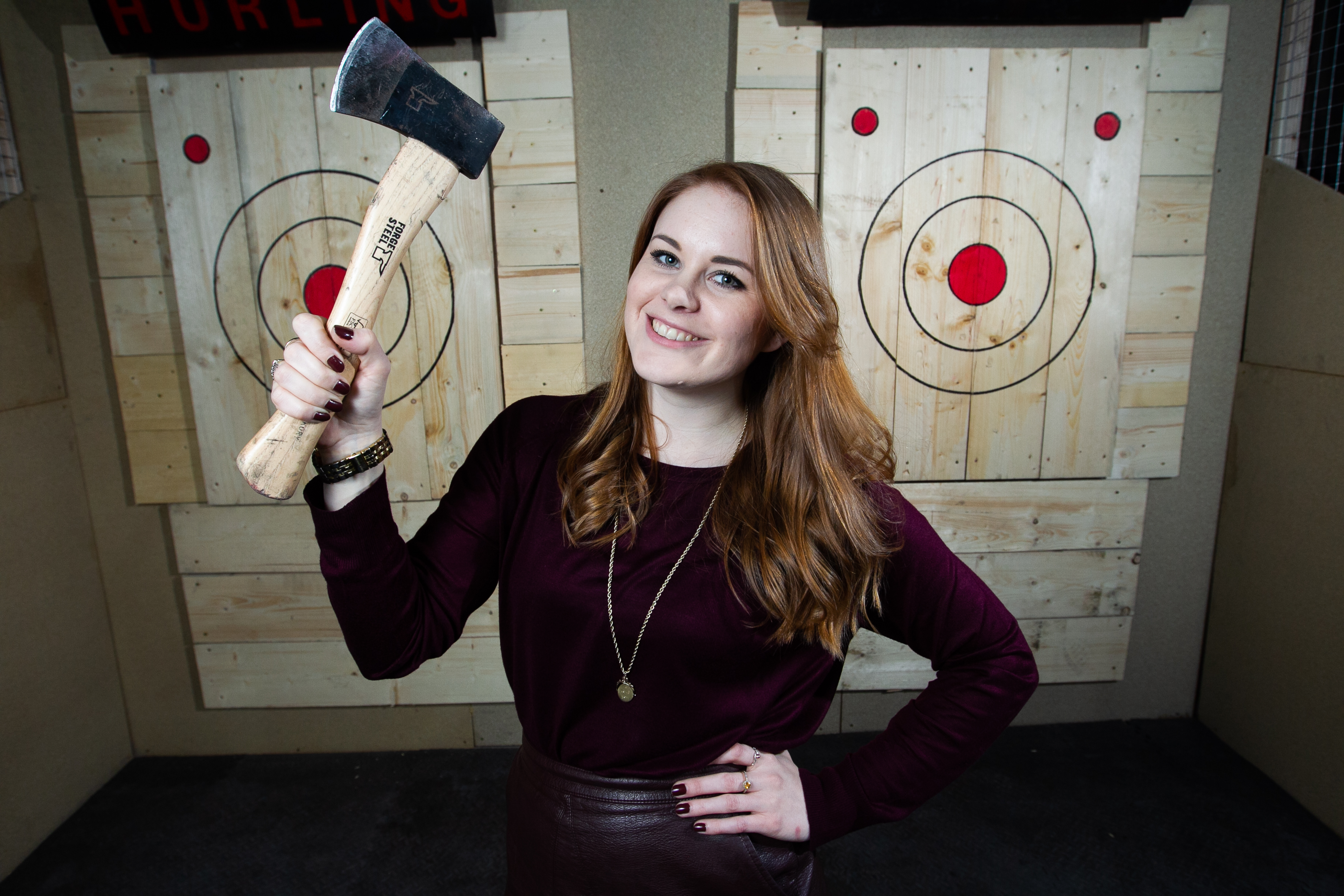 Meanwhile, they are planning to open "rage rooms" in their spacious Axe Hurling Glasgow centre, 10 years after similar venues began popping up in Japan.
Their popularity spread to America where hundreds of "smash facilities" offered the chance to destroy household items in a controlled environment.
Here in the UK, office workers, stag parties and even dating couples are paying for the privilege of smashing TVs, destroying printers and turning crockery into shards, and business is booming.
Linda said: "We're planning to open a rage room in the next few months. David had to talk me into it, but now I've really come around to the idea.
"I have a printer sitting in the back office and I'm going to be the first person in that room, smashing it up – it's been driving me crazy."
The chance to go at an old telly with a baseball bat might have helped one of cinema's most famous angry men, Bill Foster.
Played by Michael Douglas in Falling Down, Foster, after a recent divorce and sacking, was finally sent over the edge when he found himself stuck in a traffic jam.
His 1994 rampage across Los Angeles has become shorthand for the anger that ensues when small frustrations bubble over into full-blown rage.
However, more than just becoming an increasingly profitable business model – some wreck-it rooms charge up to £140 for their services – experts say the experience could provide mental health benefits when used correctly.
Mike Fisher, anger therapist and author of Beating Anger: The Eight-point Plan For Coping With Rage, said: "There are a range of reasons people get angry.
"But in its simplest form, we get angry because we can't have something we want or because we get something we don't want.
"Rage rooms have only been around for about eight years, but they can be profoundly cathartic and people tend to feel much better afterwards.
"When you smash up an old washing machine, fridge or TV, you can only do it for about 15 or 20 minutes as it's so exhausting. But it's more than just freeing – it's liberating. We have to remain so controlled and contained in everyday life."
He added: "I wouldn't support the idea that it's enough to just use a rage room – it's not going to get rid of the anger. Anger management is something that has to be learned, and rage rooms are a short-term solution.
"However, I wouldn't discount the fact that, for someone who tends to implode, it can be a profoundly cathartic experience."
Nick Davies, a psychotherapist and hypnotherapist, echoed these comments: "Rage rooms are OK in the short term, as they can allow us to release stress.
"However what we repeatedly do gets reinforced in our brains by glial cells whilst we sleep, and this can lead to strengthening neural pathways for aggressive behaviour, which is fine for most people with good self-control, but obviously not for those who don't."
---
I gave it my stressed effort… Writer Alice Hinds on how she learned to love her axe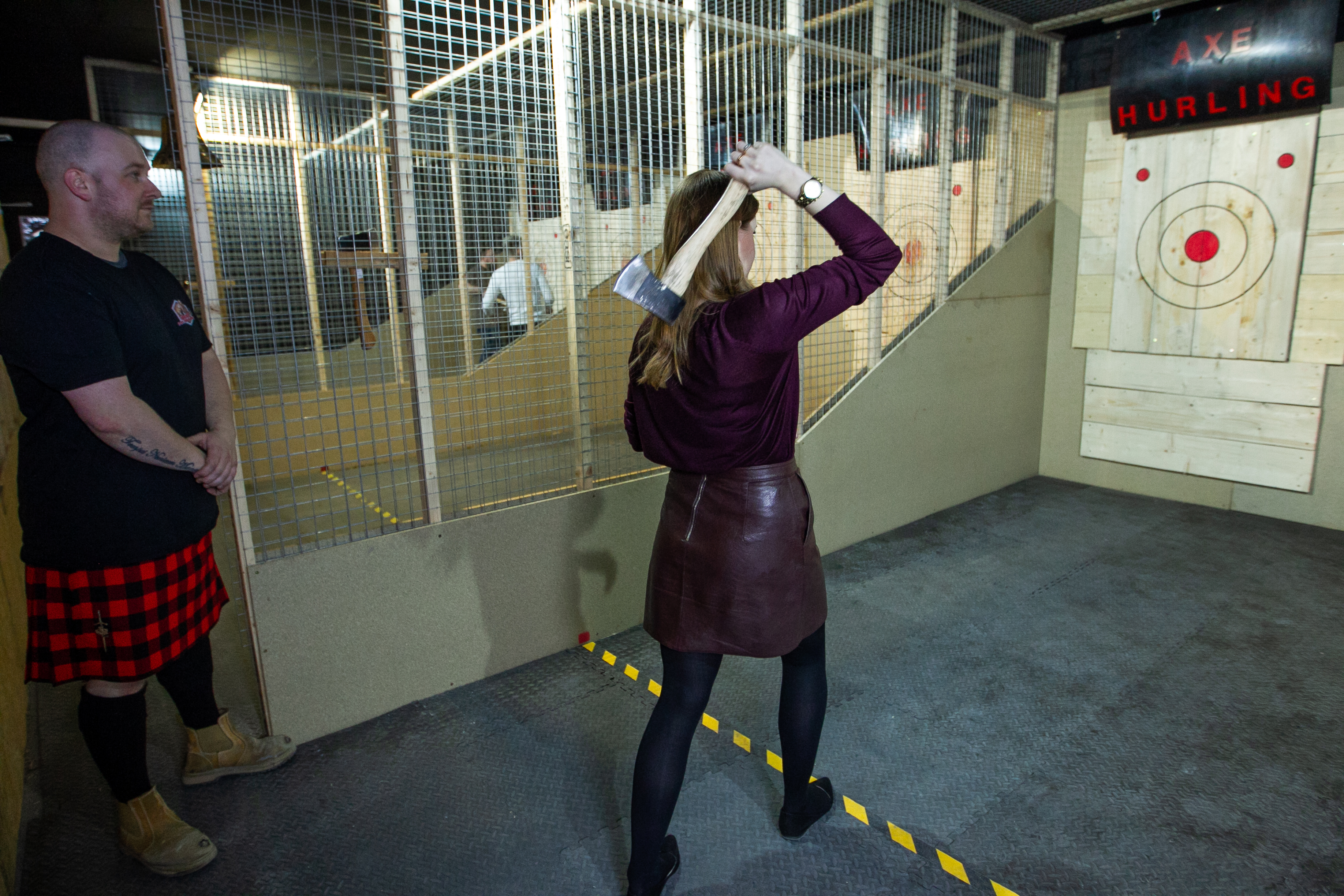 I'm standing in a dark cage surrounded by burly men wielding axes – not my usual Thursday afternoon, I must admit.
But, in the name of stress relief, I've come to try out what looks set to be Scotland's next big craze – axe hurling.
In front of me, on a splintered wooden board, red ominous targets are waiting for the dull thud of a blade to pierce their surface, winning me five points and the praise of my friendly kilt-clad instructor, Stevie.
More familiar with gin and tonics than gyms and treadmills, I'm a little concerned my attempts to hit the bull's-eye will leave me a laughing stock. Especially as, two lanes along, my fellow throwers seem to be hitting their own target with near-perfect precision – a fact I can't ignore thanks to the little bell that keeps ringing to announce their success. Either that or a lot of angels are getting their wings.
To get us started, Stevie performs a demonstration.
"Stand with your feet shoulder-width apart, raise the axe above your head and keep your elbows tucked in – we're not playing tennis," he advises.
"We're looking for just one rotation of the blade and a good heavy throw, with lots of force behind it. If you don't throw hard enough, you'll either not reach the target or the handle will hit the board and just bounce back."
With a flick of the wrist, Stevie throws his axe and hits the red circle, square in the middle. Easy as that.
I step up to make my first attempt. Planting my feet, I bring the axe up above my head, take aim and throw with all my might, while lunging forward to give it more speed. Sadly, the target remains intact and my axe lands mockingly on the floor.
Undeterred, and with a few words of encouragement from Stevie, I take aim again. This time I try to conjure up a bit of anger, as I'm told this might help put a little more power behind my throw.
I think about my noisy neighbour, my reliably late train ride every morning, and the time I paid £12 for a glass of sub-standard wine in London.
This time my axe flies through the air with the grace of an eagle and sinks straight into the target. My first thought? Maybe there's a reason this is becoming all the rage.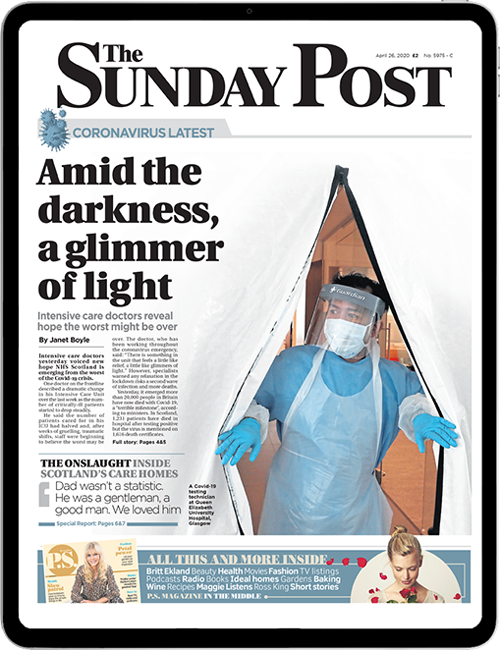 Enjoy the convenience of having The Sunday Post delivered as a digital ePaper straight to your smartphone, tablet or computer.
Subscribe for only £5.49 a month and enjoy all the benefits of the printed paper as a digital replica.
Subscribe