A campaign that calls for outdoors enthusiasts to #GiveCOVIDtheBoot has won celebrity backing.
Scottish wilderness walker and TV presenter Cameron McNeish has joined National Geographic Adventurer of the year Alastair Humphreys and British explorer Ed Stafford in supporting the appeal to encourage people to stay home during the Covid-19 pandemic.
Friends Lorna Kerr, of Mid Calder, West Lothian, and Ollie Bray, of Kingussie, Highlands, came up with the idea to unite the outdoor community in a fun but virtual way by recording videos of friends throwing a boot between each other.
Lorna said: "The 'Give COVID the boot' idea is simple but powerful. We want people to get into virtual adventure teams, for example their hillwalking group, a climbing club or a mountain rescue team.
"Then we want everyone to record a short clip of one person throwing a hiking boot, ski boot, trainer, or whatever, to the next.
"Someone then edits the footage together into a sequence and the video is shared online with the hashtag #GiveCOVIDtheBoot."
The plan was hatched on Tuesday by Lorna and Ollie and was immediately given the backing of their friends and the outdoor celebrities.
A promotion reel sees McNeish, Humpreys and Stafford among dozens of other people virtually throwing a boot across the country.
Ollie said: "Social distancing includes geographical distancing. During the COVID-19 pandemic being social is more important than ever before but this needs to be done virtually.
"We hope that the #GiveCOVIDtheBoot campaign will bring people together, trigger some adventure memories that will lead to a few smiles and remind us that we can still be together, while staying at home."
The grass roots campaign has also been backed by Scottish Mountain Rescue. Chair Damon Powell said: "We know it is hard, it's hard for us too, but so far the public has responded well to the message to stay at home.
"We also know that Easter weekend will be a huge temptation. Initiatives such as #GiveCOVIDtheBoot provide a lighthearted approach to communicate a serious message."
For more details about how to get involved – including filming tips – see www.givecovidtheboot.co.uk.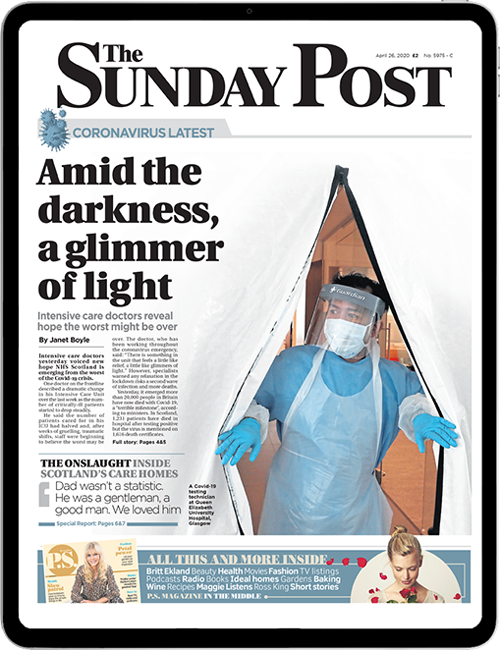 Enjoy the convenience of having The Sunday Post delivered as a digital ePaper straight to your smartphone, tablet or computer.
Subscribe for only £5.49 a month and enjoy all the benefits of the printed paper as a digital replica.
Subscribe