VIDEO: Alastair Campbell teams up with Scottish musicians to release NHS charity single
Former Downing Street aide Alastair Campbell has joined forces with Scottish trad musicians to release a track for the NHS heroes working on the coronavirus frontline.
"Everyday Heroes" was released on Thursday by Hebridean band Skerryvore and features Campbell – an avid bagpiper – alongside musicians from Skipinnish, Tide Lines, Peat & Diesel, Skara, Mànran, the Red Hot Chilli Pipers and Trail West.
The track was released to coincide with the weekly Clap For Our Carers applause, with all proceeds going to the NHS Charities Covid-19 Urgent Appeal.
In less than 12 hours the single is already sitting at number two on the iTunes chart, overtaking the likes of Dua Lipa and Drake.
Skerryvore's accordion player and piper Martin Gillespie wrote the track, while each musician filmed their part at their homes across the country while self-isolating.
Martin hopes to perform the track live for NHS staff when the pandemic is over.
Campbell, Tony Blair's former head of communications, has roots in the Hebrides. His father Donald was brought up on the Isle of Tiree where Skerryvore and Skipinnish originate from.
Campbell had already been playing the bagpipes on his London street every Thursday during the applause to honour his neighbour, who is a nurse. He said he will now play Everyday Heroes for her.
The track is available to buy, stream and download on all major platforms.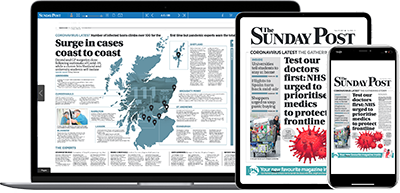 Our free web and ePaper offer to help you stay informed in these challenging times
3 months free access to our web and ePaper pack including Premium articles.
Subscribe