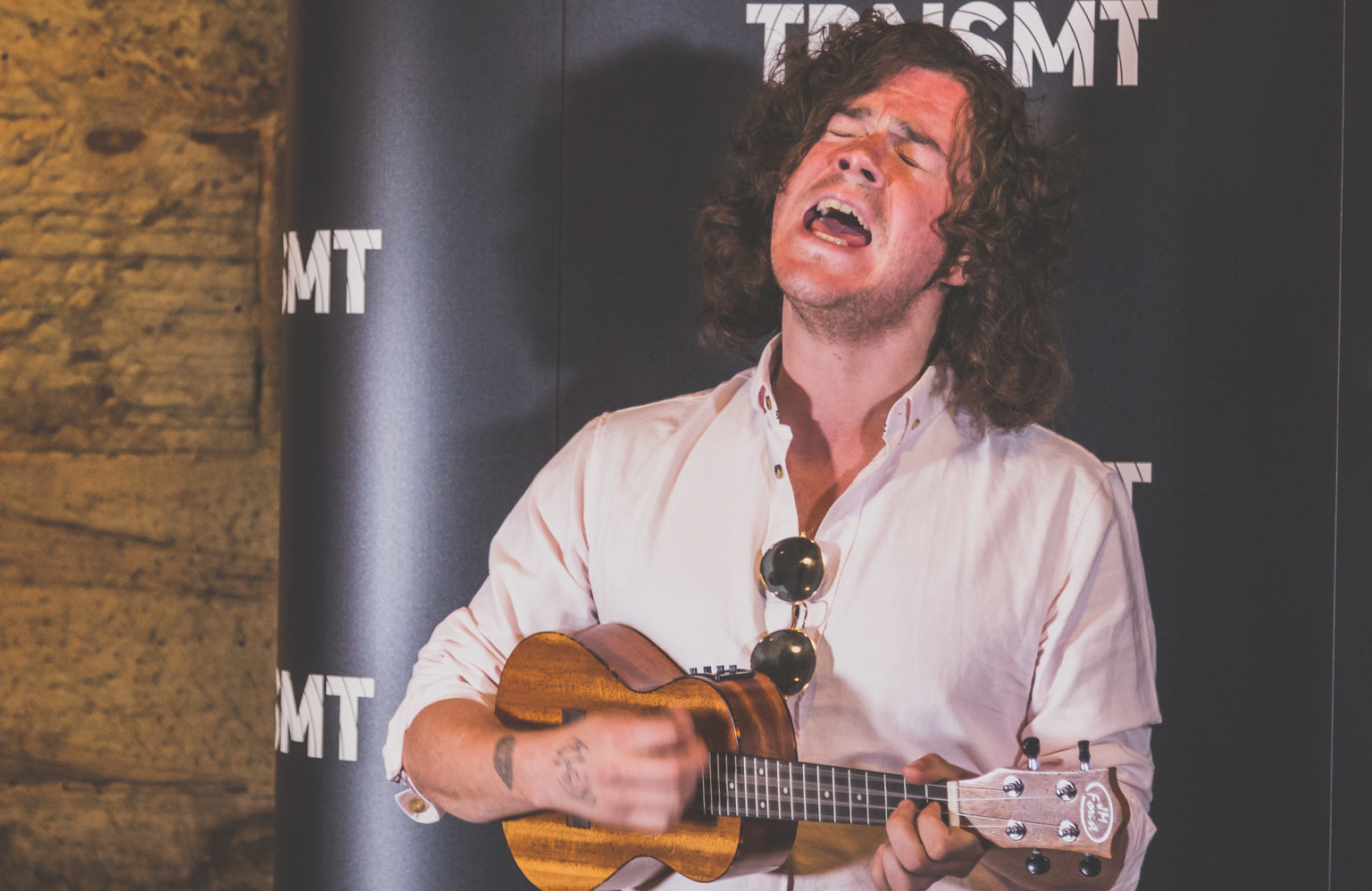 AS well as the big headliners taking to the stage at Glasgow's TRNSMT festival at the end of this month, a number of up and coming Scottish acts will be performing and hoping to garner a few new fans.
Here, we chat to some of the acts who'll be taking to the King Tut's Stage across the five days of the summer music festival.
---
It'll be a bit different playing on my own
Kyle Falconer is a festival regular with his band The View.
But instead of heading to Glasgow Green as part of the boisterous Dundee favourites, he's going it alone with a solo set.
"I played TRNSMT last year with The View so this year it'll be a bit different playing on my own with some new songs," he says.
"It doesn't make me as anxious doing the solo stuff because you know what you're in for with a View concert, it's mental, bottles all over the place and crazy.
"Playing the new stuff, it's not as mental!"
The set at TRNSMT will serve as a little taster of what's to come from Kyle's debut solo album, which is due for release this year.
"It was actually meant to be last year but the process takes a bit longer than you think. I'm really excited about it coming out," he says.
While he admits he tries not to read comments or listen to what others have to say, he says the response to solo single Poor Me has been 'brilliant.'
And he's hoping for more feedback when he takes to the stage in Glasgow Green.
"I'm especially looking forward to TRNSMT because I've never played my solo stuff in Glasgow," he says.
"There've been a couple of wee acoustic things where I tried out new songs, test out the reactions to see if it was going to make the album but those were places outside of Glasgow.
"It'll be great to see what confirmation, what reaction I can get out of them."
Kyle says it's a big deal playing The King Tut's stage, especially for a newly solo artist like himself or up and coming bands, because of the historic link to previous success stories.
"With King Tut's, it's a big stepping stone," he says.
"As soon as you sell that out that's like you've made it. Everyone wants to go there because of the Oasis thing, it's legendary.
"Everyone thinks once they've done that, that's me, I'm on the rock and roll stairs of fame!"
Nina Nesbitt on playing TRNSMT, fans in the US and finding a sound she's happy with
It's not just about your band, it's about all the bands
Watching a video of Gerry Cinnamon's performance at last year's festival wowed The Temperance Movement's Phil Campbell, and he's delighted to be getting a go this time around.
Having missed last year's event due to a prior commitment, the band take to the main stage on Friday July 6, sharing the bill on the main stage with The Darkness, Texas and headliners Queen & Adam Lambert.
Phil says: "It's really exciting. Even more so since I watched Gerry's full performance from last year – wow, unbelievable. We were away in Colorado doing a festival there so we didn't get to play last year.
"At a festival it's not always going to be your people there. They'll position themselves at the front and if you're half good you can get everyone going.
"If you've got songs that are big and happening it's about letting everyone know it's all about them."
Phil reckons a festival crowd differs slightly to other gigs at indoor venues.
"At festivals people tend to be a bit more relaxed,chilled – and drunk really!" he laughs. "Smaller venues it's often people with more of a critical eye that are there.
"Our fans are all middle aged, they're not coming to enjoy the gig, they're coming to watch the guitar player!
"In those gigs the crowd feel in the darkness, as if they're invisible, so therefore they can look at us and we can't really see them because of the lights.
"At a festival everyone can see each other, it's a celebration because it's not just about your band it's about all the bands."
There'll be a lot of scared faces…
Glasgow-based four piece The Ninth Wave have just been on their first ever UK tour and are excited to get back to performing in Glasgow with their slot at TRNSMT.
"It was our first UK tour and our first  headline tour – it felt long with no days off but all the gigs were amazing," drummer Lewis Tollan says.
Vocalist Millie Kidd adds: "At the same time it's just kind of gone! It came and went all in one blur."
The band are delighted to have the opportunity to play the King Tut's Stage, alongside many of their fellow Glasgow bands.
Millie adds: "Obviously people buy tickets for the festival to see the headliners but we've been chosen for a reason because they think we'll fit in."
Synth player Louise McLennan agrees, saying: "We all met through the Glasgow music scene and going to the same gigs so it was really important.
"There's all the different influences as well and how everyone supports each other."
It's not only their peers the band will be playing alongside, but also bands that have inspired them on their way to finding their own unique sound.
Frontman Haydn Park-Patterson says: "We're quite lucky to have this slot, playing alongside the other bands.
"I'm also looking forward to seeing Interpol, because they're one of our main influences."
For their own set, The Ninth Wave are hoping to get the crowd going on the opening night.
And they also can't wait to see the reaction when their frontman takes a venture in amongst them…
"There'll be a lot of scared faces!" Haydn laughs.
TRNSMT organiser Geoff Ellis can't wait for a big Glasgow singalong with Queen & Adam Lambert
Glasgow crowds like seeing the next big thing
"I think the good weather's got me excited for the festival," Catholic Action's Andrew Macpherson says.
The four-piece, who released their debut album In Memory Of at the end of last year, take to the King Tut's stage on the final day of the festival.
Bandmate Jamie Dubber adds: "Being a Glasgow band playing in Glasgow is really great but we try to limit the amount of times we do it so that it becomes a special event and something to look forward to."
The band have hailed the organisers' decision to have a stage dedicated to showcasing up and coming talent and new Scottish bands.
Jamie says: "It's really important, with TRNSMT there's two stages so they could easily have had a stage that's not showcasing new talent and it'd sell well.
"I think that, particularly in Glasgow, people like seeing the next big thing. Not that I'm saying we're the next big thing but quite easily you could see them on these kinds of stages!"
Andrew agrees: "It's the point of a music festival, you stumble upon other things. You've paid the entry fee, you may as well go see what people are like."
The band themselves will be doing just that, checking out as many acts as they can when not gearing up to go on stage themselves.
Jamie says: "I hadn't looked at the line-up until today and there's so many people I want to see over the five days."
"I'm really looking forward to seeing Franz Ferdinand playing their new record – they're playing the same day as us," Andrew adds.
Fatherson on their new music and 'coming out of hiding' to play TRNSMT
I heard a lot about it and really wanted to play it
LUCIA's bandmates raved about last year's festival so much that she became desperate to play it.
She tells The Sunday Post: "We've not really played that many Glasgow shows this year, so to have TRNSMT as one of the very few we are is really exciting for us.
"I wasn't there last year but a few of the guys in the band had been and bigged it up so much. I heard a lot about it and really wanted to play it, so I'm buzzing for it."
Many will have heard LUCIA before, perhaps without knowing.
When she was younger, she'd regularly take to Glasgow's Buchanan Street busking.
Now though, she's preparing for the city's biggest festival.
"It's cool to think that I've come quite a long way but I suppose that's how everybody progresses to get where we are," she says. "I had to start somewhere and I ended up here which is pretty cool."
LUCIA and her band have been putting on shows across the country in the past few weeks, and recently toured with fellow King Tut's Stage performers The Ninth Wave.
And while she admits the aim was to branch out of Glasgow this year, she can't wait to play her home city again.
"I've enjoyed every show this year and we've played a lot of places that we've never been before," she says.
"It's been really fun but obviously your home city is always going to be the best. Not just because it's our home city, but because Glasgow is an amazing place to play a show.
"Everyone's very enthusiastic and they go because they're into the music and are always very excited! It's nice for the artist, whoever's playing, to get back what they give."
While they're at TRNSMT, LUCIA and her bandmates will also be heading along to support their friends and fellow up and coming bands.
"We've played a lot of festivals this year and you get caught up in things and then, look at the time, you've missed half the acts. I want to make the most of it for sure," she says.
LUCIA plays her first big headline show at King Tuts after TRNSMT 27th July, so will be hoping to convert a few fans.
Like many other bands, it's all about putting on a showcase for people who might not have come along specifically to see them.
"I think playing any festival is a buzz for up and coming bands," says LUCIA. "When you're first starting out one of your aims is to get to that stage.
"There's never a limit but one of your goals is you want to play all these festivals. For anyone it's really good, people who maybe didn't plan to see you can catch you play.
"It's a lot of of people coming together who might not have discovered you through social media so to see you at TRNSMT is great.
"There's lots of benefits but at the same time it's a laugh and a good experience."
---
The bands were speaking at a TRNSMT media event to showcase acts performing on the King Tut's Stage, as well as launching Platform On Tour, this year's street food offering at the festival
Visit http://trnsmtfest.com for tickets and more information