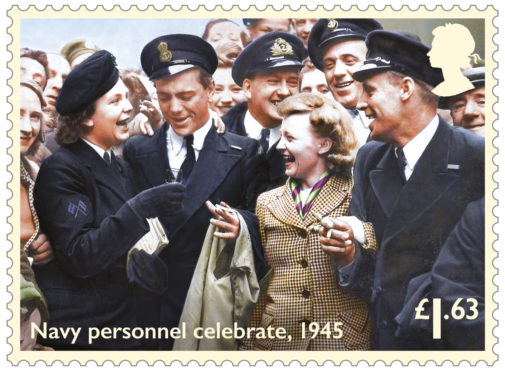 As the world once again goes to war in the fight against Covid-19, those who endured another terrible conflict have remembered their joy when it ended.
Here, Murray Scougall speaks to three Scots who, even 75 years on, have special reason to remember VE Day on May 8, 1945
---
I'll never forget the roar when Churchill waved to the crowd
One of Isobel Kirkwood's most prized possessions is a newspaper published on May 8, 1945.
On the front page is a picture of the royal family and Winston Churchill waving from the balcony of Buckingham Palace, next to which Isobel has written in black ink: "I was in front of the palace and witnessed this scene".
Born in London to Aberdonian parents, Isobel was a primary school teacher during the war and the announcement of Victory in Europe gave her hope that life would return to normal.
Newly-wed and pregnant, Isobel and a friend travelled on the underground from Harrow to central London for the celebrations.
"As soon as we left the underground the atmosphere hit us," she said. "There were joyous crowds everywhere, strangers greeting each other with laughter and smiles as we made our way up the Mall.
"The crowds yelled 'We want the king' as they stood outside the Palace. People were waving flags. The king and royal family came out on to the balcony. I shall never forget the roar as Winston Churchill joined them and you could feel the emotion, the gratitude of a nation for the way he kept morale high during the war.
"It meant hope and excitement. It meant my good-looking Spitfire pilot husband, Robert, would return safe and sound, and I would teach in a normal classroom with no fear of air raids."
Isobel had met Robert, a baker's son from Irvine who joined the RAF at 18, at a dance.
He spent his final years living in Erskine, and his wife became one of the veterans charity's most inspired fundraisers.
Having turned 100 last year, Isobel now lives in the home that she has given so much to over the years.
---
There was no excitement, though I remember somebody managed to get four sticky buns
Ada Mobbs (nee Miller) spent VE Day the same way she spent her years of service – doing her duty.
Rather than join the celebrations, Ada let servicemen colleagues go home to see their families while she carried on her work, manning radar defences.
Now 95, Ada said: "Four of us were on duty, and there was no sort of excitement – though I remember, somebody managed to get four sticky buns from somewhere.
"We didn't finish that night till maybe 11 o'clock. It was just a normal day."
Ada operated barrage balloons, the inflatables flown over key sites to deter enemy attack.
From Fairlie, Ayrshire, she was working in an embroidery shop when war broke out.
When a call went out for balloon operators, Ava signed up for the Women's Auxiliary Air Force on the day she turned 17-and-a-half.
Ada said: "Everybody was disappearing in the village and I began to think it was time I did something as well."
Ada was fitted for her uniform in Shropshire, before training in Lancashire where the girls "learned to march on the prom with our gas masks strung around our shoulders".
At Longbenton, Newcastle, Ada learned to inflate, deflate and position the huge balloons.
Postings to Wales followed before, in 1943, one near RAF Locking, Somerset.
She said: "There were bombing raids and firebombs were dropped. In the morning the fields were covered in little piles of grey dust. It didn't occur to us we were about 30 yards away from hydrogen cylinders for topping up the balloons.
"I never heard anybody say they were afraid. I don't know why not; I don't understand it now."
On June 5, 1944 – the day before D-Day – important instructions were issued: no balloon flying.
Ada said: "About 11 o'clock, the planes started going over us. They went over for hours, we felt the boom, boom, boom, boom. We knew then that's why we weren't able to fly the balloons – so they wouldn't interfere with the planes.
"At seven the next morning, we heard the radio and knew where they were destined for."
Ada then trained in radar – by VE Day she was living in Shoreham-by-Sea, West Sussex and working at a radar station on the South Downs – before being demobbed in 1946 and later marrying her partner, Norman. They had four children together.
Looking back, Ada, who now lives in Norwich, knows what her generation achieved: "Those young men were really something. It was an amazing effort. The brains at the top, Churchill and Eisenhower, were wonderful men.
"We were just ordinary folk in uniform, doing a job. I don't think anybody really thought too much about it. I wouldn't have missed any of it. I believe we did our bit."
---
We felt relief, of course, but for some of us the war went on
It was with mixed feelings Jack Patterson heard the news of Germany's surrender.
"There was a great sense of relief, of course," said Jack, who served with the Royal Navy. "The war was finished in Europe, but there was still one ongoing in the Far East.
"As far as I knew, for a lot of people in my position there was the possibility we would have to go there.
"There were no great celebrations for us on VE Day. We were patrolling the Pentland Firth and U-boats were surrendering – one surrendered to us.
"We took it to Loch Eriboll. It was the first time I'd seen a U-boat. It was bigger than I thought it would be, and looked sinister.
"We knew the war was nearly over but the Far East situation was lingering in the background. We didn't fancy going out there at all."
In July 1945, Jack was in the barracks at Portsmouth when he was given vaccinations, so knew he was being sent abroad.
"The next day, we were on HMS Illustrious with passage to Colombo, via Malta and Bombay. We spent two weeks in Colombo before heading to Singapore.
"While en route, the Americans dropped the atom bomb. We didn't know about it until we reached Singapore, and then the war was finally over.
"We went to Saigon to pick up Dutch troops, and on to Java to drop them off, as Java was part of the Dutch East Indies."
Jack returned home to Thornhill in Dumfries and Galloway, where he was born and lives to this day, now aged 95.
Jack took up a three-year commission with the Navy in 1946 and served all around the world. At the end of his service, he became a postman back home.
Last year, Jack returned to Gairloch, Wester Ross, where he was reunited with other veterans who served on the Arctic Convoys.
He proudly wore the esteemed Russian military award, the Admiral Ushakov Medal, which he received in 1994.
Jack added: "There are times I don't know if I was entitled to the medal because of what others went through. However, now I feel I received it on behalf of those who did not come back, and I wear it at every possible occasion."
Jack Patterson's story comes courtesy of Poppyscotland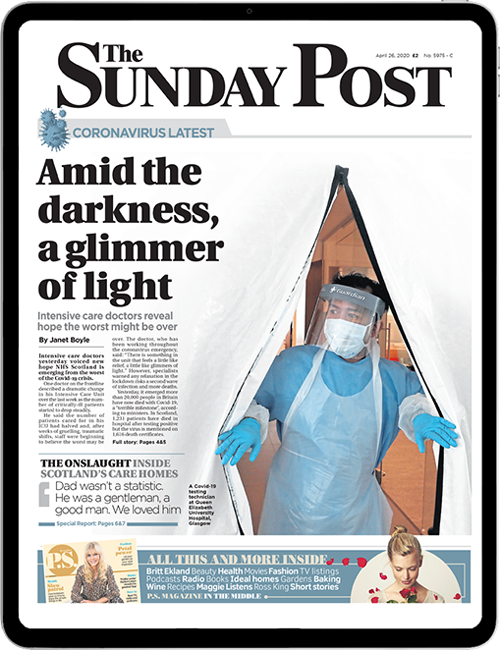 Enjoy the convenience of having The Sunday Post delivered as a digital ePaper straight to your smartphone, tablet or computer.
Subscribe for only £5.49 a month and enjoy all the benefits of the printed paper as a digital replica.
Subscribe