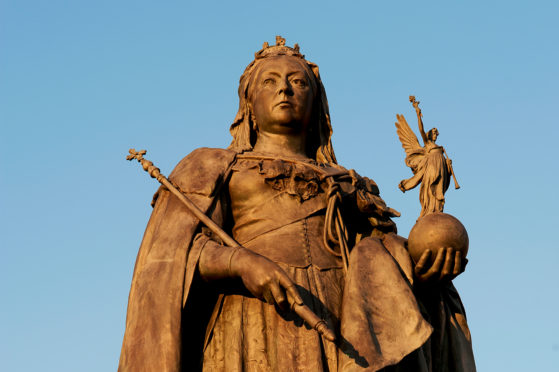 The Weekly News, a sister title of The Sunday Post, is to close at the end of May after 165 years of publication.
First published in 1855, The Weekly News has continuously published through The Crimean and Boer Wars, two World Wars and the Spanish Flu pandemic 100 years ago.
Each week, the paper looks back over the years to tell its unique story.
---
---
The year 1855 was an interesting one for Queen Victoria – and not just because The Weekly News was first published!
When the paper was born on May 12, Victoria was a couple of weeks short of her 36th birthday.
She had been on the throne for just under 18 years and it would be another 21 years before she also became Empress of India.
We're not sure if the Queen did set eyes on an early Weekly News, of course, but the chances are that she would have been aware of it.
She was certainly aware of another new invention. When Victoria gave birth to Leopold, her eighth child, a couple of years earlier, she had used chloroform as an anaesthetic, and would rely on it again in 1857 for her final birth, Beatrice.
Victoria was also well aware of her troubled leaders at the House of Commons and their apparent inability to fight a war properly.
Early in 1855, Lord Aberdeen's government had fallen, having taken criticism for the way they had gone about the Crimean War.
Queen Victoria went to both the Earl of Derby and Lord John Russell to get them to form a ministry, but neither man could get ample support. This led to Victoria having to appoint Lord Palmerston as the new PM.
A month before The Weekly News came into being, Napoleon III visited London. He had been our big ally since the Crimean War began, and later in the year Victoria and husband Albert would visit France, too.
Napoleon would meet them at Boulogne and travel with them to Paris, where they enjoyed an Exposition, not unlike Albert's 1851 Great Exhibition.
The front page of that first Weekly News had made it clear that our paper would be aimed at the ordinary working man.
It also featured an item about maps detailing events at the Siege of Sevastopol, or Sebastopol as it was called in English at that time.
Lasting from October 1854 through to September 1855, the siege saw allied armies of Britain, France and the Ottoman Empire land at Yevpatoria with the intention of marching triumphantly straight to Sevastopol, the Crimean capital.
Their combined 50,000 men, however, found the locals weren't in the mood to roll over and take defeat.
As Hitler and others have found over the centuries, the troops in that part of the world seldom surrender without a fight.
Home to the tsar's Black Sea Fleet, which was a threat to the entire Mediterranean, it was vital that Britain and others took it if possible.
But Russian forces withdrew before they could be encircled, and things did not go as smoothly as the allies had hoped.
Leo Tolstoy, as only he could, would capture much of what happened for all time in his book Sebastopol Sketches.
It would also prove a pivotal time for nursing, with both Florence Nightingale and Mary Seacole making history.
Nightingale served during the Crimean War as a nurse manager and trainer, organising the care of wounded soldiers.
Making the rounds at night earned her the nickname The Lady With The Lamp, and she became a huge icon.
Experts reckon the way she went about her work has had a major influence on nursing and helped make the whole thing as professional as possible.
She would go on to establish a nursing school in London not long after Sevastopol, the first such place in the world with no church links, and today it is part of King's College London.
The Florence Nightingale Medal is the highest international honour any nurse can get, but this remarkable woman did far more than nursing work.
Nightingale also pushed for social reforms in Britain, helped get harsh prostitution laws abolished and helped improve hunger relief in India.
Mary Seacole, born in Kingston, Jamaica, in 1805, was a businesswoman and nurse who set up her famous so-called British Hotel behind the lines during the Crimean War.
In comfortable quarters for wounded or ill soldiers, Seacole relied on herbal remedies to nurse the men back to health.
Voted the Greatest Black Briton in 2004, Mary had gained her knowledge of this medicine in the Caribbean and applied to the War Office to go and help when Crimea erupted in war.
Turned down, she went anyway, setting up her amazing "hotel" regardless and proving herself very important indeed.
It speaks volumes of how the soldiers felt about her that, when she ended up penniless after the Crimean War, they raised money to help her – for many, Mary Seacole had been the difference between life and death.
A bit more than your average hotelier has to offer.
Even the way we kept in touch was changing at the time that first Weekly News appeared.
If you lived in London, that year for the first time you could send mail via one of the handful of postboxes that made their debut appearance in the capital.
The very first postbox in the country had appeared in Carlisle a couple of years earlier – the thought of Carlisle getting some fancy new device ahead of London today is laughable.
One thing on the way out, however, was the groat. Also known as the fourpenny bit, it was worth one-sixtieth of a pound and got its nickname from the Dutch grootpennig, "big penny".
This would be the last year in which the groat was minted, and many were sad to see it go.
Many, too, were terrified by talk of the Devil's Footprints.
In the February of 1855, around Exe Estuary in Devon, they'd endured a very heavy snowfall, and then found weird hoof-like marks in the snow.
But they weren't, according to many, the hooves of horses, goats or some other farm animal.
They looked the cloven hooves of the Devil himself.
As they covered about 100 miles, these tracks of Satan troubled many people, and horrifyingly dramatic tales about the hoof marks in the papers just made them even more concerned.
If you think that sounds odd, just try to picture the hoof marks seen in the United States that year.
After US Congress approved the use of many thousands of dollars to create a US Camel Corps, the US Army experimented with camels rather than horses.
Although the beasts proved themselves very adept at long-distance travel and didn't take the hump at being forced to join the Army, the idea was eventually abandoned.
The camels were duly sold at auction, having been part of surely the strangest military event of the times.
Charles Dickens, who had just published Hard Times and was now hard at work on Little Dorrit, also threw himself into politics in 1855.
Dickens reckoned England was being ruined by the political aristocracy and its incompetence, and he often spoke out about it.
For the ordinary man, beer was king then, much as it is now. There were many fine and not-so-fine Victorian pubs, where you could sup a pint and read your shiny new Weekly News.
Sanitation laws were so lax that beer was actually the safest thing to drink. What a great excuse! Ah, those were the days.