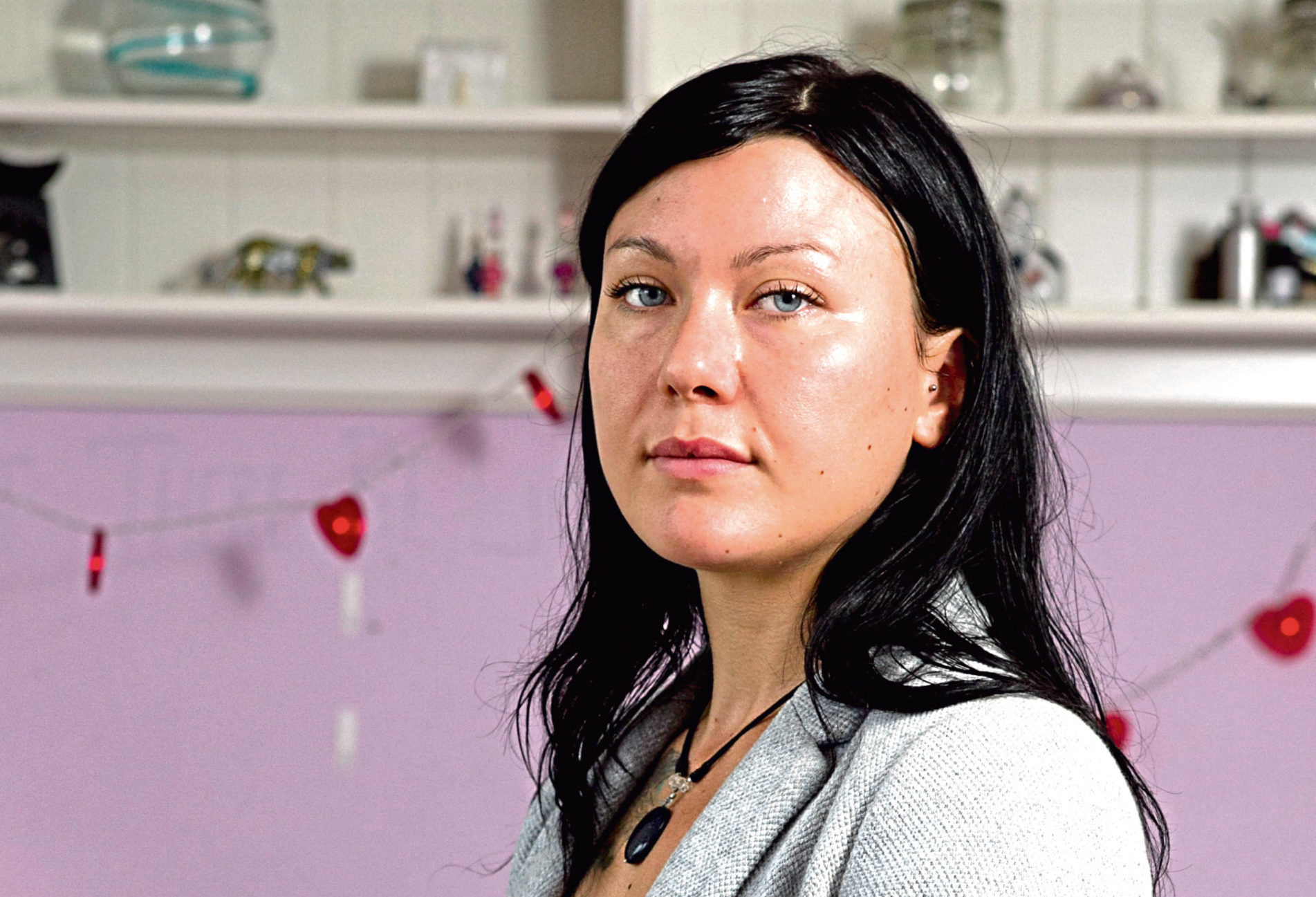 A VICTIM of a serial sex attacker spoke out yesterday to encourage other victims to come forward.
Maria Todd was raped and beaten by 34-year-old Kevin Adair during their three-year relationship in 2003.
Last week the violent Dumbarton man was jailed for nine years, and given a further six years of supervision, after he was found guilty of raping and beating Maria and four other women over a period of 11 years.
During a trial at the High Court in Glasgow, a judge described Adair's treatment of his five former partners as "like a cat with a mouse". Judge Michael O'Grady said he took "sadistic pleasure" in his crimes, and said he believed Adair "will remain a danger to any woman with whom you have a relationship, and perhaps women at large."
He was jailed for nine years for seven charges including rape, sexual assault, blackmailing a woman into having sex with him by claiming he had naked photographs of her and punching a woman while she was holding a baby.
Justice at last? Police launch major inquiry into scores of serious crimes uncovered by Emma Caldwell murder team
Adair preyed on another woman by bombarding her with messages and pushed her, causing her to fall down stairs at a flat in Argyll & Bute in 2011.
Maria, 31, has waived her right to anonymityto help encourage more of Adair's potential victims to come forward and have confidence in how their allegations will be investigated. She said: "I believe there will be more victims. I hope they feel strong enough to speak out now."
Detective Superintendent Gordon McCreadie, Police Scotland's national lead for Domestic Abuse, said any other women abused by Adair would be fully supported.
He said: "In cases such as this it takes confidence for any other victims to come forward, and when they feel ready to do so, Police Scotland will work with partners to listen to their report, investigate it thoroughly and then support them through any criminal justice process.
He held me down and forced himself on me. I was so scared, I just froze and afterwards, really felt ashamed. It was a very dark time
MARIA will never forget the first punch, but there were so many that she cannot remember the last.
The first time Kevin Adair hit her was after they had been out at a club. She was 16, he was 19.
She said: "I had always been the first person on the dance floor when we went out but he got really moody, and said I was flirting with other men.
"I kept saying, 'No, you're wrong. I just want to be with you', I had to constantly reassure him. When we got back to the house, he started saying 'You're just a slut, aren't you? You're a slut'.
"I eventually just agreed with him, but because I stopped arguing, he started poking and prodding at my face, flicking my nose, trying to antagonise me.
"We were sitting on the couch. I pushed him away and asked him to stop, but he didn't. We were grappling and when we came to our feet he just punched me right in the eye.
"At one point he had me down on the bed and put a pillow over my face saying, 'I should just kill you now'. I was terrified. After that night, it was like he had gone through a door. It happened again and again.
"Basically what he enjoyed doing was getting me worked up into a rage so he could manhandle me and overpower me."
It was not just physical violence, her partner would force himself on her and, ultimately, rape her.
The couple moved in to a flat together within a year, and the abuse became more regular.
Maria said: "When he lashed out, it was like he was possessed. Eventually we were living together and he would start the same old thing, accusing me of cheating, demanding to see my phone. Every week physical violence."
Maria said there were times she called the police, and officers took statements, but she never heard anything more from them.
In December, 2007, when they were no longer living together, Maria visited Adair on her way home from a Christmas night out with friends, but when she arrived he slapped her.
She ran into the bathroom but Adair broke down the door. She dialled 999 and was screaming his address to the operator when he snatched the phone and hurled it into the street.
Maria said: "I ran to get it but he followed me and kicked me. I started running for my life, but I was barefoot. He caught up with me at a phone box."
She said: "He kept promising everything would be alright. I had to go back with him, I had no choice. I was nearly asleep when I was awoken by him climbing on me, trying not to wake me up.
"He held me down and had sex with me. I knew it was wrong, I knew it was rape, but I was so scared. I tried to move to get him off but basically I just froze. I felt so ashamed. The next couple of days were very dark.
"I thought about telling the police but they hadn't done anything before. I imagined them just rolling their eyes if I said what happened.
"My self-esteem was obliterated and I didn't feel like I deserved to be taken seriously."
Eventually Maria did go to the police, only to be asked why she didn't have any bruising, and was told a male photographer would take pictures of her naked body.
She was unable to continue with the report and left, trying for the next nine years to put her experiences behind her.
In 2016, police officers received a report about Adair's behaviour in another relationship and started investigating his past, which is when they got in touch with Maria
She said:" Two female officers came to my house. They were compassionate, warm, supportive women. It was night and day from the first time I spoke to police.
"I never thought I'd see justice, but this experience has been incredibly healing. This time around I was told about the court process, what was going to happen and anything I didn't understand.
"I had help from ASSIST and Victim Support and the officers were so understanding. I never thought it would happen, but things have changed.
"Women are being listened to."
Now tell us the truth about mum's killer, says son of Robert Trigg victim
Expert: Crimes are about power and control
In 2007, according to Maria Todd, police seemed dismissive of her claims against her rapist partner.
Ten years later, she says, officers couldn't have taken her more seriously.
Her experience, according to senior officers, reveals a sea-change in how domestic abuse investigations are handled.
Senior officers say changes within the police and justice systems has ensured more abusive partners are punished.
The Scottish Government made tackling domestic abuse part of their national strategy and, in 2005, Scotland's first domestic abuse court was piloted.
Three years later Strathclyde Police launched the country's first domestic abuse task force (DATF) – a team of officers who focus on most prolific offenders, looking at their history in relationships and speaking to victims.
Detective Superintendent Gordon McCreadie, who leads the task force, said much more is now understood about how domestic abusers use manipulation to control their victims and try to control prosecutors and police.
He said: "One of the things that DATF officers do is recognise that victims often minimise what has happened to them because the perpetrator has been very effective in their coercive and controlling behaviours, making them believe it's their fault.
"We help them to understand it's not, and the behaviour has been criminal in many instances.
"Domestic abuse is not just physical, it's verbal, sexual, psychological, emotional and financial.
"It's all about power and control, and the abusers seeking to control the victims and isolate them.
"We want victims to know if they report abuse they will be listened to, their report will be investigated.
"We will hold perpetrators to account."