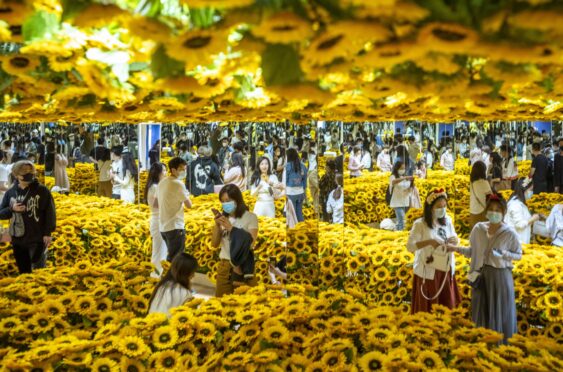 Ignored when he was alive, Vincent Van Gogh did not live to see his paintings enthral art lovers for generations.
But if the admiration for his work would amaze the Dutch genius, he would be astounded at how technology is allowing fans not only to enjoy his art but to enter it.
The life and work of the Dutch Post-Impressionist painter is celebrated in a touring exhibition, Van Gogh Alive, which is heading to Edinburgh next month having already attracted more than eight million visitors across 75 cities worldwide.
The multi-sensory experience takes visitors on a journey through his career, his homes and some of his most famous pieces, including Sunflowers and Starry Night, using sights, sounds and even smell.
"Van Gogh Alive isn't that traditional-style gallery where you have to feel like you're tiptoeing around," project manager Dan Flynn said.
"He is probably the most popular artist of all time, certainly of the more modern era, and the way we're able to present his work through this advancement in technology opens up the level of access to it and art itself.
"His artwork speaks for itself, but when we present it in this way and tell the story of Van Gogh, you learn about him as a person and the story of his life is intertwined into the experience. We really bring his story and personality to life.
"It's very much a tried and tested and refined experience which people absolutely love and we can't wait to get ourselves to Edinburgh."
The purpose-built venue in Festival Square will open its doors on March 17, with tickets for the early weeks being snapped up quickly.
As visitors walk in, they'll be greeted by a wall of sound coming from all directions, playing a classical music score carefully curated to align with the period in which Van Gogh worked. Also in the air will be the scent of Provence, with recreations of the aromas the artist would've taken in while painting in the fields of the south of France diffused into the space.
And, of course, there is the visual aspect, with visitors given the sensation of walking right into the paintings as if they were living and breathing through high-definition projected imagery and animation.
"The most striking aspect is the volume of screens that we have set up to give the effect of being surrounded by his art," Flynn added.
"There are about 30 different screens in the main gallery with over 3,000 images projected onto them throughout the showing. You're getting three senses stimulated at once so it's a fantastic, very emotive experience. It's incredibly immersive and really does take you to another place which is what art is meant to do.
"I first experienced it myself in London and had a quick walk around, focusing on how other people were reacting to it. Everyone was so engaged with it. People were walking around in awe. When I took it in fully myself, it was a beautiful experience and I've taken my friends and family along too."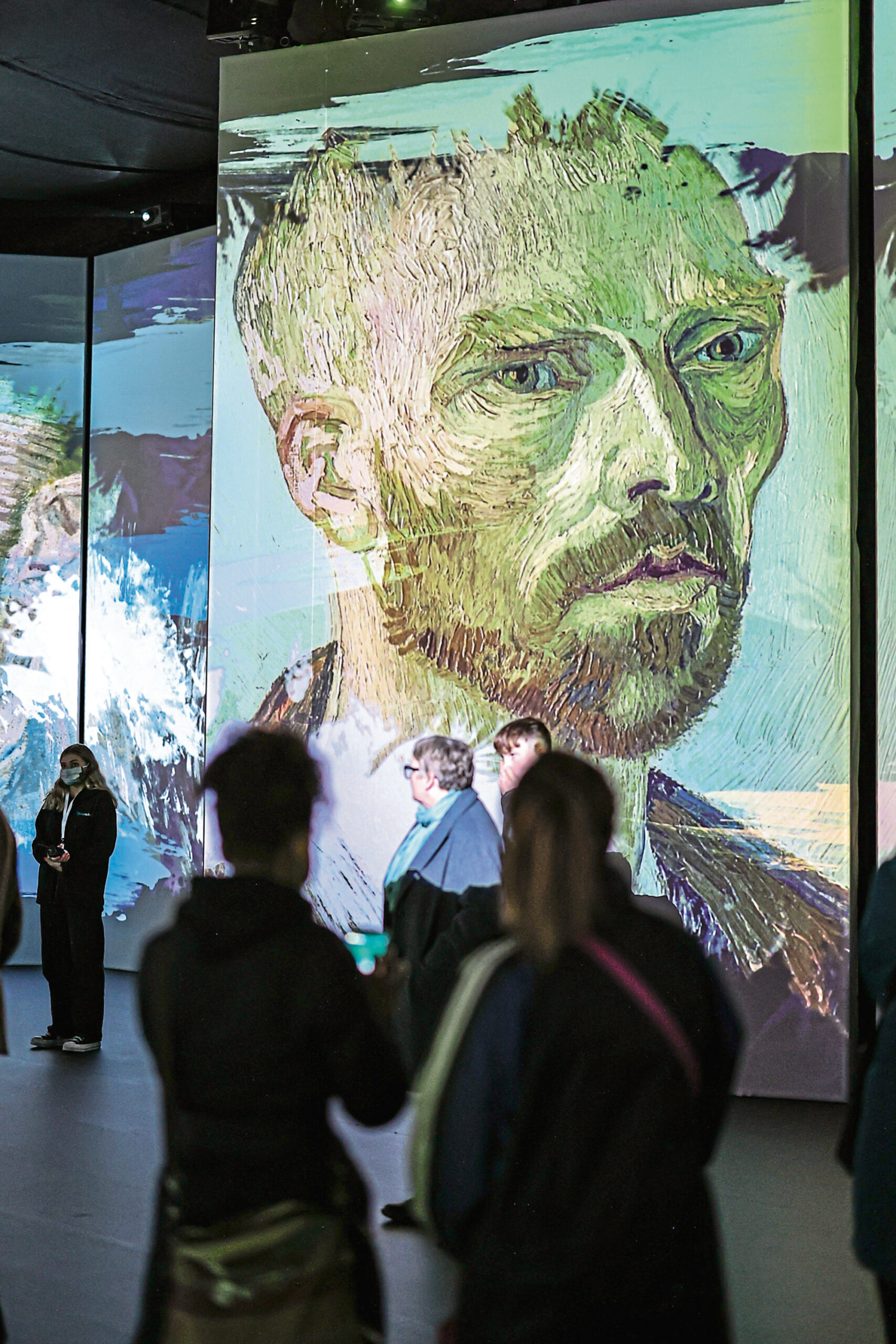 As well as taking in Van Gogh's work, visitors will be able to make their own art at interactive stations throughout the venue, featuring expert video tutorials on how to translate their inspirations onto the canvas.
Event creator Grande Experiences has also provided perfect picture opportunities in a life-sized walk-in representation of the iconic Bedroom In Arles painting and the Sunflower selfie room – a 360-degree mirrored space with thousands of sunflowers, which has proved a big hit with Instagrammers across the globe.
As an innovator himself, Van Gogh's work perfectly lends itself to new experiences like this.
Famed for his expressive and emotive command of colours, it wasn't until after his death by suicide in 1890 that his work began to garner critical and commercial success.
Today, he is remembered as a tormented genius, transforming the pain of a troubled life into artistic beauty and is considered one of the world's greatest ever artists.
"If you're a huge Van Gogh fan, you'll no doubt really enjoy seeing his works interpreted in a very different format from the works that you're probably used to," Flynn said. "If you know nothing about him at all, then you're in for an absolute treat and will probably leave with a really good level of awareness of who he was, what his art represents and how he lived his very short life and the incredible volume of work he produced.
"We break down his art into layers and then effectively layer them back on top of each other in the experience to give his artwork that sense of movement. His art is perfect for the type of experience that we're offering.
"It's been fantastic to see visitors immersed in the world of Van Gogh and getting into other artists or deeper into Van Gogh which they wouldn't have done prior to the experience."
---
His special kind of genius helps us see our world with fresh eyes
by Jan Patience, art critic 
During his short lifetime, Vincent Van Gogh couldn't give his artwork away.
Selling just a single painting when he was alive, the Dutch-born artist lived on the brink of poverty, not to mention madness, taking his own life at the age of 37, in 1890.
As Don McLean sang in his classic 1971 song, Vincent (Starry Starry Night)
"This world was never meant for one as beautiful as you."
But, 132 years after his death, Van Gogh has never been more alive.
Today, his paintings sell for millions when they come up at auction.
On Tuesday, a tiny painting, less than 13 inches high, A Pair Of Lovers, is up for sale at Sotheby's in London, with an estimated price of up to £10 million. It will almost certainly sell for much more.
So what is it about Van Gogh's work which enthrals generation after generation? His story is compelling, of course, but there's so much more to him than his tortured soul.
His was painting at the tail end of Impressionism which, at its height in the 1870s and 1880s, broke all the established tenets of classical painting as the art world knew it.
The impressionists were all about capturing the moment in terms of light, colour and shade.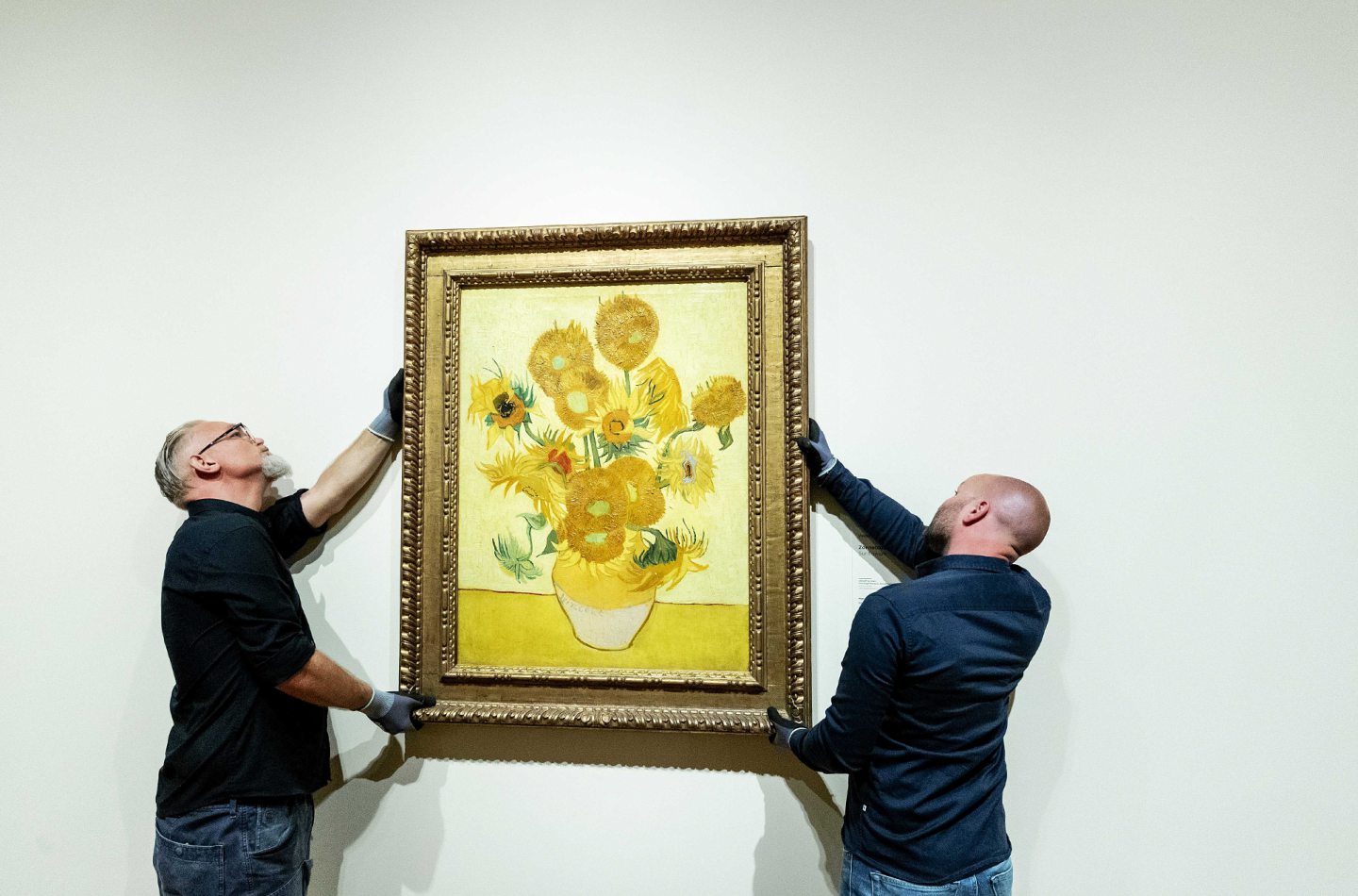 Artists such as Monet, Renoir and Cezanne painted "en plein air" as opposed to inside a studio, looking to photography and science for inspiration, tearing up the rule book as they went.
Van Gogh followed in their footsteps, heading into the streets and fields of Provence or inside houses when the weather was bad, taking arbitrary colour, shapes, textures and imbuing them with his own, highly personal painterly vision. This later came to be known as expressionism – and Van Gogh was its principle player.
"I paint the infinite," he once wrote to his younger brother Theo. The siblings were close and Theo helped Vincent both emotionally and financially. Their letters, now available to read online, would make you weep.
Like all geniuses, Vincent and his work was misunderstood during his lifetime, but when he painted, he pushed our boundaries and made people see the world with fresh eyes.
Now, using modern technology, The Van Gogh Alive multi-sensory experience, is mesmerising a new audience on its travels around the world.
And when it rolls into Edinburgh later this month, I will be in the queue, ready to virtually enter into Vincent's paintings as never before, complete with digital surround sound and the smells of Provence in the late 19th Century.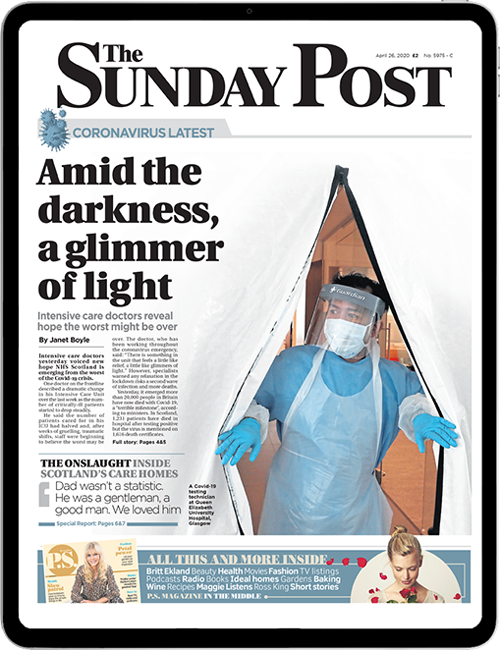 Enjoy the convenience of having The Sunday Post delivered as a digital ePaper straight to your smartphone, tablet or computer.
Subscribe for only £5.49 a month and enjoy all the benefits of the printed paper as a digital replica.
Subscribe