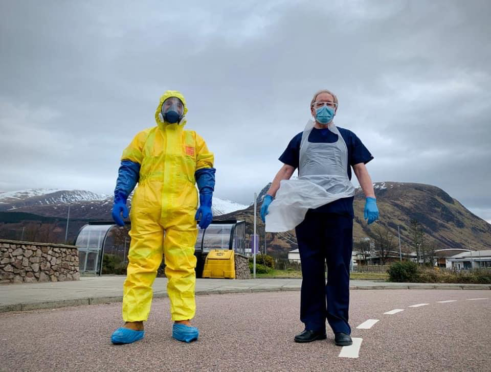 An appeal has been launched in Scotland for personal protective equipment (PPE) to be donated to local healthcare facilities to protect frontline NHS staff from coronavirus.
MedSupplyDriveUK (MSDUK) Scotland – a volunteer group of NHS doctors, medical students and allies – has urgently asked organisations, businesses and individuals to drop off any non-essential PPE at the delivery entrance of their nearest healthcare facility.
In their appeal, the group said the country "risks facing a shortage in supplies as the Covid-19 crsis continues – the consequences of which could be disastrous and cost lives".
They said "the PPE that NHS frontline workers so desperately need might just be in a warehouse or stockroom round the corner" and that every piece of PPE donated "could save a life".
We're asking businesses who have any non-essential PPE to donate to NHS frontline staff.
Donations can be made to the delivery entrance of your local health care facility or get in touch #DonatePPEScotland pic.twitter.com/ceZEC4QLZo

— Med Supply Drive Scotland (@MedSupDriveScot) April 8, 2020
They are looking for FFP3 masks, FFP3 respirators, FFP3 mask fit testing kits, non-latex gloves, goggles, medical gowns, visors, and hazmat suits.
Industries which may have the required PPE include manufacturing, construction, oil and gas, film and TV production, beauty and wellness and distilleries.
The group said: "No matter how big or small, all donations of these essential supplies will make a massive difference and help save lives in the fight against Covid-19."
Healthcare facilities include hospitals, GP hubs, hospices and care homes.
Any donors are asked to check their local healthcare facility is open before making their journey and to ensure they maintain a two metre physical distance at all times.
For more information about the campaign, visit the campaign website.