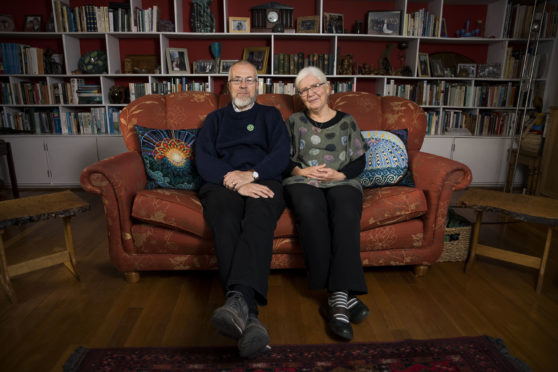 Sitting comfortably in their book-lined living room, they might look like any other happily retired couple looking forward to nothing more exciting than a light lunch, a potter in the garden and a Midsomer Murders.
Instead, former GPs, Cath and Richard Dyer, are just back from London where they were arrested after joining the climate change protesters of Extinction Rebellion and their campaign for urgent action to save the planet.
They were held near Parliament Square 10 days ago as the Metropolitan Police moved to break up the weeks of protests aimed at disrupting life in London to draw attention to the climate emergency.
Now, back home, the couple, who have been married for 44 years, say concern for their grandchildren's future has driven them to direct action.
Cath, 69, said: "We are hugely concerned about the effect pollution has on our climate and believe that there is only 10 years to turn it around.
"The impact is already apparent through extreme climates and rising temperatures."
Cath is a grandmother of four, with a fifth on the way. She has been worried about climate change for years and felt an instant connection with the Extinction Rebellion movement when it rose to prominence last year. Her fears grew when her son and his family, who stay in Australia, were caught up in two dangerous cyclones.
"Sometimes our Australian grandchildren are not allowed out of class at school on very hot days without a teacher walking them to the toilet, shading them with an umbrella," said Cath.
"They are feeling the direct effect of soaring climates and a depletion of the ozone layer there. If we are to continue the way we are, the prospect for us and most of humanity is dire. We need to keep fossil fuels in the ground because their impact on climate is huge.
"Our lives have been good but we worry about our grandchildren's futures if we continue to destroy our planet."
The couple, who spent two-and-a-half days in London, said they had considered camping in the street, but opted not to do so.
Cath said: "I am a bit arthritic and, at our age, it wasn't perhaps a good idea. Besides, we had given our tent away to our other grandchildren.
"We wouldn't have got enough sleep to allow us to campaign through the day, handing out leaflets."
The couple were arrested after refusing to move on from a tent. Cath said: "Other protesters who had work or children to go back home to, did move on. But we could afford to stand our ground.
"I was put in a cell with a blanket and offered a cup of tea. I didn't feel fazed by the cell door shutting behind me because I knew I would be soon released.
"The police were courteous. They knew why we were there. In fact, retired police officers have been arrested after protesting."
After five hours in the cells they were released and returned to their hotel before returning home the next morning.
"Richard and I headed home because I had a hospital appointment the next day," said Cath.
Richard, 68, a former senior partner of a GP practice in Bonnybridge, near Falkirk, said: "The climate emergency is the number one priority for us all. The effects are obvious, globally.
"There are days when our grandchildren in Australia are not allowed out because the temperature is too high.
"We look on our role as protesters both as concerned grandparents and doctors who have a duty of care to patients.
"Risks to people's lives are our concern. It is important we take non-violent, direct action. We are only two of many who feel strongly about this and will do it again when necessary.
"There are times when I wake during the night worrying about what is going to happen to our planet."
The couple joined many other Scots doctors at the Extinction Rebellion protests on the streets of the capital, including dad-of-three Jonny Coates, from Stirling. He believes his campaigning complements his work with patients, citing leading medical research magazine, The Lancet.
Jonny, 38, now a GP in Newcastle upon Tyne, said: "The Lancet says that tackling climate change could be the greatest global health opportunity of the 21st Century. It's because I am a doctor and dad that I protest with Extinction Rebellion.
"I couldn't look my children in the eye in 10 years' time and say I did nothing.
"I do not think I am doing anything to bring the medical profession into disrepute. In fact, it is my duty as a doctor to care for patients.
"Climate change contributes to around 250 deaths in the UK annually. This includes the damage done by pollution.
"I have stood and protested, holding banners and making speeches as well as campaigning outside government buildings in London.
"Doctors For Extinction Rebellion are only doing what suffragettes and Martin Luther King did to protest."
Jonny previously spent two years with Voluntary Service Overseas, in Eritrea, in north-eastern Africa before studying medicine.
His mum, a former health visitor, and dad, a retired minister, step in to babysit while Jonny and his wife, Katy, are away from home campaigning.
"I avoid being arrested because I have to be able to go back to my family and patients," he added.
The United Nations has warned that 150,000 premature deaths a year are linked to climate change.
"Climate-related deaths are caused by extreme weather events, heat wages, floods, droughts, wildfires, water-borne and insect-borne diseases, malnutrition and air pollution," a UN statement has warned.
Extinction Rebellion faced accusations that they were not only disrupting Londoners but also endangering them after an angry mob dragged protesters from the roof of a tube train during Thursday's rush hour.
Critics said taking direct action against public transport in the capital was self-defeating and would alienate potential support.
---
Critics: Tube protests risk public support for green campaigners
The Extinction Rebellion protesters demanding urgent action to tackle climate change have come under increasing criticism in recent days.
The campaigners' two weeks of protest to disrupt everyday life in London to raise awareness and increase pressure for action to protect the planet was branded dangerous and counterproductive after protesters climbed on top of a tube train at Canning Town station.
One was dragged off and beaten by an angry mob of commuters as critics said targeting
working-class people using public transport risked draining public support for the protests.
A now-deleted tweet from the official campaign account comparing the tube protesters to American civil rights icon Rosa Parks did little to win back support.
London mayor Sadiq Khan said the protests were a burden on police and said the tube protests were misguided.
He said: "This illegal action is extremely dangerous,
counter-productive and is causing unacceptable disruption to Londoners who use public transport.
"I urge demonstrators to protest peacefully and within the boundaries of the law."