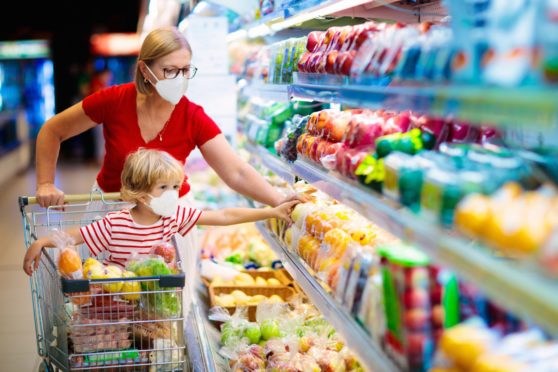 The leader of a shop workers' union has criticised supermarkets for failing to enforce Covid restrictions while accusing some customers of using stores as a social venue to meet friends.
Stewart Forrest, Scotland's ­divisional officer for shop workers' union Usdaw (Union of Shop, Distributive and Allied Workers), said many stores had not reintroduced one-way systems and strict social-distancing measures seen in the first lockdown despite soaring infection caused by a swift- spreading variant of the virus.
Mr Forrest, who sits on the Scottish Trades Union Congress advisory group that meets regularly with government ministers, fears for the safety of workers.
An outbreak at a Tesco branch in Greenock was linked to the deaths of two workers last week. A man and a woman died within days of each other. The death of Ann Weir was announced by her daughter, Danielle, who paid tribute to her "kind and beautiful" mum.
More than 500 retail staff ­contracted Covid in the past seven days, according to official statistics, making it the second most high-risk employment sector after health and social care. Contact tracers also linked more than 1,200 cases to retail in the past two weeks, making it the second most common "setting".
Mr Forrest said: "A lot of our ­members have been seriously ill. One of our members who works in a Tesco supermarket in the west of Scotland died last week. There is great concern among our members in supermarkets. We've had a high volume of calls from our members who say things need to be tightened up.
"There is a difference in this ­lockdown. There has been a slippage in enforcing restrictions in supermarkets. If you go back to last March when restrictions were introduced there was a lot more attention paid to the number of people allowed in supermarkets, to hand sanitising and to ensuring one-way systems were in place. There were even security guards making sure shoppers were adhering to restrictions.
"Some of the bigger supermarkets are starting to implement that this week, which Usdaw welcomes, as long as it's not being put on to our members to police it, because the number of assaults and verbal abuse cases against workers has doubled." Mr Forrest said some customers were using supermarkets as a place to meet because the lockdown has led to the closure of non-essential retail and the hospitality sector.
He added: "Shopping has become a day out for some people but it shouldn't be. There is anecdotal evidence people are going to supermarkets to meet up with other people. Shopping should be seen as a necessity, not a day out. The definition of what is an essential shopping trip is being stretched and we have raised this with the Scottish Government."
Dr Zeshan Qureshi, who worked in the intensive care unit at St Thomas' Hospital in London during the pandemic and is co-author of a report by the Oxford Centre for Evidence Based Medicine which found social distancing can be ineffective in stopping the spread of the virus, said: "Supermarkets have all the hallmarks of a high-risk setting for coronavirus spread. They are indoor environments where there is social mixing and mutual touching of products.
"People are also in supermarkets for a long period of time and there often isn't good ventilation. If air is static any coronavirus in the air sticks around. If you are in an environment like that for long enough, no matter how far apart from people, you are at risk of contracting coronavirus. Some scientists believe there is no safe distance in indoor environments that are poorly ventilated. It is more important now than ever to adhere to coronavirus guidelines for supermarkets."
The Scottish Government said: "We are committed to ensuring these environments remain safe for both the public and those who work in them. We have ongoing dialogue with the supermarkets and this has been the case throughout the pandemic. This ranges from collaboration to deliver food to those shielding through to discussion on a range of challenges, changes and issues related to the pandemic, for example discussion of changes to levels. Everyone can play their part by sticking to the guidance."
All the major supermarkets told The Sunday Post they had maintained robust safety measures throughout the crisis. Tesco said: "Since the start of the pandemic, we have done everything possible to keep our customers and colleagues safe, and have made significant investments in safety and social distancing measures across every one of our stores so people can shop safely and with confidence."
Morrisons said: "Since the start of the pandemic we have introduced and consistently maintained thorough and robust safety measures in all our stores."
Asda said: "We are not taking the safety measures in our stores any less seriously than we did at the start of the pandemic and, with the experience we gained last year, we are able to better protect our customers now."
---
Some customers don't wear masks but if I challenge them my manager overrules me
A middle manager at a large Edinburgh branch of a major supermarket chain spoke to The Sunday Post on condition of anonymity.
She said: "Our company has increased the number of people allowed in the store at any one time, which is crazy considering there's a new strain of the virus which spreads much more easily.
"You've got customers coming right up to the staff. Some of the customers don't wear masks and when I have challenged them my manager has overruled me and let them stay in the shop to avoid a complaint.
"Last March and April our shop was quiet but it just does not feel like a lockdown this time. We're getting about 1,000 customers a day, and many of them do not seem to care about Covid. This time people are coming in for non-essential items, laughing and joking as if there is nothing going on around them. And there is no one-way system in place like there was in the first lockdown.
"It's supposed to be one person per trolley but we have groups of people coming in, all ages, meeting in the aisles for a chat. Last year our company allowed us to ask people to keep moving. Now we are not allowed to do that, even if they're having a social gathering.
"Staff morale is at an all-time low. Supermarkets need to be stricter with customers who are breaking the rules.
"I am petrified that I will catch Covid, especially because I'm a manager so I'm on the shop floor all the time, walking around.
"I am worried about the safety of my staff, too. We've had three positive cases in the last two weeks. I've lost count of the number of people who are self-isolating."
Another supermarket worker at a large store in Glasgow said: "We have more than a dozen staff off with Covid. One person was in hospital on oxygen.
"My colleagues and I are fed up with shop workers being ignored during this pandemic.
"This is the third bout of Covid among staff. A few months ago an entire department was closed because all the staff were off with it.
"Management continually blame the staff. They say we not social distancing enough, as if it's our fault, but they stopped monitoring how many people are in store at any one time.
"Customers come in pairs or in groups and treat trips to supermarkets as a day out, even though it's supposed to be essential shopping only. What's going on is absolutely ridiculous."
---
OPINION: Retail workers far too often face abuse for trying to get customers to follow the rules
By Ewan MacDonald-Russell, Scottish Retail Consortium head of policy
Scottish retailers have invested more than £50 million in making stores safe, investing in hand sanitiser, screens, store markings and communications and every other measure we believe will make a difference.
In recent months those efforts have been stepped up as grocers have hired extra workers to manage physical distancing, installed traffic light entry systems and extra hand sanitiser stations. They've also used every available channel to ask customers to shop alone, wear face coverings, use online and click and collect where possible, and to minimise their visits.
Nonetheless, the current situation is incredibly difficult. Whilst the vast majority of customers are following the rules, those few recalcitrants are a real problem. Retail workers far too often face unacceptable abuse for trying to encourage customers to follow the rules. We hope the likely passage of shop worker protection legislation at Holyrood will also help deter further abuse of shop workers.
Frankly the situation isn't helped by government's constant changing of the legislation governing retail.
Ministers need to stop creating byzantine and arcane rules with ludicrously short implementation time-frames; and instead focus on providing the enforcement and financial support the industry needs in these difficult times.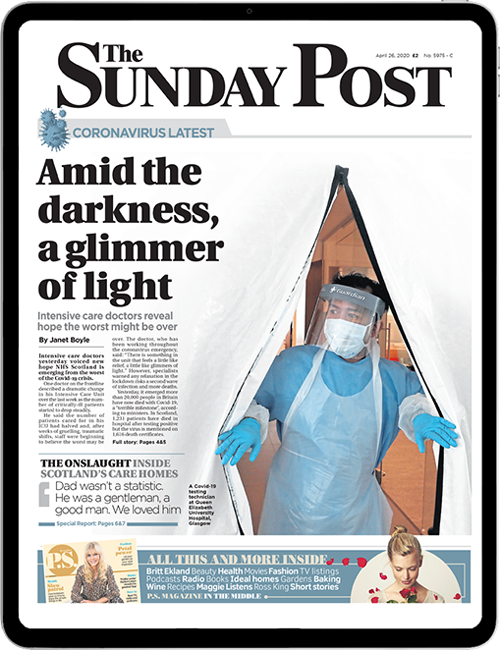 Enjoy the convenience of having The Sunday Post delivered as a digital ePaper straight to your smartphone, tablet or computer.
Subscribe for only £5.49 a month and enjoy all the benefits of the printed paper as a digital replica.
Subscribe