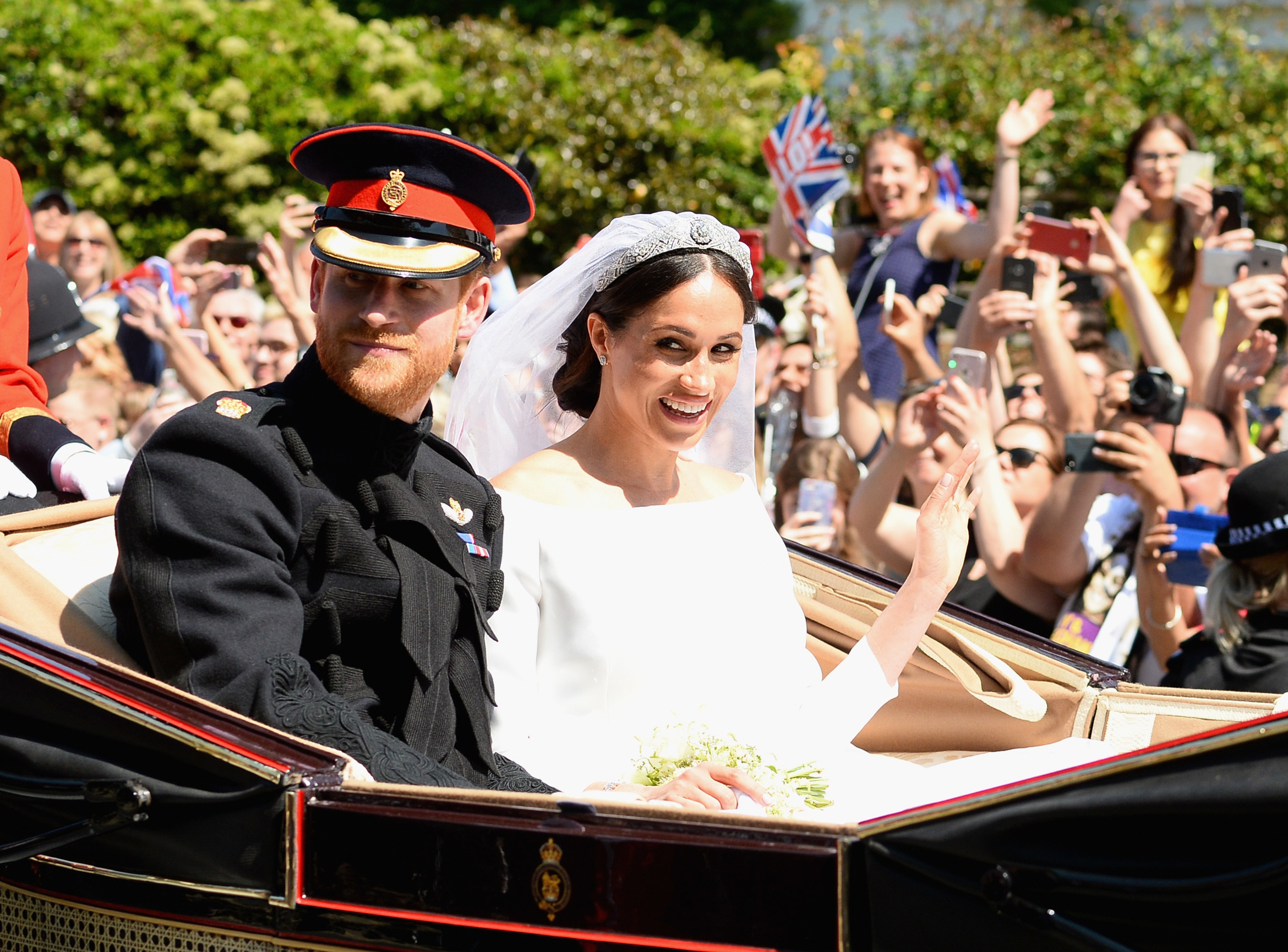 IT was a turnout beyond anyone's wildest expectation, bringing 100,000 well-wishers and a sea of flags to the town of Windsor.
Union flags, Saltires and dozens of Stars and Stripes jostled for space in the sunshine above the packed pavements.
Many of the spectators had camped overnight to get the best positions.
Others had begun their journey early yesterday morning, setting out in darkness before making the final leg in packed trains. Then, the huge crowd made its slow way past the Thames, through the picturesque market town until finally spilling out into the spring greenery of Windsor Great Park.
But despite the crush, the queues and the bottlenecked security checkpoints, they remained good natured.
Not everyone faced a long walk into the park.
Janette Hunter from Chapelhall near Airdrie only had to walk a few feet.
Her son Alan has lived in Windsor for 25 years and stays on the Long Walk, the road through which the royal procession passed, allowing the pair, plus daughter Margo Graham and family friend Graham Shaw, to grab a prime spot.
It was Janette's third royal wedding, having been present for the vows of Charles and Camilla, and Edward and Sophie, but there was added reason for family festivity.
Janette said: "It was my 80th birthday last week and this is part of my celebration. I'm a right royalist – from Scotland! I just love the Queen and all the royal family.
"On February 12 this year my husband and I celebrated our diamond wedding and the Queen sent us a card. We went to Edinburgh with the family to see Harry and Meghan."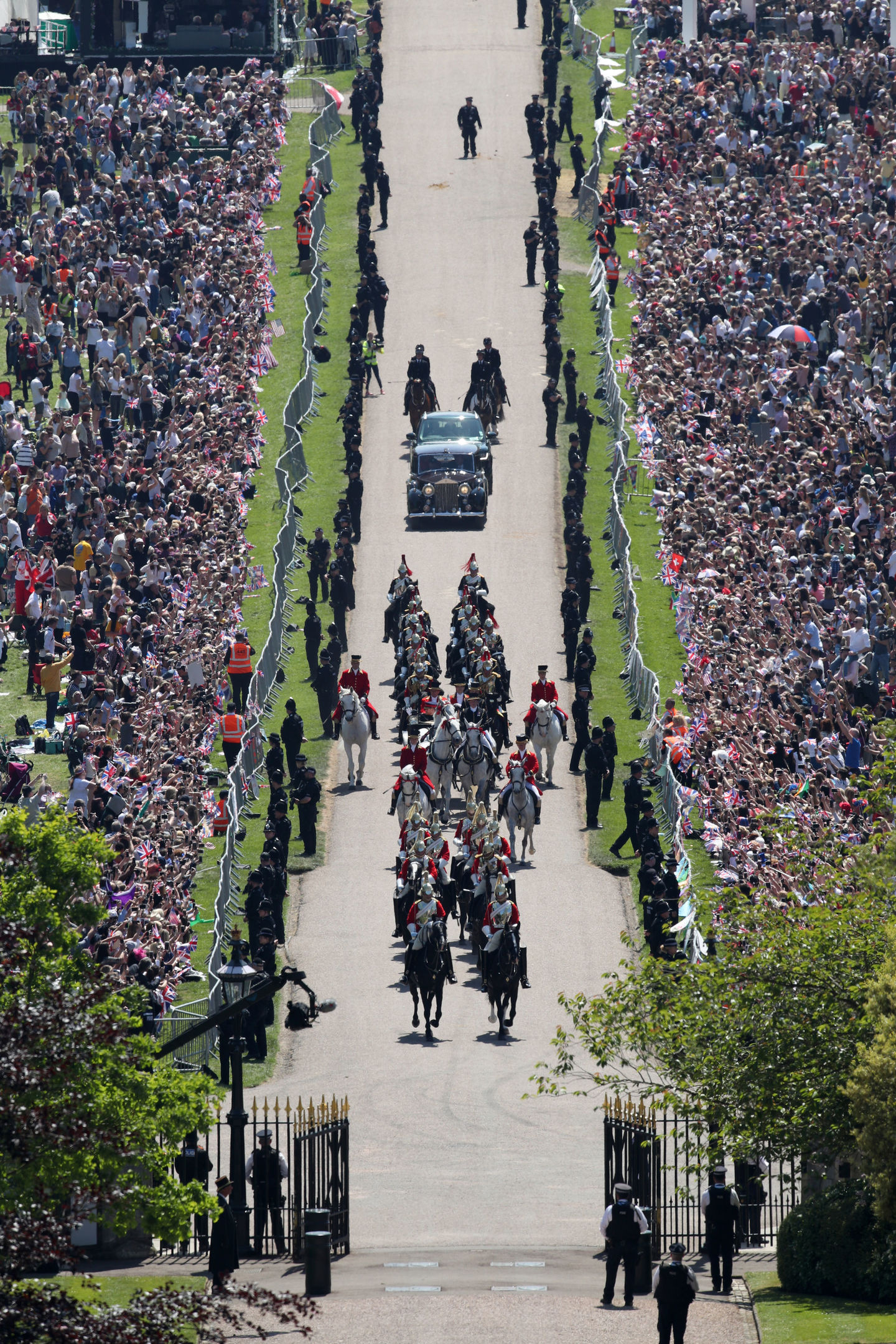 The family had a special addition draped over the barrier too, a 100-year-old Lion Rampant flag given to Janette by her mother's cousin.
"I think they are lovely and it is great the royal family is getting very modern," Jeanette added.
"She's gorgeous. He has served and been to Afghanistan for us. That's why I'm wearing poppies today."
Janette was among hundreds of Scots who travelled to Windsor for the big day.
Josh Herbert was invited to attend the wedding for his work representing the community of his home town Duns, in the Borders.
The 23-year-old went to Windsor Castle with his girlfriend Abbie Clark, 22.
He said: "It was a once in a lifetime thing and it was a special day to be part of. We had a good view and saw the Queen and celebrities going in. We saw George Clooney and David Beckham.
"We sat next to someone who works in Buckingham Palace who told us who people were if we didn't know."
For Margaret Johnston, 55, and Louise Sinclair, 40, the wedding was worth making the round trip from Linlithgow in a day.
"It was a 5am start," said Louise. "We're either dedicated or stupid! We had a great view. We were right by the fence and got some video footage of Harry and Meghan as they left in the carriage."
Margaret added: "It was absolutely amazing. Words can't describe it."
The atmosphere inside the park was almost carnival, with giant video screens allowing crowds to watch the wedding.
Those who lined the snaking road round the area, desperate for a glimpse of the wedding party, were kept occupied early on by entertainers who led chants, cheers and Mexican waves before the ceremony began.
When Meghan's car drove past, a giant roar of delight erupted.
That roar was only surpassed when the Rev David Conner pronounced the couple man and wife.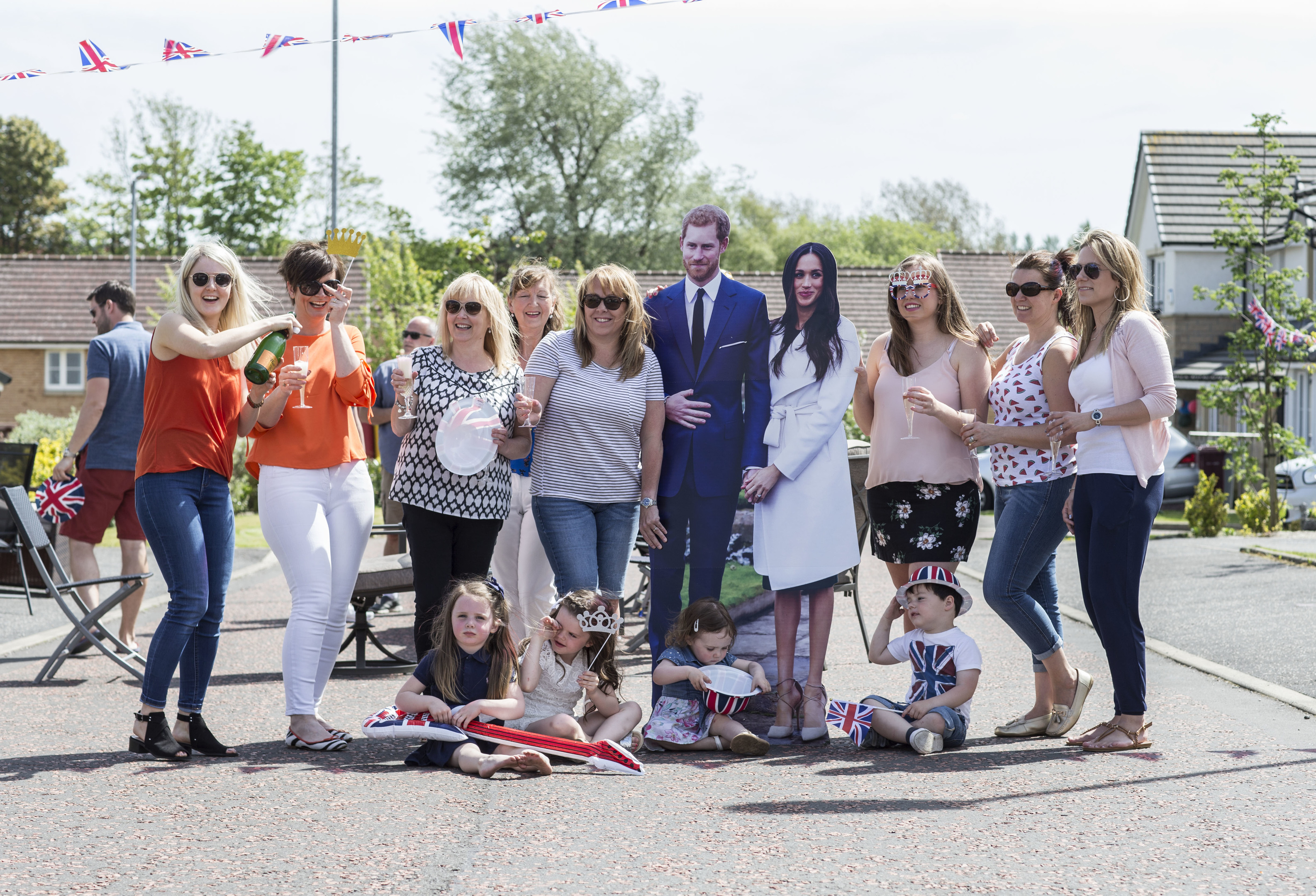 Long queues formed for people to get their pictures taken next to giant cardboard cut-outs of the happy couple.
Laura Lineton and Emma Martin-Law drove down from Darlington on Friday, having bagged a space in a friend's flat.
Emma said: "There's an incredible atmosphere here. It's very friendly and safe. Even when we were just standing waiting to get through security everybody was pretty calm and just getting on with the day."
Meanwhile, it was bunting and booze all the way at Orwell Wynd in East Kilbride, where residents were granted permission from South Lanarkshire Council for an all-day road closure.
Under a blazing sun, dozens of neighbours raised a glass to the royal couple, paraded in a bride's veil and sizzled a butchers' shop worth of burgers, kebabs and steaks.
Two other Scottish streets received permission for closures – in Kilmarnock and Edinburgh.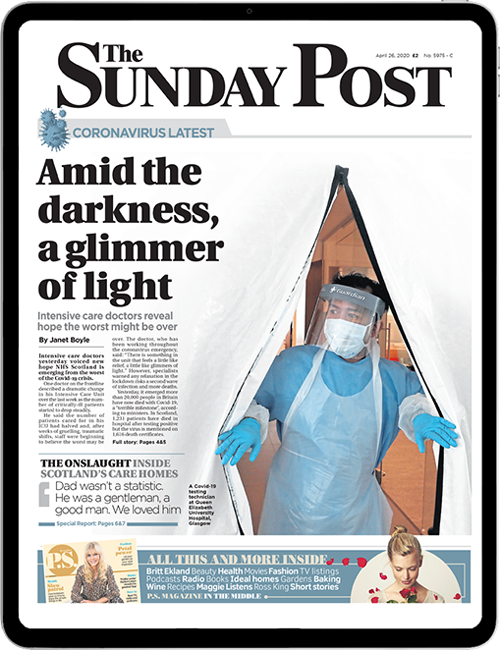 Enjoy the convenience of having The Sunday Post delivered as a digital ePaper straight to your smartphone, tablet or computer.
Subscribe for only £5.49 a month and enjoy all the benefits of the printed paper as a digital replica.
Subscribe