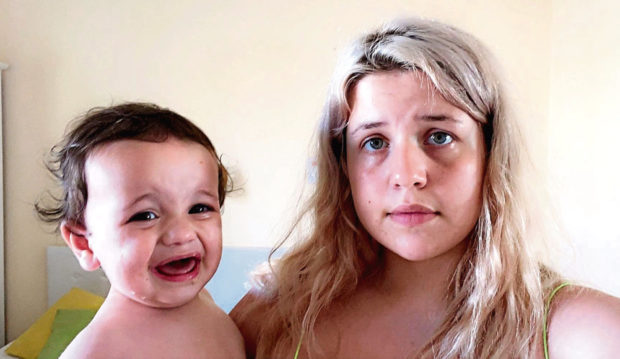 A judge who ordered a teenager and her baby to travel across Europe during the international lockdown was not told her ex-partner had admitted carrying out a violent assault, we can reveal today.
Kyle Borg had already pleaded guilty to a charge of grievous bodily harm eight months before Leigha Collins was ordered to return to Malta after she had fled the island, claiming to be in fear of her partner after their relationship broke down.
In April, Court of Session judge Lord Brailsford ordered Ms Collins, then 18, to return baby Hayes to his father after ruling that she had broken Hague Convention rules on child abduction.
Her lawyers told the judge Ms Collins' claims that Borg had a violent temper were bolstered by his alleged attack on a pizza delivery driver. However, the judge insisted Borg was innocent until proven guilty in Malta.
Ms Collins' claims that her former partner's drug use added to her fears around his violent temper were also discounted by the judge after he was told Borg's cannabis use was for medicinal reasons.
But last week, as Borg was sentenced to three years' probation for the assault and sent on a drug rehabilitation course, it emerged he had admitted the charge of grievous bodily harm last July – eight months before the Court of Session hearing.
Campaigners and politicians are now calling for an investigation into the case and urging ministers to help secure Ms Collins' return – and demanding to know why Lord Brailsford was unaware Borg had admitted the attack.
Writing in The Sunday Post, Dr Marsha Scott, chief executive of Scottish Women's Aid, said: "That this young woman has been forced by Scottish courts to travel to a foreign country and live in incredibly precarious circumstances, separated by land and sea from her toddler son, her parents and her entire support network, is unimaginable."
It has emerged Lord Brailsford was also unaware of a report from Borg's probation officer, raising concerns about his drug addiction and psychological behaviour after he refused to undergo drug testing or rehab.
On Thursday, Maltese magistrate Dr Astrid May Grima heard how Borg, 20, had severely beaten pizza delivery driver Imran Khan about the face, inflicting serious injuries in the attack in June 2019 which began with a row over late food. He had filed a guilty plea on July 30, 2019.
In addition to the three-year probation order, Dr Grima ordered Borg to pay E2,000 – around £1,800 – in compensation to Mr Khan and placed him on a drug treatment order for his cannabis dependency.
Borg was also told he must also comply with a three-year protection order preventing him approaching his assault victim or face a fine of E7,000 – around £6,400.
Judge Brailsford was unaware of the guilty plea when he sent Leigha back to Malta in April.
In his judgment, he said: "It seems clear, not in fact disputed, that criminal activity has not been proven and it may be that the matter is before the Maltese Courts, but I do not consider that I can make anything in all candour about a criminal charge which is subject to due process of law."
Ms Collins, 19, has been forced to leave her older son, Alfie, three, with her parents in Fife, while she remains with baby Hayes, one, in a one-room hostel in Malta.
She said: "The fact Borg had already pleaded guilty to a violent assault along with his probation officers' report and concerns about his drug-taking and psychological problems should have been fully considered by Lord Brailsford before he made any ruling to return me to Malta.
"It seemed beyond cruel then. Now, it seems worse than that.
"How long will Hayes and I be left languishing here? How long will I be apart from my other son? How long will Hayes be apart from his brother? How can something like this happen?"
She says when she has refused to leave Hayes with Borg because of his drug use, she was threatened with arrest. "I've been threatened repeatedly with arrest by armed police officers whenever I refuse to leave Borg alone with Hayes – he turns up stinking of cannabis and slurring his words. All I've ever done is try to protect my children, but their lives as well as the lives of my parents, are being torn apart because of the whims of a violent drug addict."
Borg was represented at the Court of Session hearing by QC Scott McAlpine and solicitor Marisa Cullen of leading Edinburgh law firm Morton Fraser. Asked about why the judge had not been made aware of Borg's guilty plea, the firm declined to comment. Meanwhile, Borg's civil legal advisor in Malta, Robert Thake said he had informed Morton Fraser the GBH case was "sub-judice".
Ms Collins' lawyer Mark O'Hanlon said he and a solicitor acting for Ms Collins in Malta had spent weeks attempting to confirm the status of the case without success.
Mr O'Hanlon said: "We were completely unaware Borg had pleaded guilty to the GBH case and we spent some considerable time and effort attempting to gain access to information regarding that case without success… We even attempted to engage a private detective to find information."
The Sunday Post View: The forced return of Leigha Collins is a disgrace and has put Scotland's justice in the dock
Her MSP Alex Rowley, who has campaigned for ministers to get involved, will raise the case at Holyrood again this week.
He said: "It is shameful we are now seeing this young mum separated from one child and forced to take the other to a foreign country into unsafe living conditions, when it is overwhelmingly clear from everything that has been uncovered that Leigha's concerns to the court were truthful and correct.
"Everything she told the court about her former partner was true – so why was she sent back to Malta, alone with her baby during an international pandemic?
"That is a question that must be answered, but our first priority must be to get this young mum and her child back home to Scotland and I will once again make the direct appeal to government ministers to order a review of what has happened to this family and to get them home safe."
Scottish Conservative shadow justice secretary Liam Kerr said: "While ministers cannot interfere with the judicial process, these new revelations raise serious issues about the welfare of a young mother and her child.
"Questions need to be asked as to how such significant information was unknown to the court in Scotland when the decision was made to send them to Malta at the height of the pandemic."
Commenting on behalf of Lord Brailsford, a spokeswoman for the Judicial Office for Scotland said: "The Judicial office for Scotland and members of the judiciary cannot comment on cases outwith court proceedings.
"When deciding a case a judge will always carefully consider the facts that are presented to the court by representatives for both parties, and will take into account the unique factors of each case."
---
A mother and her baby have been failed by a system that was meant to protect them
by Dr Marsha Scott, Chief Executive of Scottish Women's Aid
We are infuriated and saddened at the detail of this case, which has seen a young mother and her children repeatedly failed by the very systems which promise to protect them.
That this young woman has been forced by Scottish courts to travel to a foreign country and live in incredibly precarious circumstances, separated by land and sea from her toddler son, her parents, and her entire support network is unimaginable in this day and age.
This egregious violation of their human rights demonstrates yet again that the needs and safety of women and children experiencing domestic abuse disappear when child contact decisions are made in our courts. How little their well-being matters is amply demonstrated by the judge's order, sending her and her baby overseas in the midst of a global pandemic.
Abuse of a mother is abuse of the child and, contrary to Lord Brailsford's comments, we can think of few things that could make this situation any more intolerable for the child involved.
That the bar for fatherhood sits so low, while the expectation of motherhood – even in the face of extreme risk to physical and mental safety – sits so high, is testament to the archaic notions still evident in so many of the decisions we see involving court-ordered child contact in the context of domestic abuse.
We are doing all we can to source further legal support for Leigha and her child, and we are reaching out to sister women's organisations in Malta to see if we can help arrange support for her there.
We also would like to remind anyone looking for support around domestic abuse that Scotland's Domestic Abuse and Forced Marriage Helpline remains available 24/7 on 0800 027 1234 – we will believe you, listen to you and support you, always.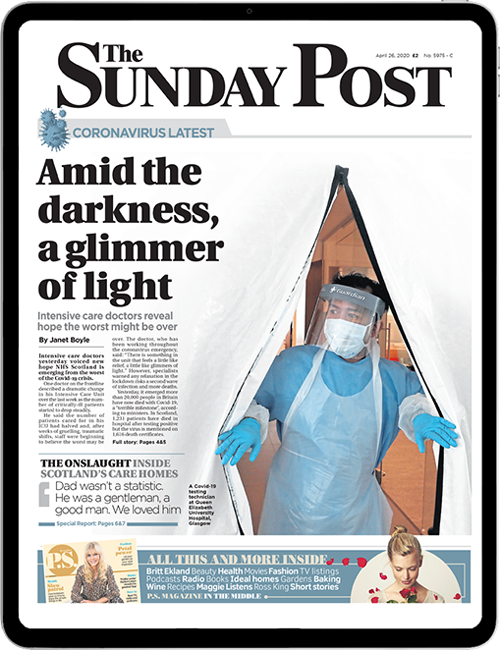 Enjoy the convenience of having The Sunday Post delivered as a digital ePaper straight to your smartphone, tablet or computer.
Subscribe for only £5.49 a month and enjoy all the benefits of the printed paper as a digital replica.
Subscribe