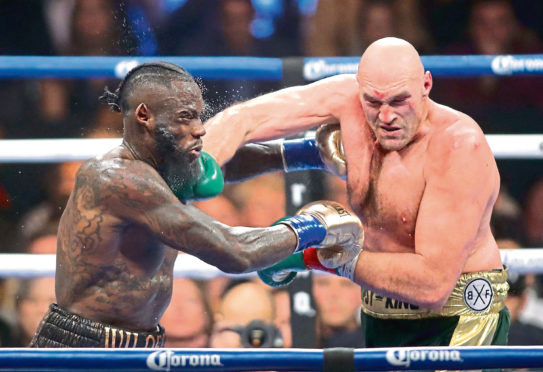 The marketing gurus are billing it "Unfinished Business" and they have hit the nail on the head with their description of Tyson Fury's fight against Deontay Wilder this weekend.
The heavyweight stars produced a thrilling encounter in Los Angeles in December 2018, when their clash ended in an epic draw.
Wilder versus Fury II is a colossal rematch to usher in a new decade in boxing and it is hoped that it encourages the big names to fight each other in their primes in every boxing division.
Wilder is the reigning WBC champion while Fury is the former unified WBA (Super), IBF, WBO, IBO and lineal champion.
It's Wilder's WBC title that's on the line, meaning Fury could become a world champion for the first time since 2015.
The event will take place at the MGM Grand Garden Arena, Paradise, Nevada.
This is a fight that the two could have easily avoided, but both persistently claimed for the past 13 months that they intended to lock horns again – and, for a change, it wasn't just bluster.
The general consensus from the first fight is that Fury, who had only fought twice after returning from a two and a half year lay-off, outboxed Wilder for the majority of their meeting.
However, the American put the Brit on the floor early on, then again in the dwindling seconds so conclusively that the reigning champion began celebrating a KO victory.
Fury, though, somehow clawed his way back and, in the end, both men were aggrieved by the judges' verdict of a draw.
"I knocked that fool out," growled Wilder, angry at the conspiracy theory of a slow referee's count when Fury was getting up.
Fury hit back: "Everybody in the world knows you lost to The Gypsy King – a Gypsy King who had been out of the ring for three years. I still beat you, on 50 per cent."
The distinctive styles of the two fighters make this a mouth-watering prospect.
Wilder is among the most destructive KO punchers of all time, while Fury is a master tactician whose skills belie his size.
They are a combined 73 fights unbeaten.
Wilder, who celebrated five years as champion last month, had a mixed 2019.
In May, he knocked out Dominic Breazeale in two minutes, 17 seconds, then in November, he lost six rounds on the scorecards to Luis Ortiz before landing one fight-ending punch.
That Ortiz fight will serve as a warning to Fury that totting up points against Wilder is not necessarily a fight-winning tactic because he can undo all your good boxing with a decisive blow.
But, if Wilder spent the past year solidifying his claim to the throne as the true heavyweight ruler, then Fury spent it being typically maverick.
Inside the ring, he beat Tom Schwarz and Otto Wallin, opponents who caused Anthony Joshua to question Fury's ambition.
He beat the German in two rounds but Wallin took him the distance and produced a bad gash above Fury's eye which threatened the result of that fight, and the scheduling of the Wilder rematch.
In October, Fury had a brief stint as a WWE wrestler, reportedly earning £12 million for a couple of weeks' work which included beating Braun Strowman in Saudi Arabia.
It may have been a bit of lucrative fun, but it was also a contribution to his scheme to become better known in America prior to facing Wilder again.
For Fury, though, the key change has been a switch in trainer from Ben Davison to Sugarhill Steward.
Davison helped rescue Fury from obesity and mental-health problems by slowly introducing him back into training and they seemed to have struck a genuine friendship, so their separation was a shock.
Steward, the nephew of legendary trainer Emanuel, has been hired to make Fury a two-time heavyweight champion.
Joshua holds the other three major heavyweight titles, so the winner would be in position to negotiate a contest with AJ and bid to become the first man to hold all four belts in the division.
Fury has a new American promoter in 88-year-old Bob Arum, who says that he expects the Wilder bout to be bought over two million times on pay-per-view television in the United States.
Arum believes the contest will resonate with sports fans, rather than just a hardcore boxing audience, and saw to it that Fury and Wilder featured on the telecast of the Super Bowl earlier this month.
Arum said he would make Fury a star in the States and he is well on his way to fulfilling that promise. The Manchester-born fighter had boxed mostly in Britain but this will be his fourth successive bout in the US.
The Wilder fight will be on pay-per-view in the UK in the early hours of Sunday morning.
"There's no more ducking and diving," says Fury. "The 'Bomb Squad' is about to be securely detonated and the real champion crowned.
"This is unfinished business for me, but come February 22, this dosser will finally get what's coming to him, and I can't wait!"
Wilder adds: "I'm happy and I'm excited that the rematch is finally happening. I want to give the fans what they want to see.
"I've been doing it with my last three outings – Fury, Breazeale and Ortiz. They've been spectacular events – from my ring walks where I gather all the energy of the people, to my uniforms that I wear to help spread that energy.
"Then I give them what they all come for – the knockouts.
"I proved myself the first time and I'm ready to do it again.
"I promise my fans that there won't be any controversy with this one. I'm going to finish it."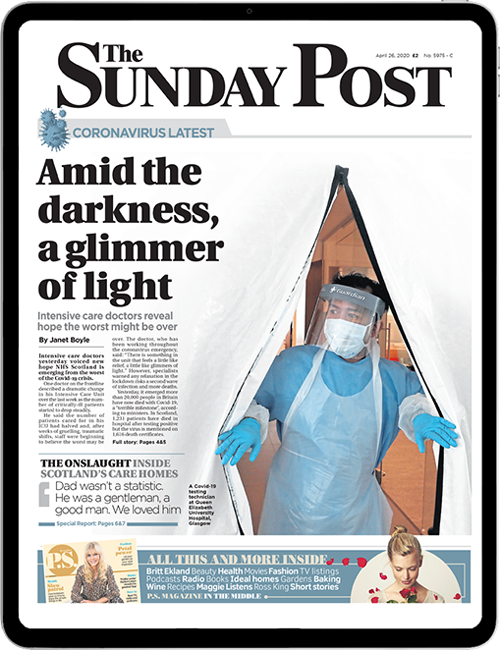 Enjoy the convenience of having The Sunday Post delivered as a digital ePaper straight to your smartphone, tablet or computer.
Subscribe for only £5.49 a month and enjoy all the benefits of the printed paper as a digital replica.
Subscribe