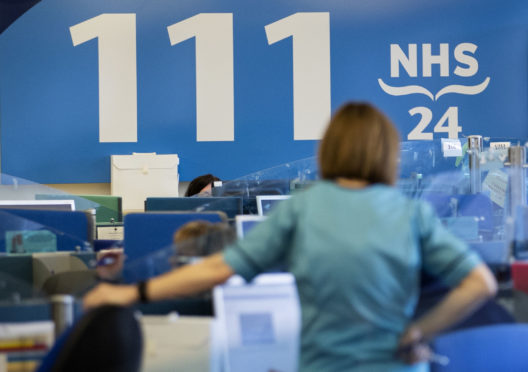 Scotland's NHS24 helpline was under siege yesterday as 4,500 callers dialled 111 before noon.
The deluge of calls came as the coronavirus outbreak tightened its grip on the country and prompted senior officials to urge no one to call unless symptoms were causing serious concern as the advice helpline struggled to cope.
Scottish Government clinical director Jason Leitch was forced to issue an urgent appeal asking callers not seeking urgent medical help to visit the NHS website.
Warning that NHS 24 was experiencing "very high call rates", he said: "Only if you are seriously unwell, your symptoms are deteriorating after seven days or you're very breathless should you call 111.
"We are here for you but we need to be there for the people who really, really need it."
Very high call numbers to @NHS24 today. Please only call 111 if your symptoms are worsening and you need help. https://t.co/KSwFVnUfkH has everything you need and 0800 028 2816 will help too. We need the 111 line for those who really need it. @scotgov @scotgovhealth pic.twitter.com/9RHgPM14TL

— Jason Leitch (@jasonleitch) March 28, 2020
Yesterday's surge – which followed some of NHS24's busiest ever days – came as the Scottish death toll rose by seven cases to 40, with 1,245 people testing positive for the condition.
Across the UK deaths rose from 759 on Friday to 1,019, an increase of 260 and the biggest day-on-day rise since the outbreak began.
Meanwhile, at 6pm yesterday the global death toll passed 30,000. Yesterday one patient revealed how he was kept on hold on the helpline for more than 60 minutes while he struggled for breath.
Scott Dixon, 49, showed signs of the virus with a temperature, searing headache and exhaustion. "I didn't want to call 999 as I knew the ambulance crews would be seriously busy so I kept calling 111 and ending back at the queue.
"Eventually I became so ill and worried that I had to make an emergency call and I am now in Edinburgh Royal Infirmary."
Last night he was told he had tested positive for the virus. He said: "I am on antibiotics and on desperately needed fluids.
"The 111 system is obviously not coping. I fear some people will give up and become too ill to save."
The rising death toll comes amid concerns voiced by health workers that Scotland is behind England in the official response to creating emergency beds for the influx of patients and protecting frontline workers.
Coronavirus tests for NHS frontline staff have been trialled across the UK this weekend. Cabinet Office minister Michael Gove said hundreds of tests were to take place by the end of the weekend, following by "dramatic scaling up".
However, in Scotland, ­ministers could only say tests would start "as quickly as possible" and Eileen McKenna, director of the Royal College of Nursing Scotland, said: "Priority Covid-19 testing for health and care professionals is an absolute must. Our members need this to do their job while keeping themselves and their patients safe.
David O'Connor, Unison regional organiser for the Scottish Ambulance Service, said: "We want testing implemented as of now. We now have approximately 10% of our frontline staff self-isolating just now, which is about 200 people, and this number is only going to increase."
A temporary 4,000-bed ­hospital is currently being built at the ExCel centre at London Docklands and is expected to open this week.
Soldiers and trade contractors have been converting the exhibition centre, which usually hosts conferences, into the first of the NHS Nightingale hospitals.
Three more field hospitals are planned at the NEC in Birmingham, the Manchester Central Conference Centre, along with one in Cardiff.
But the SEC in Glasgow was still being assessed by Army personnel yesterday for its suitability as a temporary hospital.
Meanwhile, RCN Scotland director Theresa Fyffe warned many nursing staff were "anxious and unclear" about what personal protective equipment (PPE) was needed to protect them.
She said: "We are receiving ­frequent reports from our members who are extremely concerned they do not have adequate or correct equipment. They are also telling us that they do not feel confident in the advice they are getting."
The Scottish Government said: "London currently has a much higher number and concentration of cases than Scotland. Even so, we have been clear that a temporary hospital will be made available in Scotland if necessary and the preparatory work is already under way.
"The increased testing being trialled in England this weekend is part of a four-nation exercise in which Scotland is integral and will see the testing capacity scaling up considerably in the coming period."
An NHS24 spokeswoman said: "NHS 24 is dealing with unprecedented call demand at present and we apologise to callers who are experiencing significant waits. All callers are advised through our messaging at the outset that if they have an emergency, they should hang up and dial 999.
"We have recruited and trained additional staff and redirected resources from other services to manage the additional call demand.
"There is also a non-clinical Covid-19 specific helpline where callers can get information and advice on 0800 0282816.
"We are asking the public to only call if absolutely necessary in order that we can help the sickest patients who are contacting us."
The Scottish Government said: "We are increasing the distribution routes and networks to ensure supplies get to where they are needed as quickly as possible. We have released PPE from the national stockpile to National Services Scotland to meet the emerging demands and have brought an extra 1.5 million facemasks back into use from NHS Scotland central stockpile."
On Tuesday the UK Government launched an urgent appeal for volunteers to help the NHS during the coronavirus pandemic.
Meanwhile, the Scottish Government will announce its plans for a volunteer army this week.
---
Coronavirus: LIVE updates from our reporters across the country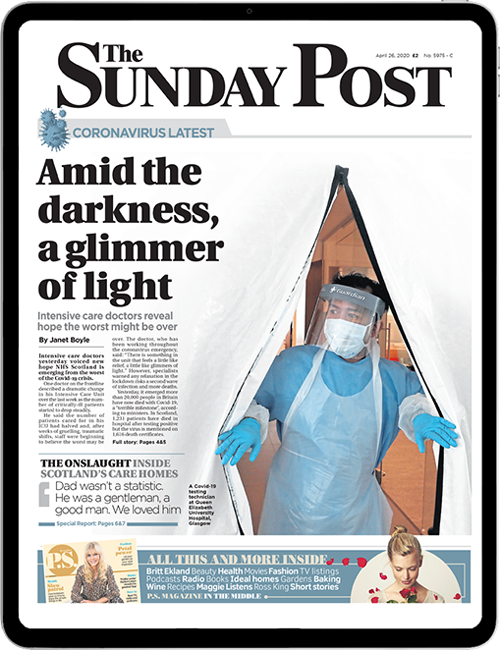 Enjoy the convenience of having The Sunday Post delivered as a digital ePaper straight to your smartphone, tablet or computer.
Subscribe for only £5.49 a month and enjoy all the benefits of the printed paper as a digital replica.
Subscribe