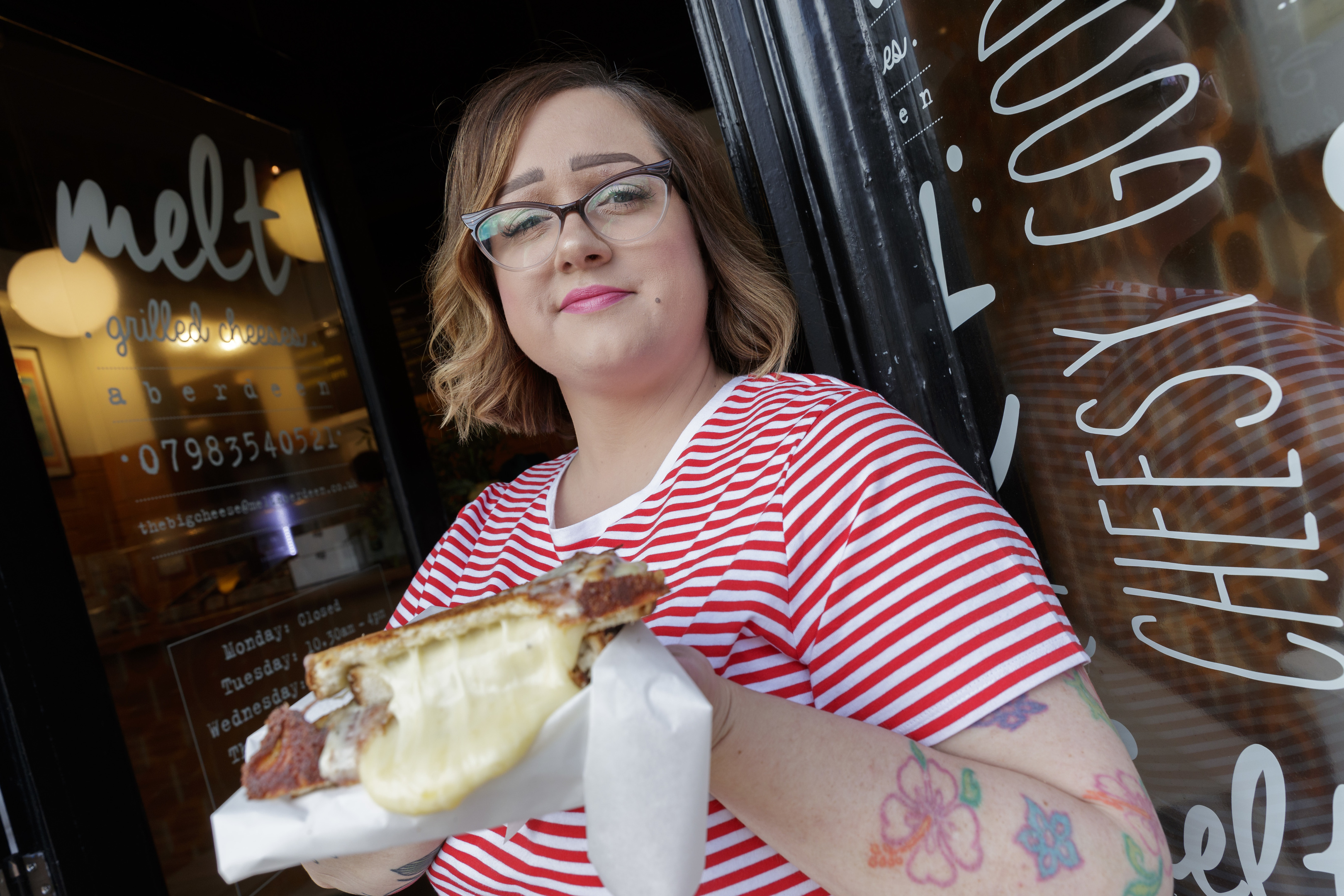 WHEN Mechelle Clark first opened her "posh" cheese toastie shop, Melt, in Aberdeen, some called it a "fad" that wouldn't last a month.
But nearly three years on, her venture has proved so successful that the 36-year-old entrepreneur is embarking on an "unbrielievable" new project.
She now plans to open Scotland's very first dedicated cheese restaurant in Aberdeen. Mechelle launched a crowdfunding drive to support her dream last week and believes Aberdonians will have a healthy appetite for her new venture.
"We got a little stick when we first opened the takeaway business about Aberdonians being frugal and would never pay £5 for 'bread and cheese'," she said.
"I think a lot of people think it would be all hipsters but there's not enough hipsters in Aberdeen to keep a business going.
"For me, our biggest win has been turning around blue-collar workers. When we opened, they were the ones saying, 'I give it a month' but now they're our most loyal customers."
Passionate home cook Mechelle started Melt after being made redundant from the struggling oil and gas sector twice in 15 months.
Following 60 unsuccessful job applications, she made the bold move to go it alone and opened her toastie shop in 2016.
"I had seen on social media at the time there was this growing trend for street food and grilled cheese sandwiches," she said.
"It's something very different for Aberdeen but people have embraced it. I took a gamble and it paid off. We're a busy place and often the queue is out the door."
Melt serves up a range of grilled cheese sandwiches made with béchamel sauce, quality cheeses and innovative fillings.
Her top-seller is The Bruiser, macaroni cheese with smoked bacon and haggis, which she says is popular on a Sunday morning.
Melt was named one of the UK's best top 10 grilled cheese sandwich shops and has welcomed the likes of Nicola Sturgeon, news presenter John Snow and actor Donald Sutherland.
"I think cheese has universal appeal and toasties are the ultimate comfort food, especially in a cold country like Scotland," Mechelle added. "There's so much variety that we can be innovative in experimenting with different dishes in the restaurant and really make the most of Scottish produce."
Mechelle has secured a unit on 11 Belmont Street in Aberdeen.
She has backing from a stakeholder to open a deli and takeaway on the ground floor but hopes to raise £25,000 for the new 60-80 seat restaurant housed upstairs. Her menu dedicated to cheese lovers will include dishes like Melt's famous toasties, halloumi fries, lobster macaroni cheese and that 70s classic, cheese fondue.
"The minute I say cheese restaurant people seem to think of fondue. I think that will be a crowd-pleaser but we'll try to do it in a different way," added Mechelle.
Melt's success is even more impressive given the turbulent economic climate small businesses in Aberdeen continue to face, fuelled by an ongoing slump in the North Sea oil and gas industry.
"Marketing through social media has helped us. I'd love to say I've got the recipe for success but I think it's just on a wing and a prayer."
But Aberdeen's toastie queen is confident her new venture will be a "gouda" investment, adding: "People have been very excited about the prospect of Scotland's first cheese restaurant and it's not common that things like this happen in Aberdeen.
"We can be a little bit behind the trends with food up here. I think our popularity is a sign that we're trying to evolve beyond an oil and gas city."
Back the campaign at www.indiegogo.com/projects/scotlands-1st-cheese-restaurant.