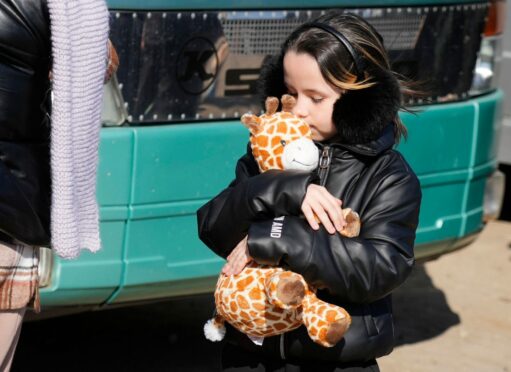 More than 1.5 million children have fled Ukraine as refugees since the Russian invasion, Unicef warned yesterday.
The children's protection agency fears youngsters have become separated from parents and warn of a safety crisis as human traffickers seek to exploit the chaos.
More than 3.3 million people are estimated to have fled Ukraine, in Europe's biggest refugee crisis since the end of the Second World War. The huge influx of people is putting pressure on neighbouring countries, with more than two million people having fled to Poland alone.
Afshan Khan, Unicef's regional director for Europe and Central Asia, said: "The war is leading to massive displacement and refugee flows – conditions that could lead to a significant spike in human trafficking and an acute child protection crisis.
"Displaced children are extremely vulnerable to being separated from their families, exploited, and trafficked. They need governments in the region to step up and put measures in place to keep them safe."
More than 500 unaccompanied children have been identified crossing from Ukraine into Romania alone, though the true number could be much higher.
Khan said: "Children fleeing need to be screened for their vulnerability as they cross into a neighbouring country. Every effort should be made to strengthen screening processes at refugee border crossings."
In Warsaw and Krakow, Poland's largest cities, officials spoke of reaching their limits in the support they can provide.
Almost 10,000 Ukrainian children have enrolled in Warsaw schools and nurseries.
The vice-president of Warsaw, Renata Kaznowska, said: "We rely to a large extent on great hearts and the support of volunteers."
But she added: "The government should also talk about relocation at European level."
In Krakow, £2.4 million of the £3.4m annual budget for crisis management has been spent already. City council spokesperson Monika Chylaszek said: "We are not able to accept or absorb more people as a city. It is about work, places in schools and kindergartens, in office services."
Barbara Walesa, a Warsaw resident, said: "There are more people in the streets. The train stations are very crowded and the people are getting tired and bored, with nothing to do and no money."
"The first wave of Ukrainian refugees tended to be those with some cash, so they could afford to soften the blow when arriving here. The next waves will probably be people without anything. That's when things will get tough."
The Home Office said 8,600 visas had been issued in the UK under the Ukraine family scheme by Friday evening.
First Minister Nicola Sturgeon yesterday promised a "warm Scottish welcome" to Ukrainians when they arrive here. She has previously said Scotland could welcome 3,000 refugees from Ukraine as "an immediate step", before taking in "at least a proportionate share" of those coming to the UK.
🇺🇦 Can you help? https://t.co/tBnP2iuLoE

— Nicola Sturgeon (@NicolaSturgeon) March 18, 2022
The Scottish Government's "super sponsor" scheme opened on Friday and will provide people fleeing Ukraine with temporary accommodation while a more permanent place is found for them.
In her welcome message, Sturgeon said: "I want you to know that you are now safe. Please know that you will be treated with care, dignity and respect, for however long you stay. As we open our doors to you, we also open our hearts. We offer not just a refuge, but a warm Scottish welcome and a nation of helping hands to you and your loved ones.
"Welcome to Scotland, our home and, for as long as you need, yours too."
Scottish Conservative leader Douglas Ross, speaking at his party's conference in Aberdeen yesterday, called for generosity to be shown towards Ukrainians.
He said: "We must continue to give them the support they need to defend their country. We must be generous to those who come here looking for sanctuary. And when this is over, we must help the people of Ukraine to rebuild their country."
Scottish Lib Dem education spokesperson Willie Rennie urged the Scottish Government to provide extra funding for Ukrainian young refugees who will go to school here.
Scotland to welcome 48 orphans
A group of 48 orphans evacuated from the war in Ukraine are due to arrive in Scotland within days.
The children, who are aged between two and 17, have been rescued by the charity Dnipro Kids and are expected to arrive at Heathrow Airport tomorrow evening before flying to Scotland.
They will be kept together and spend a few weeks in Callander before moving to Edinburgh.
The charity was founded by Hibs fan Steven Carr to help orphans in Ukraine after he visited the country for an away game with the Edinburgh side. He has made two trips to Poland since the war started to get Dnipro youngsters out of Ukraine.
Ian Blackford, the SNP's Westminster leader worked alongside the charity to secure passage for the youngsters.
He said: "Tomorrow, all being well, I will head to Poland with Steven Carr, the chairman of Dnipro Kids, to help bring 48 Ukrainian orphans to Scotland and to sanctuary.
"I am delighted that by working together, we have been able to overcome the unnecessary barriers imposed by the Home Office.
"I hope the Home Secretary will learn from this situation and work to ensure an approach that supports missions such as this."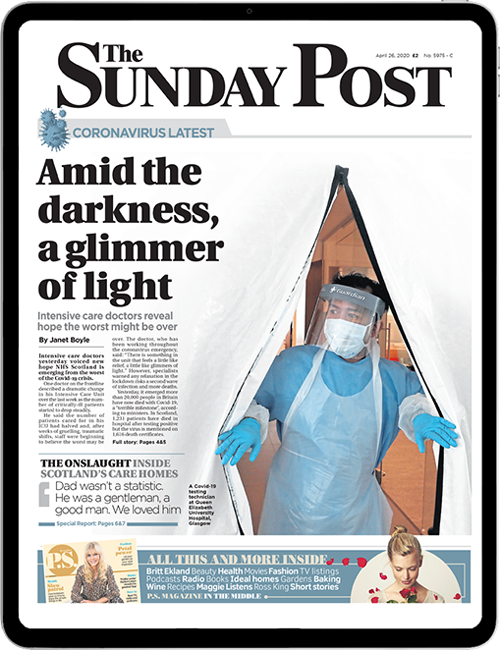 Enjoy the convenience of having The Sunday Post delivered as a digital ePaper straight to your smartphone, tablet or computer.
Subscribe for only £5.49 a month and enjoy all the benefits of the printed paper as a digital replica.
Subscribe