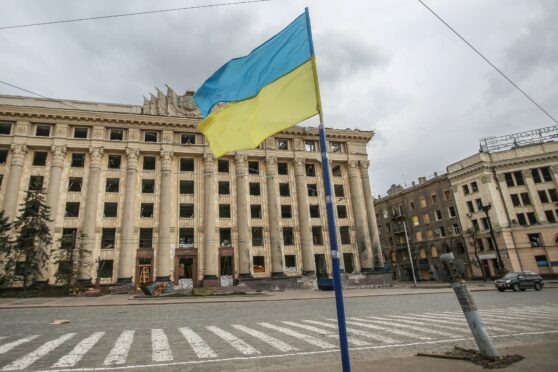 It should be a peaceful place, with miles of low-lying grassland scattered with fruit orchards and wheat fields. It may be a peaceful place again one day but, right now, war has reached Bessarabia.
In the south of Ukraine, the region has become one of the country's lifelines. Refugees stream east through here, into Romania. In the opposite direction, a makeshift fleet of vans and cars ferry aid to those who remain.
Getting in and out is not straightforward. After crossing the Danube on the ferry, Romanian volunteer Marian Machedon picks up his friend, Gennady Stambulov, on the Ukrainian side, and we set off but the road is blocked frequently by checkpoints.
Our documents are checked and the van is searched about seven times before we reach our destination. But seeing the cargo of food and medicine, the Ukrainian soldiers smile and wish us luck.
Parts of the coast here have been shelled and Odessa, under threat from Russian invasion and warships, is just 50 miles away. But it remains one of the quieter and safer parts of Ukraine.
The problem is that supply chains are broken. And if you're in charge of a home for more than 100 children with complex illnesses, that quickly becomes a very serious problem.
Svetlana Medinska is the deputy director at the Bilhorod-Dnistrovsky orphanage. It's a big complex of mint-green, one-storey buildings set in pretty grounds on the edge of this ancient town on the Black Sea.
After the van is unpacked, Medinska shows us around, cheery and motherly with the home's residents. About 130 live here – the youngest is four, the oldest 35 – and most have some kind of disability. It seems a bright and happy place with lots of activities. Boys are busy with Meccano, embroidery and painting when we pop our heads in one classroom.
When in her office though, out of earshot of the residents, Medinska is upset and angry at the situation they're in. There are so many threats around them – not just conflict and possible evacuation but the prospect of running out of medicine and even food.
"Don't they have enough to deal with?" she demands. "Some of them have no parents, they all have to deal with illnesses."
The illnesses require medication – particularly for those with epilepsy, who need anti-convulsants. "It's the difference between them having fits or not having fits." And this medication will run out without volunteers like Machedon and Stambulov driving it to Bilhorod-Dnistrovsky.
Of course Medinska and the others have considered evacuating all 130 children and young people from Bilhorod-Dnistrovsky.
"No one seems to know where they would go. At first Poland was talked about. Then Moldova. It's so, so hard to evacuate children with such disabilities," she adds. "And we just don't know what tomorrow will bring."
Even getting all the children into the bomb shelter is tricky enough. Sirens do sound in Bilhorod-Dnistrovsky – sometimes twice in one night – and it's hard to keep the children calm, she admits.
The senior nurse is also holding back tears. Yana Garaba has worked at this home for 25 years. "Before, everything was arranged, we had an agreement with companies to supply us with medication, we could order a few months in advance," she says.
"Now in this awful, terrible time" – Garaba falters, wipes her eyes – "now it's very, very hard for us. Imports from Germany, from France, we can't get them."
Through the ad-hoc network of volunteers that now stretches across borders and language barriers, Garaba's list of medication reached Gennady, and then Machedon in Tulcea, Romania. It was a long list. Analgesics, anti-convulsants, antibiotics, magnesium sulphate for epileptic attacks. For volunteers like Machedon, the challenge is not just in the dizzying logistics of vans, borders and paperwork, and raising the funds, but in sourcing the stuff itself – 80% of what this home asked for is only available on prescription.
"For this trip we used a local health company, a doctor friend of ours," he explains," but I don't know how many times we can do this."
It's a huge frustration for him. There are donors willing to help; everyone wants to pitch in to keep Ukraine supplied with essential food and medicine. He wants to take bigger loads next time, further into Ukraine – "but it's almost impossible to sort out the paperwork in Romania".
At the home, the staff try to keep the worst of the war hidden. "Of course they hear the radio. I mean, they have mobile phones! They know what's going on, and we don't isolate them," says Medinska. "But some are very emotionally excitable, so we try to just focus on positive things. We find things to take joy in – the flowers outside, the sunshine. And this way we shift the attention a bit."
Watching the medication stocks grow smaller has been terrible, she says. "We're very dependent on people like Marian and Gennady. We're so glad of them – people who treat these children with humanity."
We can't stay long in Bilhorod-Dnistrovsky, because evening means curfew and it's a long drive back to the ferry crossing. Stambulov guides the van over the potholed road. He lives near the Romanian border and has a small business but since the invasion he's only done this – organising, driving, translating, delivering supplies.
When asked why, he takes a long pause, and then says slowly: "When war comes, it's not a time to earn money, but to do good."
There's no point, he says, "sitting at home being scared. The war takes place on all fronts. The information front, real military action… and every person should fight as he can."
He'd only met Machedon by chance. "I happened to be at the customs post and there were these two volunteers – the first to come over with aid."
It was just a week after the invasion began. Early March. "They didn't even know anyone here, or speak the language – they'd just come to help us. Such people you don't often meet, with this kind of strength and will."
A pothole more resembling a crater throws the van off course and he slows to listen for damage, then adds thoughtfully: "I suppose you could say that God sent them, to do this tricky work, in tricky times."
The sun is setting on the low-lying land we pass through – tractors plough fields, old women sell juice at little stalls on the pavements, and people cycle home through dusty village streets. Some semblance of normal life.
But some fields are left bare, guarded with big red warning signs: MINES! There are no road signs, removed to confuse invaders, replaced with giant billboards about supporting troops and trusting in victory. In the town we've just left, Medinska and Garaba prepare for another sleepless night.
Ukraine: 'Any minute they can start bombing, and I'll be dead'
By Bennett Murray in Kyiv
Kyiv is again learning to live above ground. Yesterday, coffee shops were selling cappuccinos and lattes, while a handful of restaurants were opening their doors. You could even hail a taxi.
Russian troops may be slowly edging back from the city but the threat of war still feels close. Heavy artillery and rocket fire could be heard in recent days.
Thursday was mostly quiet, until a Russian missile exploded over the capital at about 4pm. While the rocket had been intercepted by the city's anti-aircraft system, air-raid sirens periodically alerted the city's residents to take cover through the night.
Encouraging signs that Russian promises to leave the region around Kyiv were being kept, none of the Kyiv citizens who spoke to The Sunday Post had confidence the tide was turning.
On a rainy afternoon in downtown Kyiv, Vitaly Grigorovich, a 58-year-old retiree, repeated the same advice that citizens of the city had been saying for weeks. "My friend, take your car and go maybe 20 or 40 kilometres, it will be a very big problem," he said.
Yuri Antonovych, a 25-year-old Kyiv resident, currently unemployed as he tries to find ways to help the war effort, expressed uncertainty on what would happen next. The actions, not words, of Russia were what mattered, he said. "We don't know what they're planning. Nobody knows what's in their head."
Businesses remain mostly shuttered. The downtown area resembles a city near a frontline, with thousands of concrete slabs, sandbags and metal tank traps blocking the way of any Russian tank. Martial law is in effect, with soldiers enforcing a 9pm curfew.
At an Italian restaurant near the city's Besarabsky Market, staff were working around the clock, making 1,500 meals a day. The food is delivered to all those in need, from evacuees sleeping in shelters to frontline soldiers.
Alexander Timkov, a 32-year-old volunteer at the kitchen, said he had found himself accepting the war might last for a long time. "Every day, I'm thinking any minute they can start bombing, and I'll be dead," said Timkov, who worked as a DJ and commercial videographer before the war.
While all indications suggest Ukraine has made substantial progress in the Battle of Kyiv, it remains to be seen if Russia is leaving the front for good. When asked if he expected the Russians to swiftly withdraw from the Kyiv region as they had said they would, Grigorovich said: "Anything is possible. On this street, maybe there will be paratroopers from Russia."
Russia: 'It can easily get nasty, even nuclear, then the West will hit'
By Will Stewart in Moscow
The West may believe Vladimir Putin is beyond the pale, an international pariah, but, at home, the Russian president retains the support of many Muscovites.
Gennady, 52, is a bus driver and swimming instructor who is convinced Moscow will be hit by enemy missiles.
He is part of a rush to secure small basement units – tiny rooms – beneath the city's high rises where he believes he will be safer than above ground.
"I'll load it with pickled cabbage, salami sausage, bottled water and be ready to move in when things get too tense," he said.
He hasn't found yet his ideal shelter to sit out Armageddon, but is ready to pay around £150 a month for the right place.
Who does he blame for the crisis in Ukraine, which he thinks will go nuclear? A former Red Army conscript, he buys into propaganda on Russian TV.
"Putin had no choice to stop the West taking over Ukraine," he insisted.
"Now the US and UK are loading the Ukrainians with weapons that stop us from getting rid of the Nazis in Ukraine, which everyone should want. It can easily get nasty, even nuclear, then the West will hit Moscow, which may have been their aim all along."
Tamara, 23, a shopworker, misses McDonald's lunches after the chain pulled out of Russia. She sees the way some Western brand names have vanished, but, like Gennady, blames the West. "They just want to attack Russia, and don't let us have the security we need," she said.
Tasya, 29, told how the price of sanitary products – most of which are imported – have soared in recent weeks.
She does not blame the war or Putin – "I am a patriot, I support him" – and argues the main problem is people panic-buying, causing shortages.
Sugar remains in short supply and 40% more expensive than before the war. Similarly, prices of imported pharmacy products have risen sharply. In one Moscow pharmacy some items were 50% more expensive than before the conflict started.
However, many are enraged about the war, and Putin, even if they don't express it as bluntly as self-employed Ekaterina, 43, from Moscow. "This war has destroyed the future of me and my children and deprived them of financial stability, and emotional and moral certainty," she said. "The war created a wave of hatred for everything Russian. I suppose the next 30 years will pass under that slogan and it will be our children who pay the bill."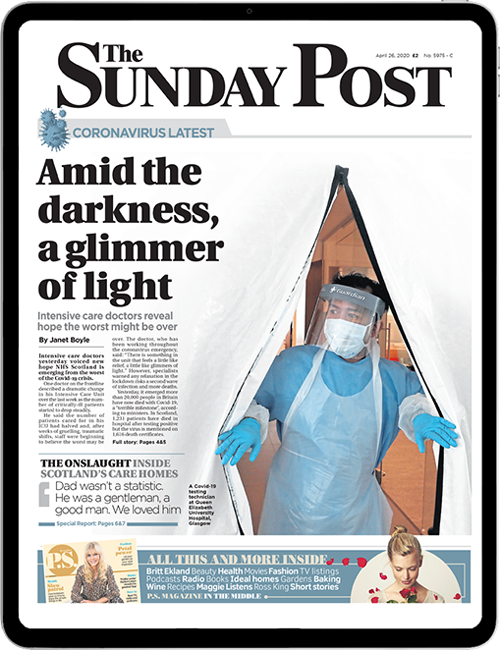 Enjoy the convenience of having The Sunday Post delivered as a digital ePaper straight to your smartphone, tablet or computer.
Subscribe for only £5.49 a month and enjoy all the benefits of the printed paper as a digital replica.
Subscribe