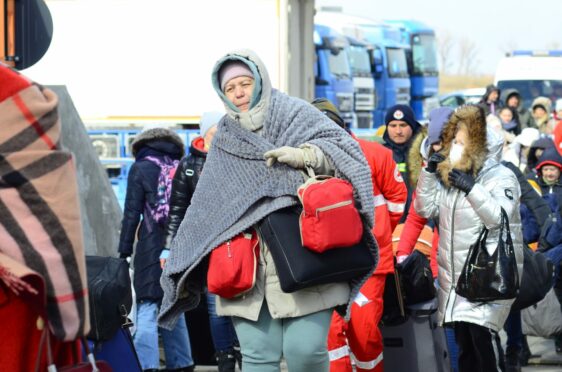 The small port in sleepy south-east Romania is usually a quiet place where, as the great Danube snakes to the Black Sea, a few cargo trucks will cross on an old, slow ferry.
Today, however, a tide of people sweeps through Isaccea port – about 2,000 each day – desperately fleeing the war in Ukraine. The boat pulls in every few hours, its open deck packed with huddled figures. There's a cruel north wind; people are wrapped in blankets, shivering. Paramedics and firefighters run to meet them and offer assistance as they walk onto the ramp, dragging suitcases, children, dogs. Some have almost no luggage at all.
There are no young men. In fact, no men under 60. They aren't allowed to leave Ukraine, under the martial law imposed when the invasion began on February 24. So, as well as the trauma of leaving home so suddenly, many of these women have just said goodbye to sons, husbands and fathers, not knowing if they will ever see them again.
What seems to keep them going is a fierce belief in their country and its fight against Russian invasion.
"Our men have joined the territorial defence," says Yekaterina Yemkova, sitting in the driver's seat of a car in the queue for the checkpoint. "They stayed to defend Odessa."
Her friend, Anna Politson, nods. "They're protecting our city." The women, both 28 and from the port city of Odessa, 180 miles to the east, plan to drive to Turkey.
Though Odessa has not yet been shelled like other Ukrainian cities, it has suffered rocket attacks. "We could see the rockets, and hear them. Every day. It sounds like a muffled explosion," explains Yemkova.
The rockets weren't the only thing that pushed Odessans to pack up. In another waiting car, Olesa Nechaeva pulls out her phone to show a video of Russian warships on the horizon. "Five ships appeared the other day – one of them remained, and it started firing volleys."
Her two teenage daughters sit in the back seat, surrounded by bags. "We couldn't decide, for days, but then your nerves just can't withstand any more," says Nechaeva. "Siren after siren, explosion after explosion. I didn't sleep for two days."
She tries to describe how she had to leave her mother behind, but breaks down in tears. A Romanian border officer gestures at the car, and Nechaeva drives off – the family hope to reach Germany, but have no relatives or friends to meet them there.
Romania is one of the poorest countries in Europe, and there were concerns about how it would handle a massive influx of refugees – about 343,000 so far, 84,000 of whom have stayed in the country. But those coming through Isaccea port are full of praise for the authorities. There's no chaos or long waits, and help is always on hand, whether from the emergency services or the small army of charity workers handing out tea and food, blankets and nappies.
Still, with such large numbers arriving all at once on the sporadic ferry – it doesn't run to a schedule any more – bottlenecks are unavoidable. Those in cars have it lucky, but most are on foot. Cold, crying children cling to their mums in the line for border control. Some women have very small babies, almost invisible in the layers of blankets and coats wrapped around them.
Nastya, also from Odessa, is trying to keep her little girl cheery, jumping up and down with her to keep warm. She calls her zaika – it means "little hare".
"We decided to leave the day before yesterday," she says. She's trying hard not to cry in front of her daughter. "This is all we took" – gesturing at a small cabin-bag case – "because we're expecting to go back. Right, zaika? We'll go back soon, yeah?" The four-year-old smiles, hugging a giant toy strawberry. "Yeah!"
Near the port's steel perimeter, two girls are mucking about, dancing and giggling, taking selfies. One has long hair dyed turquoise, and a nose-ring. Tonya Tsurkan is a dancer in normal life. "People have been so friendly, so kind to those they don't even know. They gave us food, money – look, I'm drinking this Romanian chocolate milk, it's really tasty!" – she starts to laugh and cry at the same time. "All this made me feel a bit better, because at home, it's just…terrible."
The women don't know where they'll end up, what they'll do for work, and are reliant on the network of volunteers who find accommodation for new arrivals across the country. But their joy at just being alive is infectious. "I just want to live!" Tsurkan exclaims. "I want to be happy. I want to enjoy this chocolate milk! Enjoy the friends I've made here, all these good people. I just want to be happy, and there…" she gestures to Ukraine, on the opposite bank of the river, "that can't happen."
Grief and loss are in all the stories of these people, but there's also a thread of furious anger. After all, these are Odessans, known for their bluntness, and for the proud independence of their cosmopolitan port city. Retired sailor Oleksandr Polter explains that, although Odessa's a largely Russian-speaking city, with mixed allegiances in the past, it is now firmly against this war – and, by extension, Russia. "What Putin has done, saying these are Nazi people – he has united all Ukraine. And united Ukraine with the whole Europe community."
Polter is only leaving Ukraine for a few days, to take his poorly grandson to Germany to ensure his medical care can continue. Then he's going straight back home. "This is my land. OK, Putin wants to bomb, to throw me out? OK, I'll die in my house. I won't leave my land. We never leave."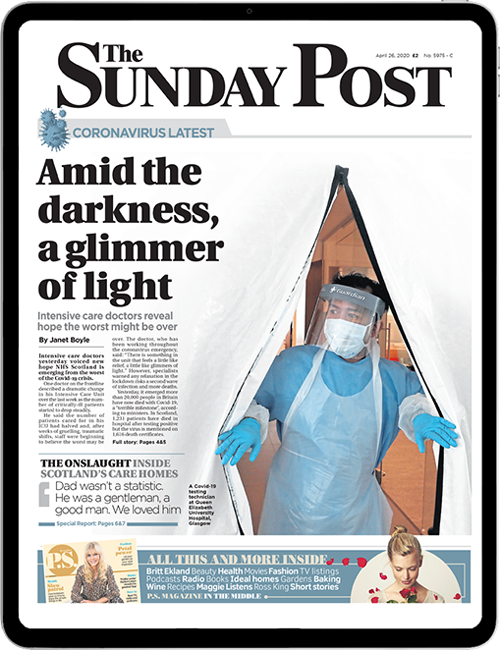 Enjoy the convenience of having The Sunday Post delivered as a digital ePaper straight to your smartphone, tablet or computer.
Subscribe for only £5.49 a month and enjoy all the benefits of the printed paper as a digital replica.
Subscribe