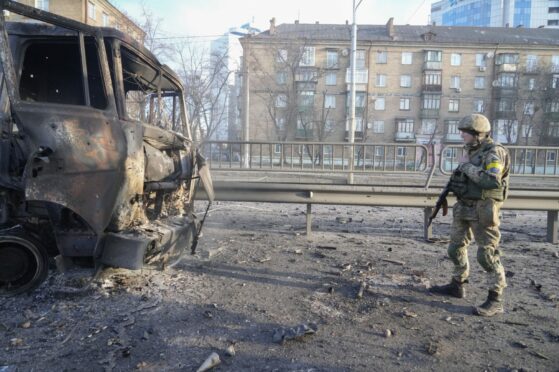 Ukrainian civilians took up arms to join the fighting yesterday and, outgunned, refused to bow as Vladimir Putin ordered an escalation of Russia's invasion.
Casualties on both sides mounted as fierce fighting was reported between Russian troops and the Ukrainian army near Kyiv and across the country. After failing to secure a swift advance into the capital to topple the government, observers believe Russia is readying a renewed offensive in the days ahead.
The Russian defence ministry yesterday confirmed all units in Ukraine have been ordered to resume the offensive from all directions after a pause on Friday.
In Kyiv, president Volodymyr Zelensky issued a defiant clarion call to arms after refusing an American offer of evacuation, saying: "I need ammunition not a ride." In a message to his embattled country, the president, dressed in combat fatigues, said: "The real fighting for Kyiv is ongoing. We will win."
He promised to fight on and appealed for more support from the West where Putin's onslaught prompted fresh condemnation yesterday and new promises of military supplies.
US President Joe Biden ­promised up to £448 million in "immediate military assistance", while armed forces minister James Heappey said the UK, which has already sent 2,000 anti-tank missile launchers, would be sending more weapons while warning of "days, weeks, months more" of heavy fighting.
French President Emmanuel Macron warned the world must be braced for along war. "The crisis will last, this war will last and all the crises that come with it will have lasting consequences. We must be prepared," he said.
At least 198 Ukrainians, including three children, have been killed and 1,115 people wounded since Russia invaded on Thursday morning, Ukrainian authorities said. They said 19 civilians were killed in shelling in the Donetsk region in the east of the country.
After advancing Russian troops reached the capital city, tanks and artillery were expected to start a new push overnight to complete Moscow's control of Kyiv, defence analysts have said. Russia claims that its assault on Ukraine is aimed only at military targets but a missile devastated five floors of an apartment block near the airport yesterday. Miraculously no one died in the strike, later denied by the Russian defence ministry.
The city's mayor, Vitali Klitschko, said 35 people, including two children, were wounded overnight and warned of more Russian air strikes while urging residents to take shelter. "There are no Russian troops in the city. I ask everybody to stay in shelters. The enemy will attack from the air," he said.
As fighting intensified, Klitschko imposed a longer curfew as Russian troops closed in on the city. In a message on social media, he said the curfew would extend from 5pm until 8am and "all civilians on the street during the curfew will be considered members of the enemy's sabotage and reconnaissance groups".
The previous curfew imposed two days ago was from 10pm to 7am. Ukraine authorities have threatened to shoot any "saboteurs" if they disobey the curfew.
Yesterday's clashes followed three days of air and missile strikes as Russian soldiers advanced into Ukraine from the north, south and east.
Putin sent troops into Ukraine after he spent weeks denying he planned to invade the country, the second largest in Europe after Russia. The Russian president amassed a force of thousands of troops along the border and claimed the West has failed to take Moscow's security concerns about Nato, the Western military alliance that Ukraine aspires to join.
Putin has also expressed doubt about Ukraine's right to exist at all as an independent state and may try to set up a puppet state and redraw the map of Europe.
Ukrainian government ­officials confirmed that, in addition to the capital, its forces were coming under attack in Kherson, Sumy, Mykolaiv and Odessa.
A senior US defence official, who declined to be named, said 50% of Russian combat power along the Ukraine border has entered the country. Washington estimates Russia has 150,000 troops in its invasion force.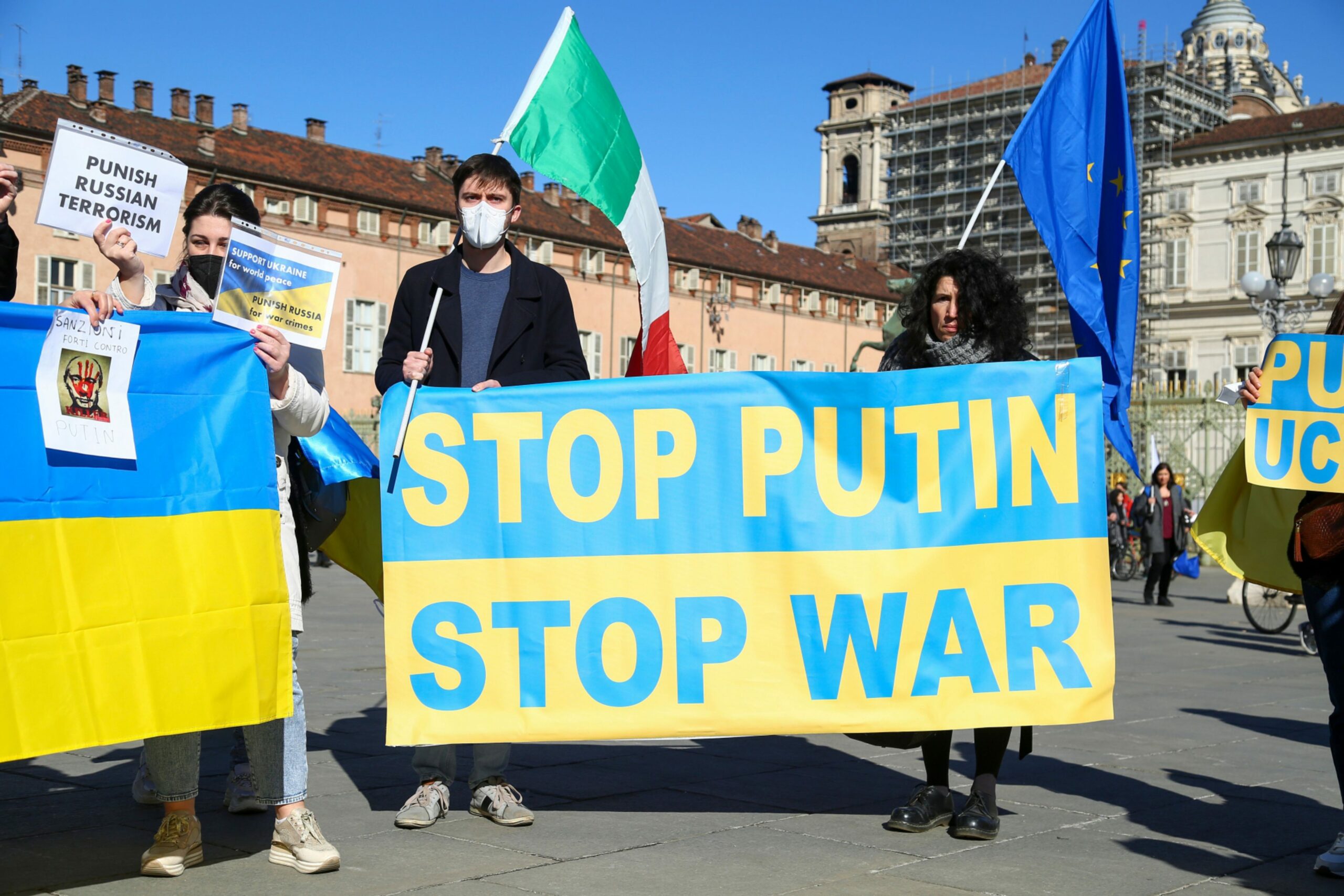 He said the advancing Russian forces were about 30 kilometres outside Kyiv yesterday but a small number of "reconnaissance elements" had entered the capital.
The swift advance of Russian forces threatened the survival of a country that is clinging to independence. The toppling of a democratically elected European government would pose the biggest threat to post-Cold War order since the Second World War.
In the confused situation, it was not clear how much of the country was still in the hands of Ukrainian authorities.
The Russian defence ministry claimed its military had taken control of the southern city of Melitopol, 22 miles from the Azov Sea coast and claimed Russian-backed separatists had made significant gains in the eastern region of Donbas.
Video images verified by Sky News showed the Russian flag flying over the police station in Melitopol. However, UK armed forces minister Heappey said he did not believe Russian forces had captured Melitopol.
Petro Poroshenko, the ­former Ukrainian president, said Western military aid was needed to defend his country from Russian aggression. Dressed in military uniform and flanked by three guards in Kyiv, Poroshenko said: "This war is not about Ukraine. It is about the free world. Putin has nothing to do with Ukraine. Get out of Ukraine."
He claimed Putin would not stop at invading Ukraine but might try to invade other eastern European countries.
The conflict has already driven hundreds of thousands of Ukrainians from their homes and more than 120,000 have left for neighbouring Poland, Hungary and other bordering nations, the UN High Commission for Refugees (UNHCR) said.
If the war drags on, as many as four million people may leave the country to head for the West, the UNHCR said.
The UK defence ministry said that British air, land and sea forces had arrived in the east to reinforce Nato forces.
The US State Department said yesterday intelligence sources suggested Russia intended to threaten to kill the family members of Ukrainian soldiers who did not give up arms. The US has shared a series of intelligence reports in recent weeks in an effort to deter Putin from invading Ukraine.
The Czech Republic will also send more arms and Germany has authorised the sending of 400 rocket- propelled grenade launchers to Ukraine to help the fight against Russian invaders, according to two EU officials, marking a sharp change in Berlin's policy not to allow ­shipment of arms that it controlled to conflict zones.
Berlin was also reported to have dropped its opposition to barring Russia from the Swift international banking system, becoming the last EU nation that took this stand.
If Russia was banned from the Swift system it would seriously damage its economy in the way Iran was crippled when the same sanction was taken against the Islamic republic.
Nato has ruled out taking part in military action against Russia as Ukraine is not a member of the organisation.
However, Nato has deployed 40,000 troops to eastern Europe for the first time.
The Duke and Duchess of Cambridge pledged support for the Ukrainian people in a tweet signed with their own initials.
"In October 2020 we had the privilege to meet President Zelenskyy and the First Lady to learn of their hope and optimism for Ukraine's future. Today we stand with the president and all of Ukraine's people as they bravely fight for that future."
The British Government is to introduce new legislation next week to establish a register that would unmask the owners of properties purchased by Russian politicians and oligarchs in the UK via offshore ­companies, Sky News reported.
The Russian embassy in Paris will protest to the French government over the seizure of a Russian-flagged cargo ship by French officials who said they were enforcing sanctions against Moscow.
The cargo ship, which is linked to a Russian bank on a sanctions list brought in by France, was seized in the English Channel early yesterday.
The official website of the Kremlin, of the office of Putin, kremlin.ru, crashed yesterday, following reports of cyber attacks on various other Russian government and state media websites.
A Russian MP suggested that Moscow should strike back against countries that block the work of Russian media, the RIA news agency reported.
Andrei Klimov said that next week the Russian parliament would conduct a review of foreign IT and social media companies which have a presence on Russian soil.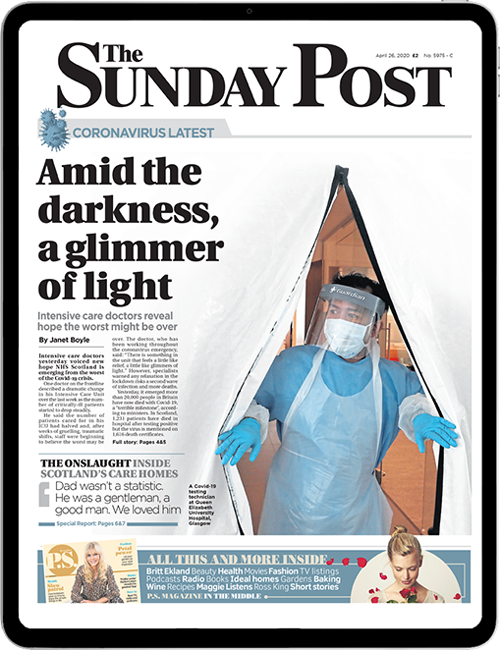 Enjoy the convenience of having The Sunday Post delivered as a digital ePaper straight to your smartphone, tablet or computer.
Subscribe for only £5.49 a month and enjoy all the benefits of the printed paper as a digital replica.
Subscribe