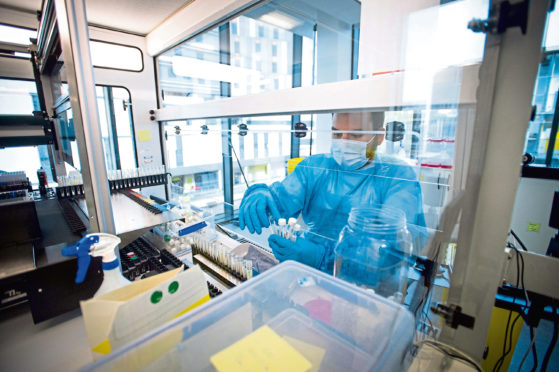 Two of the three new NHS Covid testing labs due to open by the end of the year will not be ready on time, according to a scientists' leader.
The regional hubs in Glasgow, Edinburgh and Aberdeen are said to be vital to speed turnaround times for routine tests of care home staff, which have been beset by delays of up to 10 days.
The Scottish Government originally pledged to open three labs by October to increase Scotland's testing capacity by 22,000 per day but that was pushed back to December.
However, scientist Allan Wilson, who is president of the Institute of Biomedical Science, an industry body for UK lab workers, has told The Post that is unrealistic. He said: "The Glasgow lab is on schedule for going live in December. The other two in Edinburgh and Aberdeen are going to be into early next year.
"It takes a lot of time and effort to set these up. They are focusing resources on one, getting it right and then moving on, rather than trying to set up three. There is a lot of resources needed to do three so they are just doing one first and then they'll use the same model for the other two."
Mr Wilson added: "Politicians should promise less and deliver more. There is a driven desire in a lot of politicians to give you the good news but sometimes you've just got to be realistic about what is actually deliverable."
Donald Macaskill, chief executive of Scottish Care, the membership organisation for private care homes, said: "These regional testing hubs are fundamentally important to keep people safe. We are working on the assumption all three will be open by the middle of December. We remain concerned that residents are unsafe because we are not getting testing right.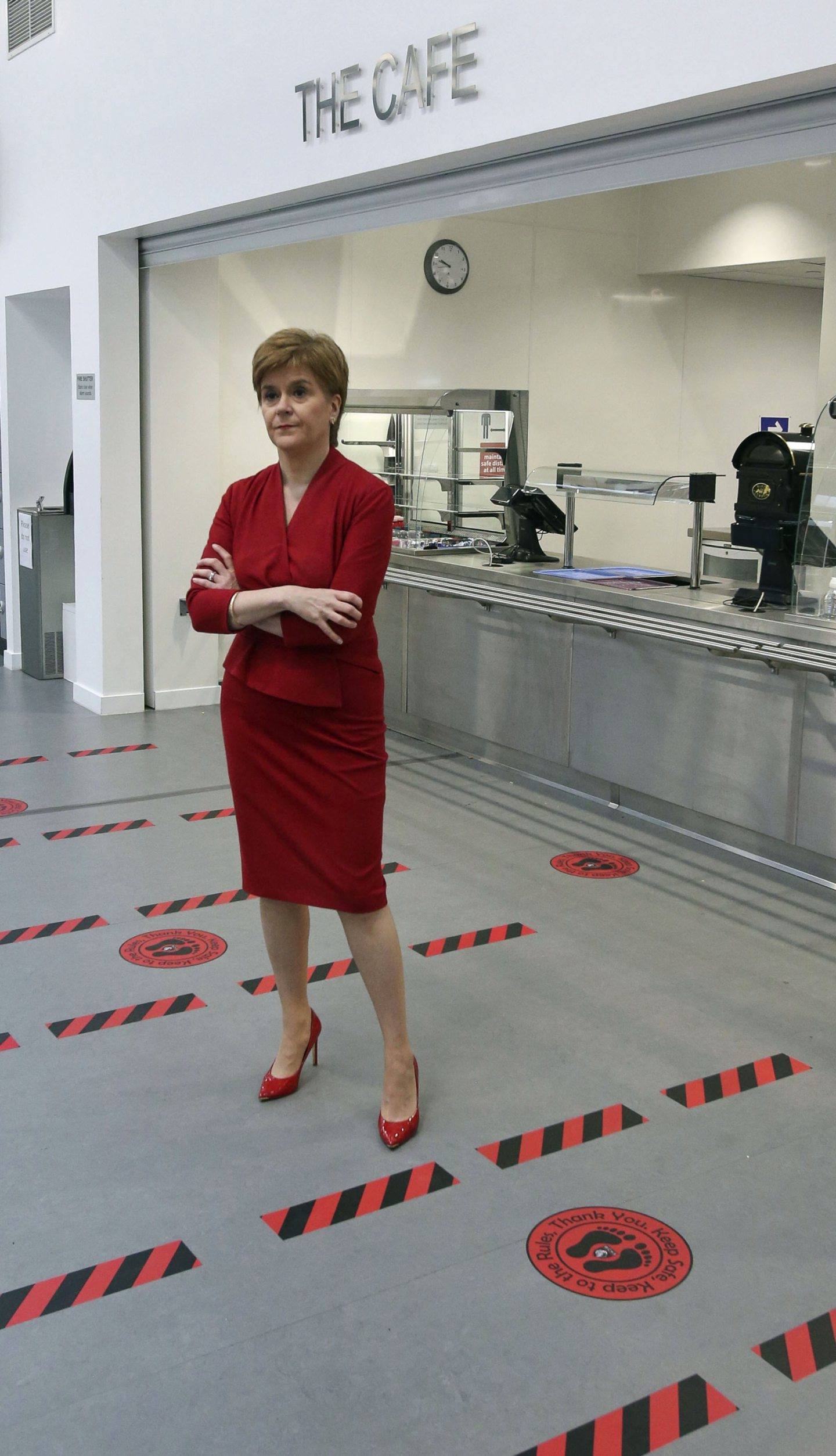 "We are still hearing stories of care homes waiting seven to nine days to get results. We are hearing stories of entire care homes' tests coming back inconclusive, which leads us to the analysis that the samples were corrupt because they were not processed quickly enough. It is unacceptable that we are still not getting testing right."
One of Scotland's largest care home groups, Balhousie, told The Post it would trial rapid response tests because staff regularly wait more than a week for the results of PCR tests from overstretched labs.
A spokeswoman for Balhousie, which runs 25 care homes, said: "With community transmissions high and Covid-related deaths in care homes rising again, it's vital that nobody, least of all the Scottish Government, takes their foot off the gas when it comes to Covid testing. The turnaround in our own staff test results has improved, but not to anything close to what it should be. This week, out of 897 Covid tests carried out among staff, 34% had still not been returned on Friday. That still poses extreme risks to our residents and care home teams so we have been researching rapid response testing and have plans to trial the latest technology in rapid response testing."
A review of the Scottish Government's testing strategy published on October 23 estimated that Scotland would need around 54,000 tests per day by December 2020. The target is 65,000 tests per day.
Last month there was an available capacity of around 30,000 tests, according to the testing review – 20,000 through the UK Government's Lighthouse lab and 10,000 through Scotland's network of NHS labs.
Public health professor Linda Bauld, of Edinburgh University, said: "Throughout the pandemic testing has been the Achilles heel in the UK response, in that we were slow to build up capacity, it was fragmented and there has been bumps in the road at most stages.
"It's concerning that there are further delays to these regional hubs. We will have a spike in cases around Christmas and shortly after that period even if restrictions are not lifted. It's going to be a tough ask to get the whole country to follow the guidance at Christmas. But we really need that capacity (in regional hubs) for screening asymptomatic groups. There are key groups that need to be routinely tested, such as NHS staff, but there are still challenges."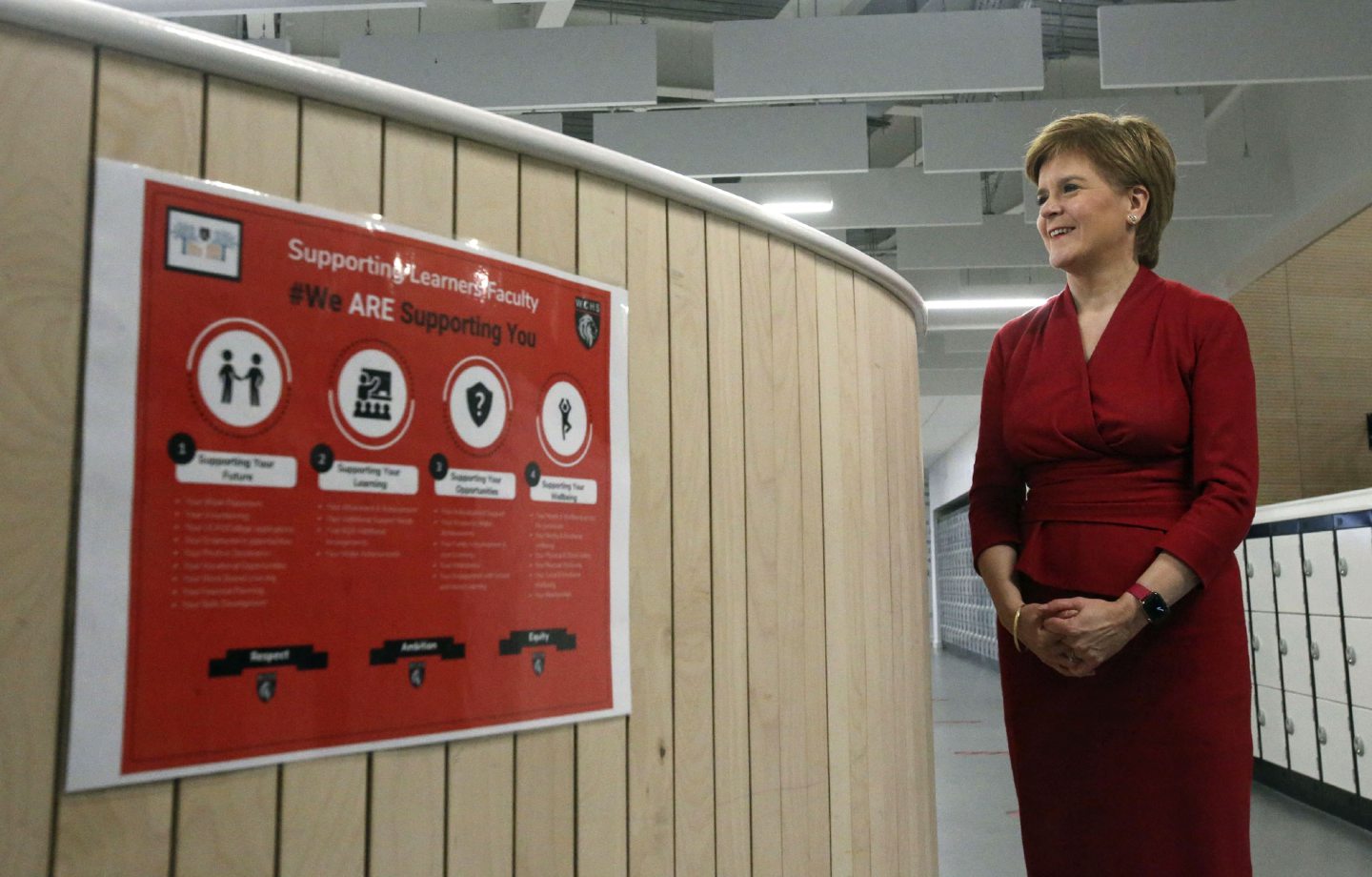 The timetable for opening three regional testing hubs has slipped several times. In the summer Health Secretary Jeane Freeman said the facilities would be open by October.
She told MSPs: "We are also trying to increase the pace of work on the three regional hubs that we have always planned to introduce from October and to bring those forward where we can."
However, in October a spokeswoman for NHS procurement arm National Services Scotland (NSS) told the Post assessments to ensure the hubs have the necessary equipment were incomplete.
In the same month details of a £2.1 million contract for lab automation equipment for the hubs was published. Recruitment of more than 200 lab workers to process tests was also "ongoing" in October, according to NSS.
Then on October 22, the Scottish Government issued a press release which said the hubs will open during November and December.
Mary Morgan, the NSS director responsible for increasing testing capacity, said in October the three regional hubs are "an important development in helping to increase laboratory testing capacity". Ms Morgan was unavailable for interview last week.
Donald Cameron, Scottish Conservative health spokesman, said: "Scotland needs every bit of testing capacity we can get as the virus continues to spread. The UK Government Lighthouse Lab is currently delivering the bulk of testing and the SNP's plans were to ramp up their own testing capacity.
"It's now clear they have overpromised and won't deliver, which will damage our ability to suppress the virus.
"The government missed a deadline to recruit contract tracers by months and it now looks like they'll miss another crucial deadline."
The Scottish Government said: "The development of all regional hubs is progressing well and they are all on track to open this year as planned. As outlined in our testing strategy, our approach to Covid-19 testing continues to be adaptive as we deal with the pandemic and the coming winter months.
"The hubs and the expansion of the use of new technology, for example to provide rapid testing for students, will ensure that we continue to expand testing capacity in various ways to meet demand.
"We are confident that the staffing requirements for the opening of the hubs is on track. In preparation for the regional hubs going live recruitment is taking place at pace and recruitment activity continues to be responsive to the identification of staffing requirements."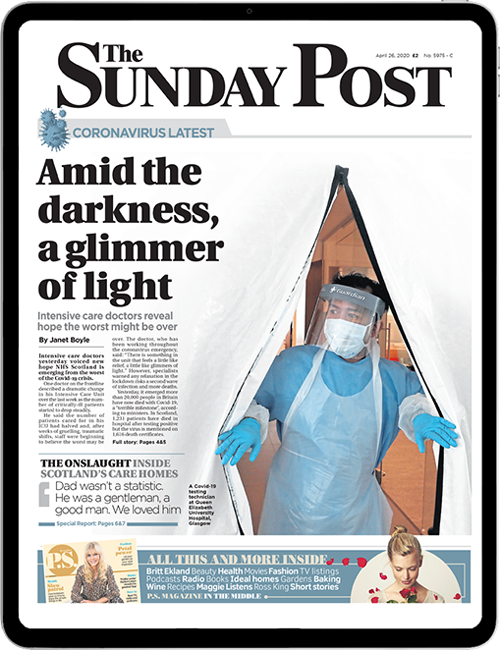 Enjoy the convenience of having The Sunday Post delivered as a digital ePaper straight to your smartphone, tablet or computer.
Subscribe for only £5.49 a month and enjoy all the benefits of the printed paper as a digital replica.
Subscribe