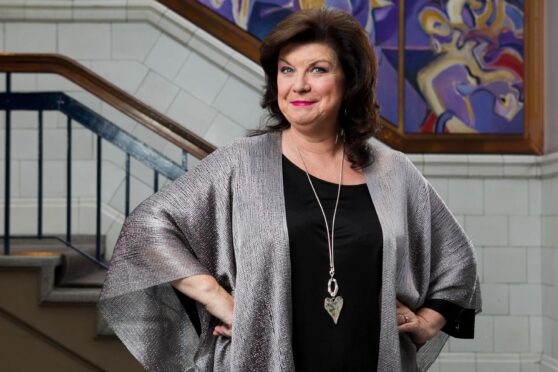 As one of Scotland's greatest comedy actresses, Elaine C Smith has created a laugh-filled legacy over the past 40 years.
Yet she often felt the need to prove herself to critics during many of those periods of success and as a result took on a punishing schedule that left her exhausted.
Now, after the pandemic forced her into a moment of pause and reflection, she has realised she no longer has anything to prove.
"There were points in my 40s and even my 50s when I took on things like Calendar Girls to prove to myself I could do it," she explained. "You become pigeon-holed in comedy – people say, 'that's what she does' and then you don't get seen for anything else, which can be frustrating, so you go and do a project because you think it'll show them you can act.
"Now I don't care. If you don't think I can act by now, I'm not going to convince you otherwise. If you don't like who I am or what I do, nothing I do at this point is going to make a difference. I'm 64. I've finally made a bit of peace with that. I do feel so fortunate to be in two of the biggest sitcom hits that have come out of Scotland – Rab C Nesbitt and Two Doors Down – as well as Naked Video and City Lights. I think, how lucky am I? But I've worked for it, and if I didn't do it right I wouldn't be asked back."
Along with the anxiety, worry and upset everyone felt when the pandemic resulted in a lockdown, there was also another feeling Smith experienced.
"Relief – and that told me for far too long I had been doing too much, which is what my husband had been saying for at least 20 years. He would ask me why I said yes to all of these things and I'd explain that I felt bad saying no, and then I would knacker myself. But no more. When lockdown happened I was doing Two Doors Down, a film, then panto, then something else, and I was also in the middle of a play. I felt a release. The corporate events and after-dinner events are all gone. Financially, it's a bit hellish, but not compared to what a lot of people went through – really good actor friends having to drive for Tesco. I counted my blessings."
That's not to give the impression Smith isn't anything but busy today. In the last few months alone, she has filmed a new series of Two Doors Down, including a Christmas special, and is preparing for her annual headline role at the King's pantomime in Glasgow.
Before the panto, though, she will be seen in a new two-part BBC drama, Mayflies, an adaptation of Andrew O'Hagan's acclaimed novel about the friendship between two working-class Ayrshiremen who are touched by tragedy when one of them is diagnosed with a terminal illness and requests his friend take him to Dignitas in Switzerland to end his suffering.
Smith stars alongside Tony Curran, Martin Compston, Ashley Jensen, Shauna Macdonald, Cal MacAninch and Colin McCredie in the series, adapted by Elizabeth Is Missing writer Andrea Gibb. She plays Barbara, mum of Tully, the central character.
"Just to play a wee part in it is a thrill," she smiled. "Tony and Martin are great. Andrew O'Hagan is one of my best pals – I've known him for 25 years or more. When I got the call to be a part of it, I asked him if it was his doing but he said it was nothing to do with him.
"I knew his friend, Keith (whom the book's story is based on) because I was at Andrew's wedding and he was also there. Andrew's a wonderful writer. There's nothing worse than when your pal writes a book and you worry what to say if you don't like it but I found myself writing down phrases from it as I read it, like his description of Barbara, who 'always made a festival of her circumstances'. It's wonderful."
Such a storyline in a primetime drama will add fuel to the ongoing debate about whether assisted dying should be introduced in Scotland. Smith believes there should be enough space on our screens to tell a variety of Scottish stories and not just the typical ones.
"I don't think I've ever read a story about working-class Scotland where the young men's love for each other was so potent, and it was so refreshing," she continued. "We're maybe getting over it now where everything that comes out of Scotland has to represent all of Scotland.
"No one says to Martin Scorsese, 'Oh no, not another movie about the mafia; that's not New York'. There's also Woody Allen and David Mamet and all of these different stories giving a broad picture of that vibrant city full of different people and different nationalities. The problem with Scotland is we make so few programmes and films that when you put something out, like Rab C for instance, you then get the middle classes in Edinburgh saying that's not Scotland. But we're just showing a part of it.
"Or you watch a film set on one of the islands and it's all lyrical and lovely, but urbanites say that's not Scotland. We should celebrate it all, because all of it is. My favourite quote is by Peter Arnott, who said Scotland is basically an argument. We don't see ourselves reflected. I'll watch something and think it's just another macho picture of west of Scotland men. It's not that I don't want stories about men but I would like more stories about the women who are here. And the gay community and black community are probably asking where their stories are.
"If we had a more vibrant scene – and it's coming, there's more happening than ever – you would get a much more accurate picture of what Scotland is and what we are made up of."
Smith remains part of the Christmas tradition for many theatre-going families and she can chart her life in pantos.
"I enjoy it now more than ever," she said. "When I first headlined panto, I was 37, which is quite young. I was the mother of six-year-old and two-year-old girls and it was a heavier schedule at that time. Gerard Kelly said someone told him it was like going down a pit and he thought, it's hardly that, but about halfway through he realised you go in when it's dark and come out when it's dark! You live in the theatre, and I'd be going out between shows with my glitter on and a hat, doing my Christmas shopping.
"The first few years were much more of a strain and stress on me, especially as a woman and a mother, because it was Christmas and it's a special time. Now, my daughters remember that time as being magical because they got to watch from the wings, so all the things I thought I was being terrible at, I provided them with something else.
"I did seven years in Glasgow, then took a break, then went to Aberdeen, where I did eight years, but the girls were older by then. I was going to take a year off when I got the call to come back to Glasgow. With the cost of living crisis, there's an extra responsibility on us to put something magical out there, because it's an expensive thing to come to the panto if you're a family with three kids.
"I also have a responsibility to my granddaughter, Stella, who comes to see it with her pals. For many of them it'll be their first time seeing a live band and dancers on stage, so making sure that experience is magical and different weighs heavily."
Elaine stars as Mrs Potty in Beauty And The Beast at the King's from November 26 until Hogmanay, alongside Johnny Mac as her son. Since they began working together in 2017, the pair have formed a formidable comedy double act.
"He's like the son I never had," Smith said. "Even though I played Gerard Kelly's mum when we did Widow Twankey and Wishy Washy, he was a year older than me but Johnny could actually be my son. He talks about how he came to watch me and Kelly when he was a kid. He has comedy in his bones. He has 'it'. We love working with each other.
"He gets really upset when the panto finishes, but I'm too old, I'll just be going to my bed when it's finished."
Back to Latimer Crescent
Two Doors Down has lost one of its most memorable characters for the next series but Elaine says the show has plenty of life left.
Doon Mackichan, who played the appalling but hilarious Cathy, has announced she won't be back for series six.
Smith, who plays layabout Christine, said: "Cathy was a fantastic character and Doon did a brilliant job, I love her. It was sad, but it was her decision. Siobhan Redmond has come in halfway through the new series, and it's worked.
"The writing from Simon Carlyle and Gregor Sharp is fantastic. There's some new characters coming in and out. It's fresh, and the boys are constantly coming up with ideas that are really clever.
"We're up at 41 million views on the iPlayer, and Russell T Davies tweeted that it was the funniest thing on TV. For a writer of his quality to say that was something.
"The best one, though, was Tom Jones. During his concert at Princes Street Gardens in August, he asked the crowd if they watched Two Doors Down, and then he said everyone knows a Christine! Shortly after he was interviewed in the Radio Times and they asked him what he was watching and he said Two Doors Down. I just thought, oh yes!
"Christine is gloriously written. I get the fat suit and the wig on and that's me off."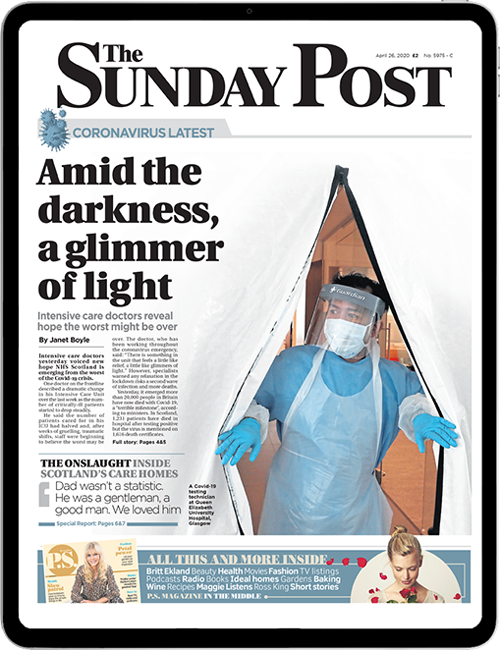 Enjoy the convenience of having The Sunday Post delivered as a digital ePaper straight to your smartphone, tablet or computer.
Subscribe for only £5.49 a month and enjoy all the benefits of the printed paper as a digital replica.
Subscribe