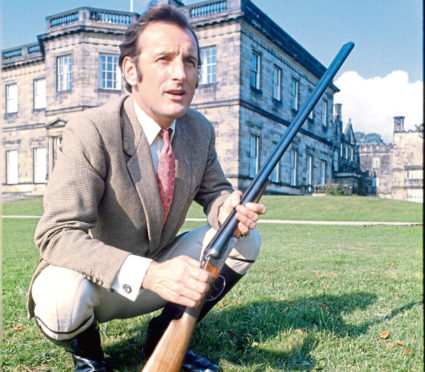 Drama was among the most productive TV genres in the 1960s. Focusing on everything from police and hospitals to factories and newspapers, countless offerings were crammed into the schedules.
Police series were particularly popular. But while heavy overcoats, trilby hats and careering around the streets in black Morris Oxfords were still popular, faster-paced, grittier programmes came to the fore.
No finer example of this new style was Z Cars, with its distinctive theme music, based on an old folk song.
Spotlighting Liverpudlian policemen, Troy Kennedy Martin's Z Cars first aired in January 1962.
It was while lying in bed with mumps that Kennedy Martin conceived the idea for Z Cars, which had a working title of Crime Car.
"I was listening to police radio messages and was amazed at how young the policemen were," Kennedy Martin once told me.
"It gave me the idea of doing something about young policemen, who were a bit out of their depth, dealing with people as old as their dad."
The series caused a stir when initially transmitted. Although popular with viewers, the programme was deemed controversial by some, particularly the police.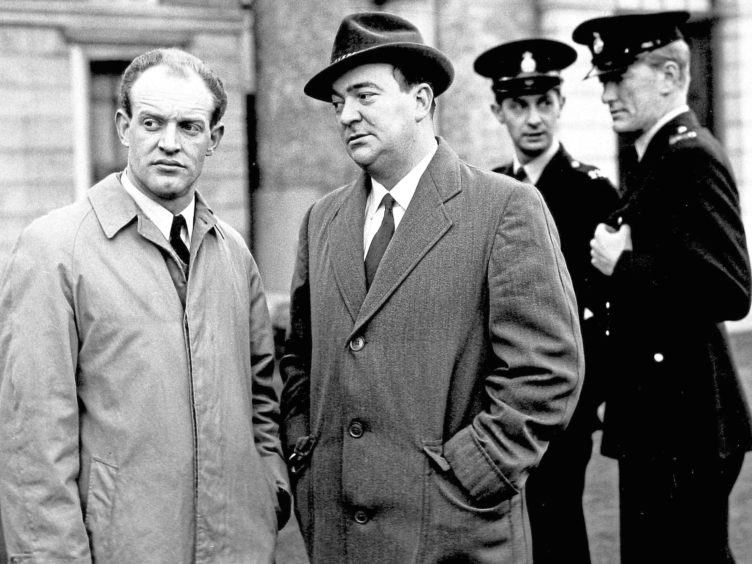 "Members of the Police Union came down to London on the overnight train, arriving at the director general's office at 10am, complaining about the scripts," recalled Kennedy Martin.
The Lancashire Constabulary's chief of police wasn't happy about the disorderly behaviour of the policemen in the series and the fact crimes depicted often went unsolved.
In reality, everyone knows many crimes remain unsolved, and Z Cars provided an intriguing juxtaposition against the solve-all-crimes premise of other police series.
Becoming twice-weekly in 1967, more than 600 instalments were broadcast and spawned several spin-offs, including Softly, Softly (1966-69).
While Z Cars featured bobbies on the beat, another arm of the police service became the focus of Fraud Squad (1969-70). The 26 hour-long episodes from ATV saw the central characters tackling fraud of every kind.
The series – which often beat Coronation Street in the ratings – was the brainchild of Ivor Jay, who'd worked as scriptwriter on, among others, Dixon Of Dock Green and Crossroads.
Based on the work of a real fraud squad in Birmingham, it was among the first police series to feature an actress in a starring role.
Jay's daughter, Sue, told me: "My father thought the human stories behind the cases, which on the surface may have sounded dull, were a rich source of drama. One day he was talking to Lew Grade at a party and told him of his idea. Lew shouted to one of the ATV executives: 'Ivor's got just the thing we're looking for.' And there it was – commissioned."
Ivor Jay was also behind another top-rated series. Deadline Midnight (1960-61) was set at the Daily Globe newspaper with Peter Vaughan and, subsequently, Glyn Houston in the editor's chair.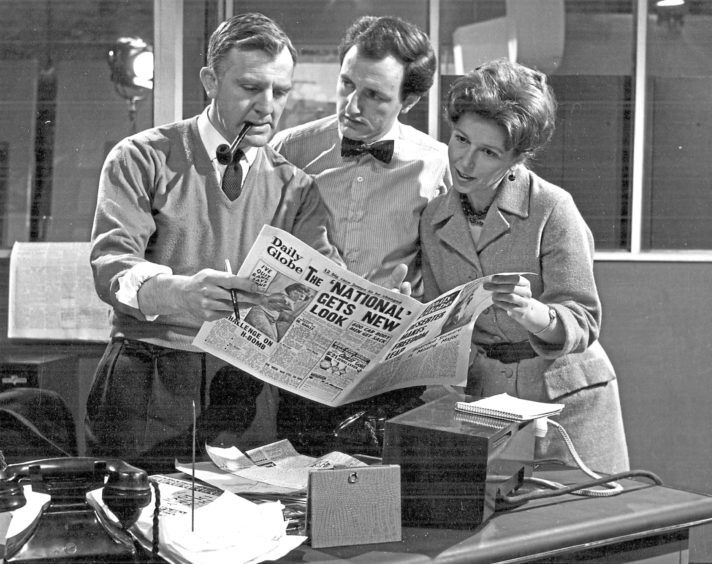 If you think of the oil business on TV, chances are images of overgrown Stetsons, Southfork Ranch and the Ewings from Dallas spring to mind.
But the Beeb was wallowing in oil long before then, thanks to Mogul, later relaunched as The Troubleshooters.
Thirteen episodes of Mogul were transmitted in 1965 before it adopted its new identity a year later. By then, it was clear the programme makers had struck a gusher and the programme took off, stretching to more than 100 episodes.
Although slow to excite the viewers initially, many critics thought it was the best thing since sliced bread, as action regularly switched between high-level decision-making in the boardroom to the grease and guts of the drilling.
The series, acted out by a cast boasting names such as Geoffrey Keen and Robert Hardy, became one of the decade's most popular dramas.
Producer Graham Scott also helped launch the Scottish-based series, This Man Craig (1966-67), the first drama on the newly-formed BBC2. However, transmission on the fledgling channel, which experienced limited coverage in its early years, restricted the show's audience figures.
Set in Strathaird, This Man Craig used physics teacher Ian Craig, portrayed by Glaswegian John Cairney, as its focus. The 50-minute stories unfolded in the classrooms and corridors of the town's comprehensive school but, sadly, failed to set the world alight.
Another slice of the drama pie dished up with a Scottish setting was Dr Finlay's Casebook, although it was largely shot in a London studio.
Only filmed inserts from Callander, at the base of Ben Ledi in Perthshire, representing fictitious Tannochbrae, actually originated from Scotland.
Its nine-year run began in August 1962 and followed the trials and tribulations of a rather green doctor, Alan Finlay, as he took his first tentative steps in his medical career.
Dripping in nostalgia, the medical series set in a rural practice during the 1920s reflected a period when doctors were on first-name terms with patients and still made home visits. The programme quickly became a ratings winner, collecting several awards, and sold extensively abroad.
If you liked your dramas hard-hitting and gritty, where scriptwriters didn't pull their punches, you were probably a Callan (1967-72) fan.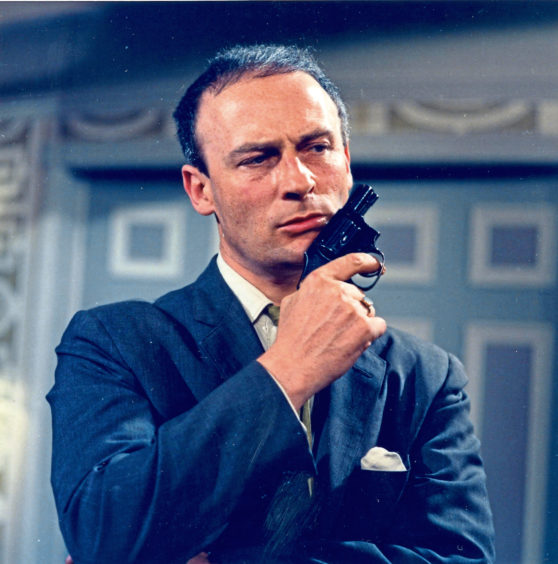 Here was a guy leading a paradoxical life. On the one hand, he was a British secret service agent-cum-ruthless assassin who'd kill in the line of duty.
On the other, he was a deep-thinking individual always wrestling his conscience and questioning morally tasks he was ordered to execute.
The seedy underworld in which Callan spent his working life was accentuated by the show's transmission in black and white for the majority of its life.
Callan soon won praise from critics and viewers alike, making actor Edward Woodward a household name. But not everyone enjoyed the programme. Some viewers thought it appalling that the characters could be working for a government department – people took it that seriously.
One of the nation's best-loved actors, the late John Thaw, will forever be remembered for grumpy, beer-loving Inspector Morse and abrasive Jack Regan in The Sweeney.
But his big break on TV was as Sergeant John Mann in Redcap (1964-66), based around the activities of the Royal Military Police Special Investigation Branch.
The drama series ran to 26 episodes and saw Mann travel the world to conduct his investigations – well, that's what the producer would have us believe because the series was shot almost entirely in the studio.
If an outdoor shot was needed, the camera was dragged into the TV studio's car park and scenery built to represent a street in Limassol or another corner of the world.
The world of psychiatry, meanwhile, was the concept behind The Human Jungle, the 26-episode show which delved into people's problems between 1963-65.
Playing Dr Corder was Prague-born actor Herbert Lom, a veteran of the film industry, in his first leading role on TV.
So realistic was his portrayal that many viewers, believing he was a real-life psychiatrist, wrote asking for help in sorting out their own problems.
Lom relished his role as a doctor of the mind. He told me: "I was interested in psychiatry and knew that psychiatrists weren't particularly popular because many people didn't understand the science. So I hoped the series would help people realise that psychiatrists are nice doctors simply trying to help."
Meanwhile, from Yorkshire Television in 1968, Gazette's dozen episodes concerning the owner of a local paper, James Hadleigh, led to more than 50 episodes of a spin-off, Hadleigh, which outshone its predecessor by running from 1969 until 1976.
A campaigner on behalf of the underdog, the urbane squire of Melford Park was played by Gerald Harper, who'd recently been seen as Adam Adamant.
"It was unbelievably successful. One year, I was voted even more popular than Tom Jones!" Harper once joked.
When it transferred from radio to TV in 1969, Paul Temple became BBC's most expensive crime series.
The Francis Durbridge-created sleuth from the 1930s saw Francis Matthews playing the amateur detective with Ros Drinkwater as his wife.
Running to 52 episodes during its two-year life, the budget was an astonishing £630,000. A paltry sum by today's standards but huge back then.
The surfeit of drama productions, dressed in all guises, meant plenty of work for the industry's thespians.
Save for a host of dramatic characterisations earlier in his career in British movies, the name Sid James is synonymous with comedy – Hancock's Half Hour and Bless This House topping his CV.
Therefore, it makes the inclusion of Taxi!, which ran to 13 episodes between 1963-64, in our celebration of 60wws' dramas all the more interesting.
Although strands of comedy ran through the storylines, it was regarded by many as drama, with James playing cabbie Sid Stone.
The series was written by John Whitney, who also worked on, among others, ATV's The Plane Makers (1963-65), which concentrated on the aviation industry – the shop floor of Scott Furlong, a fictitious company, to be precise.
The popular drama was commissioned by the station's chief, Lew Grade, who originally wanted a series about the manufacture of telephones! When telephones weren't deemed sexy enough, attention switched to the aviation business and The Plane Makers was born.
Other titles that will bring back happy memories include period drama The Forsyte Saga. Transmitted during 1967, it boasted a cast of, among others, Kenneth More, Nyree Dawn Porter and Susan Hampshire. This glittering saga from John Galsworthy had viewers glued to their seats for the entirety of its 21 hours of screening.
I could go on and on but, alas, we have to end our trip back through the archives.
One thing is for sure, though – we've certainly been treated to some real gems over the years in the world of television drama.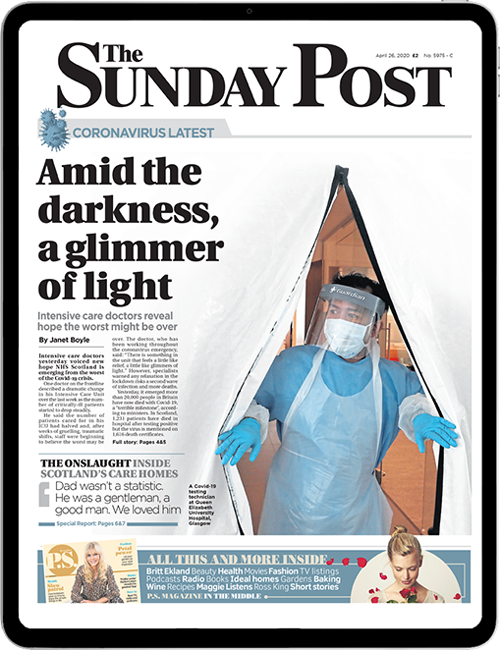 Enjoy the convenience of having The Sunday Post delivered as a digital ePaper straight to your smartphone, tablet or computer.
Subscribe for only £5.49 a month and enjoy all the benefits of the printed paper as a digital replica.
Subscribe