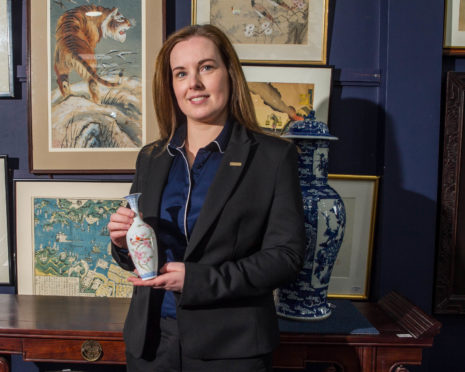 I could feel the adrenaline pumping. My hands were sweaty, I forgot how to count and I lost the power of speech.
But I stepped up on the rostrum, gavel in hand, and an air of calm washed over me.
It was my first sale at the auction house and I wasn't what the bidders expected to see, as the McTear's rostrum had been an all-male domain.
The terror was real, but I knew what to do – and I just did it. I can't recall the content of my first lot – probably a pair of vases or a piece of jewellery – but I do remember my delight at getting through my first 40 or so lots. I knew then that this was what I wanted to do.
It all started when I was studying History of Art at Glasgow University. My plan was to go into museum work.
When I was in my second year of studying, an email came round saying McTear's Auctioneers was looking for summer staff.
I started part-time, unpacking boxes, laying out objects for the valuers to catalogue.
I learned how to differentiate between and categorise items, how to catalogue them accurately, how to set salerooms for viewing, how to operate the online bidding system, as well as how the office and admin parts functioned – basically how the whole business worked.
I loved the fast pace of it all and the opportunity to grow and learn more.
I later took on a Masters in History of Collecting, and spent some time studying in Tokyo and Paris, consolidating my love of art, especially Japanese and Chinese works. My studies had always focused on these – from ancient times to the Meiji era.
After my studies and travels, I asked McTear's director, Brian Clements, if I could come back full-time and I was delighted when he agreed.
Brian's foresight in introducing specialist departments and dedicated auctions brought about huge advances in the volume and quality of artworks handled.
We specialised in whisky, jewellery and Scottish Contemporary Art.
I remember a Chinese plaque being offered in one of these mixed auctions, and there was so much interest that my boss asked me to take a look at it.
I reckoned it would sell for about £4-6,000. But the hammer came down at £14,000.
This surprise got me thinking and I asked if I could take the reins of an Asian Works of Art department within the auction house. Luckily, Brian agreed.
I've seen many surprises like that Chinese plaque. There was a dusty old Russian box found by a colleague under a sofa cushion during a house valuation visit.
What the owner didn't know was that it was a Russian jade and gold box encrusted with precious stones.
It sold for £18,000. Another highlight was a painting by Scottish colourist, Samuel Peploe, which fetched over £180,000.
A personal favourite was a pair of Chinese famille rose tureens with lids that were all cracked. I estimated they would fetch £1,000 but I sold them for £14,000 on auction day.
And a not particularly attractive Chinese bronze censer sold for £10,000. And how could I forget a stunning Japanese cloisonné vase that came in from a nearby Glasgow vendor. I discovered the maker's mark was that of Kumeno Taitaro, a respected Japanese artist, and the hammer fell at £17,000.
That's the best bit about the job for me – when you get a surprise piece that goes for much more than you expected.
It's always hard as the auctioneer not to show your delight when this happens, but you have to keep your composure and control of the room.
When I first stood on the rostrum, I was McTear's first female auctioneer. Now the company has four women and three men in the role, so the females are dominating these days!
It's a great feeling that my ambition and persistence to try something new and challenging has contributed to a shift in attitudes and expectations.
The thing people say most to me is: "Your job must be so interesting, so exciting." And they're right. Every day is different.
It's also a good career if you like collecting, but you could spend your entire wages if you're not careful.
A few years ago, I ended up with so much stuff I had to sell some and give some away. Watches are a weakness – I spot a nice one and fall for it. I also love contemporary painting, artists such as Laetitia Guilbaud, Graham McKean, Lin Pattullo and Elaine Johnston.
For me, the stories of the objects are the most interesting part of my work – every object we sell has a history, and every object starts a new chapter with its new owner.
I'm extremely lucky to have a job I love.
Magda Ketterer, 33, auctioneer, Glasgow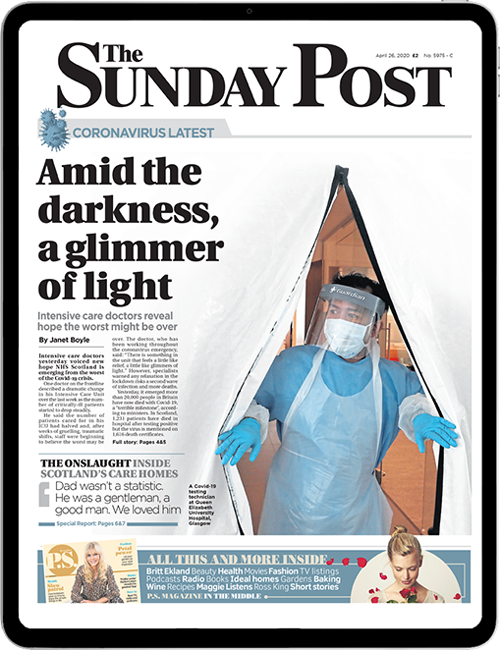 Enjoy the convenience of having The Sunday Post delivered as a digital ePaper straight to your smartphone, tablet or computer.
Subscribe for only £5.49 a month and enjoy all the benefits of the printed paper as a digital replica.
Subscribe