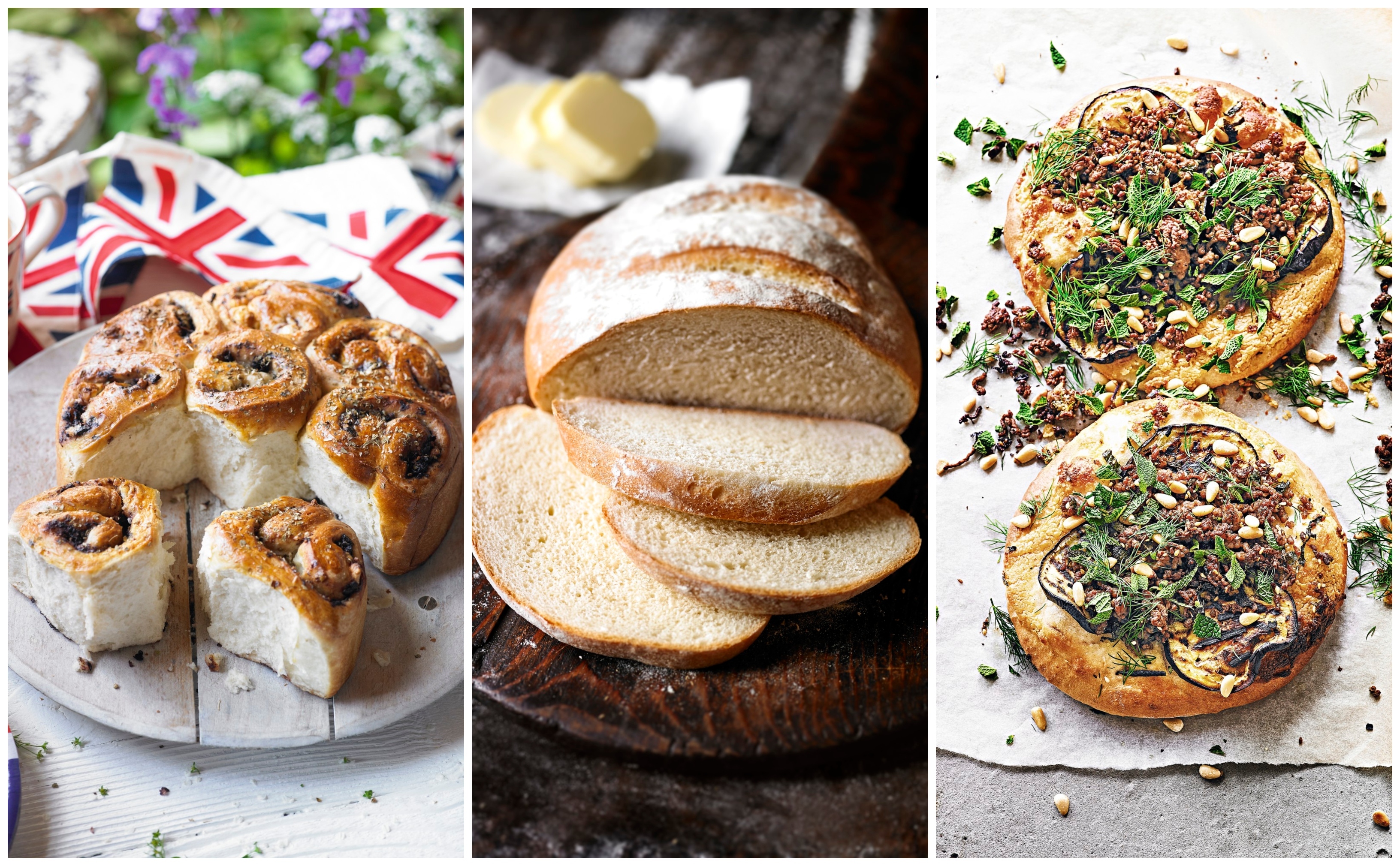 FOLLOWING on from the ever-popular Cake Week, GBBO fever shows no sign of slowing with this week's theme showcasing the best bread showstoppers.
Tonight's episode saw the contestants bake a crowd-pleaser in the signature, try their hand at a deceptively simple technical challenge inspired by a takeaway classic and bake a sweet showstopper.
If you feel inspired to get cracking in the kitchen yourself, here are a few recipes to try, courtesy of Waitrose & Partners.
Savoury feta and tapenade 'Chelsea' bun loaf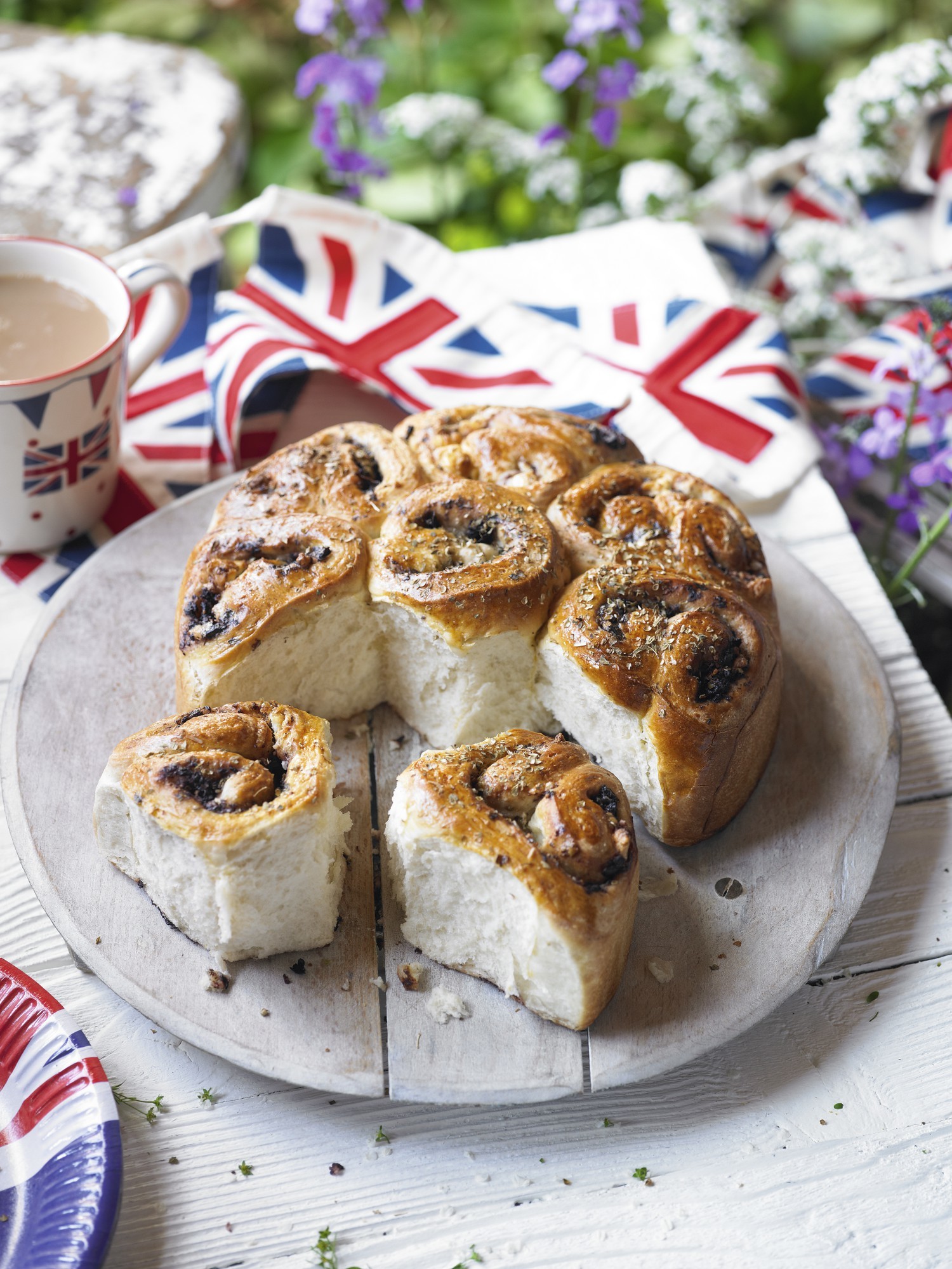 Preparation time: 15 minutes and proving
Cooking time: 30 minutes
Total time: 45 minutes and proving
Serves: 8
Ingredients
500g pack Wright's Premium White
Bread Mix
4 tbsp Waitrose Kalamata Olive & Anchovy Tapenade
100g feta cheese, diced
1 egg, beaten to glaze
1 tsp dried oregano
Method
Sift the bread mix into a large bowl and mix with 320ml lukewarm water to form a soft dough. Turn onto a lightly floured work surface and knead for 5 minutes then leave to sit for 5 minutes.
Roll the dough to a 30cm square and spread with the tapenade right to the edges. Scatter over the diced feta. Roll the dough up from opposite ends to meet in the middle then cut across the rolls to make eight slices. Place one cut-side down in the centre of an oiled 23cm loose-bottomed shallow cake tin. Arrange the rest around it. Cover loosely with oiled clingfilm and leave in a warm place for 45 minutes until it has doubled in size.
Preheat the oven to 220°C, gas mark 7. Brush the top of the loaf with beaten egg and scatter with the oregano. Bake for 25 minutes until well risen and golden brown, remove from the tin and return to the oven for 5 minutes to cook the bottom. The loaf should sound hollow when tapped. Cool on a wire rack.
Simple white loaf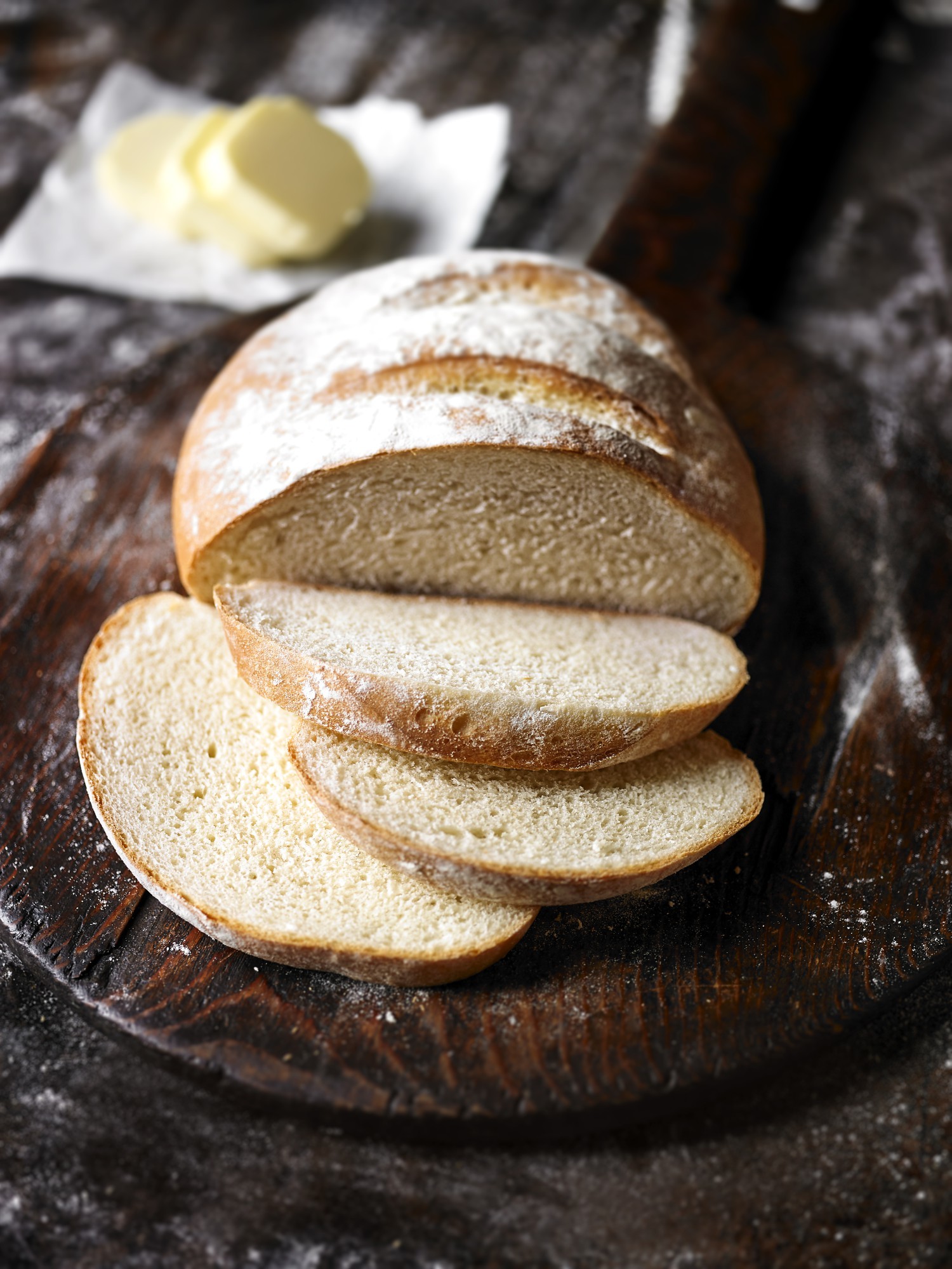 Preparation time: 20 minutes, plus proving and cooling
Cooking time: 30 minutes
Total time: 50 minutes, plus proving and cooling
Makes: 1 loaf Serves: 6-8
Ingredients
250g strong white bread flour, plus extra for dusting
1 tsp Allinson easy bake yeast
1 tsp fine salt
1 tsp caster sugar
2 tbsp olive oil, plus extra for greasing
Method
Mix the flour, yeast, salt and sugar in a large bowl. Make a well in the middle and pour in the oil and 130ml hot water. Mix together with a wooden spoon until combined, then bring together with your hands. Knead by hand on the work surface for 8-10 minutes, only dusting with a little flour if it's sticky.
Once the dough is smooth and shiny, turn it in your hands, tucking under to make a smooth dome on top. Place seam-side down on a floured baking tray; gently pat down the top to flatten slightly. Cover with a sheet of lightly oiled cling film and leave to rise for 1 hour 15 minutes.
Preheat the oven to 200˚C, gas mark 6. Uncover the dough and, using a sharp serrated knife, make three 0.5cm-deep slits across the top. Cover again and leave for 15 minutes.
Uncover, dust the top with a little more flour and bake for 25-30 minutes, until golden. Transfer to a wire rack and leave to cool completely before slicing and serving with butter.
Seeded beer bread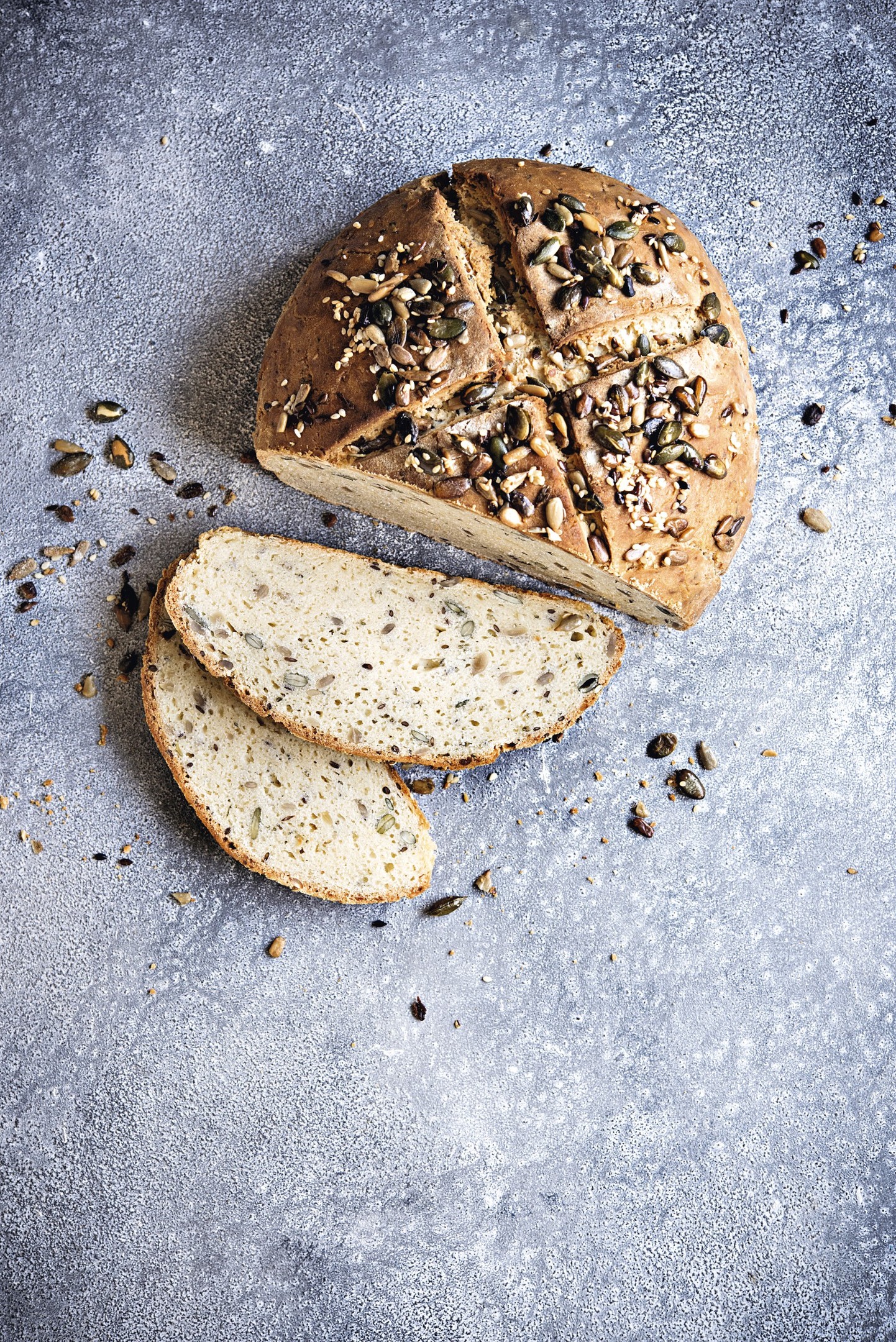 Gluten Free
Preparation time: 15 minutes + proving
Cooking time: 30–40 minute
Makes: 1 loaf
Ingredients
250ml Celia Organic Gluten Free Czech Lager
7g Dove's Quick Yeast
500g Dove's Gluten Free White Bread Flour, plus more for kneading
1 tsp salt
1 tbsp caster sugar
75g Waitrose Mixed Seeds, plus 1 tbsp for topping
4 tbsp Linwoods Shelled Hemp
2 Waitrose British Blacktail Medium Free Range Eggs
Juice of 1 lemon
3 tbsp olive oil, plus extra for greasing
Method
In a saucepan, heat the gluten-free beer until just warm. Add the yeast and set aside for 3-4 minutes or until it starts to froth.
Put the dry ingredients into a bowl. In a jug, whisk together the eggs, lemon juice and olive oil, then stir into the dry mix. Add the beer and yeast mix and stir together. Transfer to a well-floured surface and knead for 2-3 minutes or until the dough is smooth. The dough will be tacky so knead with lightly oiled hands if necessary.
Shape the dough into a round and transfer to a lightly oiled baking tray. Sprinkle over the remaining 1 tbsp seeds and cover with cling film. Allow to rise for 1 hour.
Heat the oven to 200ºC, gas mark 6, and once the dough has risen make a shallow cross on top with a sharp knife. Slide a baking tray containing 4-5 ice cubes into the bottom of the oven. Put the bread tray into the top of the oven and bake for 30-40 minutes until golden.
Remove and check the loaf is cooked by tapping the bottom; it should sound hollow. Transfer to a cooling rack and allow to cool completely before slicing. Eat within 3 days.
Quick spicy flatbreads
Preparation time: 10 minutes + 10 resting
Cooking time: 10 minutes
Ingredients
200g self-raising flour, plus extra for dusting
200g natural yogurt
40g butter, melted
1–2 tsp Bart Baharat, plus extra to serve
½ x 25g pack mint, leaves only, finely chopped
Houmous, to serve
Method 
1 Mix the flour and natural yogurt together to make a soft dough, knead for 1 minute then set aside for 10–15 minutes. Divide into 4 and roll into 20cm rounds. Cook in a hot frying pan or griddle for 1 minute on each side until golden and slightly risen, keeping each one warm while cooking the rest.
2 Melt the butter in a pan or microwave. Stir in the baharat. Brush over the freshly cooked breads and sprinkle with mint. Serve with houmous sprinkled with extra baharat for dipping or spreading.
Lamb & aubergine manakish flatbreads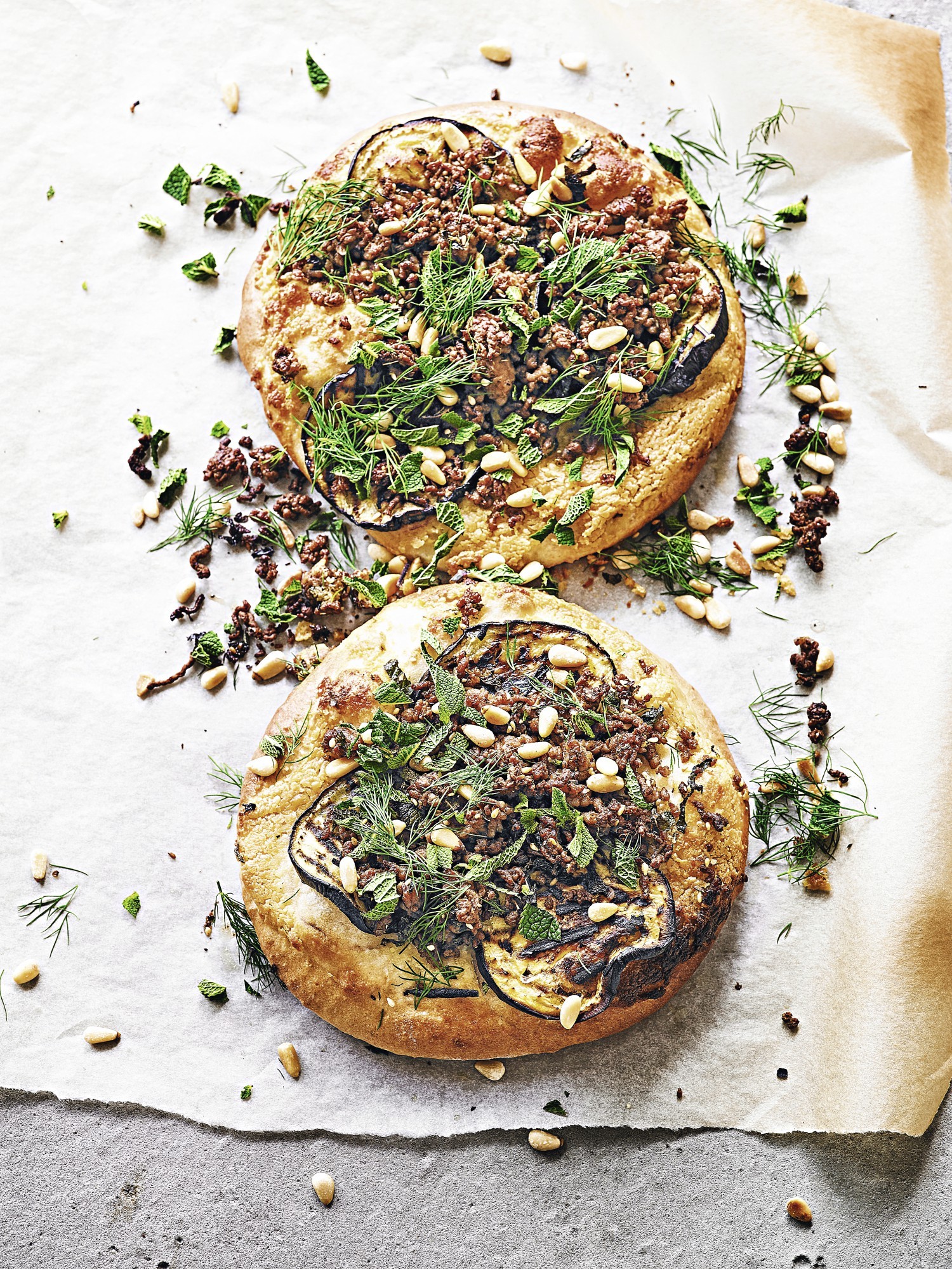 Preparation time: 20 minutes
Cooking time: 20-25 minutes
Total time: 45 minutes
Serves: 4
Ingredients
500g pack Wright's Premium White Bread Mix
½ x 25g pack Cooks' Ingredients Mint, leaves only
400g pack minced lamb
1 tbsp Cooks' Ingredients Herby Zaatar
1 aubergine, thinly sliced
2 tbsp olive oil
150g Sabra Houmous Extra
¼ x 20g pack Cooks' Ingredients Dill, leaves only, chopped
25g toasted pine nuts
Method 
Make the bread according to the pack instructions. Place in a greased bowl, cover and leave to prove for 30-45 minutes.
Meanwhile, chop half the mint. Fry the lamb over a high heat in a frying pan for 3 minutes to brown. Stir in the mint and zaatar, and cook for 3-4 minutes. Leave to cool. Toss the aubergine in 1 tbsp oil and griddle for 2-3 minutes in batches, turning once, until lightly charred. Set aside.
Preheat the oven to 220°C, gas mark 7. Grease 2 large baking trays. Knock back the bread dough and divide into 4. Roll each piece into a 20cm circle on a floured surface and place on the trays. Spread with the houmous and top with aubergine slices. Scatter with the lamb and bake for 20-25 minutes.
Drizzle with the remaining oil and scatter over the dill, pine nuts and remaining mint.
Cheese & salad onion corn bread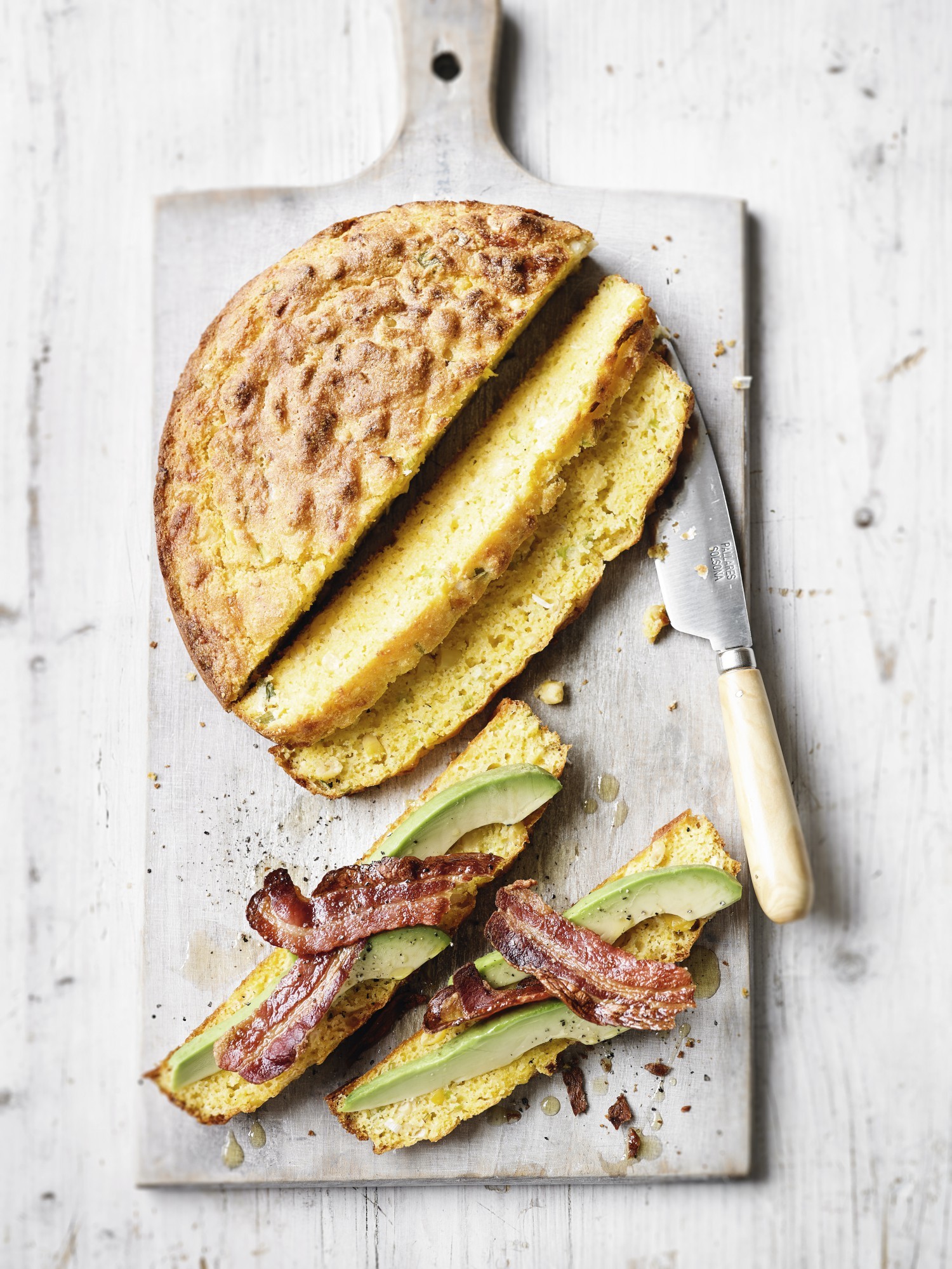 Preparation time: 15 minutes
Cooking time: 45 minutes
Total time: 1 hour
Serves: 4 – 6
Ingredients
225g Polenta Valsugana
100g self-raising flour
1 tsp baking powder
Pinch chilli flakes (optional)
150ml natural yogurt
150ml whole milk
50g butter, melted
2 large Waitrose British Blacktail Free Range Eggs, beaten
70g mature Cheddar cheese, grated
Bunch salad onions, washed, trimmed and finely chopped
150g frozen sweetcorn, defrosted
TO SERVE
2 ripe avocados
8 rashers smoked back bacon
Method
Preheat the oven to 200°C, gas mark 6. Lightly oil a 22cm round or square cake tin.
Place the polenta, flour, baking powder, chilli flakes (if using) and a pinch of salt in a bowl. In a large jug, mix together the yogurt, milk, butter and eggs. Pour this over the flour mixture, then stir in the cheese, salad onions and sweetcorn, mixing well until you have a very thick batter consistency. Pour the mixture into the cake tin and bake for 45 minutes until golden and firm to the touch, and when a skewer inserted into the middle comes out clean.
Serve the corn bread warm with wedges of avocado and crispy grilled bacon.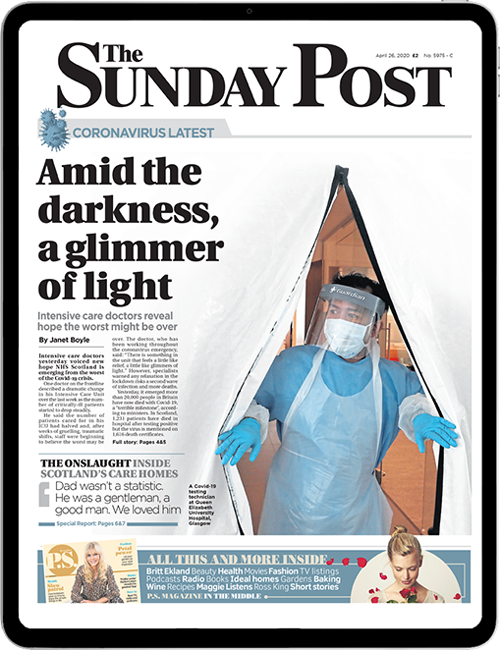 Enjoy the convenience of having The Sunday Post delivered as a digital ePaper straight to your smartphone, tablet or computer.
Subscribe for only £5.49 a month and enjoy all the benefits of the printed paper as a digital replica.
Subscribe