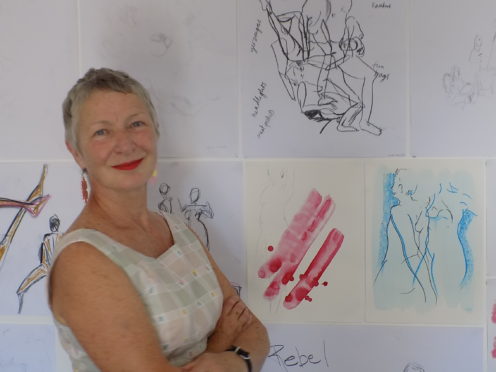 You might wonder why Claire Collison went back to life modelling after a mastectomy.
A better question would be: Why wouldn't she?
Claire decided not to have a reconstructive procedure after her 2014 surgery, and now tells her story while life modelling in a monologue titled Truth Is Beauty.
"I worked as a life model in my youth because it paid better than stripping paint off Victorian doors, which is what I'd been doing until then – stripping paid better!" says Claire, now a visual artist and poet, who recently won the Women Poets' Prize.
"I didn't have any signs of having cancer – I hadn't felt a lump or any change in my breast. I was diagnosed after a routine mammogram so those who say: 'I wouldn't go for a mammogram', good luck to them because I'd be dead by now.
"The next conversation I had with the person who turned out to be my surgeon was to tell me: 'You have breast cancer, you need a mastectomy. What you need to decide is whether you want your reconstructive surgery at the time of the mastectomy or later.' Not 'if' but 'when'.
"And it took a lot of me being awkward and asking a lot of questions to discover that only just over 30% of women have reconstructive surgery at all, and of the ones who do elect to have reconstruction, almost half express regret.
"The NHS offers it during or at any time after your mastectomy but not all can be reversed.
"As far as getting this cancer out of my body, I wanted it out and to be able to start the chemo as soon as possible. Might having reconstructive surgery delay that? Quite possibly, yes.
"As it was, my mastectomy was a day surgery, I was in my own bed that night. Had I had reconstruction, it would have been an eight-hour operation, a week in hospital and a lot of morphine.
"With me it was: 'What is going to keep me alive?' That was what I cared about.
"Why should the first thing I think about be about making everyone else feel less uncomfortable rather than me staying alive?
"It sounds like I'm banging a drum for no one having reconstructive surgery but I get that for some, it's really important. All I want is that people are given all the information to make an informed decision.
"The pressures on women to look a certain way and conform are so profound, and I'm just doing what I can to challenge that.
"A story I tell in the piece is about the week before my mastectomy when I went swimming at the Ladies' Pond in Hampstead, and recalled an incident 30 years earlier when I'd been there and an old lady had shouted at me because I'd been naked.
"She'd said: 'I'm not a prude' – and showed me her mastectomy scars to prove it. She was like a ghost from my future coming to tell me that it was going to be OK and that I could get old.
"And a few months before my cancer kicked in, I was teaching kids and I took them to a photography exhibition.
"I asked them to pick a winner and a runner-up, and one girl selected an Amy Winehouse lookalike, all make-up and cleavage, and a portrait of a woman looking straight out, naked from the waist up, who'd had a single mastectomy.
"I asked why she chose them and she replied: 'The first one because she looks sexy, and that one because I thought you were supposed to get a false one when that happened. I think she looks really strong.'
"She didn't say: 'Oh, Miss, that's disgusting!', she'd just never seen it before, and I thought: 'Why hasn't she seen that before?'
"That made me decide. Why would I go through all that? It doesn't matter.
"Going back to the life room was the first time I'd taken my clothes off and been scrutinised by people who weren't doctors since the surgery. The drawings of me were beautiful.
"I wasn't missing anything. The focus was on me as a whole rather than what wasn't there. Everybody is unique and I realised I was still whole and complete.
"It was an incredible light bulb moment, very reassuring to be witnessed and not be ashamed of how I looked, for people to look at my body and not be disgusted.
"Quite the opposite.
"I've had people come a long way to one of my performances.
"I'm showing people there's not one single way of how we should look, and that you can not only survive this but go back to what you love doing – it doesn't have to define you.
"The drawings redress the invisibility of unreconstructed women. We are afraid of the unknown.
"By giving people a chance to really look at something that's normally hidden away, it immediately becomes less frightening."
For breast cancer care, support or information, contact Breast Cancer Now's free helpline on 0808 800 6000 or visit www.breastcancernow.org
Claire is performing Truth Is Beauty during October as part of The Big Draw. Visit www.thebigdraw.org or to book one of Claire's events, follow her on Twitter @clairecollison1 or Instagram @adalodge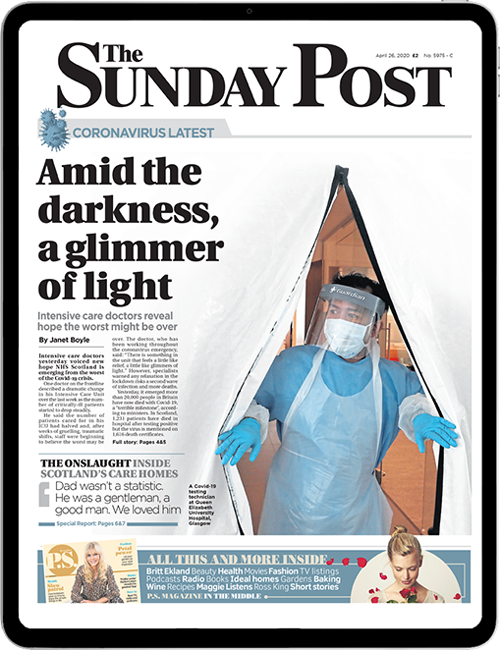 Enjoy the convenience of having The Sunday Post delivered as a digital ePaper straight to your smartphone, tablet or computer.
Subscribe for only £5.49 a month and enjoy all the benefits of the printed paper as a digital replica.
Subscribe