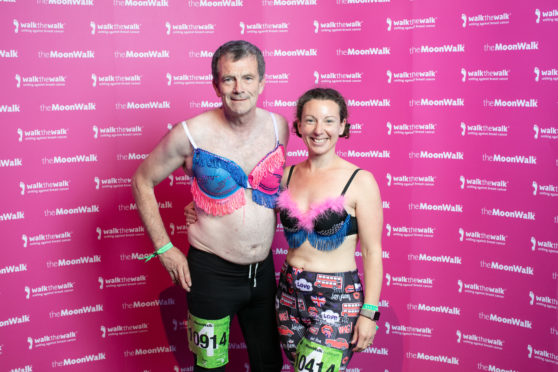 Richard Galloway is perhaps better placed to deal with Covid-19 anxieties than most.
At the end of 2015, he became one of the 370 or so men in the UK diagnosed with breast cancer.
"I think the pandemic has given many people a real sense of mortality," says Richard.
"For me, surviving cancer and a brush with my own mortality meant I had a bit of re-evaluation.
"I discovered a lump just below my left nipple and had a mastectomy in January 2016.
"I didn't need to have chemotherapy or radiotherapy and have been given a clean bill of health, but I'm still being monitored.
"It was obviously a very difficult period for me and my family but I was lucky – I came through it.
"The whole experience has helped me cope in a number of ways during the coronavirus pandemic, which is dominating our daily lives so much at the moment.
"When I was diagnosed, I immediately found myself in a situation over which I had no control. As a man diagnosed with breast cancer, that whole period in my life was even more of an unknown quantity.
"Awareness has improved so much recently but even just a few years ago, there were many people who simply didn't know that men could get breast cancer too.
"I had to put a lot of trust into the hands of my medical team. I wasn't an expert and it was up to them to plan out my treatment and give me the best advice.
"I was in their hands. In a way, this made me relatively relaxed about what was happening to me – and I feel the same now during this pandemic.
"We need to follow the advice of the experts who are telling us what to do and what not to do. We have to be patient and there's nothing we can do about the situation – other than listen to that advice.
"My diagnosis and treatment also meant that I was unable to plan ahead as much as I wanted – I very much had to live for the moment and it gave me a real sense of what was actually important.
"That's the same right now – much as we would like to, none of us can really make any plans, which I know is frustrating but it is what it is.
"For the short term, it's difficult for us to find anything to look forward to, which feels strange but, because of my experience, I'm confident I can deal with that.
"I am a reasonably robust person and was relaxed about my diagnosis. These problems are a challenge but you just have to get on and make the most of the situation and work your way through it.
"If in the process, you can help others to make it through as well, so much the better. So look at people on your contacts list, is there anyone who may be vulnerable?
"Is there anyone who has young children and may be finding it difficult to educate or entertain them? Are there old friends you should have maintained contact with?
"Make a phone call or send a message, help them through, too.
"But most importantly look after your own mental health. Find a new interest or learning experience to keep your mind active and the current problems in perspective."
Richard has been involved in Walk The Walk's Men Get Breast Cancer Too campaign for the past couple of years, taking part in several of their fundraising MoonWalks, and had already signed up to do the Full Moon (26.2 miles) at both the MoonWalk London and Scotland 2020 before the lockdown caused their postponement.
He says: "For me, a retired accountant working as a gardener, Covid-19 has meant a reduction in the amount of work I am doing.
"I am not chasing work, some of my customers can no longer afford to pay a gardener and some are self-isolating. It is what it is but the priority is my family.
"One of the first things I did when I thought there was going to be shortages was to decide to grow more food.
"We have a few fruit trees and bushes but I turned a couple of flowerbeds and some lawn over to vegetables. It keeps me occupied and I am also using the opportunity to teach my six-year-old granddaughter, who's living with us, more about gardening.
"There are five of us at home at the moment, including our grandaughter, who can obviously no longer go to school, a right my generation has probably taken for granted.
"While she has some understanding of the virus, it is hard for her to adapt to not being able to see her friends and her routine is upside down.
"Helping to keep her amused and provide her with some kind of education while the schools are closed is taking up a major part of the day.
"Finding the balance between physical activity, schoolwork and play is key for her mental health.
"When all this is over, I will be back raising even more awareness for Walk The Walk. I'll also continue taking part in the MoonWalks – in my decorated bra of course!"
For more information, visit www.walkthewalk.org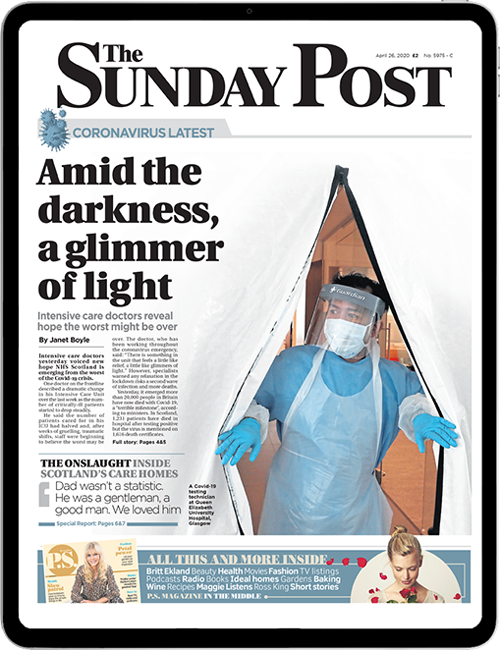 Enjoy the convenience of having The Sunday Post delivered as a digital ePaper straight to your smartphone, tablet or computer.
Subscribe for only £5.49 a month and enjoy all the benefits of the printed paper as a digital replica.
Subscribe