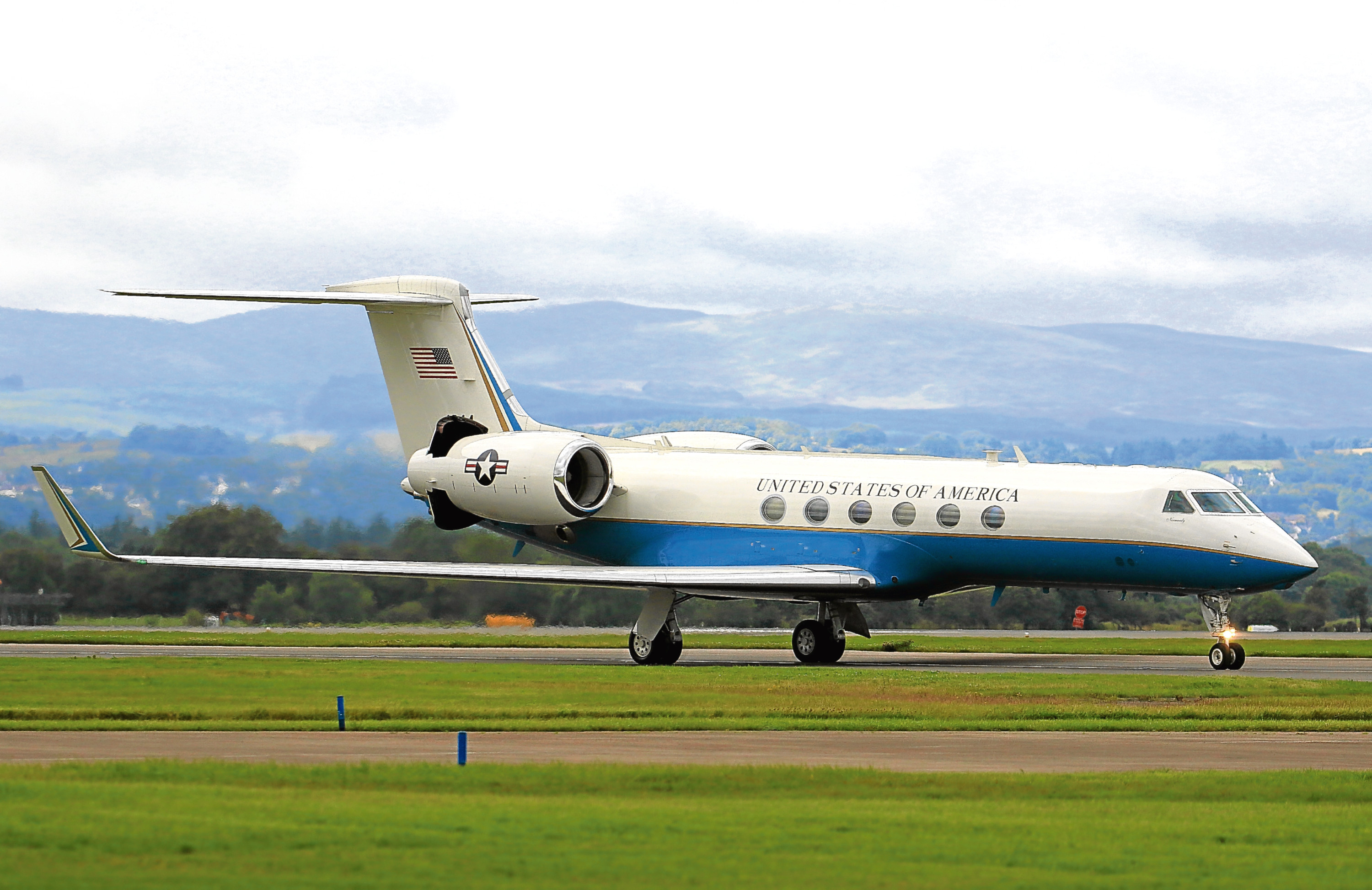 A JET with links to a US intelligence base has touched down in Scotland.
The Gulfstream pictured landing at Glasgow Airport is part of an elite military unit which transports key staff around the world.
Based at Fort Belvoir in Virginia, the craft is typically used to transport high- ranking US military officials, such as senior commanders or cabinet secretaries.
Fort Belvoir is also the base for a covert unit known only as The Activity, a secret intelligence unit formed after the Iranian hostage crisis, which lies just a half hour drive from CIA headquarters in Langley.
The Activity carries out surveillance missions for all US special operations and was heavily involved in the hunt for Osama Bin Laden.
Last night, one top security analyst speculated the flight was most likely top US Government staff finalising security arrangements ahead of a potential state visit by President Donald Trump to Britain later this year, or military officials visiting Faslane.
Security expert Professor Anthony Glees, of the University of Buckingham's Centre for Security and Intelligence Studies, said the team on board could even have been checking out security at Scots golf courses ahead of a presidential visit.
"It would be fair to assume that the people using this are on official business, needing to get to Scotland very quickly," the security expert said.
Following touch-down, a handful of casually-dressed passengers got out of the plane into two waiting silver Mercedes cars.
A Glasgow Airport worker, who took pictures of the landing, said: "It stuck out like a sore thumb not so much because of the jet, but the people on it.
"They just looked super-smart and switched on.
"They were wearing utility jeans and had a businesslike purpose about them.
"When we found out where this one was from, tongues started wagging, especially given the fact the base it's from seems to have such close links to security organisations."
It is not known if the visit is linked to the fact the United States Secretary to the Treasury is honeymooning in Edinburgh.
Key Trump aide Steven Mnuchin, 54, is holidaying in the capital with Scots actress wife Louise Linton, 36.
Businessman and philanthropist Woody Johnson has also just been confirmed in the role of US ambassador to Britain, an announcement which could see heightened official diplomatic traffic between the US and Britain.
Last night, a Glasgow Airport spokesman said it had no information about the aircraft's visit.