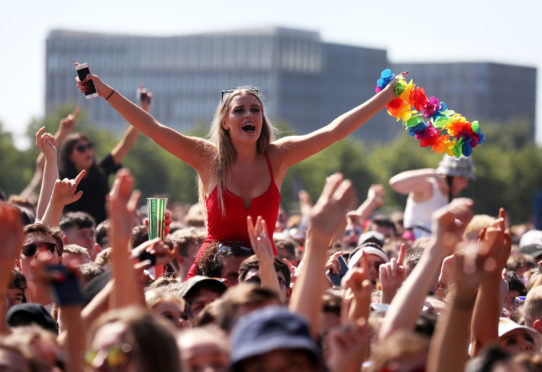 An estimated 120,000 music lovers have this weekend made the peaceful pilgrimage to Glasgow Green for the city's TRNSMT music festival.
Now in its third year, TRNSMT has become the biggest summer live music festival in Scotland.
Roads have been closed and traffic and parking restrictions have been in place. And, yes, despite all the precautions, warnings and valiant efforts of the organisers, security and police, there will be most likely, especially given the huge numbers attending, a few minor arrests and some punters requiring medical attention.
Hopefully there will be no repeat of the tragedies which blighted and brought about the demise of T in The Park, once Scotland's longest-running music festival.
You would expect the whole event to pass peacefully. Free of trouble.
Three great days and nights of summer and song. As well as headliners such as Stormzy, Catfish and the Bottlemen, Gerry Cinnamon, Emeli Sandé and Lewis Capaldi, music fans could check out, across four stages, up-and-coming artists such as Tom Grennan, The Hunna, The Snuts and Stephanie Cheape.
Now put that in stark contrast to what happened last Saturday in the same city. Fewer than 8,000 Orange Order members marched, to the accompaniment of drum and flute, and songs, along 32 shut roads to Glasgow Green in their archaic annual procession infamously known as the Boyne Parade in celebration of the Battle of Boyne in 1690.
Peaceful and friendly, this most definitely was not.
Only eight arrests, for minor offences – two for sectarianism – were made on the day but that figure doesn't count for anything, or mean that it was a peaceful and joyous occasion. No way!
This is despite all the assurances given by the Loyal Orders, a year on since Canon Tom White was spat on, that there would be no similar attacks, and that marching bands would fall silent within 100 metres of any Catholic Churches.
Some bands blatantly ignored these conditions and carried on playing, ignoring the police requests that they stop, even halting at one point outside the Blessed John Dun Scotus on Ballater Street in the Gorbals to play their songs.
All lapped up slavishly and eagerly by a baying, knuckle-dragging bigoted mob loping along beside them.
Then, of course, in an incident caught on camera, a young woman was allegedly assaulted and spat at for daring to cross a road during a march.
Thankfully, arrests have been made and the Orange Order has, on this occasion, condemned those involved.
But it's all too little, too late.
It's high time, in these supposedly enlightened and inclusive times, for these marches of hate and parades of sectarianism to be shown the red card. Those who blatantly peddle evil, racist bile should be locked up.
And that firm hand should equally apply to any of those who march and call for the same fate of Protestants.
The Scottish Government, Glasgow City Council and Police Scotland should do everything in their collective power to have these outdated and very uncultured marches banned.
I'm damn sure they wouldn't be allowed to take place on the affluent streets of, say Bearsden, Milngavie or Newton Mearns, so why are they allowed in the city centre or, more importantly, the austerity-ridden streets of the Gorbals or the East End where the majority of residents are Catholic?
The number of marchers is in terminal decline, yet previous figures showed Glasgow had more loyalist marches and parades than the combined total of Belfast and Londonderry.
What is all that about?
As has been said by the great many revulsed by these marches, if you crossed a Pride march you would get a hug. Cross a loyalist parade and you face being spat at or harmed.
It's time that our politicians, of all parties, marked their grand words of inclusivity, peace and equal rights for all, with firm action and resolve.
It really is time they acted to silence these sectarian bigots and peddlers of hate.