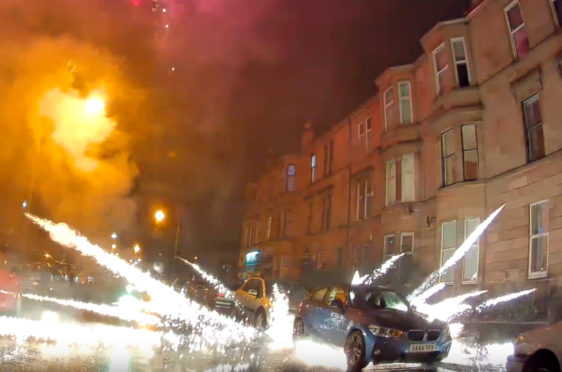 The abuse of fireworks should be treated like knife crime, according to trading standards officials.
The Chartered Trading Standards Institute, wants to see more effective action to curb the sale and use of fireworks.
More than 16,500 responses have been submitted to a Scottish Government consultation on fireworks considering stricter controls.
Thousands of individuals have backed an outright ban on selling fireworks, describing terrifying incidents including fireworks being put through letterboxes and fired at houses and cars.
But Police Scotland, which recorded 1,368 firework-related incidents in the week around Bonfire Night, suggested stricter monitoring of sales, saying the fact many people safely enjoy fireworks must be taken into consideration.
Professional body the Chartered Trading Standards Institute (CTSI) argued more effort should be put into tackling anti-social use of fireworks in known problem areas – similar to tactics used to combat knife crime.
A submission from Iain Hillier, CTSI lead officer in explosives and fireworks, said: "The controls in place are sufficient to prevent anti-social use of fireworks if properly enforced.
"To deprive law abiding citizens from enjoying fireworks during the permitted periods as a way of preventing anti-social behaviour by a few persons in restricted areas would seem to be unfair.
"Once local intelligence has established the areas in which trouble occurs, concentrated efforts, similar to those used to reduce knife crime, should be used to reduce fireworks crime."
Mr Hillier said examples of how trading standards officers could target particular areas included using test purchasing to check if shops were selling fireworks to youngsters aged under 18.
He added: "Many people enjoy fireworks and if they use them properly, the law is quite specific that ordinary people are allowed to set off consumer fireworks."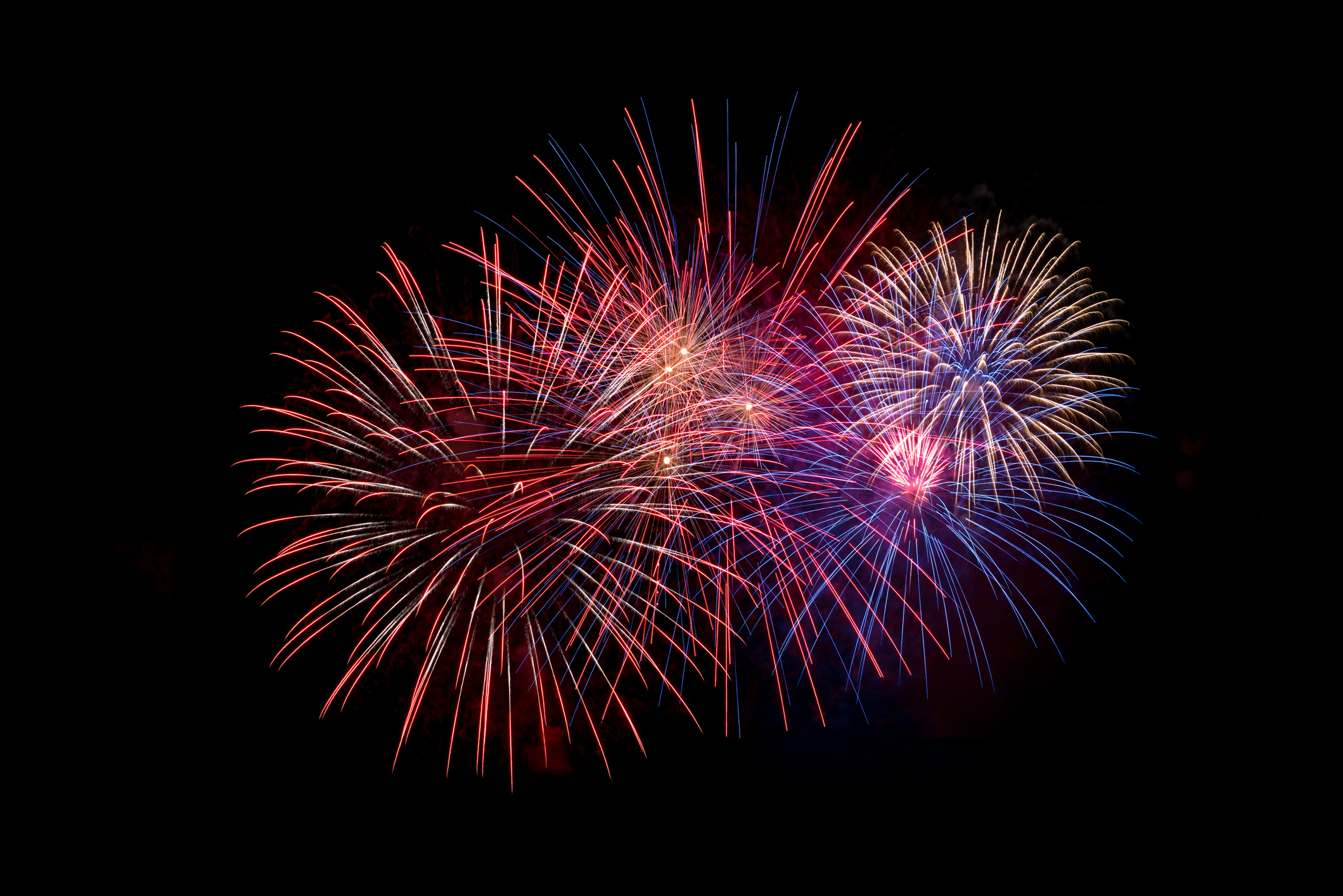 Numerous incidents documented in the responses from members of the public include fireworks being fired at a tram in Edinburgh and thrown through the window of a house, setting a bathroom on fire.
One person said: "I was walking through a park in Edinburgh at 6.30pm in November when a firework was intentionally fired at me at very low level across the grass.
"It went off about three feet in front of me. I was lucky to escape injury. As I quickly moved on I could hear laughter in the darkness from the perpetrators."
Another said they had been affected by youths setting fireworks off underneath their car.
The statement added: "Then one Bonfire Night they broke the kitchen window with a brick and put fireworks in.
"Police said it wasn't safe for them to come out, never mind me and my mum stuck in a house with fireworks going off."
Another submission said: "Teenagers letting off fireworks in local area – one went out of control striking my friend on back setting fire to their coat. Luckily he was not badly hurt, but the selling of fireworks in supermarkets is a disgrace."
Many pet owners have also described the traumatic effect on their animals.
Guide Dogs Scotland, which said it was unsure about backing an outright ban, said in a submission that fireworks being lit and used in afternoon and early evening could pose a "significant problem" for guide dog owners in Scotland.
It added: "There have been instances, fortunately very rarely, where our service users, who are guide dog owners, have experienced fireworks being set off very close to them and without warning, in public areas or parks but away from organised displays."
Current legislation on the sale of fireworks is reserved to the UK Government, and includes licencing traders and banning sales of outdoor fireworks to anyone under 18.
It also means specialist fireworks and those which make a noise of over 120 decibels cannot be sold to the general public.
The Scottish Parliament controls the use of fireworks, with examples including restricting the times fireworks can be used and making it an offence to throw or fire a firework in any road or public place.
But in the Republic of Ireland, for example, the controls are much stricter. Only very low hazard fireworks – including party poppers, some sparklers and Christmas crackers – can be sold to the general public and any others can only be used by professional operators in displays.
Police Scotland said there has been a rise in anti-social behaviour related to bonfires and fireworks in recent years – but have backed tighter controls rather than a ban.
In a submission, the force stated incidents in recent years had included a police sergeant being seriously injured as a result of fireworks being thrown at an officer and emergency service personnel being deliberately targeted by groups of youths at unauthorised bonfires.
It said a total ban could reduce antisocial behaviour, but other measures such as stricter monitoring and licensing of retailers to prevent sale of fireworks to young people may also have a positive impact.
The force also said consideration could be given to fireworks only being permitted at licensed events.
But it added: "Fireworks are regularly enjoyed by many communities celebrating cultural and religious events and this must be taken into cognisance when considering whether a total ban is required."
Local authorities raised concerns that taking fireworks off the market would only result in more problems with illegal sales.
Minister for Community Safety Ash Denham said a full analysis of the responses to the consultation would be published in the autumn.
She said: "We had an excellent response to fireworks consultation, with over 16,500 people giving us their views on what they think needs to be done.
"This response demonstrates the importance of this issue to people and communities across Scotland."
---
The terror: Toddler's clothes set alight during rampage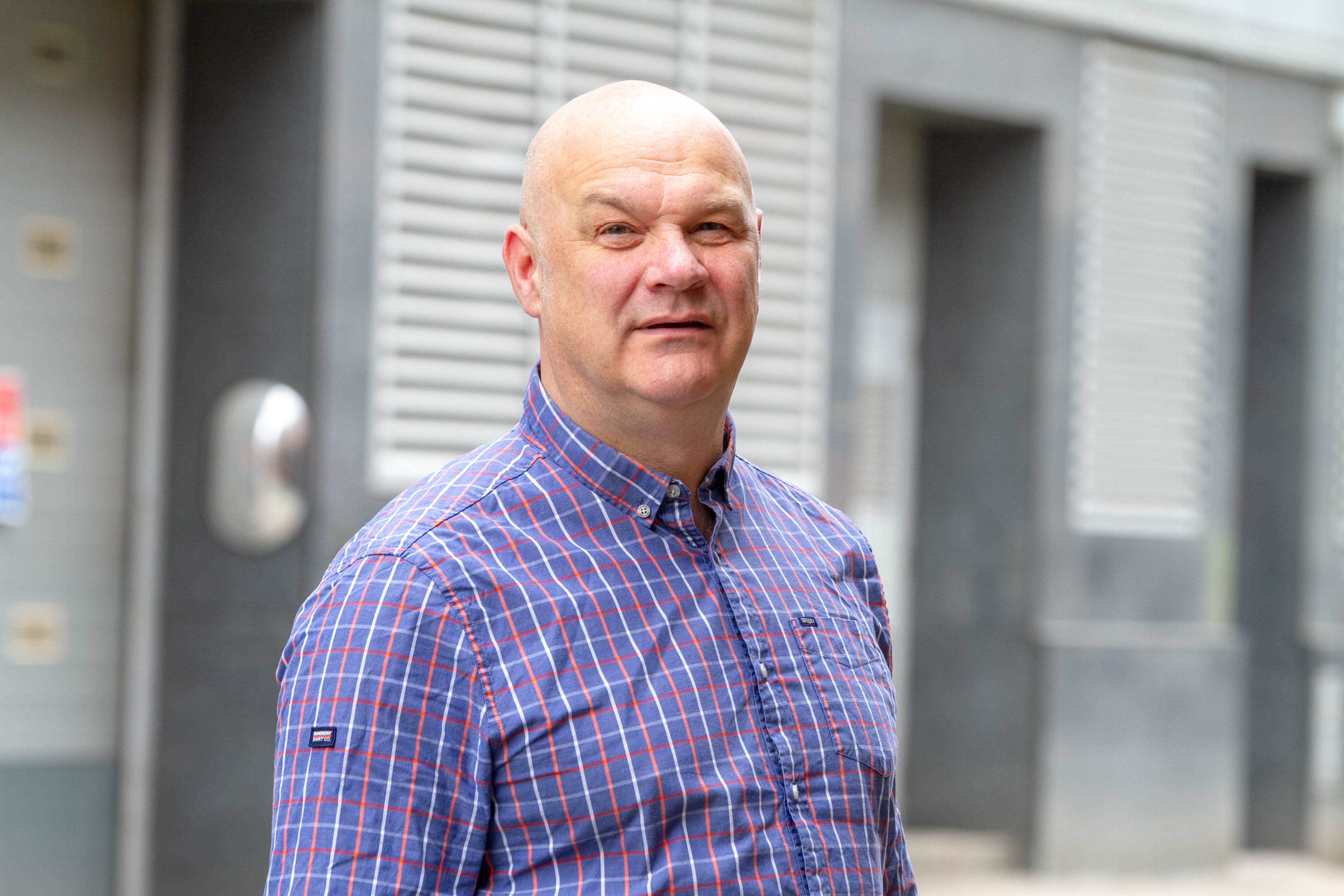 Danny Phillips, who has lived in Pollokshields, Glasgow for around 20 years, said the area has always had a big problem with fireworks.
But last year the community was terrorised by gangs of masked youths letting off industrial-size fireworks on Bonfire Night. A three-year-old girl was burned after a firework set fire to her clothes.
Mr Phillips, 53, said: "Fireworks night is not a celebration for us. It is a community under siege.
"Last year it was beyond anything we had experienced before. We had 30-40 mostly men in balaclavas setting off industrial-sized fireworks in the street and firing them horizontally as well as vertically.
"People had been outside and had fireworks fired at them, they had fireworks fired at their windows. If you went out and tried to reason with them, you would get abuse and stuff fired at you.
"The police turned up in three or four police vans and they came out in body armour to break it up and started arresting people.
"Later we held a community meeting which Nicola Sturgeon attended as our MSP. They promised they will do something about it and the starting point is the consultation on fireworks.
"We have since found out Greenock has big problems, as has Pilton in Edinburgh and areas of Dundee has big problems.
"I want a total ban except for licensed organised displays."
---
The victims: Ben was in hospital for three weeks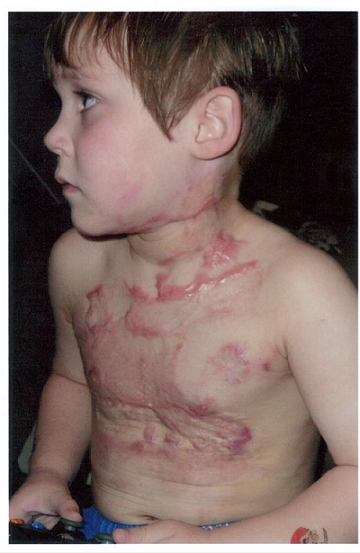 Ben McCabe suffered third degree burns at the age of four when a firework ended up in his jacket as he watched a display in 2011.
The 12-year-old, from Cumbernauld, North Lanarkshire, has made a remarkable recovery and now campaigns to raise awareness of the dangers – but still faces years of surgery to help scarring on his body.
Describing the incident, his mother Amy said: "It happened so fast that no-one noticed and started looking around to see where the firework had gone.
"It wasn't until Ben started to scream that [his dad] Alan realised something was wrong. When he opened Ben's coat his shirt was on fire. The firework had managed to work its way inside his jacket which had been zipped up."
Ben suffered third degree burns to his chest, neck, under his right arm and behind his left ear and was in hospital for three weeks.
Mark Stevenson, founder of charity the Scottish Burned Children's Club, which provided support to the family, pointed to other incidents such as a boy, aged seven, who was seriously injured by a firework which exploded in his face last year.
He said: "We are thinking about a system where if you wanted to buy a firework, you would have to go online, do a course, and then be issued a certificate.You would take it to a retailer, and then fireworks could be sold to you."
---
The pets: Dogs terrified during Bonfire Night carnage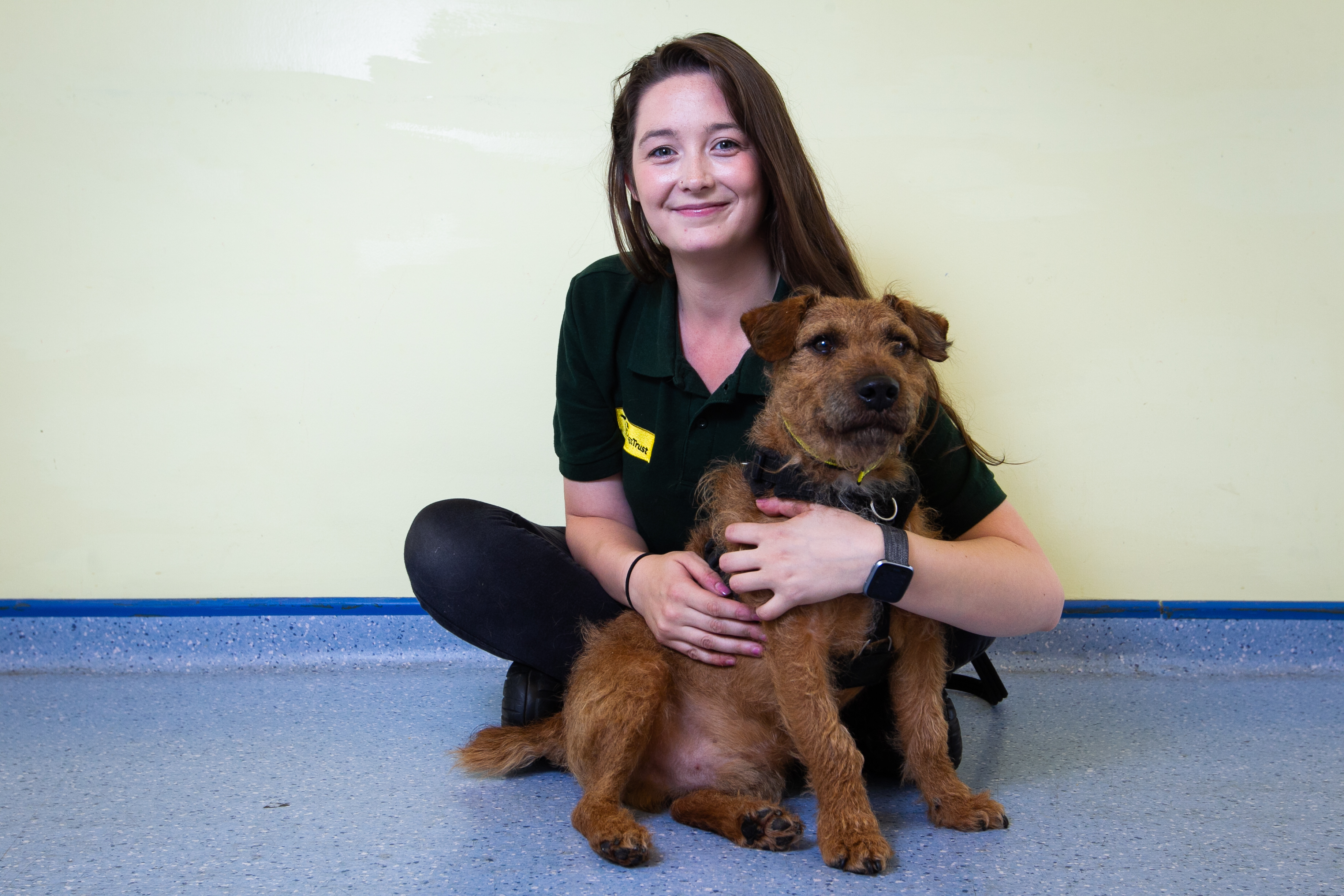 Staff at Dogs Trust Glasgow said a huge amount of effort went into trying to keep dogs safe and calm in the weeks around November 5.
But the centre was sometimes deliberately targeted by people setting off fireworks nearby to scare the animals for "fun".
A spokesperson said: "On fireworks nights, we have to have extra staff and we keep it as calm as we can for them. We give the dogs various enrichment activities to try to distract them.
"But sadly a huge number of them end up just cowering in the corner really upset.
"The ground is shaking, the skylights above the kennels are lit up with flashes, there is banging everywhere.
"Surprisingly the dogs don't bark or howl – they are eerily quiet as they are so scared. The vast majority just want to hide.
"It is a traumatic environment. I have done Bonfire Night with this charity for 19 years now and every year it is heartbreaking.
"We have people making comments on social media such as – 'let's go and let off fireworks near Dogs Trust tonight, it will be fun'.
"We also have an endless stream of people asking for advice as their dogs have run away after being scared by fireworks.
"A ban on fireworks would be life-changing for dogs.
"It is just a responsible step to take."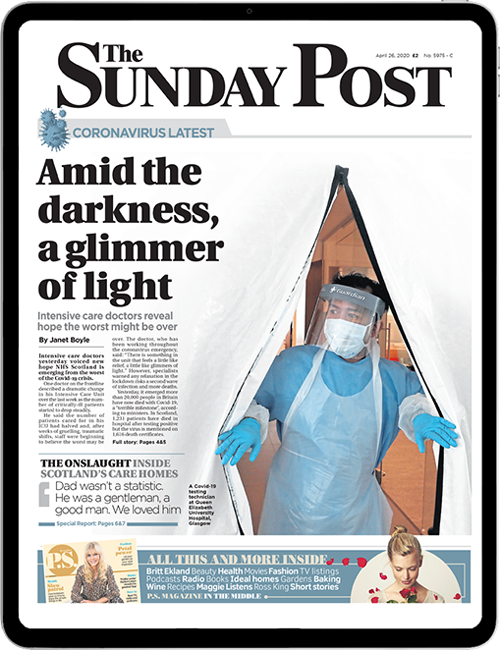 Enjoy the convenience of having The Sunday Post delivered as a digital ePaper straight to your smartphone, tablet or computer.
Subscribe for only £5.49 a month and enjoy all the benefits of the printed paper as a digital replica.
Subscribe