Travel: Why Colombia is so much more than its notorious past of cartels, corruption and murder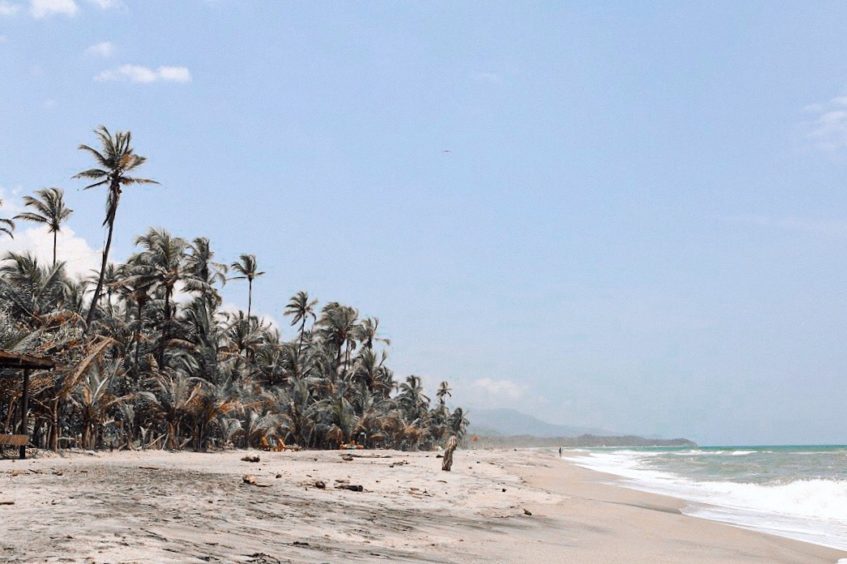 Everyone had much the same reaction when I told them where I was headed this summer.
"Colombia? Don't die.
"Colombia? Don't become a drugs mule."
Indeed synonymous in recent decades with the bloodshed of over 200,000 people, and in its hey day, the cocaine capital of the world, this South American country was something of a PR disaster on the global stage until just a few years ago.  Certainly not somewhere anyone would decide to pop for a holiday.
Thanks to cocaine baron Pablo Escobar – now immortalised through the popularity of Netflix series Narcos  – and his infamous cartels, the country was held in a drugs-fuelled war that lasted throughout the 1980s and 1990s.
But now, Colombians are looking to leave Escobar's legacy of murder, cocaine, corruption, fear and kidnappings well behind, and are inviting travellers to enjoy the Colombia that was actually always there – eye-wateringly beautiful, unflinchingly cool, friendly and welcoming, bursting with history and culture. In short, metamorphosing from South America's most notorious destination, to its crowning jewel.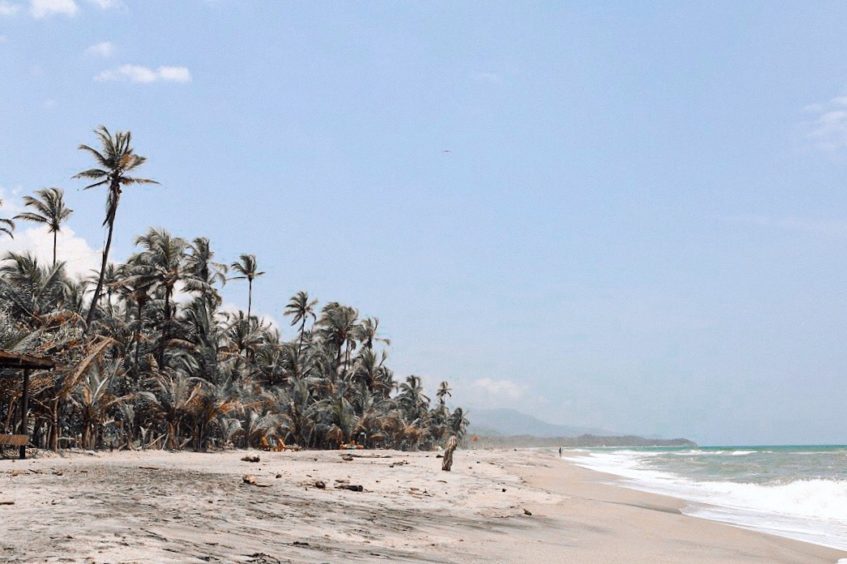 Stretching from the colourful Caribbean coast and deserts in the north to the Andes mountains and lush forests of the south, with innovative cities, cowboys, coffee and a volcano thrown in for good measure, Colombia offers travellers a plethora of worlds to explore.
And so, with many Colombian states now rated fine to travel (although many are not) by the UK government, we, like a rapidly growing number of foreigners, had decided to give the country a go. We would spend two weeks backpacking from the capital Bogota, to the country's picture-perfect Caribbean coast.
Flying into the international airport in Bogota at midnight, as a young female traveller, I was a little worried about catching a cab alone, in the dead of night, into what used to be one of the most dangerous cities on the planet, but my worries were almost laughably unfounded.
Driving towards Le Candelaria, my base for the night and Bogota's heart of beautiful, colourful streets leading up to the mountain of Monserrate, the jovial cab driver spent the entire trip trying to converse through Google Translate, talking into his phone in Spanish and having the English robotically spoken back.
"Bogota is very safe now, it's no longer at war.  This is the best place to see graffiti. This is where Bogota's students come to party. That is a salsa bar. There are some police men who patrol the area," he and his phone explained, as we snaked through winding streets in the early hours of the morning.
My friend and I had booked a private room in a Selina's – a group of stylish hostels dotted throughout Colombia we came to recognise in every major tourist spot along our route.
What we hadn't bargained for was for Colombia to be cold. The third highest city in South America (8,660 ft above sea level) Bogota has a very different climate to its northern counterparts. And comically, as we shivered along the roads of the Candelaria, rain pouring down our faces, I thought back to the streets of Glasgow for warmth.
Wet and cold they may have been, but the streets were also steeped in history.
Leading to the Plaza de Bolivar square, some of which was destroyed during the "Palace of Justice Siege" in 1985 by both the guerrilla movement M-19 and the Colombian Army, we realised how far the country had come in such a short space of time.
Smiling men with llamas adorned in colourful bells posed for pictures and souvenir sellers peddled their wares to the passing tourists, giving nothing away of this area's troubled past.
Choosing to completely avoid the trap of the so-called Narcos tourists, and miss out anything much to do with Escobar, we hopped on a flight north to Cartagena, skipping the drug lord's infamous home of Medellin for another time.
After the cold climes of Bogota, the air in Cartagena hit us like a warm, wet smack in the face. Unbelievably humid, Cartagena is the epitome of a tropical, Caribbean colonial settlement – balconied houses and winding streets flanked by palm trees, its old town barely changed in hundreds of years.
We stayed in the now tourist-saturated Getsamani, inside the walled part of the town – a wall which used to make sure slaves were separated in the evenings from the rich and powerful inside.
The Palenqueras are also a reminder of the town's slavery past. These ladies donned in colourful dresses are the descendants of escaped slaves from Palenque de San Basilio, one of the first free villages for black people in South America.
Back then, the women would come to Cartagena to sell whatever fruit they had picked to survive. Today, they earn their keep from selling photos to tourists, but they still play an important role in making sure this past is never forgotten.
After Cartagena, we headed to the San Bernardos Islands, an archipelago off the north west coast. We stayed in hammocks at Casa en el Agua (house on the water), a beautiful hostel plonked right in the middle of the turquoise Caribbean Sea.
From here you can snorkel with glowing plankton at night, and visit Isle de Islotes – the most densely populated island on the planet, man-made from shells, concrete and stones.
After this, we travelled eastwards along the coast to Santa Marta, the slightly less charming jumping off spot for Tayrona National Park, Minca and the Sierra Nevada.
We chose to stay in Tayrona, and were pleased that we did. A two and a half hour trek one way in baking heat and humidity means rest and relaxation is the only thing on your brain once you reach the stunning beaches.
For those slightly less mobile, boats also operate from Santa Marta to certain beaches in Tayrona.
La Piscina was our beach of choice out of the many that pepper the park. Many are unsuitable for swimming, but this one offers crystal clear snorkelling, lapping waves and palm trees lazily swaying over golden sand.
If you have time, Costeno Beach (a twenty minute moto-taxi along the coast from the entrance to Tayrona) is also worth a visit. It's a laid back surfer's paradise where you can unwind with yoga and massage and otherworldly sunsets.
Lastly on our trip we gave the mountain-topping Minca a go. Nestled high up in the Sierra Nevada rainforest, the winding roads are not for the faint-hearted. But if you have a sense of adventure, taking a moto-taxi tour on the dirt roads around this mist-covered tropical jungle is a thrill you'll never forget.
La Victoria coffee tour is a must, as well as visiting Casa Elemento for sunset. And boy are those sunsets worth it. Leaving this tranquil, bio-diverse paradise was difficult.
So, after two unbelievable weeks in Colombia, my previous perceptions of the country had been completely quashed.
Ideas of cartels, cocaine, drug lords and murder had been replaced by the Latin American music that follows you everywhere, the enchantment of Colombians and their welcoming nature as well as the ever-changing landscapes and the country's fascinating pre-drugs history.
And, by the time I left, my soul, like Colombia's bright, beaming flag, was painted red, yellow and blue.
---
Factfile:
Flights from Edinburgh to Bogota start from £600, time of year dependent.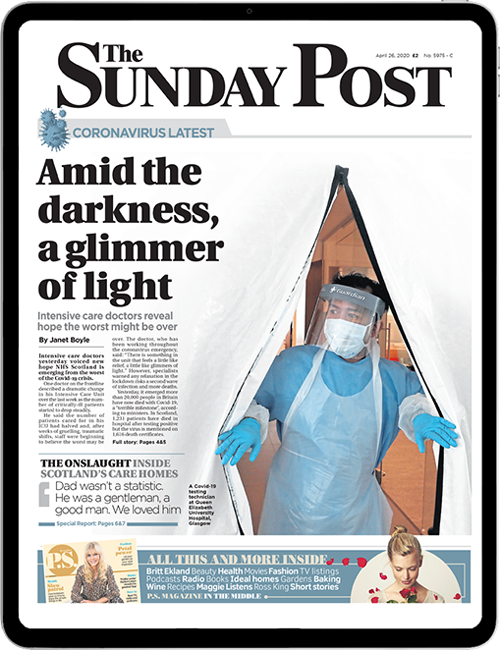 Enjoy the convenience of having The Sunday Post delivered as a digital ePaper straight to your smartphone, tablet or computer.
Subscribe for only £5.49 a month and enjoy all the benefits of the printed paper as a digital replica.
Subscribe